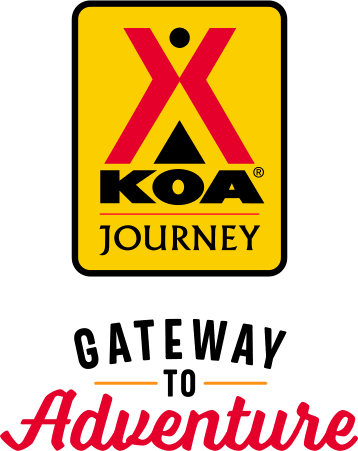 KOA Journey Campgrounds
KOA Journey campgrounds are the perfect oases after a day on the road. Whether it's along the way or a quick getaway, they've got you covered. Located near the highways and byways of North America with long Pull-thru RV Sites, they deliver convenience to the traveling camper. Pull in, ease back and take a load off.
KOA Journeys Feature:
Pull-through RV Sites with 50-amp service
Premium Tent Sites
Well lit after hours check-in service
Directions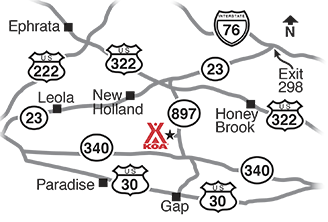 Check In Time: 2:00 PM - 6:00 PM early arrivals are not encouraged. If you'll be arriving after 6pm look for YOUR site map on the office porch.
From PA Turnpike: Exit 298 then take Exit B, then right on Route 23/10. At traffic light go straight on Route 23. At Route 897 go South. KOA is 4 1/2 miles on the right side of the road. From Harrisburg: Take 283 East to 30 East to 340 East
From Route 340: Stay on Route 340 until Springville Rd (897) then go north on 897. At the stop sign, go right. KOA is on the left 3/4 of a mile. DO NOT TAKE SNAKE LANE!!
Get Google Directions
Oct 20, 2020
We really enjoyed our stay. The campground is very clean, the office staff is very friendly. It's a great perk being able to walk to the Amish bakery and the pumpkin farm. We have stayed at this campground 3 or 4 times now and have always had a great time. We will go back again next year for sure.
Oct 20, 2020
Clean. Friendly. Beautiful views at campground
Oct 20, 2020
The only reason I didn't give it a 5 is the WIFI is slow and weak and the available cable TV stations don't have the networks. Other than that, we love it here. Clean, quiet and great views. Not much for children but a great adult get-away.
Oct 20, 2020
Absolutely gorgeous view! We thoroughly enjoyed our relaxing stay & look forward to returning next year!
Oct 20, 2020
Very clean, well kept. The scenery is gorgeous. Very friendly atmosphere. Staff very friendly and helpful. Can't wait till next year too come back. Already booked 2021
Oct 20, 2020
Had the BEST spot. Loved the area, grounds were well kept and it was peaceful. Hope to go back next year.
Oct 20, 2020
Beautiful views and spacious sites. Easy to get to. Check in was very smooth and service was very courteous. Can not wait to return next camping season.
Oct 20, 2020
Great place to camp, love the atmosphere
Oct 20, 2020
Great stay! The ground were nicely kept and the staff was friendly. The bathrooms are REALLY NICE. Just need a dish washing station!
Oct 20, 2020
The owners and staff are very friendly. The campground was very well maintained and quiet. The bathhouse was very clean.
Oct 20, 2020
Beautiful campground in a great setting. Very well kept and clean. Just wish they had spots open for next weekend too!!! Lol!
Oct 20, 2020
Peaceful and relaxing! I could sit and take in the Lancaster countryside forever.
Oct 20, 2020
Owners were very friendly and helpful. Would definitely go back to stay again
Oct 19, 2020
Campground was great...
Oct 18, 2020
Great location and beautiful view of the countryside. WI Fi is not acceptable...It needs to be upgraded for the type of camper that will be visiting. It is a deal breaker for those of us that rely on having access to the internet to conduct our business while on the road.
Oct 18, 2020
Clean and quiet, nice views
Oct 18, 2020
Beautiful view, clean and safe, good utilities. Office staff helpful and friendly. See you next year.
Oct 18, 2020
Outstanding... The new owner is keeping the grounds spotless. The staff is very polite and helpful. I have been going there for years and this is the best year yet.
Oct 18, 2020
Stayed in the Executive Row. Wow! What a view. Will definitely stay here again in the near future!!
Oct 18, 2020
To short When your good your good Every one else thinks the same You definitely need to plan ahead to get a reservation for this great place
Oct 17, 2020
We love this campground and come back at least once a year! It is very close to a lot of Amish owned shops and you have to try the Amish bake shop across the street! Staff is very friendly and helpful and the little pack of cookies you get at check in are delicious! Always look forward to our stay here.
Oct 16, 2020
Only complaint I have is we came on a Sunday and office does not open until 2:00. There were 7 campers in line waiting to sign in. We had to wait an hour but a family was waiting since 11:00 am. Slit of campers were not happy. Why do they open at 2:00 in the afternoon. Never been to campground who did that. Otherwise we go here every year and live it!
Oct 16, 2020
Always a pleasant stay. Views are great and owners very pleasant. Great place to go.
Oct 16, 2020
Cabin exceeded our expectations. Clean and cozy. our RV site was plenty long enough for what we needed. Terrific service from the first phone call, to help us choose an RV site and cabin too.
Oct 15, 2020
we had a great time will definitely go back again. love this campground.
Oct 15, 2020
Brief but beautiful well sorted campground.
Oct 15, 2020
We had a wonderful stay and the campground was absolutely clean and beautiful. However, their policy for getting into the campground needs some work. We were lined up for 40 minutes, with our camper sticking out on the main road because they don't start letting campers in until 2 pm and the office wasn't open. There where 7 of us in line waiting to get in. When traveling its hard with time.
Oct 15, 2020
Beautiful location Dog park could be larger as could some of the sites Appreciated phone call when office closed prior to arrival
Oct 15, 2020
We tent camped and liked the small size. People were friendly and views great. My only complaint was the big bill I had to claim to get to bathrooms and showers. They were however extremely nice and clean. Would stay there again.
Oct 14, 2020
Beautiful campground, million dollar view.
Oct 14, 2020
Clean spacious sites, wifi ok, a little slow and some cable tv channels fuzzy
Oct 14, 2020
100% improvement from previous owners. This campground is beautiful and extremely peaceful. A great mix of wooded sites and sites with a gorgeous farm view. So glad this park was sold to new people who obviously know how to treat their campers. Well done!
Oct 14, 2020
Beautiful campground!! Great and level sites, very clean bathrooms and campground in general. Office staff was welcoming and we will be back! Thank You!
Oct 13, 2020
it was very enjoyable. we had a great time
Oct 13, 2020
Good location nice campground
Oct 13, 2020
Very pretty place to stay and relaxing. We really enjoyed our stay there. Thank you and we booked for next year again.
Oct 13, 2020
It's quiet, clean and has a gorgeous view!
Oct 13, 2020
Nice but very noisy at night a lot of people on considerate
Oct 13, 2020
Very clean and well manicured campground. Great views and very quiet. Owner actually rode around and was talking to the campers. Only thing i would add is a bit more items in the store. Particularly refrigerator items. I.e. eggs, milk, etc
Oct 13, 2020
Liked the site. It had a nice combination of sun and shade. Everything was clean and nicely kept.
Oct 13, 2020
Excellent. Quiet. Clean. Friendly
Oct 13, 2020
we stayed in the quiet zone, and it was very quiet. Loved staying here, not much to do in the campground but plenty to do in the area. the campground has beautiful views, staff are very friendly and accommodating. Everything was clean, bathrooms were clean. We will definitely be back next year. Can't wait!
Oct 13, 2020
Wonderful. Such a beautiful view and quiet. Sites are perfect.
Nov 22, 2020
Great RV park. Great views of the Amish country side.
- Robine Reese on Google
Nov 14, 2020
Good place, small but nice view
- thefresh fruitman on Google
Nov 13, 2020
Just tented there and it was absolutely beautiful. This campground is simply relaxing. So quiet you can hear leaves falling. Also, $5 fire wood.
- Jeannette Smith on Google