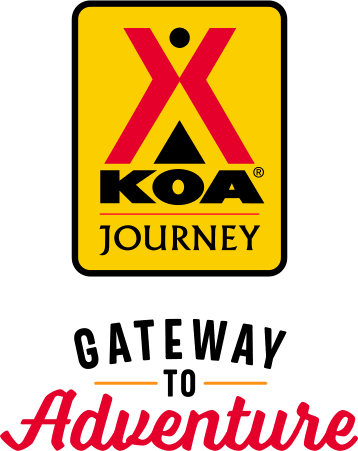 KOA Journey Campgrounds
KOA Journey campgrounds are the perfect oases after a day on the road. Whether it's along the way or a quick getaway, they've got you covered. Located near the highways and byways of North America with long Pull-thru RV Sites, they deliver convenience to the traveling camper. Pull in, ease back and take a load off.
KOA Journeys Feature:
Pull-through RV Sites with 50-amp service
Premium Tent Sites
Well lit after hours check-in service
Directions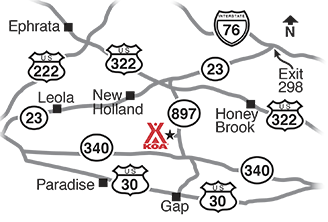 Check In Time: 2:00 PM - 6:00 PM early arrivals are not encouraged. If you'll be arriving after 6pm look for YOUR site map on the office porch.
From PA Turnpike: Exit 298 then take Exit B, then right on Route 23/10. At traffic light go straight on Route 23. At Route 897 go South. KOA is 4 1/2 miles on the right side of the road. From Harrisburg: Take 283 East to 30 East to 340 East
From Route 340: Stay on Route 340 until Springville Rd (897) then go north on 897. At the stop sign, go right. KOA is on the left 3/4 of a mile. DO NOT TAKE SNAKE LANE!!
Get Google Directions
Jun 11, 2020
Nice and relaxing. Impressed with cleanliness
Jun 10, 2020
Enjoyed the clean level site and the beautiful view. Quiet location and close to nearby places we like to visit. Thanks
Jun 10, 2020
Campground is very clean, well maintained. Everyone is very friendly and the views are gorgeous!
Jun 10, 2020
It was a very enjoyable weekend, quiet and relaxing. Sites were really nice. Would definitely come again.
Jun 10, 2020
Campground was very clean and all staff was very pleasant. This was stay number 2 at this campground and can't wait to schedule #3.
Jun 10, 2020
The spot was good, but the neighbor who stayed the next tent site was pretty bad. Three(3) tents were there. Idk how many ppl were there but is it allowed? They never stopped talking loud even after 1 AM. Yes, AM. Can you believe it?? Getting louder and louder. Loud talks and music at midnight. The most horrible camping memories.
Jun 10, 2020
We love the awesome views! Campsite was clean and spacious! Owners are Pleasant and helpful!
Jun 09, 2020
We enjoyed our stay as always. Very nice people that own the KOA. Beautiful view! Can't wait to go back again.
Jun 09, 2020
Always nice!! The employees are great!!
Jun 09, 2020
Most enjoyable
Jun 09, 2020
Very quite, friendly atmosphere
Jun 09, 2020
Our first time here and it won't be our last. The sites were a nice size, not all sites have tree coverage but ours had a decent amount. Loved sitting at our site and enjoying the beautiful view.
Jun 09, 2020
Very nice people and nice place will be come back
Jun 09, 2020
Had a very nice stay, camp was quit and a amazing view.
Jun 09, 2020
Sites were nice. Luckily in the shade with a view. Would go back
Jun 09, 2020
Quite simply, a great campground! Clean, well kept, checking in took 3 minutes and the owners were very friendly, helpful and attentive to the camp. Fellow campers were likewise very friendly and the atmosphere there was amazing! I'll be back for sure this season!
Jun 09, 2020
Beautiful, clean and we'll maintained
Jun 09, 2020
This is such a nice campground. Very clean and close to town! The view is spectacular!
Jun 09, 2020
Wonderful weekend - nice owners
Jun 09, 2020
relaxing and quiet
Jun 08, 2020
A completely awesome campground! A beautiful view of the Amish farmland and countryside in the valley below. Peaceful and nestled in a quiet valley in Pennsylvania's Lancaster County. The campground owners and staff are wonderful, warm and friendly. The camp sites are amazing!
Jun 08, 2020
Great place to stay
Jun 08, 2020
Great place to stay!! Very friendly owners. Very clean and well maintained campground. Great views and close to attractions.
Jun 07, 2020
Wonderful new owners-what a difference. Great people running it. Clean, helpful, friendly. My new favorite campground.
Jun 07, 2020
Very clean, beautiful campground. The cabin was clean an had all the amenities an necessities we needed.
Jun 07, 2020
If you are looking for Peace and quiet this is the place. Very clean. Friendly people very relaxing and tranquil. highly recommend. Will return�
Jun 06, 2020
Great people & great site!
Jun 06, 2020
Location is perfect and the view is awesome. Campground very well manicured. Everyone is very friendly. Looking forward to returning in the fall
Jun 05, 2020
Very clean, well kept campground.
Jun 05, 2020
we recently stayed 4 nites from 5/28-6/1/2020. First time here and at a KOA. Campground very well maintained and bathrooms extremely clean. Fresh baked Amish donuts across the road on Fri and Sat only. No pool but plenty to do away from campground. Sites were very shady and spacious enough for everyone's slides to be out and not touch one another. We would stay here again.
Jun 04, 2020
Nice clean campground. Beautiful view.
Jun 04, 2020
Beautiful location. Great staff!
Jun 03, 2020
quick, peaceful, perfect
Jun 02, 2020
This was our 2nd stay at this KOA. We love it. It has the perfect amenities for our needs. We love the view. Nice and clean. We will be back
Jun 02, 2020
We loved it had a relaxing weekend
Jun 02, 2020
Views are awesome and very clean campground
Jun 02, 2020
Very nice campground with very nice people. Great location with views. Love the mid day ice cream. Only one issue. At Sites I and J, the sewer connection should be cut down to the level of the gravel site pad to allow gravity to do its thing. As it is, the sewer has to travel uphill slightly to get into the system. A shovel, Dremel tool, and another PVC connector fitting will do the trick.
Jun 02, 2020
Very peaceful & quiet. Beautiful scenery right from the campsite!
Jun 02, 2020
Campground was nice, clean & peaceful. The camp sites are very close together but wasn't packed so we still loved it. It's in a beautiful area with plenty to explore if you want to venture out of the campground. Not a lot of activities for kids but if you're looking for a nice, relaxing get away, this KOA will do the trick.
Jun 01, 2020
Fun quick weekend get away. Clean, beautiful scenery!!!
Jun 01, 2020
This campground is one of our favorite stops. As in prior visits, the vistas and quiet nature of this campground did not disappoint. Kudo's to the new owners for the excellent upkeep of the grounds and facility. Easy no contact check-in. Britanny was very pleasant and helpful each time we spoke to each other, Good changes from the new ownership.
Nov 22, 2020
Great RV park. Great views of the Amish country side.
- Robine Reese on Google
Nov 14, 2020
Good place, small but nice view
- thefresh fruitman on Google
Nov 13, 2020
Just tented there and it was absolutely beautiful. This campground is simply relaxing. So quiet you can hear leaves falling. Also, $5 fire wood.
- Jeannette Smith on Google