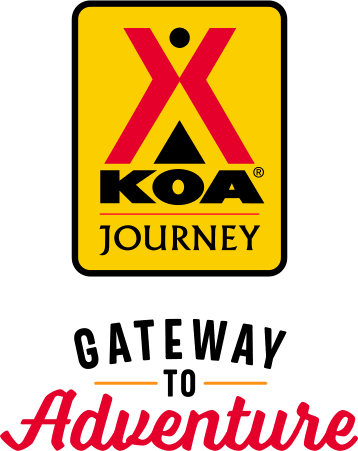 KOA Journey Campgrounds
KOA Journey campgrounds are the perfect oases after a day on the road. Whether it's along the way or a quick getaway, they've got you covered. Located near the highways and byways of North America with long Pull-thru RV Sites, they deliver convenience to the traveling camper. Pull in, ease back and take a load off.
KOA Journeys Feature:
Pull-through RV Sites with 50-amp service
Premium Tent Sites
Well lit after hours check-in service
Directions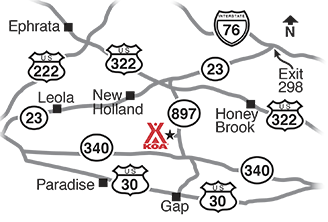 Check In Time: 2:00 PM - 6:00 PM early arrivals are not encouraged. If you'll be arriving after 6pm look for YOUR site map on the office porch.
From PA Turnpike: Exit 298 then take Exit B, then right on Route 23/10. At traffic light go straight on Route 23. At Route 897 go South. KOA is 4 1/2 miles on the right side of the road. From Harrisburg: Take 283 East to 30 East to 340 East
From Route 340: Stay on Route 340 until Springville Rd (897) then go north on 897. At the stop sign, go right. KOA is on the left 3/4 of a mile. DO NOT TAKE SNAKE LANE!!
Get Google Directions
Jun 22, 2020
Great Campground. Customer Service and friendliness go a long way. Very quiet campground. No bells and whistles BUT the view and location is AMAZING!! Highly recommend!!!
Jun 22, 2020
Everything was wonderful from check in to leaving the campground. Cant wait to return. Hopefully before this season is over.
Jun 22, 2020
Excellent facility and friendly staff. Larger selection at a camp store would be beneficial.
Jun 20, 2020
Fantastic campground. Really nice sites .Love the view.
Jun 20, 2020
Can't wait to visit again
Jun 19, 2020
The campground has been much improved. I commend the new owners.
Jun 19, 2020
A spot with a view is worth the extra $$ Was even able to get a pizza delivery after a long day on the road
Jun 19, 2020
We had a perfect site. Weather was awesome and enjoyed our stay here. Even grabbed some awesome Amish donuts across the street. Beautiful views of the farmlands. We will be back here
Jun 19, 2020
We had a wonderful time at this campground. Spaces are decently spread out. Very clean and the workers were very kind and helpful! We are planning on going back the next time we visit our family.
Jun 19, 2020
Not friendly, to much to stay!
Jun 19, 2020
Nice campground and campsite. We were in the least expensive site and it was very nice. We will be going back.
Jun 17, 2020
Very clean quiet campground and we love the cookies. Thank you.
Jun 17, 2020
We stayed on two of their three tent sites. It's a little awkward backing into the sites. Overall the campground was nice, clean and quiet. The view was breath taking. The staff was very friendly. They only have a few items for sale in the office. Make sure you bring everything you need.
Jun 17, 2020
We had a wonderful stay as usual. It's such a clean and friendly camp ground. And the view and the area around the campground is so beautiful. The only problem I had was being in Site 49 it was very difficult to back into my site because of the fence in front of our site. And I know my neighbors around me had the same issue.
Jun 17, 2020
Very Pleasant and helpful staff. Beautiful views. Well Kept. Only downside is no pool.
Jun 17, 2020
A beautifully clean and well maintained campground with a spectacular view. It was also great for our two little poms, walking areas and a lot of grass. We can't wait to visit again!! HIGHLY recommend this campground!!
Jun 16, 2020
We love this KOA! Always clean, peaceful and quiet. The farm views and countryside are lovely! The new owners are very welcoming and incorporate a family feel with a hospitable nature. We will continue to stay there as long as we are camping!
Jun 16, 2020
We had a wonderful time. The beautiful views of the Amish countryside provided a much needed escape and an opportunity to temporarily disconnect from the unfortunate reality of this challenging time in our country
Jun 16, 2020
Always a relaxing time with amazing views
Jun 16, 2020
Enjoyed our time there very much! Beautiful weather & view! Very clean & office staff very pleasant. Thank you for the opportunity to just get away! We will be back!!!
Jun 16, 2020
Absolutely beautiful and I would highly recommend staying here!! Wonderful benefits of staying during the weekend was walking across the street to Amish farm and purchasing freshly made donuts and cinnamon buns!! Yum!
Jun 16, 2020
Awesome. Great job
Jun 16, 2020
Very relaxing, excellent view, well kept campsites, trees trimmed appropriately, friendly staff
Jun 16, 2020
Stunning views! Peaceful and lovely atmosphere.
Jun 16, 2020
Great place, very organized sites with amenities and clean. Also incredible scenery !
Jun 16, 2020
My stay was very peaceful n relaxing
Jun 16, 2020
Chad was very helpful and friendly throughout my stay. He was even nice enough to come by our camp site and deliver our fire wood. The facilities were always clean and well stocked and the overall site was really comfortable.
Jun 16, 2020
Great little campground sites are level but the area is hilly and the campground has hills but all is good. My kids played on the playground and enjoyed the giant checker set.
Jun 16, 2020
Great KOA. Friendly owners. Clean and quiet
Jun 16, 2020
Secluded tent site. Nice friendly checkin with cookies!
Jun 13, 2020
Beautiful views, and very nice hosts
Jun 13, 2020
All staff were so friendly. Grounds were very clean and maintained.
Jun 13, 2020
Very nice campground, wonderful view of Amish country side.
Jun 12, 2020
This was our 2nd stay at the Lancaster/New Holland. The campground is very well maintained and the folks are all very friendly. You can choose from a wooded real camping like feel to a scenic and stargazing like feel with one of the best views in the area. The only reason it is not a 5 is there is no pool and on site amenities are a bit limited. We will definitely come back again.
Jun 12, 2020
Excellent...... The owners and staff were very nice, and helpful. The campground was very well laid out, with tiered rows to improve the views of the surrounding farmlands. The bathrooms were immaculate. Our site was near the road which allowed us to hear and watch the horse and buggies go up and down said road.
Jun 12, 2020
Beautiful campground. Only problem was the electric.
Jun 11, 2020
The best campground in the Lancaster area and the view is breathtaking. Been coming for 5 years and will be back next year!
Jun 11, 2020
We always love our visit at New Holland KOA. We were lucky enough to get our special lot this visit. We have been there several times. Chad and his family are so nice to work with. The showers and main office have been remodeled and they are fantastic. If you want to relax and unwind, it's your place. Views from the front lots promote calmness...and are so worth the stay!
Nov 22, 2020
Great RV park. Great views of the Amish country side.
- Robine Reese on Google
Nov 14, 2020
Good place, small but nice view
- thefresh fruitman on Google
Nov 13, 2020
Just tented there and it was absolutely beautiful. This campground is simply relaxing. So quiet you can hear leaves falling. Also, $5 fire wood.
- Jeannette Smith on Google