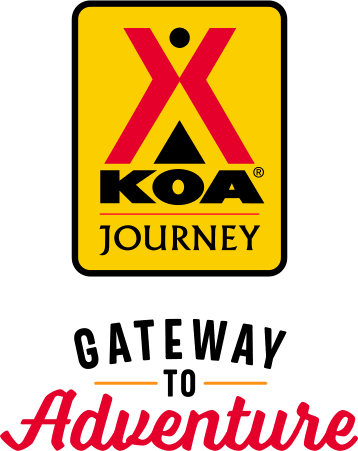 KOA Journey Campgrounds
KOA Journey campgrounds are the perfect oases after a day on the road. Whether it's along the way or a quick getaway, they've got you covered. Located near the highways and byways of North America with long Pull-thru RV Sites, they deliver convenience to the traveling camper. Pull in, ease back and take a load off.
KOA Journeys Feature:
Pull-through RV Sites with 50-amp service
Premium Tent Sites
Well lit after hours check-in service
Directions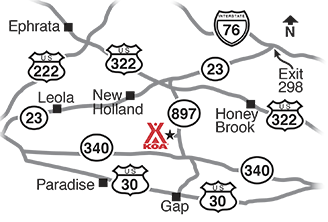 Check In Time: 2:00 PM - 6:00 PM early arrivals are not encouraged. If you'll be arriving after 6pm look for YOUR site map on the office porch.
From PA Turnpike: Exit 298 then take Exit B, then right on Route 23/10. At traffic light go straight on Route 23. At Route 897 go South. KOA is 4 1/2 miles on the right side of the road. From Harrisburg: Take 283 East to 30 East to 340 East
From Route 340: Stay on Route 340 until Springville Rd (897) then go north on 897. At the stop sign, go right. KOA is on the left 3/4 of a mile. DO NOT TAKE SNAKE LANE!!
Get Google Directions
Jul 07, 2020
What a great campground to recharge your batteries. From the beautiful views to how quiet the area is. This is a gem.
Jul 07, 2020
A quiet campground that is one of the cleanest campgrounds that I have stayed at. Most sites have an incredible view of the Amish Country side. Wood($5) and ice($2.50) is cheap compared to other campgrounds and is done via honor system so you can get some whenever you need it.
Jul 07, 2020
Our stay was terrific! Definitely plan to return. Very clean, arriving late was organized with pick up of map and assignment. No problems at all.
Jul 07, 2020
Love the updated shower rooms! grounds looked nice and clean. quiet restful stay tank you!!!
Jul 07, 2020
Always quiet and always helpful if you need them Great campsite
Jul 07, 2020
We love this KOA. Don't need the amenities that are missing. Fits our needs. Very clean. Amazing views
Jul 07, 2020
We love this campground! The views are amazing and close to Lancaster Attractions. Sometimes wish the cable was better and they had a pool. We always enjoy our stay. Owners are very nice and helpful!
Jul 07, 2020
We really enjoyed it very nice owners very nice place will be going back again
Jul 07, 2020
With a lucky break of being able to get in at the last minute we had a wonderful first time stay !! Loved it so much we made reservations for the fall. Can't wait.
Jul 07, 2020
Nice and peaceful. Nice people. Could use better wufiband cable signal strenght
Jul 07, 2020
Nice quite campground, we'll be back !
Jul 04, 2020
Site was to small , no pool,to expensive for what you get
Jul 04, 2020
Awesome location, very well maintained campground!
Jul 03, 2020
This may be the most peaceful, beautiful campground we have stayed at.
Jul 03, 2020
Clean, well groomed, friendly, outstanding view, nice sites, very clean bathrooms
Jul 03, 2020
We loved the view and the very clean camp. Everything was perfect. Thank you
Jul 02, 2020
Beautiful campground and very well kept. Owners are so nice and helpful. Will definitely go back.
Jul 02, 2020
Nice park. Clean . Lot 94 had large stones in road, made it hard to move motorcycle in and out. It was nice being away from crowds with our dogs though.
Jul 02, 2020
the place is great, just wish they had a pool
Jul 01, 2020
Beautiful grounds, beautiful views and spotless bathhouse. We will be back.
Jul 01, 2020
If you're a 36' motorhome with 4 slide outs don't stay at site I. We notified the owners of a situation that limited our outdoor space to 2'. It took 3 days to respond. No remedy or refund was offered. The saddest part is that they already knew about this issue and still hadn't fixed it by simply adding more crushed stones. This is unacceptable for over $212!!!! Nice campground though an
Jun 30, 2020
Great view. Nice and quiet. A pool would be nice to escape the heat.
Jun 30, 2020
Over priced for the lack of services available. No pool and few activities for guests and cable was in watchable. We stopped going to the campground 1/2 mile up the road due to what they were charging. Now that's 2 places we won't be returning to.
Jun 30, 2020
We had a great time.
Jun 30, 2020
I would like to see a better wifi set up. The signal is to weak. .
Jun 29, 2020
We love this Campground! The views are amazing! We try to stay three or four long weekends a year
Jun 29, 2020
Very relaxing stay. Just what we needed! We will be back very soon.
Jun 29, 2020
Very good great view
Jun 29, 2020
Loved the view and the site was nice. We always manage to find someone we know camping there.
Jun 29, 2020
From check-in to pull out, we found the Lancaster/New Holland KOA to be top drawer! The campground is safe, view is phenomenal, and spaces are spacious enough even for a large rig with slide outs. We hope to return!
Jun 29, 2020
Our Favorite KOA, Always a Pleasant Stay !!
Jun 29, 2020
It was a picture perfect weekend. The weather was wonderful, the view was breath taking and the tranquility was amazing. Can't wait to return.
Jun 29, 2020
Great place to relax.
Jun 29, 2020
Wonderful campground! Excellent staff!
Jun 29, 2020
First time at a KOA . Very clean. Quite. Friendly staff. Will be looking to return next month
Jun 29, 2020
Very nice at check in. Quiet great spaces.
Jun 29, 2020
The View is amazing and the staff are super friendly & helpful.
Jun 29, 2020
Very clean bathroom and showers.
Nov 22, 2020
Great RV park. Great views of the Amish country side.
- Robine Reese on Google
Nov 14, 2020
Good place, small but nice view
- thefresh fruitman on Google
Nov 13, 2020
Just tented there and it was absolutely beautiful. This campground is simply relaxing. So quiet you can hear leaves falling. Also, $5 fire wood.
- Jeannette Smith on Google