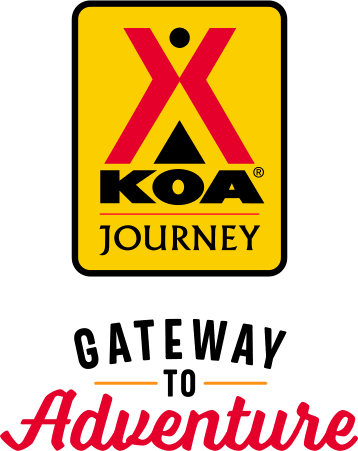 KOA Journey Campgrounds
KOA Journey campgrounds are the perfect oases after a day on the road. Whether it's along the way or a quick getaway, they've got you covered. Located near the highways and byways of North America with long Pull-thru RV Sites, they deliver convenience to the traveling camper. Pull in, ease back and take a load off.
KOA Journeys Feature:
Pull-through RV Sites with 50-amp service
Premium Tent Sites
Well lit after hours check-in service
Directions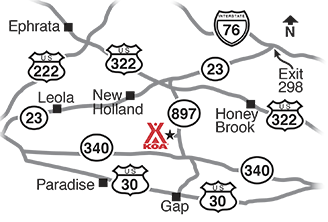 Check In Time: 2:00 PM - 6:00 PM early arrivals are not encouraged. If you'll be arriving after 6pm look for YOUR site map on the office porch.
From PA Turnpike: Exit 298 then take Exit B, then right on Route 23/10. At traffic light go straight on Route 23. At Route 897 go South. KOA is 4 1/2 miles on the right side of the road. From Harrisburg: Take 283 East to 30 East to 340 East
From Route 340: Stay on Route 340 until Springville Rd (897) then go north on 897. At the stop sign, go right. KOA is on the left 3/4 of a mile. DO NOT TAKE SNAKE LANE!!
Get Google Directions
Jul 20, 2020
Beautiful campground, nice area, quiet and peaceful
Jul 20, 2020
Great stay. Clean, friendly campground.
Jul 20, 2020
We had a great time, we would definitely recommend this camp ground. the owners are wonderful!!!! The area is so beautiful!! If your looking for a great place to stay definitely stay here!!! we will be staying here again soon!!
Jul 19, 2020
Very well kept and organized campground, one of the best I've stayed at with regards to convenience, ease of access, space and hospitality. The store has all the basics and some RV staples/supplies. There are pull through spaces overlooking a small creek with steps leading down to the brook. There are two dump pipes per space with rocks to weigh down the connection and to grade the sewer lin
Jul 18, 2020
One of best camp ground I've stayed in a long time.
Jul 18, 2020
Great check in clean grounds
Jul 18, 2020
Our site overlooking the farms was awesome as was hearing the clip-clip of the horses and buggies. Needs a pool, not much to do for kids.
Jul 17, 2020
We absolutely loved it, cant wait to return in the fall!
Jul 17, 2020
Beautiful, well maintained park with gorgeous view of Amish countryside. Convenient to local amenities.
Jul 17, 2020
Staff was extremely friendly and helpful, everything was clean and well kept.
Jul 17, 2020
Love the area and the great view Peaceful and Quiet We will be back
Jul 17, 2020
Very clean & peaceful campground.
Jul 15, 2020
LOVE everything about this campground. The price, the view, the location, the smiling face that greets you at the counter and especially the cookies!
Jul 15, 2020
All ways a clean campground, staff friendly. Just a wonderful area to relax in.
Jul 15, 2020
Person running k.o.a. In new holland a great place to stay very friendly very clean 5 star campground
Jul 15, 2020
We loved staying here. It was so peaceful and quiet.
Jul 14, 2020
Love coming to Lancaster KOA. Staff is great and one of the cleanest spots I've stayed at. The view is spectacular. Can't wait to come back
Jul 14, 2020
Easy access to campground and campsite. Very clean and well kept grounds.Did not use the shower facility. Beautiful views of the country side.
Jul 14, 2020
If you are looking for quiet...nothing to do, but relax....this place is for you. It is far from everything
Jul 14, 2020
Quiet and peaceful with fantastic views of valley!
Jul 14, 2020
Check-in was a breeze and the entire camp is beautiful. We had a minor power issue to start but someone came out right away and fixed it within 10 minutes. We plan to return again in the full with all the kids.
Jul 14, 2020
Beautiful view! Everyone was very nice! The only concern we had was the ground bees especially when it comes to walking the dogs
Jul 13, 2020
We had a new site in the woods, lots of shade during some hot weather. Trees on one side, an empty space on the other...great for "social distancing". Office was very polite and friendly, utilities at our site were all new and excellent. Overall a quiet and relaxing location with little traffic, great for walking our dogs. Would definitely recommend to anyone camping in the area.
Jul 13, 2020
The young woman who checked us in had a wonderful demeanor. A positive first impression. The camp ground was well maintained. We will definitely revisit.
Jul 13, 2020
always a great place to stay in Lancaster county highly recommend this koa
Jul 13, 2020
Lovey little campground. Very clean and quiet. Staff was extremely helpful and friendly. Highly recommended.
Jul 13, 2020
Check in was fast and easy, staff was friendly, our site was good with nice views of the country side.
Jul 13, 2020
Nice place for family
Jul 12, 2020
Great place. Great views. Staff was very helpful when we wanted to stay 1 more night in the same spot.
Jul 12, 2020
Great place to stay and relax
Jul 12, 2020
Enjoyed the wooded lot, very private, next stay is on the open hill looking forward to it
Jul 12, 2020
Absolutely beautiful. Restrooms clean. Right across the street, there is a lady that makes and sells homemade apple fritters that are out of this world. Will definitely be returning.
Jul 12, 2020
It was just one night, but it was clean, quiet and beautiful!
Jul 10, 2020
We were there over July 4th weekend. Staff was very nice, bathrooms were spotless!
Jul 10, 2020
We had a great time. The campground and staff were fantastic. We will be back again.
Jul 10, 2020
Extremely nice staff and facilities were older but clean and neat. The sites were well maintained and on going upgrades were on going. We cant wait to come back.
Jul 09, 2020
My first time there and New Holland KOA is at the top of my list of excellent campgrounds. The staff was friendly and responded to a minor electrical problem quickly. As a full timer, this is my kind of campground. The rest rooms and showers are clean and well designed. The KOA New Bern was last years Number 1 in the country. It's close but doesn't beat this one.
Jul 08, 2020
Enjoyed our site with the patio and built in fire ring. Always a pleasure to stay at your KOA.
Jul 08, 2020
Very nice park. Have already scheduled 2 more visits. The only thing I would suggest would be a store to carry items you might need or want.
Jul 08, 2020
Nice quiet campground, very clean, friendly staff, nice views. Our favorite campground.
Jul 07, 2020
Beautiful view of the Amish farmlands, very clean campground. Just wish they had a pool. Will definetely return!
Nov 22, 2020
Great RV park. Great views of the Amish country side.
- Robine Reese on Google
Nov 14, 2020
Good place, small but nice view
- thefresh fruitman on Google
Nov 13, 2020
Just tented there and it was absolutely beautiful. This campground is simply relaxing. So quiet you can hear leaves falling. Also, $5 fire wood.
- Jeannette Smith on Google