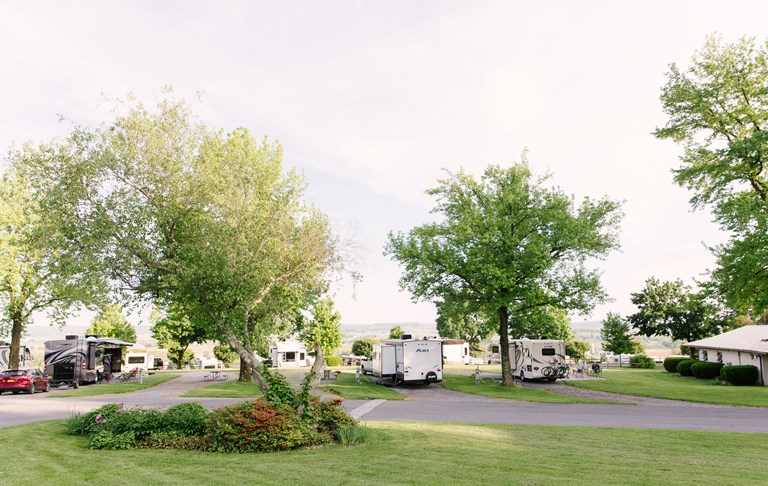 Lancaster / New Holland KOA Reviews
Directions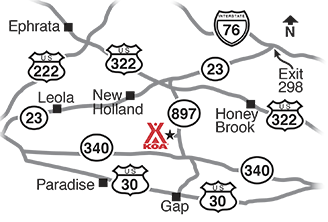 Check In Time: 2:00 PM - 6:00 PM early arrivals are not encouraged. If you'll be arriving after 6pm look for YOUR site map on the office porch.
From PA Turnpike: Exit 298 then take Exit B, then right on Route 23/10. At traffic light go straight on Route 23. At Route 897 go South. KOA is 4 1/2 miles on the right side of the road. From Harrisburg: Take 283 East to 30 East to 340 East
From Route 340: Stay on Route 340 until Springville Rd (897) then go north on 897. At the stop sign, go right. KOA is on the left 3/4 of a mile. DO NOT TAKE SNAKE LANE!!
Get Google Directions
May 28, 2020
Small, quaint and peaceful. Our grandsons had a great time running, riding bikes and the playground. Do wish there was a pool.
May 28, 2020
This would be a five star if they had a pool.
May 28, 2020
Excellent site. Beautiful stay. Clean bathrooms are so clean though they could use more hooks!
May 28, 2020
Friendly staff, useful info prepared about who was open for food in the area, showers were much nicer than I remembered. Happy with our stay, will be back soon!
May 26, 2020
Fantastic campground. Very family oriented. Staff is great and the campground is quiet. See you soon
May 26, 2020
Very nice Campground, Friendly Staff very helpful, we will be visiting again.
May 26, 2020
Beautiful campground. Very clean and beautiful views of Amish country. Will definitely be back!
May 26, 2020
very clean campground with beautiful view
May 26, 2020
we spent the weekend in the quiet section, and had a lovely time with friends. The campgrounds are beautiful , an very clean with a view of the Amish country that looks like a painting. There really are no amenities , like playground, pool, activities , so that is my only negative . I m all ready planning to go back when things are open to the public again. Great People (the Staff).
May 26, 2020
As always our stay was wonderful. Lancaster/New Holland KOA is out favorite camp site. Everyone is nice, the sites are clean and easy to park in. I tells all our friends who camp to be sure and to here its great.
May 26, 2020
We had a great time and everything was clean and everyone very nice.
May 24, 2020
Excellent location, beautiful view of farmlands and the community. Staff was very friendly and helpful.
May 24, 2020
I only had to stay one night, so this campground was fine for that. However, the tent camping I was put in was extremely hard to navigate my van into (especially at night). Also, if I was bringing an RV, I'd be disappointed with how packed in those spaces are.
May 23, 2020
Wonderful stay as usual. We enjoyed the good weather and nice people.
May 23, 2020
Stayed her for the first time for three nights. Had a wooded site that was a nice size and private. Campground was clean and quite. The area around the campground was very nice also. Did a few of the hiking trails and visited a few business in the area that added to the overall experience of our camping trip. Would definitely recommend this campground!
May 23, 2020
We always have a pleasant stay at Country Haven. Staff is courteous and helpful. Scenery is beautiful and Campground is very well kept. Country Haven is our favorite campground in PA.
May 23, 2020
Stayed only one night but had a great site!
May 23, 2020
Amazing view across the lancaster valley with the sound of Amish horse and buggy teams passing by. A idyllic sojourn. Pristine campground with a very welcoming husband and wife team (and babies!!!).
May 23, 2020
Really nice place. Well manicured and the view of the valley is amazing. Mix of sites in the trees and out in the open. Staff really friendly. Great way to experience the Amish area with lots of horses and buggies!
May 22, 2020
No other campground in the Lancaster area offers the dramatic panoramic views of Amish farmland as KOA Lancaster. New owners Chad & Bethany are wonderful hosts. Walking/hiking trails less than 10 minutes away; Welsh Mountain Nature Preserve & Money Rocks Park. Staying here 3 times in 2020, observing each season and related activities across the Amish farmland is one of life's greatest pleasures.
May 22, 2020
Wonderful weekend getaway and the new owners are very helpful and kind. Great views from our site.
May 21, 2020
We had a very nice wooded site. The weather called for rain each day we were there but it never rained. Would not have mattered either way. It was a very relaxing, peaceful time. If your there on a Friday or Saturday, you must check out the bakery right across the street.
May 21, 2020
Campground was nice, very clean and well kept. Chad was great, very friendly and helpful. The only issue we had was the sewer hookup was almost as high as the trailers outlet, but we made it work. Would note the camp store is sparse, but there are plenty of stores in the area. Thanks Chad for a great 1st trip out of the year. Will come again.
May 21, 2020
It was a quick visit to take RV to dealership so we only spent the one night. Staff who checked us in (Emily? Forgot her name) was friendly, professional and made us feel welcomed. The park was clean, well kept and will definitely stay again!
May 20, 2020
Very nice campground with friendly staff and beautiful views. Other campers were friendly and courteous. We had friends in one of cabins and they were very pleased. We booked for next year.
May 20, 2020
Very nice campground, great location. Would be even better if they had a pool.
May 20, 2020
well maintained campground with beautiful views of the surrounding area. very peaceful and quiet campground even when it was full. we will definitely be back.
May 20, 2020
The only problem we had was trying to back in to space with the fence going across the front. The little bit of extra room trying to back in without the fence would have made things a little easier.
May 20, 2020
Stay was great, clean canoground, not much for children too do and site was difficult to enter with 33' TT. Trees on both sides of the entrance too site. Top side of site should have tree removed.
May 19, 2020
Great campground and very clean. Owners are very nice and helpful. Views are amazing!
May 19, 2020
Beautiful view! Definitely our favorite campground in Lancaster. The new owners are awesome! We are bringing two new couples who have never stayed there at the end of June
May 19, 2020
Nice clean facility. Close to everything in Lancaster.
May 19, 2020
We loved it so much, we stayed another day,
May 19, 2020
Was great as always
May 19, 2020
Beautiful place, very clean and super nice people
May 19, 2020
Beautiful campground, well-kept, very friendly helpful staff! Will definitely be back.
May 19, 2020
One of the cleanest and well kept campgrounds I've ever stayed at. Showers were new and very clean. It was a concern of ours with the virus around, but we were very happy with their efforts. The people working at the site are extremely friendly and helpful. First time out for the year and had a few bugs to work through with our travel trailer and they couldn't be more eager to help.
May 19, 2020
The sites were clean and taken care of. Ours had a great view of the Amish working on their fields. Staff was very helpful and courteous. It was as advertised a nice quiet and relaxing campground.
May 19, 2020
We really enjoyed the campground and beautiful scenery. Thank you for an enjoyable stay!
May 18, 2020
Horse light was very nice we had great people beside us and we had a nice view
May 18, 2020
We had a most relaxing time at this loacation. We will be coming back forsure. Very nice ! Thank you.
May 18, 2020
Always a nice relaxing stay.
May 18, 2020
Beautiful location. Amazingly quiet location. Everything well taken care of. Very accessible. Pleasant owners/staff.
May 18, 2020
One of our favorites! Quiet and clean campground
Sep 15, 2020
Very nice campground with very very good views of the Lancaster Amish area. Staff was friendly and cordial. We plan to stay here again in the future. The store area was very limited but during Covid this is not as critical an issue for us. Only downside was that the sites are very close together .
- Tom Nestor on Google
Sep 14, 2020
We love this KOA. It's always our stop for a couple of days on our way home from trips to visit our family. So relaxing and clean and friendly staff. Always recommend.
- Carina Powers on Google
Sep 12, 2020
Wonderful view and beautiful campground. Staff are very welcoming and friendly!
- Steve Harkins on Google

Lancaster / New Holland KOA
Open April 1 - November 30
354 Springville Road
New Holland, PA 17557
Check-In/Check-Out Times
RV Sites, Tent Sites
Check-in: 2:00 pm, Check-out: 1:00 pm
Accommodations, Deluxe Cabins
Check-in: 2:00 pm, Check-out: 11:00 am
Lancaster / New Holland KOA
Get Google Directions

© 2020 Kampgrounds of America, Inc.