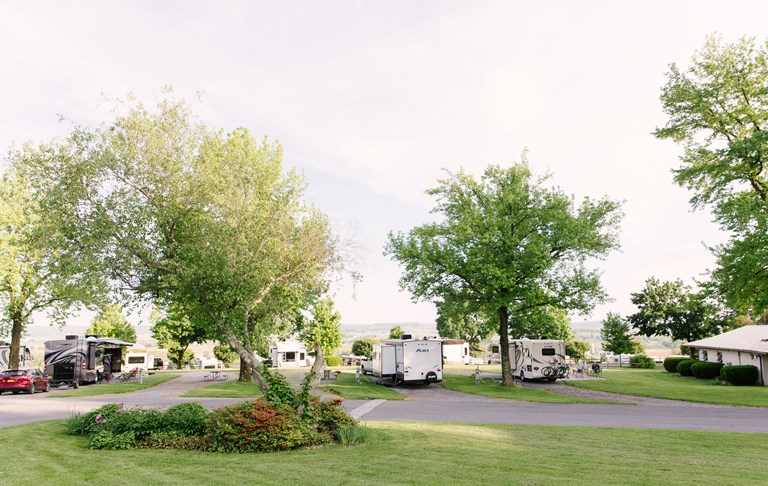 Lancaster / New Holland KOA Reviews
Directions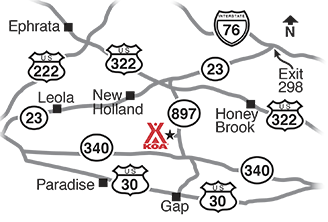 Check In Time: 2:00 PM - 6:00 PM early arrivals are not encouraged. If you'll be arriving after 6pm look for YOUR site map on the office porch.
From PA Turnpike: Exit 298 then take Exit B, then right on Route 23/10. At traffic light go straight on Route 23. At Route 897 go South. KOA is 4 1/2 miles on the right side of the road. From Harrisburg: Take 283 East to 30 East to 340 East
From Route 340: Stay on Route 340 until Springville Rd (897) then go north on 897. At the stop sign, go right. KOA is on the left 3/4 of a mile. DO NOT TAKE SNAKE LANE!!
Get Google Directions
Oct 28, 2019
Our stay was great and relaxing. We plan on staying here alot. The staff was very nice and helpful. Grounds and bathrooms are well kept.
Oct 28, 2019
Except for the incessantly barking (yapping) dog it would have been perfect.......
Oct 28, 2019
Very nice campground, clean and friendly. I will say I do not like the rocks placed at curves and intersections within the grounds. Driver cannot see them over the hood or along side when backing in of towing thru grounds, could cause substantial damage to vehicles. I understand why they are there but should be replaced with a higher more visible rubber guide.
Oct 28, 2019
Had a great weekend in New Holland! Great campground in all aspects!
Oct 28, 2019
Stayed 2 nights and mostly used as base for Amish area tourism. Nice location, clean grounds. Did not use any of the facilities so cannot comment on those. Nice views from campsites overlooking Amish farms. Central location to Lancaster County tourists sites. Would recommend to anyone looking for nice clean campground.
Oct 27, 2019
friendly staff. nice clean campground
Oct 25, 2019
Beautiful campground with BEAUTIFUL scenery!!!! Very friendly and helpful staff! We had a great stay here and would definitely visit again!
Oct 25, 2019
Love this place -- love the area -- so peaceful. I hope the new owners take as much care of the place as the old owners. A few wishes... A pool would be nice. Also, it would be nice to be able to use the internet for high speed downloads. Finally, I wish you could refill our propane tanks. But even with these minor inconveniences, this is one of our favorite KOAs.
Oct 23, 2019
Beautiful scenery! You couldn't ask for better sights in Lancaster. Clean and quiet campground.i would highly recommend this campground. Please remember for those who have children, there is no pool.
Oct 23, 2019
Great views of the area. Great people working in the office.
Oct 23, 2019
Relaxing campground. Great view over the valley. Clean rest rooms and surrounding area.
Oct 22, 2019
Great management and superior sited
Oct 22, 2019
we had 15 people with us an enjoyed every minute, cabin was perfect, some of the sites with us were on a hill so we partied on cabin site was great an roomy.
Oct 22, 2019
I had issues with the electric not working and the owner came down and took care of it right away. Campground has beautiful views and is very clean!
Oct 22, 2019
We loved the peaceful quietness and fabulous view of the Pequea Valley. The only negative was the many barking dogs.
Oct 22, 2019
Great place location very close to Lancaster county attractions and shops. Beautiful views nice campsites. !! Wifi however is terrible unable to access home security system and have over 100 security camera clips to review.
Oct 22, 2019
Campsite was clean but the spots were a bit tight. I cod hear my neighbors having a conversation. Overall I would definitely come back.
Oct 22, 2019
I gave this campground another shot due to the new ownership. It started with a smiling face at the front desk, clean site, clean bathrooms. The view is outstanding and you could hear the laughter of children (not a common theme in the past). It was nice to not have the feeling that you were suspected of a crime for just stepping in the office. The new owners are trying hard and it shows.
Oct 22, 2019
An exceptionally well kept quieter campground with generous sized sites and incredible views overlooking Amish farmland. Owners & staff are very friendly, polite and address you by your name Third time staying at CG and recommend highly..
Oct 21, 2019
Very nice campground. The management was very helpful and accommodating. I would definitely recommend this KOA.
Oct 20, 2019
I found the people very friendly and helpful. The bathrooms were heated. The laundry room clean. The sites are fantastic. I had a beautiful view of the Lancaster County farmlands. I would go there again.
Oct 19, 2019
Our site location was perfect. Excellent view. Peaceful atmosphere. Friendly and courteous office staff were a pleasure to deal with.
Oct 19, 2019
We enjoyed our stay at the KOA Lancaster. We have been here before. That's why we keep going back. Excellent location and beautiful view. The people that work there are so helpful on check in. The gentlemen even helped a single woman park level and set up her site. It's a great place.
Oct 19, 2019
Although the weather was bad (rain followed by high winds) the stay was otherwise exactly what I wanted, a quiet stay with a pretty view. I was not able to go for the weekend - sold out! Good place for seniors. I ranked it 7 of 10 because there did not seem to be much for the little ones. The play equipment is quite nice but very limited. The staff could not have been nicer or more helpful.
Oct 19, 2019
Very friendly helpful staff. Very pretty view, nice and clean.
Oct 19, 2019
Only issue is extremely low water pressure
Oct 18, 2019
Beautiful KOA and surrounding area. Loved the view from our site. Wish there was more of a camp store...it just had a few necessities for sale.
Oct 18, 2019
As always a great KOA. Just wish we could keep the rain and wind away when we come up? lol Mike
Oct 17, 2019
The pull thru was spacious. The site were crystal clean. The staff was knowledgeable and very helpful regarding directions. The best surprise was a quarter exchange machine in the laundry. Thanks and wish we lived closer to use you facilities more often.
Oct 17, 2019
Have been visiting for years, and the place was always quiet and beautiful. This time, the campers next to us were noisy, trash everywhere and put rugs and cars on the grass. We complained to the management but nothing was done. Guess everyone doesn't have to follow the campground rules. A fellow camper stopped by to say he felt sorry for what we had to put up with.
Oct 17, 2019
Owner very helpful. Very good rv site conditions.
Oct 17, 2019
Just love it here. Well kept, quiet and centrally located near things we enjoy.
Oct 16, 2019
Nice campground for a weekend stay. As a family with a young child we are usually looking for a campground with more amenities and activities for kids. This trip we just needed a place to park and sleep as we had other activities planned so it was great. Bathrooms could use an overhaul.
Oct 15, 2019
Our favorite campground to sit back and take in the views. Truly a memorable stay, and we try to bring new friends everytime we come
Oct 15, 2019
We enjoyed our stay. Very scenic and RV sites are terraced to optimize the view of the countryside. Property is very well maintained and staff very friendly and knowledgeable in addressing all our questions. We would stay there again.
Aug 03, 2020
Good campground. Good people. Good food. Good scenery. Love the back roads. Great management, thank you Chad!
- Rick Steffy on Google
Jul 28, 2020
NEW OWNERS! IGNORE OLD REVIEWS. Stunning views, super quiet. Great for our family of four with two middle school/grade school age daughters. My husband and I would wake up early to sit in the perfectly placed Adirondack chairs to drink our coffee and listen to horse & buggy's go by. ***Spots are slightly more narrow than what we are used to and shade was limited but it's the sacrifice you make for this kind of view and quiet!
- Kris Bel on Google
Jul 21, 2020
Beautiful views, clean campsites, clean restrooms. Nice owners. Middle of Amish farms, food and activities. Bakery across the street Friday and Saturday mornings.
- Robert Smith on Google

Lancaster / New Holland KOA
Open April 1 - November 30
354 Springville Road
New Holland, PA 17557
Check-In/Check-Out Times
RV Sites, Tent Sites
Check-in: 2:00 pm, Check-out: 1:00 pm
Accommodations, Deluxe Cabins
Check-in: 2:00 pm, Check-out: 11:00 am
Lancaster / New Holland KOA
Get Google Directions

© 2020 Kampgrounds of America, Inc.