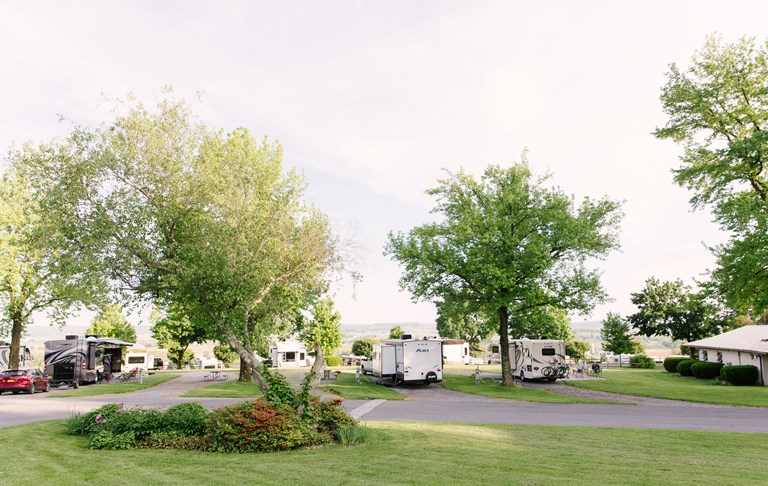 Lancaster / New Holland KOA Reviews
Directions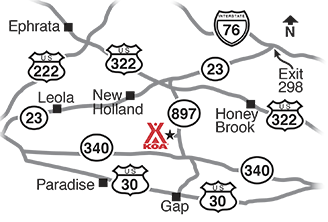 Check In Time: 2:00 PM - 6:00 PM early arrivals are not encouraged. If you'll be arriving after 6pm look for YOUR site map on the office porch.
From PA Turnpike: Exit 298 then take Exit B, then right on Route 23/10. At traffic light go straight on Route 23. At Route 897 go South. KOA is 4 1/2 miles on the right side of the road. From Harrisburg: Take 283 East to 30 East to 340 East
From Route 340: Stay on Route 340 until Springville Rd (897) then go north on 897. At the stop sign, go right. KOA is on the left 3/4 of a mile. DO NOT TAKE SNAKE LANE!!
Get Google Directions
Nov 12, 2019
Wow what a view, great place, I'll be back again
Nov 12, 2019
Love this campground already made reservations for next year
Nov 12, 2019
Not much at all for the kids to do. Sites were tight. The bathrooms were very clean.
Nov 12, 2019
Very relaxing. Friendly staff.
Nov 12, 2019
Enjoyable. Will come back again.
Nov 12, 2019
Don't think children should be charged extra to stay atcamoground
Nov 11, 2019
Emily was very helpful n get our group in place . She is very kind and makes all guest feel at home!
Nov 11, 2019
It was a great KOA. It is kept up very well the staff is very accommodating. The view of the surrounding scenery from the campground is amazing. We will definitely be back...in warmer weather.
Nov 11, 2019
Great campground and wonderful hosts. Country Haven is our favorite campground in the area. We will return soon.
Nov 09, 2019
2 stays in 10 day period. Liked area & campground so much, we returned 1 week later for 1 night stay. Our first visit was for 3 nights. Really like the full hookup, drive thru locations. Lancaster/New Holland KOA In now our new favorite, close to home campground!!
Nov 08, 2019
Nice Quiet campground in the heart of Amish Country.
Nov 07, 2019
We loved the pull thru patio site and we also loved how quiet this KOA was and that it was not catered to kids with pools, jumping pads, large playgrounds. That was the best part.
Nov 07, 2019
Very nice, very clean
Nov 06, 2019
The view from our site was spectacular with all the farms and the sunsets. Everyone was very friendly and the campground was very well maintained.
Nov 06, 2019
The staff was very friendly. They even helped direct us when backing in our rig. The K-9 camp enclosure was disappointing.
Nov 06, 2019
Helpful staff for backing in. Camp store had pretty much nothing in it, just office. Charged for premium site but unlevel stone, no patio, just picnic table and fire ring but did have full hookups. A little deceptive. Hopefully improvements will come since its a new KOA under new management.
Nov 05, 2019
Beautiful place and friendly people. One of my favorite places!
Nov 05, 2019
This is a great well kept campground. New owners are very friendly and will to help with whatever they can to make your stay pleasant
Nov 05, 2019
Facilities are well maintained and the views are amazing. The staff was very accommodating in attempting to move a friends campsite as close to ours as possible under a last minute request.
Nov 05, 2019
Great site, nice people, wonderful weekend!
Nov 05, 2019
The bathrooms need an overhaul. Love the campground because of the location (quiet, views) but do not care for the bathroom.
Nov 05, 2019
First time staying there. Seemed nice and clean
Nov 05, 2019
The area that the campground is located in is just lovely, surrounded by farmland and very quiet. Our site was spacious, clean and private. Will be coming back next year!
Nov 05, 2019
We originally planned to stay at Jonestown/Hershey, but they were flooded and had to close. KOA Lancaster/New Holland was able to accomodate us at the last minute. We had a great stay.
Nov 05, 2019
The campground has an amazing view of beautiful Lancaster county. The new owners are so nice and very helpful. We will definitely be back.
Nov 04, 2019
Our first visit, very impressed, had full hookup, drive thru site Liked it so much, we are coming back next week.
Nov 03, 2019
Did not care for their showers...not heated...not handicapped suited. Lovely site.
Nov 01, 2019
Had a great stay. Beautiful campground and very nice owners
Nov 01, 2019
The new owners are wonderful and helpful. Liked the new changes and the campground itself is well kept. Will certainly be returning!
Nov 01, 2019
We were very happy with our stay at this campground! Friendly owners, great view of the countryside, clean and quiet. We will definitely be returning!
Oct 31, 2019
Through the transition to new owners, Chad and family maintained the high standards we've grown used to in the past. Chad and family kept the grounds neat, clean and well maintained. Chad and family are very friendly and easy to talk with, assisting with any concerns or issues that may arise. We'll definitely be back next camping season as seasonal campers.
Oct 31, 2019
All was good. Thanks
Oct 31, 2019
The view from our site was very enjoyable and we will be back next year. Our issue was the bath house .The stalls are very cramped and were not pleasant to use. I know it would be a major thing to change so it is what it is .
Oct 30, 2019
Everything was great; we would have given you a 5, but the cable TV for the price per night, needs more channels. Especially local. We could not watch Thursday night football nor the World Series. We will be back.
Aug 03, 2020
Good campground. Good people. Good food. Good scenery. Love the back roads. Great management, thank you Chad!
- Rick Steffy on Google
Jul 28, 2020
NEW OWNERS! IGNORE OLD REVIEWS. Stunning views, super quiet. Great for our family of four with two middle school/grade school age daughters. My husband and I would wake up early to sit in the perfectly placed Adirondack chairs to drink our coffee and listen to horse & buggy's go by. ***Spots are slightly more narrow than what we are used to and shade was limited but it's the sacrifice you make for this kind of view and quiet!
- Kris Bel on Google
Jul 21, 2020
Beautiful views, clean campsites, clean restrooms. Nice owners. Middle of Amish farms, food and activities. Bakery across the street Friday and Saturday mornings.
- Robert Smith on Google

Lancaster / New Holland KOA
Open April 1 - November 30
354 Springville Road
New Holland, PA 17557
Check-In/Check-Out Times
RV Sites, Tent Sites
Check-in: 2:00 pm, Check-out: 1:00 pm
Accommodations, Deluxe Cabins
Check-in: 2:00 pm, Check-out: 11:00 am
Lancaster / New Holland KOA
Get Google Directions

© 2020 Kampgrounds of America, Inc.