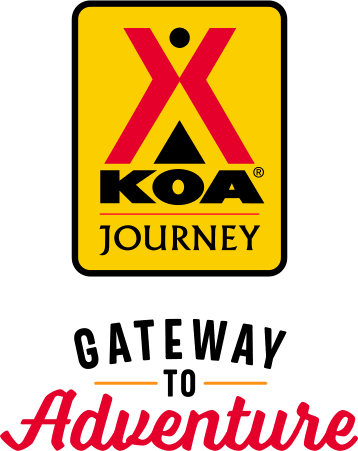 KOA Journey Campgrounds
KOA Journey campgrounds are the perfect oases after a day on the road. Whether it's along the way or a quick getaway, they've got you covered. Located near the highways and byways of North America with long Pull-thru RV Sites, they deliver convenience to the traveling camper. Pull in, ease back and take a load off.
KOA Journeys Feature:
Pull-through RV Sites with 50-amp service
Premium Tent Sites
Well lit after hours check-in service
Directions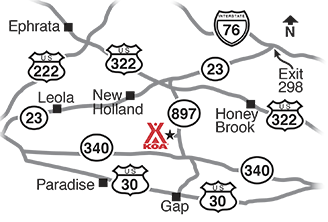 Check In Time: 2:00 PM - 6:00 PM. (Cabin Check-In at 4:00 PM.) Early arrivals are not encouraged. If you'll be arriving after 6pm look for YOUR site map on the office porch.
From PA Turnpike: Exit 298 then take Exit B, then right on Route 23/10. At traffic light go straight on Route 23. At Route 897 go South. KOA is 4 1/2 miles on the right side of the road. From Harrisburg: Take 283 East to 30 East to 340 East
From Route 340: Stay on Route 340 until Springville Rd (897) then go north on 897. At the stop sign, go right. KOA is on the left 3/4 of a mile. DO NOT TAKE SNAKE LANE!!
Get Google Directions
May 11, 2021
Nothing special (our campsite was small and next to an unused restroom while most others were in grassy or wooded lots), but the convenience of getting to all the places of interest was all we really cared about. Clean, well-kept grounds. We would visit again if in the area.
May 11, 2021
The young lady at the desk was very friend and professional. It has a beautiful setting, very quiet. However, it would benefit having a pool for the summer because if it did I would camp there during the summer months.
May 11, 2021
Very nice campground. Friendly staff, clean facilities and beautiful views.
May 11, 2021
It is a very pretty area and the sites were nice and large, we were in a back in spot and had plenty of room. The only draw back was that it was out of the way from the highway, since we were only staying one night and passing through the area.
May 10, 2021
Wonderful campground and view was absolutely terrific. Real quiet ,clean and owners were very friendly! If you are going to the area this is the place to stay. Kids and pets are welcome and very family oriented. We have camped alot and this is the best campground hands down
May 09, 2021
Great place to stay. Was very quite during our stay. Polite owners.
May 09, 2021
Nice quiet place in farm country. Hope it doesn't change, like many KOA campgrounds have.
May 08, 2021
I have been a camper since I was a little girl, this campground is in the top 3 of my list! Wonderful camp owners so accommodating and helpful, the staff is very pleasant. Would definitely recommend to all of my camping buddies. Right in the middle of the Amish country, the views are picturesque!! This should be a must stay at campground on every campers list.!
May 07, 2021
VERY NICE WILL GO BACK
May 07, 2021
We LOVED our stay at your beautiful campground! What a gorgeous view from our campsite! Your campground has the nicest showers of any campground that we have ever stayed at! For campers with children, one suggestion would be, to add some kid friendly activities! Kudos to a job well done!
May 06, 2021
The campground was well maintained and staff, which we had no reason to interact with except upon check-in, were very friendly and accommodating. This was our second visit to the Lancaster/New Holland KOA and we will be back!
May 06, 2021
Relaxing and pretty view. Nice to see that there are more sites being added.
May 06, 2021
The tent campsites were lovely. Pictures on the website do not do any justice. We were pleasantly surprised to find the site wooded and more secluded feeling than expected. We've camped in other KOAs where the tent sites were right on top of one another and very little privacy. Well maintained campgrounds. Bathhouse and restrooms were very clean. We enjoyed our stay!
May 06, 2021
Lovely picturesque campsite with excellent views and spacious sites
May 06, 2021
beautiful location and private campsite. beautiful new showers, a great view of the local countryside and wonderful staff. all positive experience.
May 05, 2021
One of our favorite campgrounds! Quiet, friendly, clean, staff is excellent. The complimentary cookies upon check-in are delicious!
May 05, 2021
We were at this campground because it was close to my parents home. We never stayed here before but it's awesome. I would have loved to have one of the sites with the "big view" but our site 11, was just as nice. The campground was well maintained and clean. We will and have already done so, tell our friends to stay here.
May 05, 2021
Pretty nice site and easy to back into. Some sites are pretty close together. Clean bathhouse and friendly staff
May 05, 2021
Shampoo dispenser didn't work. No hair dryer. Two stick bugs inside - one in the shower curtain, one one the bedside counter.
May 05, 2021
Been camping here long before it became a KOA, 20+ years. The improvements the new owner have made and are making, are welcomed. Looking forward to staying again real soon.
May 05, 2021
Absolutely horrible. We were placed in space 55 which is away from the rest of the campground and on a hill. We left in the middle of the night because there was something in the woods that kept getting close. This KOA is in a super secluded place with barely any signal and again, our space was away from everyone else. We didn't feel safe so we left. Worst KOA experience I've had.
May 05, 2021
Called last minute 2 extend a stay in the area from French Creek. Phone Girl was very pleasant & explained that the only availability was a smaller site, down a steep hill, between 2 tight trees & around a sharp corner. We decided to try it. A girl got on a golf cart, led us slowly to the site allowed our front truck wheels into the grass to make the turn. LOVED the site, had great time & will ret
May 05, 2021
We stayed for 2 nights. The staff was friendly and helpful and the facilities were clean. The sites were a good size. We had nice views of the farm. Would definitely come back if we are ever back in the area.
May 04, 2021
We had a wonderful weekend with our extended family and met some very nice campers. We even shared appetizers and birthday cake with some. Beautiful campground!
May 04, 2021
Love this campground and booked again for next year.
May 04, 2021
We have stayed here several times. The campground is always clean and the sites are spacious. The scenery is awesome.
May 04, 2021
Beautiful views, owner is very accommodating, great location that is peaceful, clean, and well maintained. We are an annual repeat customer with fellow family camping joining us
May 03, 2021
We absolutely love this place! It's beautiful, peaceful and the staff are very accommodating. We love that it's primarily adults and it's fairly small. We plan on booking this place once possibly twice a year.
May 03, 2021
Wi-Fi very poor! Needs up grading.
May 02, 2021
Very quiet and clean.
May 02, 2021
Best campground in PA, from friendliness of staff, check-in, view from site, to utilities, everything about our stay was above expectations! We'll be back!
May 02, 2021
Nice young lady greeted us, gave the site and map. Pull-thru site was clean and easy park. We noted that no mirror hangtag was given and that was convenient to not have to remove it each time was left KOA. Lawn/weeds well kept. Also pleased to find the entry gates were always open-no waiting to someone to open them for us to enter. An unexpected treat was the bag of sand cookies we rec'd .
May 01, 2021
Well maintained nice park
May 01, 2021
This was our first time going out with our motorhome and we had a nice time. The campground was very clean and other guests never passed by without saying hello to us. The young lady in the office was very, very pleasant! We loved the view from our motorhome! We will definitely recommend this site to others. We will return at another time and for an extended stay.
May 01, 2021
Beautiful, well kept, excellent staff.
May 01, 2021
Staff was very friendly and helpful. Facilities very clean. Views are spectacular. Sites are very level. We will be back.
May 01, 2021
Very well maintained campground in a scenic location. Friendly and courteous staff.
Apr 30, 2021
The Lancaster KOA is one of our favorite campgrounds. The views are amazing and the staff are so friendly.
Apr 30, 2021
Wonderful , very clean it was enjoyable and fun also for my dogs. Had full hookup even had wifi. We were close to things and stores that we like.
Jul 26, 2021
Excellent KOA , New owner is very friendly and the campground was immaculate, we had No complaints at all. Great location with amazing views and minutes from all activities. We were in the new section site 96 , sites are roomy not packed ontop of each other like some KOA's we have been to. Office staff was very accommodating and nice and took us to our site. They do have a few things for sale in the office , eggs , milk a few essentials. There is a big checker board to play with across from the office that my husband and I used while we were there. We had no problems with the wifi in the back it connected well and we had television with just our antenna , which for us we never watch anyway but wanted to include for others. Would visit again if we head down that way.
- Bonnie Garwood on Google
Jul 25, 2021
Last stop on our 62 day trip. Clean park great views full hookups easy in and out clean rest rooms. Glad we found it.
- Anthony Allen on Google
Jul 24, 2021
We claim Section 106.. our home away from home!!! It's so very tranquil and beautiful ❤️
- Kam-Marie Seghit on Google