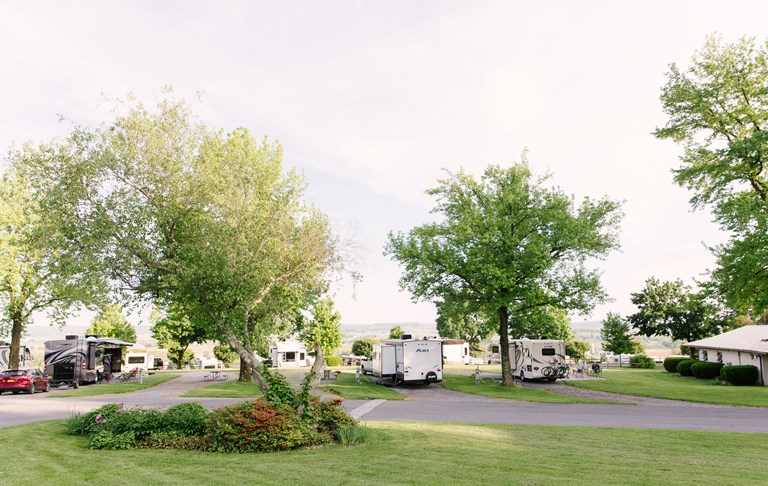 Lancaster / New Holland KOA Reviews
Directions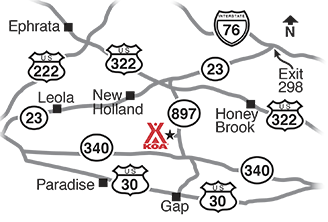 Check In Time: 2:00 PM - 6:00 PM early arrivals are not encouraged. If you'll be arriving after 6pm look for YOUR site map on the office porch.
From PA Turnpike: Exit 298 then take Exit B, then right on Route 23/10. At traffic light go straight on Route 23. At Route 897 go South. KOA is 4 1/2 miles on the right side of the road. From Harrisburg: Take 283 East to 30 East to 340 East
From Route 340: Stay on Route 340 until Springville Rd (897) then go north on 897. At the stop sign, go right. KOA is on the left 3/4 of a mile. DO NOT TAKE SNAKE LANE!!
Get Google Directions
Nov 03, 2019
Did not care for their showers...not heated...not handicapped suited. Lovely site.
Nov 01, 2019
Had a great stay. Beautiful campground and very nice owners
Nov 01, 2019
The new owners are wonderful and helpful. Liked the new changes and the campground itself is well kept. Will certainly be returning!
Nov 01, 2019
We were very happy with our stay at this campground! Friendly owners, great view of the countryside, clean and quiet. We will definitely be returning!
Oct 31, 2019
Through the transition to new owners, Chad and family maintained the high standards we've grown used to in the past. Chad and family kept the grounds neat, clean and well maintained. Chad and family are very friendly and easy to talk with, assisting with any concerns or issues that may arise. We'll definitely be back next camping season as seasonal campers.
Oct 31, 2019
All was good. Thanks
Oct 31, 2019
The view from our site was very enjoyable and we will be back next year. Our issue was the bath house .The stalls are very cramped and were not pleasant to use. I know it would be a major thing to change so it is what it is .
Oct 30, 2019
Everything was great; we would have given you a 5, but the cable TV for the price per night, needs more channels. Especially local. We could not watch Thursday night football nor the World Series. We will be back.
Oct 30, 2019
Absolutely Fantastic KOA location Beautiful views of Amish farm country Excellent services at and near the Camp Ground Fantastic addiction to the KOA families
Oct 30, 2019
Very quiet and smaller KOA but the sites were great, views were great and it was a perfect get away.
Oct 29, 2019
Campground was clean,check-in was smooth,and we enjoyed our stay
Oct 29, 2019
The location of the campground is tranquil and the scenery majestic. The terraced camping spots allowed for a beautiful view of the surrounding valley. What a blessing to watch the children on the way to school, have a bakeshop(opened on Saturday only) directly across from campground as well as a quant store within walking distance. The new owners are amazing and helpful. We will be back.
Oct 29, 2019
Real nice and quiet...not much to do, no real camp store or events, but if you want to relax this is the place. Probably best suited more for adults without a bunch of kids as they would be bored. Will probably come back next year and hope for no rain!!!
Oct 29, 2019
Campground is in excellent shape, the view is wonderful and the new owners made our stay very enjoyable.
Oct 29, 2019
Stayed on the field view row, nice size sites
Oct 29, 2019
Always a great stay at Lancaster/New Holland KOA. The new owners and staff are very friendly and a top notch group. This place is like our "HOME" campground and we love it.
Oct 29, 2019
Very peaceful clean can't wait to go back
Oct 29, 2019
This is my favorite Campground in Lancaster County
Oct 28, 2019
Clean. Quiet. Friendly hosts. Beautiful location. Liked availability of hosts - never felt they were hiding from guests. Will definitely be back.
Oct 28, 2019
Very beautiful and peaceful campground! The staff is very friendly and accommodating. We highly recommend this campground for a nice and quiet getaway!
Oct 28, 2019
The new owners are great. The campground is looking better then ever. We enjoyed are stay and can't wait to go back.
Oct 28, 2019
Has an incredible view, bathrooms are clean, small dog park and doggy potty station.
Oct 28, 2019
Love the view out across the valley. Staff was very nice and this is an ideal central location to explore Lancaster County.
Oct 28, 2019
Our stay was great and relaxing. We plan on staying here alot. The staff was very nice and helpful. Grounds and bathrooms are well kept.
Oct 28, 2019
Except for the incessantly barking (yapping) dog it would have been perfect.......
Oct 28, 2019
Very nice campground, clean and friendly. I will say I do not like the rocks placed at curves and intersections within the grounds. Driver cannot see them over the hood or along side when backing in of towing thru grounds, could cause substantial damage to vehicles. I understand why they are there but should be replaced with a higher more visible rubber guide.
Oct 28, 2019
Had a great weekend in New Holland! Great campground in all aspects!
Oct 28, 2019
Stayed 2 nights and mostly used as base for Amish area tourism. Nice location, clean grounds. Did not use any of the facilities so cannot comment on those. Nice views from campsites overlooking Amish farms. Central location to Lancaster County tourists sites. Would recommend to anyone looking for nice clean campground.
Oct 27, 2019
friendly staff. nice clean campground
Oct 25, 2019
Beautiful campground with BEAUTIFUL scenery!!!! Very friendly and helpful staff! We had a great stay here and would definitely visit again!
Oct 25, 2019
Love this place -- love the area -- so peaceful. I hope the new owners take as much care of the place as the old owners. A few wishes... A pool would be nice. Also, it would be nice to be able to use the internet for high speed downloads. Finally, I wish you could refill our propane tanks. But even with these minor inconveniences, this is one of our favorite KOAs.
Oct 23, 2019
Beautiful scenery! You couldn't ask for better sights in Lancaster. Clean and quiet campground.i would highly recommend this campground. Please remember for those who have children, there is no pool.
Oct 23, 2019
Great views of the area. Great people working in the office.
Oct 23, 2019
Relaxing campground. Great view over the valley. Clean rest rooms and surrounding area.
Oct 22, 2019
Great management and superior sited
Jul 03, 2020
Nice and quiet campground with beautiful scenery.
- Denise Milburne on Google
Jul 03, 2020
very nice campground nice owners and very welcomeing
- Curtis b on Google
Jun 27, 2020
Loved my cabin and bicycling in the area.
- Kimmie Kilpatrick on Google

Lancaster / New Holland KOA
Open April 1 - November 30
354 Springville Road
New Holland, PA 17557
Check-In/Check-Out Times
RV Sites, Tent Sites
Check-in: 2:00 pm, Check-out: 1:00 pm
Accommodations, Deluxe Cabins
Check-in: 2:00 pm, Check-out: 11:00 am
Lancaster / New Holland KOA
Get Google Directions

© 2020 Kampgrounds of America, Inc.