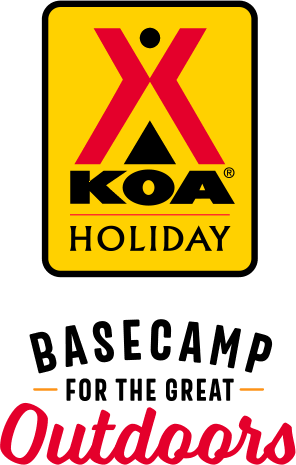 KOA Holiday Campgrounds
Whether you're exploring the local area or hanging out at the campground, KOA Holidays are an ideal place to relax and play. There's plenty to do, with amenities and services to make your stay memorable. Plus, you'll enjoy the outdoor experience with upgraded RV Sites with KOA Patio® and Deluxe Cabins with full baths for camping in comfort. Bring your family, bring your friends, or bring the whole group – there's plenty of ways to stay and explore.
KOA Holidays Feature:
RV Sites with a KOA Patio®
Deluxe Cabins with full baths
Premium Tent Sites
Group meeting facilities
Directions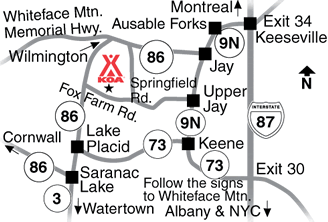 From the south, I-87 Exit 30, follow signs to Whiteface Mountain
From the north, I -87 Exit 34 9 N to Hwy 86
From the west, Watertown N.Y. take RT. 3 thru Saranac Lake to Hwy 86
From the east, take one of the ferries across Lake Champlain or take the scenic drive around the lake
Get Google Directions
Sep 28, 2021
Friendly staff, clean facilities, quiet cozy atmosphere! Absolutely love it here!
Sep 28, 2021
It was fantastic as usual. Going to miss Chip and his employees along with the great hospitality.
Sep 28, 2021
We stayed in a deluxe cabin and it was very nice. Clean, comfortable, with everything you need including linens for the queen bed and towels for all guests. Very enjoyable and it allowed us to bring our dog along as dogs are allowed to stay in the cabins.
Sep 28, 2021
Spaces very tight. WiFi poor. Great to have breakfast available on weekend.
Sep 27, 2021
its our 6th year staying in T-05...we love this cabin & KOA! Will be back in 2022.
Sep 27, 2021
The site was nice and being in the fall the campground was not busy during the week. This made for a very enjoyable and quiet camping experience. Internet was very slow or nonexistent. If you didn't have your activities already planned it was hard to research anything. We will plan better next time. We would definitely camp here again.
Sep 27, 2021
Very expensive for what is offered. Beautiful trail at back of property.
Sep 27, 2021
Linen exchange was a mystery. More furniture is needed in the cabins. The sofa bed/couch was very uncomfortable The prep area on the counter top was non-existing due to the refrigerator.
Sep 27, 2021
We just returned from our weekend stay in a deluxe cabin, but not before making a reservation for next year. We loved it so much we added another day to next year's reservation. The camp grounds is a real gem. Beautiful scenery all around. Clean and comfortable cabins. Great customer service.I told my husband that a women must of designed the cabins. Lots of little touches for added convenience.
Sep 27, 2021
George was great, he lead us to our site and waited patiently to let us know where the hook ups were. Then later he quickly delivered the firewood.
Sep 27, 2021
The cabins were comfortable and clean ,the staff was very informative and personable!The campground was clean . We can't wait to come back again
Sep 27, 2021
Greta place to relax and explore. Site was great - met some great people. My only complaint was the picnic table - although I realize its outside I think that maybe the attendent when he blows off the area to include the table. We had to wash it off as it was full of dirt.- like no one had used it for awhile.
Sep 27, 2021
Awesome huge campground with lots of trees and shade. Our stay was a little rainy and there was some mud to deal with. Would pick a different site next time, now that we have explored the area. Lots of shady area to walk dogs ( and squirrels and chipmunks !).
Sep 27, 2021
We tent camped at this KOA for 3 nights. This is the second time this year and have stayed here 2-3 times over the last year or two as well. The whole campground is nice and relaxing. I do think the bathrooms/showers near the tent sites could be cleaned much better to match those that are above the main camp store/building. We bought 3 bundles of wood that did not work well at all. Was not dry
Sep 27, 2021
Everything was amazing! Kids and even the wife had a great time. We are planning our return trip for next year!
Sep 27, 2021
Amazing campground.
Sep 27, 2021
An okay campground super close to Whiteface Mtn and about 10 miles from Lake Placid. Staff was courteous and readily available. We stayed 4 nights including a weekend in late September 2021. A bit noisy beginning Friday evening when families w/ children arrived including several loud barking dogs. Our site was gravel pull-thru and relatively level w/ FHU. Approx $70/night. 38 ft 5th wheel.
Sep 27, 2021
Loved the homie and cozy enviroment
Sep 27, 2021
Pleasant stay, nice and quiet!
Sep 27, 2021
Very well kept and managed
Sep 26, 2021
We loved our stay and the KOA. The only thing that bothered us was when a worker was blowing off the entrance with a blower and our site was A6. The dust came right to us.
Sep 26, 2021
Site H02 was the size we needed for our 40' tow-behind trailer. There isn't any grass in the area, it is all sandy dirt. With a long-haired dog, it wreaks havoc with her fur. The employees are very friendly and courteous, they answered any questions we had. We had an awesome time!!
Sep 26, 2021
Nice facilities and very congenial staff.
Sep 26, 2021
Wish the snack stand and bike rentals where open
Sep 26, 2021
The office hours are very strange. Check in is at 3pm but the office was closed by 5pm, making it impossible to check in until we checked out. The bathrooms are full of bugs and have quite an odor. I suggest putting up signs recommending people to knock, as no one does. The lock on one of the bathroom doors would get stuck, and because no one knocks I got walked in on. Staff was very helpful.
Sep 26, 2021
We arrived at about 4:55, were escorted to our site and told to check in the next morning. The site was spacious and quiet, but it was extremely unlevel and after several attempts to level our rig, we settled for not so level. For the price we paid per night for the site, that is just not good enough. It was a pleasant stay, but our neighbors also had a difficult time leveling.
Sep 26, 2021
Very comfortable. Well maintained , very accomodating.
Sep 25, 2021
This place was massive for a campground and the campers are packed in. However, your in the woods, lots of trees and it was super quiet at night. We only stayed for one night but it was lovely! Would definitely go back if we get back to this area again.
Sep 25, 2021
Staff was friendly however, cabin was dirty (kitchen counters dirty and floor not swept). There was also a random kitchen knife on the ground under the table which could have been a safety issue for children. Hot water did not work and there appeared to be mouse droppings under the couch.
Sep 25, 2021
Amazing place great camp ground what a pretty area
Sep 25, 2021
An outstanding campground that we were very happy to stay at. Great sites, great staff, and excellent location.
Sep 24, 2021
Immaculate campground, friendly, helpful staff.
Sep 24, 2021
Very impressed!
Sep 24, 2021
It's an amazing place. I loved all the trees and the park like setting. Walking the trails to Flume Gorge was great. The only thing you might improve on is the WiFi coverage. Back in row H it's not very good. Spotty at best.
Sep 24, 2021
Stayed 3 nights! Enjoyed the trails, nice dog walk area, staff was very friendly! Hope to return!
Oct 30, 2021
This has become a yearly vacation spot for our family. The camp is clean and peaceful. Friendly people and close to trails. We have toddlers and love the cabins.
- Edward Smathers on Google
Oct 17, 2021
One of cleanest and definitely one of the friendliest KOAs I've been to.
- Alan Worthington on Google
Oct 15, 2021
After the first stay last October, we stayed 3 more times. Two of the times were in a double queen deluxe cabin which were very nice (much smaller and totally different inside than the 3 queen cabin we booked before). They were located toward the back of the park, but still a quick walk to the front where the pool, store, and playground are located. Friends went with us one of the times and stayed in the deluxe cabin with a bunk room. I was surprised at how comfortable the bunk mats were. We just returned from a trip where we stayed in the glamping tent. There's 4 tents located down a steep hill, along with with group camping sites, 2 camping cabins, and a lean -to. It's definitely not as accessible walking to the front of the park when staying down there so we had to drive each time. The upside is you're more isolated and right near the river, it was nice falling asleep to the sound of the ausable each night and waking up to the view each morning. There are 2 tents located right near the bathroom and the other 2 are down a small, but still kind of steep, hill (just something to keep in mind when hauling gear). There was 1 other group there in a glamping tent when we went and they up and left randomly 1 night around 9pm…we weren't really sure why. The next night we returned to find a raccoon inside the tent eating our raisins (which is probably the reason the other group left). Staff chased him out, but he returned several times in the middle of the night and we had to keep chasing him out. There is no real good way to keep out the critters because they can still sneak under the tent. Bathroom and shower facilities in that area were clean. It was 4 individual bathrooms, each with a shower. Hot water was great. The only thing I didn't like is the shower head was positioned kind of low. I'm only 5'7" and had to bend down to wash my hair. Overall the glamping tent was enjoyable, but I think I will stick with the deluxe cabins from now on.
- Destin293 on Trip Advisor