Alert
Stage Coach Road Closure. After exit, take Route 44 South for 5 miles to Carey Station Rd. Follow Carey Station Road 5 miles to campground.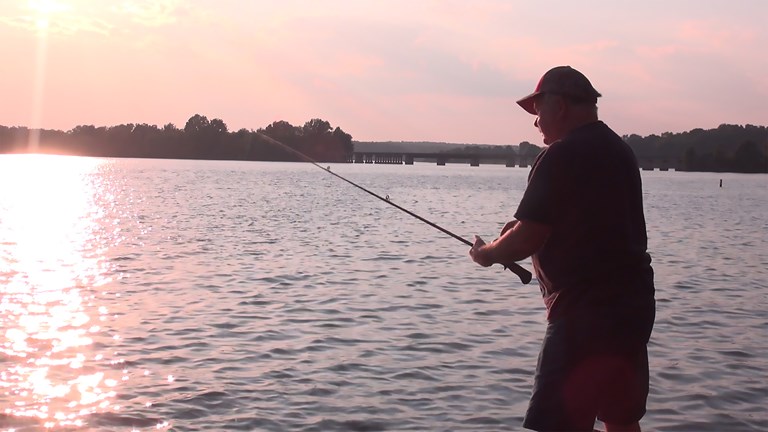 Lake Oconee / Greensboro KOA Reviews
Directions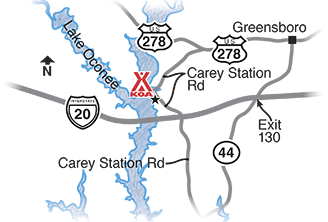 From I-20 midway between Atlanta and Augusta, take Exit 130, GA-44 South 5 miles to Carey Station Road. Turn right on Carey Station Road and travel 5.1 miles to the campground on the left.  ROAD CLOSURE NOTICE: If you are coming from East or West on 1-20 your GPS will instruct you to take Stage Coach Road. It is closed. Heading West take exit 130 and then take a left onto GA-44. If heading East take exit 130 and take a right onto GA-44. 
From the north take US-129 S/US-441 S/GA-15 S. Turn left onto GA-12W/US-278 W/W Broad St for 3 miles, Turn right onto Carey Station Road for 2.7 miles to the campground on your right.
From the south take GA-44 E to Carey Station Road, turn left on Carey Station Road 5.1 miles on the left.
Get Google Directions
Oct 10, 2019
The staff were very professional and courteous. All of the bathrooms were clean and well maintained.
Oct 09, 2019
Site number 259 is not much of a sight for the money.
Oct 08, 2019
We love staying here. Awesome place and the people are very friendly!
Oct 08, 2019
Good place to camp, close to home in Atlanta
Oct 05, 2019
The park itself was great and the staff helpful and friendly. However our site #259 was not level so we had to use extended jacks and our front tires were still off the ground. We had requested a pull thru site which was given but I would have appreciated if someone had suggested for us to unhook and given the opportunity for a better site as there are many available in the park.
Oct 01, 2019
Several things in disrepair; pool area not policed with a cabinet with a door hanging off, sand and bugs in the pool, many wooden areas needing replaced and bathroom by laundry room should have separate gender specific bathrooms. Laundry room was nice clubhouse was nice.
Sep 30, 2019
Great campground. The staff was very nice and accommodating. We had a great shady lot with a new deck. The park was very clean along with the restrooms and showers. Easy access in and out, We enjoyed the local Antique stores.
CAMPGROUND RESPONSE / COMMENTS:
Thanks for staying with us! We love hearing feedback from our campers. We hope to see you again Bruce!
Sep 29, 2019
For someone purchasing the KOA card here on our stay, the campsite we were assigned was very narrow and uneven, with large drop-off when stepping out of the camper. There were a lot of vacant campsites that were better laid out and available that should have been suggested.
CAMPGROUND RESPONSE / COMMENTS:
Hi there and thanks for your feedback. We are always working with campers to get them on a site that best fits their needs. Next time let us know, so we can accommodate you and your rig! No two sites are alike here at Lake Oconee KOA.
Sep 28, 2019
The facilities are not appealing.
CAMPGROUND RESPONSE / COMMENTS:
We're sorry our facilities we're not appealing to your standards. We hope you come back to give us a second try. A lot of campers find us appealing, maybe next time you will too!
Sep 23, 2019
Staff was friendly, nice bathroom facilities. We had a pull thru for 1 night. It was ok just need to work on leveling some of the lots.
Sep 22, 2019
Thoroughly enjoyed our stay on Site#7. Loved watching and hearing the train cross the bridge each day/night. The staff was extremely courteous and professional in all areas. Look forward to future stay!!! Jack
Sep 21, 2019
No int year as stated, very uneven ground, too close to the next site, very unleveled, too many ant. Site were to small and uneven for a picnic table. Sad they had the name of KOA.
Sep 17, 2019
Everybody was super nice and friendly great sights beautiful place
Sep 17, 2019
Hosts were friendly & very informative. We loved the catfish fry & pitch in, yummy! Laura & Burt
Sep 17, 2019
Was met at the office by Janet. She was super helpful and made sure to invite us to the pot luck dinner! After setting up our camper we found out our AC was not working, our host brought us a fan to help us through the evening heat! Feels like family here!
Sep 16, 2019
Sites were not level. Pool was drained.
Sep 15, 2019
Great place to stay
Sep 14, 2019
Was greeted by a charming young lady who helped me with my paper work and questions. I asked her name and she said call me "TT" for short. I reserved two sites and she also helped with numerous extensions since we enjoyed the fishing. Host was helpful parking. Only problem on both sites 8 and 43 was any invasions.
Sep 10, 2019
nice place but could not believe they do not have a cable tv system especially being so far from cities where over the air signals are available
Sep 09, 2019
I expect a little more from a KOA. Spend a little and at least try to make the site's kind of level. No tv reception, no cable, only trash disposal is way at the front of the park.
Sep 08, 2019
This has the potential to be an amazing park. Upon arrival we were not given the type of site we reserved. The site we did get was extremely unlevel, tree roots everywhere (tripping hazard) and not big enough to park out truck on. We had to park at the "broken" site next to our site. I reserved a concrete,patio,fire ring site which ours had none of. This park needs work and better management.
Sep 08, 2019
They were very accommodating
Sep 06, 2019
First the good: big, private sites. Not many people here because it was after a holiday weekend so it was very quiet. Staff friendly and very helpful. The only bad (and this does not reflect KOA, it's iust an FYI). Ants.....so many ants. Be careful and spray outside on your connections. We didn't and they got it and was a mess to clean up
Sep 06, 2019
Camp site not level, tight turns, roads need repair.
Sep 04, 2019
A little cramped on some lots but we still had a great time. John our site keeper done a wonderful job, was friendly, and even offered us a ride to the store to get ice. Check in and check out was easy as could be. Lots of things to do also. Will be going back. Terry and family
Sep 03, 2019
Stayed one night passing through, and it was a great park! Easy in and out, didn't even have to unhook from my truck.
Sep 03, 2019
Nice place to stay, very clean. Would go back and stay longer.
Sep 03, 2019
Everything was as advertised. First time in our travel trailer.
Sep 03, 2019
Absolutely beautiful place! We will be back!
Sep 02, 2019
Janet at the front desk was very helpful!!!!!
Aug 30, 2019
We stayed for three days while travelling home. This is a lovely campground with good sites and Great Lake access. The free internet needs some improvement though.
Aug 25, 2019
Absolutely loved this place! KOA is A Ok!
Aug 16, 2019
Park is beautiful. Sites are uneven and unsuitable for everything except a short RV. There are overhanging branches, potholes, steep downhills. Someone needs to read the reviews on Campground reviews. Many people were very disappointed as well. We would be unable to stay again as the park is in very poor condition. Worst park we were in in 10 weeks of travel. Staff were nice.
Aug 14, 2019
Restrooms and showers were inconveniently located. Needed to walk long distance.
Aug 11, 2019
Very nice campground. Only criticism is the dumpster in way up front. Site pick up would be a plus.
Aug 10, 2019
Great staff .Very friendly and helpful. Very clean and on the lake!
Aug 06, 2019
worst spot in the place slanted so far downhill the leveling jacks would not extend. water and sewer drained uphill - most people know this doesn't work without a pump - apparently you do not understand this principal. And from what I understand, this is true of most if not all sites on the property. You have a long way to go....
Aug 02, 2019
Hostile reception, sewer drain higher than sewer outlet from camper. No directions to koa, caller &finally found it.Host told us we should have gotten a local map, she was not from area. Unpleasant stay.
Aug 01, 2019
Sites are horrible! Couldn't get camper level. Couldn't put our awning out because of a tree, stepped out of camper onto unlevel ground, had to put our grill on the roadway to use it. Only 1 of the 2 pools open and it was very small and Over crowded. Pool was also closed more than 1/2 day because they had to get the chemicals balanced. Worst experience ever camping.
Aug 01, 2019
The camp was very nice, close to town really friendly people, I guess I was too friendly, they wanted to hire me on the spot.
Aug 01, 2019
The site and staff was great, WiFi still needs help!
Aug 01, 2019
Nice view on the waterfront. Thanks
Jul 30, 2019
We have stayed a couple times and this visit, it was so noisy!!!! I thought there were rules to follow, but apparently they don't apply to all. Very disappointed this time around.

Lake Oconee / Greensboro KOA
Open All Year
2541 Carey Station Road
Greensboro, GA 30642
Check-In/Check-Out Times
RV Sites, Tent Sites
Check-in: 1:00 pm, Check-out: 11:00 am
Accommodations
Check-in: 3:00 pm, Check-out: 11:00 am
Operating Hours
Sunday: Open 9:00 AM to 5:00 PM
Monday: Open 9:00 AM to 5:00 PM
Tuesday: Open 9:00 AM to 5:00 PM
Wednesday: Open 9:00 AM to 5:00 PM
Thursday: Open 9:00 AM to 5:00 PM
Friday: Open 9:00 AM to 5:00 PM
Saturday: Open 9:00 AM to 5:00 PM
Lake Oconee / Greensboro KOA
Get Google Directions

© 2020 Kampgrounds of America, Inc.