Alert
Stage Coach Road Closure. After exit, take Route 44 South for 5 miles to Carey Station Rd. Follow Carey Station Road 5 miles to campground.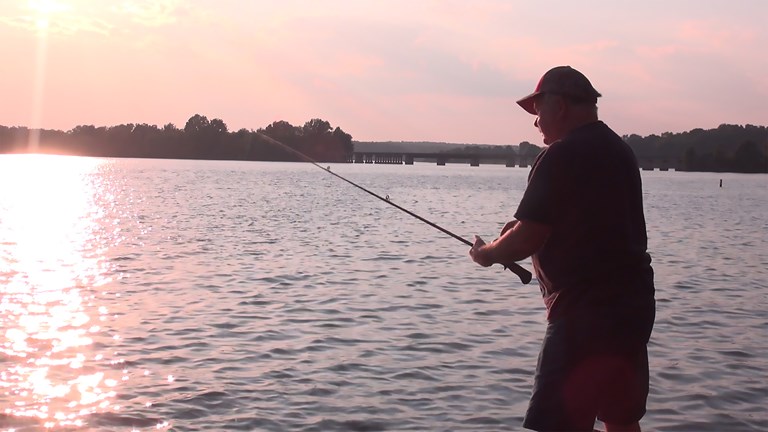 Lake Oconee / Greensboro KOA Reviews
Directions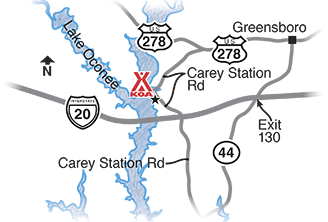 From I-20 midway between Atlanta and Augusta, take Exit 130, GA-44 South 5 miles to Carey Station Road. Turn right on Carey Station Road and travel 5.1 miles to the campground on the left.  ROAD CLOSURE NOTICE: If you are coming from East or West on 1-20 your GPS will instruct you to take Stage Coach Road. It is closed. Heading West take exit 130 and then take a left onto GA-44. If heading East take exit 130 and take a right onto GA-44. 
From the north take US-129 S/US-441 S/GA-15 S. Turn left onto GA-12W/US-278 W/W Broad St for 3 miles, Turn right onto Carey Station Road for 2.7 miles to the campground on your right.
From the south take GA-44 E to Carey Station Road, turn left on Carey Station Road 5.1 miles on the left.
Get Google Directions
May 04, 2020
Nice view sites of lake. Good value for the money. Very helpful and cheerful staff. Marginal WiFi unless you pay extra. Limited bathrooms, but very clean.
May 03, 2020
This is one of the more unique KOA's I've stayed at. the sites are varied as open, wooded or water front. The staff was very friendly and helpful. Helpful in that they were a big help in guiding me in some of the more tricky sites to maneuver into. I plan on visiting here again when I have more time.
Apr 27, 2020
The staff was awesome very helpful it was my first camping in a rv park and was my first RV set up !!
Apr 13, 2020
We totally loved site 43!
Apr 13, 2020
It was just so peaceful everyone was friendly
Apr 10, 2020
Always a great experience at Lake Oconee KOA! It's our favorite place to chill for a weekend away. Staff members are super nice and helpful too.
Apr 06, 2020
nice lake, camp sites are a little close to each other, but very very nice grounds. just don't drive guests thru the boat grave yard trashy area on the way in. also please tell campers to keep their kids from screaming bloody murder... I mean some people are there to relax. we couldn't relax the entire time. but we're probably still coming back. very nice lake views.
Apr 01, 2020
The staff is great. Very friendly and accommodating. This is not a park for big rigs. The sites are not level and in need of some TLC. The setting for the campground is very nice - overlooking the lake. We were lucky that the spaces near us were empty and we could get out - we have a 44 ft Motorhome.
Mar 31, 2020
Hard to get to campsite
Mar 29, 2020
Could not level after 2 sites so we asked for a refund. They were polite and nice. Gave us a refund and we found another camp ground.
Mar 28, 2020
Thanks for being Open!
Mar 16, 2020
Beautiful campsites right on the lake
Mar 11, 2020
Staff was very helpful and friendly. The sites were tight for a Class A motorhome. They were also not very level. Clubhouse and showers were nice. The recent rains created a little mess and ruts from others. Sites could definitely use some maintenance.
Mar 09, 2020
first time RV'rs!! It was a great weekend. The staff was helpful; but no intrusive at all. Grounds were clean and the campgrounds were quiet.
Mar 08, 2020
Séjour d'un soir seulement. N'avons pas eu la chance d'utiliser les infrastructures énormément mais semblaient très très bien.
Mar 05, 2020
It was nice!
Mar 05, 2020
Generally not a fan of campgrounds with so many seasonal/permanent sites. But this campground was very nice, clean facilities, in a wonderful setting along the lake.
Mar 04, 2020
It was great. Staff was very helpful and went out of their way to make sure we were happily set up. Pretty, tons to do and great camp sites. Would highly recommend and we want to eventually make our way back to see what it's like in summer!
Mar 02, 2020
Reserved a back-in patio site, was placed in a pull though with no patio. Gravel site was so in- level our coach was uncomfortably high in the air with tires off the ground. We were told no patio sites would accommodate 40ft...which was not true. Advertised mini-golf which no longer exists. Walkways & stairs to waters edge in poor shape. Not KOA standards...needs serious upgrade/maintenance
Mar 01, 2020
Quick stay but grounds and staff were great! Very pleasant night shift!
Feb 29, 2020
Very nice, great site, beautiful area. Our site was level and the staff was wonderful and friendly, had everything we wanted
Feb 24, 2020
It was so beautiful!! Unfortunately windy and rainy and did not get to enjoy everything � We will be back! Such nice people and they offered to help us since we are new to RV life. We even got there in the dark with a warm welcome!!
Feb 20, 2020
We arrived after dark but we were greeted by a campground employee who led us to our site. We just stayed one night. The shower room was a combined M/F/ shower building. So if someone was using the shower, anyone else was out of luck if they wanted to use the bathroom. Sure could have been planned better. Campground was clean. Nice view of a lake of brown water. Our site had a concrete patio.
Feb 19, 2020
Enjoyed the train car collection and liked being close to railroad tracks. A bit concerned about the construction work going on but I can understand changes made this time of year instead of busy time. Will definitely visit again.
Feb 14, 2020
Lake Oconee/ Greensboro KOA is a great place to stay. The staff are very friendly and so helpful. They escort you too your campsite and make sure everything is okay. The majority of the sites are cement pads with a nice picnic table and chairs. The lake is gorgeous to see in the afternoon and early morning. Restrooms are very clean. We will be back !! Love the railroad cars too. Great place.
Feb 08, 2020
A beautiful setting. We were on a pull-through lot on a hill looking down on the lake. The view was so awesome - we didn't close our front curtain. Staff was very friendly and helpful. We are a 38' towing a jeep so the only negative was maneuvering the hills to get in and out of our lot. A little scary feeling like we would tip or take out a tree. It was still worth it!
Feb 08, 2020
huge campground but our 25 ft camper was stuck in a back in in the middle of a hill. I thought the truck could tip over getting into site.. No fault of the campground it was rainy and all red mud. I did have the pleasure of talking to the rude woman behind the desk in the office about 10AM..
Feb 05, 2020
Awesome stay. We arrived late so it was a little harder to find our spot but we got settled and loved where we were. Beautiful view to wake up to. Awesome staff and the facilities were super clean and comforting.
Jan 21, 2020
Love your clean bathrooms! A bathroom could always use more hooks!
Jan 20, 2020
I was working in the area and needed a campground. The staff was excellent at every turn. If I work there again that the place for me.
Jan 19, 2020
Terrific. We love this place. Will def be back again!!!
Jan 13, 2020
Impressive, unique, picturesque -- we'll definitely be back. Our overlooked the beautiful lake. We were only there one night and we both wished it was longer. The only downside were the hills. We like to walk, but some of the hills were too much for our old bones.
Jan 12, 2020
It was a very pleasant stay. I was working in the area and I like to stay in my camper instead of a hotel. It is a beautiful and a great place to vacation.
Jan 06, 2020
What a beautiful place! Love the lake, trains and staff! We will visit again!
Dec 30, 2019
Very friendly and professional staff. I had an issues with my connections and the staff assisted with great courtesy and resolution. And the lake itself presents a beautiful scenery. We loved this park and we look forward to staying in the near future.
Dec 30, 2019
Great, courteous staff. Some older campers need to brought up to date with their surrounds policed. Otherwise a good stop with a fenced dog run !
Dec 25, 2019
no cable quite and remote from town
Dec 20, 2019
Richard was great getting us settled, but the wifi was horrid. If you say there is wifi, then it should work without having to buy an upgraded service in order to function.
Dec 19, 2019
Much improved from other visits. The two young men that worked with me are real assets to your business.
Dec 16, 2019
Staff was welcoming and helpful
Dec 15, 2019
Real simple , late due to traffic , pouring rain at night drove in younger man came in pouring rain took care of us , sorry I didn't get his name , very helpful , plan on trip back to stay longer
Dec 09, 2019
Only overnight but really liked your campground - will definitely return.
Dec 08, 2019
Beautiful and very quite campground. Nice people in the offices
Dec 08, 2019
Just one night passing through, but what a wonderful evening we had. Our space was elevated over the lake with a extremely large patio that was spotless. Included on the patio was a grill/smoker and a fire pit. Exceptional.

Lake Oconee / Greensboro KOA
Open All Year
2541 Carey Station Road
Greensboro, GA 30642
Check-In/Check-Out Times
RV Sites, Tent Sites
Check-in: 1:00 pm, Check-out: 11:00 am
Accommodations
Check-in: 3:00 pm, Check-out: 11:00 am
Operating Hours
Sunday: Open 9:00 AM to 5:00 PM
Monday: Open 9:00 AM to 5:00 PM
Tuesday: Open 9:00 AM to 5:00 PM
Wednesday: Open 9:00 AM to 5:00 PM
Thursday: Open 9:00 AM to 5:00 PM
Friday: Open 9:00 AM to 5:00 PM
Saturday: Open 9:00 AM to 5:00 PM
Lake Oconee / Greensboro KOA
Get Google Directions

© 2020 Kampgrounds of America, Inc.