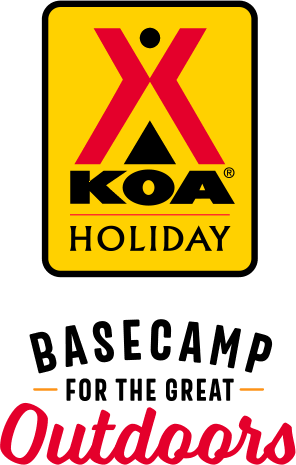 KOA Holiday Campgrounds
Whether you're exploring the local area or hanging out at the campground, KOA Holidays are an ideal place to relax and play. There's plenty to do, with amenities and services to make your stay memorable. Plus, you'll enjoy the outdoor experience with upgraded RV Sites with KOA Patio® and Deluxe Cabins with full baths for camping in comfort. Bring your family, bring your friends, or bring the whole group – there's plenty of ways to stay and explore.
KOA Holidays Feature:
RV Sites with a KOA Patio®
Deluxe Cabins with full baths
Premium Tent Sites
Group meeting facilities
Directions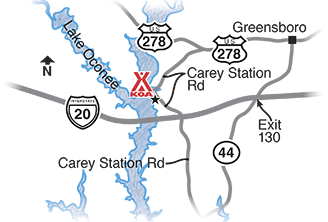 From I-20 midway between Atlanta and Augusta, take Exit 130, GA-44 South 5 miles to Carey Station Road. Turn right on Carey Station Road and travel 5.1 miles to the campground on the left. 
From the north take US-129 S/US-441 S/GA-15 S. Turn left onto GA-12W/US-278 W/W Broad St for 3 miles, Turn right onto Carey Station Road for 2.7 miles to the campground on your right.
From the south take GA-44 E to Carey Station Road, turn left on Carey Station Road 5.1 miles on the left.
Get Google Directions
Aug 08, 2020
Campground was clean and fun. Front office staff was super helpful.
Aug 06, 2020
Very clean campground, with great office staff
Aug 05, 2020
Nice clean place . One thing that I did not like was wasn't able to pick which ground we would like. we only had a choice of 3 when there was more available. Would of been nice to choose one of the others. We were put near a another coupe whom clearly wanted to be alone understandable we had an child with us and there where more tent sites b the water available.
Aug 04, 2020
The staff was great the lake fro t and pool was beautiful, however I hated the site we were in it was wedged in between two permanent sites that were a hot mess, grass not moved which along with all the uncared for stuff left outside bread mosquitoes. I understand that I was using 50 amp service but if I ever stay there again I will use a 30 amp just to get a larger cleaner area
Aug 03, 2020
The staff is amazing and so friendly! Beautiful lake and just a relaxing time in general!
Aug 03, 2020
The roads are in terrible shape. The sites are awkward to back into and pull out of with ruts and dirt washed out. There are more concern with the coast to coast membership buy in than the Koa customers. We won't be returning
Aug 03, 2020
Beautiful KOA Campground right on the lake! Very nicely maintained and the escort to our site was super friendly and accomodating!
Aug 02, 2020
good lot, great people from check-in to the staff in the park. Will be back...
Aug 02, 2020
What a wonderful campground. Truly a gem.
Aug 02, 2020
Had an amazing time! Hubby was able to fish every day we were there & kids were able to play on the deck & walk to the water for fun. The view was absolutely gorgeous & staff were great! Recommend you bring your own vehicle if you have a motorhome as Uber/Lift don't come. I googled Taxi services & found a guy that took us to the local Publix AND waited for us to bring us back for $20. WILL BE BA
Jul 31, 2020
We had a great lake front site. If I were on an interior site I do feel that I would have rated much lower. We did really enjoy our stay. Pool was a bit cloudy. We were also not informed that only one pool was open.
CAMPGROUND RESPONSE / COMMENTS:
We're glad to hear you enjoyed your stay! We are almost done renovating our smaller pool. Thanks for staying with us!
Jul 31, 2020
Staffs are not friendly. There are many ants on the site that we were staying. The ants are Crawling all over ours RV. Needed Big improvement With environment.
CAMPGROUND RESPONSE / COMMENTS:
We're sorry to hear you did not enjoy your stay. We are a campground and we do have bugs. Unfortunately we can't evacuate all the ants in the park but we encourage guests to let us know about any issues while they are here. We hope you'll give us another chance in the future.
Jul 30, 2020
Helpful staff, good location with beautiful views of the lake, and reasonable rates. We were completely satisfied!
CAMPGROUND RESPONSE / COMMENTS:
We're so happy to hear you enjoyed your stay! We invite you back and wish you the safest travels.
Jul 28, 2020
Camped at a tent site to kayak for a couple days. Clean, groomed sites. Bathrooms were very particularly well maintained. Staff friendly and courteous. Most issues had nothing to do with staff, and for tent campers they included interstate nearby so there is some noise, and ants are a significant factor so plan ahead. However tent sites are on the water so convenient for paddlers. Strong recommend
Jul 27, 2020
Our site was not terrible for our RV. It was a sloped, short, and a very uneven back in site for our 40 ft RV. Because of the slope, it was incredibly difficult to level it and the drop off behind it made it worrisome. The "privacy" fence closed us in so we could not see anything. Sites were close together. Permanent sites have lots of items. There were other level sites we could have used
Jul 27, 2020
We stayed in a campsite which was right on the lake. It was beautiful!
Jul 26, 2020
Everyone we have contact with was so nice and accommodating! We will be back!!
Jul 23, 2020
The lady at the office was very unfriendly. The cabin listed as sleeping 6 only provided 2 bath towels and no extra toilet paper for a several day stay so we had to walk to the office for more. The futon was so uncomfortable to sit on and the staff didn't have the pool Open during the listed pool hours. We've stayed at much nicer KOA's and won't be returning to this place.
Jul 21, 2020
Encountered problems with electric at 2 sites, spent over 2 hours moving around in 90 degree heat before finally being assigned a site across from the original site that we had checked and confirmed had proper electric per our surge protector. We had advised management of that, but were moved to a second site that also had electric issues before being moved there. This ruined otherwise nice stay.
Jul 17, 2020
The campground is in a great location, and we were pleased with our spot's location (43 - pull through with patio). There was a lot of direct sunlight, but we were grateful for the lake view as well as the ease of the pull through. The staff was incredibly friendly & helpful. As others have noted, there are a lot of long-term/permanent residents here.
Jul 16, 2020
we enjoyed the beach area very much. on Monday morning of our visit, the beach had been raked and smoothed. appeared very nice. overall, the grounds were in good shape, the lawn well kept, and check-in/registration area very well appointed. only complaint I would mention would be the restroom/shower building in the area we used needed much more attention than it was receiving.
Jul 16, 2020
Staff not taking COVID seriously. Too long of a wait to get to site. Sites too crowded together - no privacy. Will not camp there again.
Jul 15, 2020
most road shoulders land has been washed away, also potholes on either side, I am a TRA member, and the site was horrible. never will come back, Staff was super nice, real friendly, as far ahead as I had placed my reservation, I would of expected a better site. being a member. cannot recommend this place to any of my camping family or friends.
Jul 15, 2020
Great location, great campground. We will be back!
Jul 14, 2020
Do not like no place for grass area. We were to close to road
Jul 12, 2020
Once again the KOA folks could not have been nicer. We used two ajoining sites, one for camper and one for truck. Electric outlet at camper site tested with reverse polarity but we were able to use outlet at truck site for camper power. Great property on big lake, modern bathrooms. Will come again.
Jul 12, 2020
Registration was good and we were escorted to our campsite. There are some sites that are very nice and some are not level and very tight. The part I disliked most was the unkept appearance of the trailers that are permanently in place. I prefer campgrounds that are for camping only.
Jul 11, 2020
Very nice campground. Lots of trees, 2 pools, beach and lake. Topography may make it difficult to walk everywhere. Office opens at 11am, closes at 5pm - otherwise, you have to call to speak to camp manager.
Jul 10, 2020
People here couldn't be nicer. Recent rains have created a lot of wash outs that make for tricky docking and leveling on the gravel and dirt sites. Loved the lake and beach. Lots of people out having fun. Bathrooms/showers are modern and clean. Definitely coming again.
Jul 10, 2020
For our one night stay, it provided everything we needed. Very quiet. We enjoyed it.
Jul 09, 2020
Decks around the lake sites need some updating and expanding to accommodate larger campers
Jul 08, 2020
Unlevel sites
Jul 08, 2020
The caboose we stayed in was not clean. Had trash in the garbage can, used soap in the shower, and a cigarette under the fold-out sofa to name a few. It is a beautiful campground though!
CAMPGROUND RESPONSE / COMMENTS:
We're sorry to hear you didn't enjoy your stay. We did offer to come back in and clean up what you had reported but you declined our services. We're also happy that we were able to give you part of your money back. Thanks for staying with us.
Jul 07, 2020
My husband and I enjoyed our 4th of July weekend! Toni, Jeff and the rest of the staff were friendly and very helpful. When we checked in we discovered we had been given an upgrade because someone cancelled. The park was clean and well maintained. Our RV site was close to the lake. We took advantage of the beach. We will certainly return to this KOA in the future.
Jul 06, 2020
When I checked in I was never told where anything was and what kind of amenities they had. We didn't even know there were showers! I also called ahead of time to make sure everything was open and I was told yes but the playground and one of the pools was actually closed. Also, we spent a lot of time with family at lot 7 and the smell of the sewage was UNBEARABLE! Made us not want to eat!!
Jul 06, 2020
The park is nice and the staff was friendly. However, I would not recommend it for those camping in tents. The tent sites are limited and present challenges. Additionally, please be mindful of the slips you place boats in. We were asked what kind of boat we had, and size and were given a slip that was too small and too shallow; ultimately damaging our boat.
Jul 06, 2020
Site was clean and nice, staff was great ESPECIALLY JEFF! Jeff went out of his way to ensure our stay was pleasant. Awesome guy.
Jul 06, 2020
The spots do not have grills, they do not have trash pickup. You have to take your trash across the camp group to the dumpster. The worst part is the sewer system smell is awful. The spot we had is where all sewer goes, it's not something you want to smell. They are aware of this, but will not fix it.
CAMPGROUND RESPONSE / COMMENTS:
We do not advertise to offer grills or trash pick up. Unfortunately campgrounds that do not run on city sewer tend to occasionally have that smell. Management is aware and we treat our sewer system every month. We wish you luck with your camping adventures. Thanks for staying with us.
Jul 01, 2020
Very nice. Staff very helpful and friendly. Only issue is we had a ton a little ants, I was at 158 not sure why so many ants as I didn't have anything open and had to go buy and spray
Jul 01, 2020
Our stay and the KOA in Oconee was great!The staff is wonderful from booking to cabin to checking out.We bought wood and as they was lrading us to our cabin they brought the wood as well and put it in the fire pit.They were doing tours and spoke to us ever time the Road by.the pool was very clean and the bathroom at the pool.We use to visit the KOA in Forsyth but when we gound Oconee.
Jul 01, 2020
The bathroom was horrible. Absolutely filthy in the middle of a pandamics. I couldn't wait to get out of there. The road directions from the website were incorrect and we ended up at a dead end under construction. The road construction has been going on for 1.5 years so no excuse. There was no clear understanding for check in. We ended up aimlessly driving around to find the host.