Alert
Stage Coach Road Closure. After exit, take Route 44 South for 5 miles to Carey Station Rd. Follow Carey Station Road 5 miles to campground.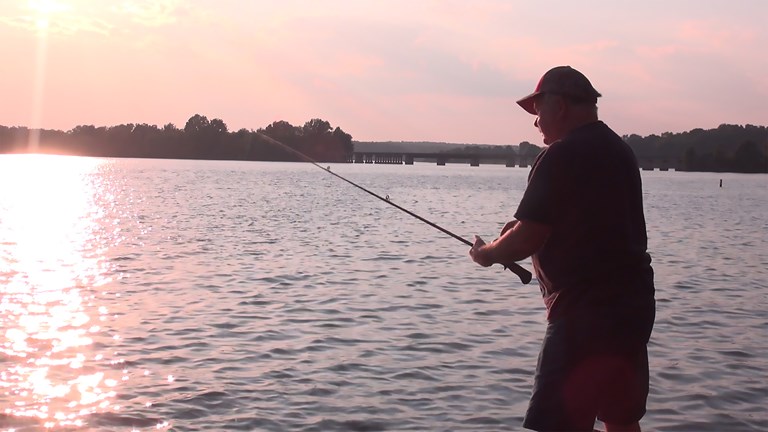 Lake Oconee / Greensboro KOA Reviews
Directions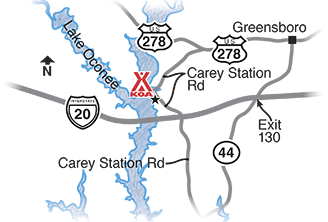 From I-20 midway between Atlanta and Augusta, take Exit 130, GA-44 South 5 miles to Carey Station Road. Turn right on Carey Station Road and travel 5.1 miles to the campground on the left.  ROAD CLOSURE NOTICE: If you are coming from East or West on 1-20 your GPS will instruct you to take Stage Coach Road. It is closed. Heading West take exit 130 and then take a left onto GA-44. If heading East take exit 130 and take a right onto GA-44. 
From the north take US-129 S/US-441 S/GA-15 S. Turn left onto GA-12W/US-278 W/W Broad St for 3 miles, Turn right onto Carey Station Road for 2.7 miles to the campground on your right.
From the south take GA-44 E to Carey Station Road, turn left on Carey Station Road 5.1 miles on the left.
Get Google Directions
Nov 07, 2018
Wasn't the site we had reserved. Staff complained about the online reserving. Finally got our site, it was cramped and so close to everyone (and the road). It was loud and not the style of camping that we like. Most of the staff was very nice. Just not a campground that I would ever recommend.
Nov 07, 2018
AWESOME hosts! Extremely clean campground.
Nov 05, 2018
Wonderful place that me and my wife thoroughly enjoyed and WILL return. The staff was awesome and made us feel at home.
Nov 05, 2018
We were impressed by the bath houses and activities in the club house. The view of the lake was fabulous, but--and it's a big but--the traffic noise echoing across the lake from I-20 and the railroad tracks was so disruptive. We had trouble sleeping from all the noise, and during the day sitting by the lake, it was hard to disconnect when instead of birds, water, or wind, all we heard was traffic.
Nov 04, 2018
We stayed one night. Site 257 was so badly sloped we could not get our travel trailer level. All of the access roads around our campsite were washed out and rutted. It was muddy everywhere. We did not utilize any of the site facilities.
Nov 03, 2018
First the staff here is great. They were more than happy to provide assistance and were very friendly. The campground is well maintained. My problem is that while the sites might be long enough for a bog rig the road network doesn't support them. I camped in a 42 ft fifth wheel and had a difficult time getting out of the site and the park. I had to pull through an empty site and navigate between
Nov 02, 2018
Two days only. Everything was fine.
Nov 01, 2018

A short, overnight stopover. Wish we could have visited longer.
Nov 01, 2018
Camp sites were so uneven & hilly it was terrible. Our site was so tiny we didn't even have room to park our truck on our site, especially since our neighbor had his truck parked partially on our site when we got there. The employee who took us to our site told us we could just park our truck in the site beside ours. We are full timers and stay in KOAs all the time. We will not return here :(
Nov 01, 2018
Great time and Emery helped us set up camper then found me a spot to park boat/2nd truck �
Nov 01, 2018
The staff were very nice - just a caution that it is difficult to get in/out of many of the sites, so be sure and call them to book rather than reservation system.
Oct 30, 2018
Wonderful campground with excellent people. Stayed for a couple of weeks
Oct 29, 2018
Paid for a Pull thru site 2 to 3 moths ago. We got stuck with site 270. It was very un-level. I have a 38 ft MH and could not even come close to leveling it. Looks like 1/2 site was washed away due to rains. And to top it off The motor barely fit on the site. Had to park the tow car on the next site
Oct 29, 2018
For a person that is not bound to a wheelchair, this place is nice. But our family friends who had a person come to stay in your cabin, it was a disaster at first. They are not handicap ready. Not enough ramps, entry door too small to get wheel chair in. Doors too small to move to the bathroom and bedroom. Had to borrow the other cabin that belong to n. shore. same issues. slept on couch
Oct 29, 2018
It was a very relaxing weekend!
Oct 29, 2018

Great stay in the caboose! Place was very clean and cozy. The staff was extremely accommodating and friendly, would definitely stay here again!!
Oct 28, 2018
We asked for a large pull Thur site and was told no problem, our motorhome is 43 foot plus our tow car , they put us on a small uneven spot in the trees , we told them we had a satellite dish , didn't matter to them. They need to level off these spots. We definitely won't return
Oct 26, 2018
Nice, quiet Campground. Lots of trees. Personnel were very friendly and helpful! Sites were quite spacious. We would stay here again.
Oct 24, 2018
Office workers were very friendly, efficient and helpful. Campground is clean, but campsites are very tight and close. We had a pull thru, which was nice for our big rig, but the exit from the campsite back to the main road was terrible - almost a hairpin turn on a very narrow, rutted dirt road with a drop off on both sides. Thankfully we were able to exit thru vacant campsites.
Oct 24, 2018
Great Camp site. Friendly staff. Really enjoyed my time at this KOA
Oct 23, 2018
Great people, took us to our camp site late at night. Allowed us to stay extra night , even though the site was rented that night they moved the people to another site. We have stayed in KOA's in 47 states, just don't find this kind of service.Thank You, Archie
Oct 23, 2018
Was ok for the night. Kind of dumpy.
Oct 22, 2018
We were there for one night and asked for a pull through site so we did not have to disconnect. What we got was so short and slanted I was concerned about taking trailer off. I thought I might scrape getting out even thought I might not get hooked back up. Staff should be trained to ask questions. No playground for kids actually the ones there were pitiful. Restrooms were great, no kidding.
Oct 22, 2018
It was a great place to camp. So very clean and we were on lot 8 and what a beautiful view! The people were so friendly also. Will be back.
Oct 22, 2018
What a lovely location. The people working there were very pleasant and helpful. It seems that past maintenance has been lacking, however, and at least some sites are hard to get onto, and are way out of level. It will take some time, but I think things will be improving. Right now, this campground is a "diamond in the rough ".
Oct 22, 2018
Very nice place.
Oct 21, 2018
Disappointing, poorly maintained sites, undeveloped and lots of erosion, difficult to walk and enjoy outside living. One other point, we were to when lease is up Travel America will take over as a Time Share. No more KOA?..
Oct 19, 2018
It was ok we just stayed over night
Oct 16, 2018
Everything was great...But would be nice they had Cable at this location.
Oct 15, 2018

We rented cabin #29 we had experienced several giant roaches,lots of ants around the sink and counters and a few flies, we didn't sleep very well as one of the roaches crawled onto our bed and woke us up.
Oct 15, 2018
Beautiful camp site!! It overlooked the lake. Showers & bathroom very clean. Lot's of activities at the clubhouse. Camp store was nice and well stocked. Staff was very nice and attentive. Thanks for a great camping experience.
Oct 15, 2018
We enjoyed our weekend at lake oconee campground in every way! The staff treated us very well, the site we camped at was perfect. we look forward to booking again soon!
Oct 15, 2018
This was my first stay with my new fifth wheel and all of the staff were very helpful to get me a site that was easy to get in and out of, also we woke up to a flat tire on our camper and one of the workamper ( Wayne) brought us his personal air compressor to pump the tire up, we are already planning our next trip there.
Oct 14, 2018

nice and relaxing. Really enjoyed the pools. The cabin was pretty and clean. Had everything we needed.
Oct 14, 2018
It was ok this time.We had to leave early because of Hurricane Michael and ANTS.got into our travel trailer.UGH,, Theses New owners are trying to spruce up the place with new decks,barbecues and fire pits. Tables and chairs.But you need to do something about the Ant problem!!,
Oct 12, 2018

The staff was awesome, but the beds need some work in the train cars.
Oct 11, 2018

the campground is beautiful the room was very clean and the staff was friendly would love to come back and stay longer
Oct 11, 2018

Wonderful! Very nice people and employees. Have been there quite a few times and love the constantly improvements to the premises
Oct 10, 2018
Beautiful park and grounds. Late check in not so good. No maps of area where restrooms were or anything else. Just the slip for your information and payment and you called someone to escort you to a site with no further information forthcoming.
Oct 09, 2018
We stayed 3 nights. Enjoyed it a lot. We were greeted by everyone we meet and the staff was very friendly and helpful. We only wish there were more trash receptacle. We will be back!

Lake Oconee / Greensboro KOA
Open All Year
2541 Carey Station Road
Greensboro, GA 30642
Check-In/Check-Out Times
RV Sites, Tent Sites
Check-in: 1:00 pm, Check-out: 11:00 am
Accommodations
Check-in: 3:00 pm, Check-out: 11:00 am
Operating Hours
Sunday: Open 9:00 AM to 5:00 PM
Monday: Open 9:00 AM to 5:00 PM
Tuesday: Open 9:00 AM to 5:00 PM
Wednesday: Open 9:00 AM to 5:00 PM
Thursday: Open 9:00 AM to 5:00 PM
Friday: Open 9:00 AM to 5:00 PM
Saturday: Open 9:00 AM to 5:00 PM
Lake Oconee / Greensboro KOA
Get Google Directions

© 2020 Kampgrounds of America, Inc.