Alert
Stage Coach Road Closure. After exit, take Route 44 South for 5 miles to Carey Station Rd. Follow Carey Station Road 5 miles to campground.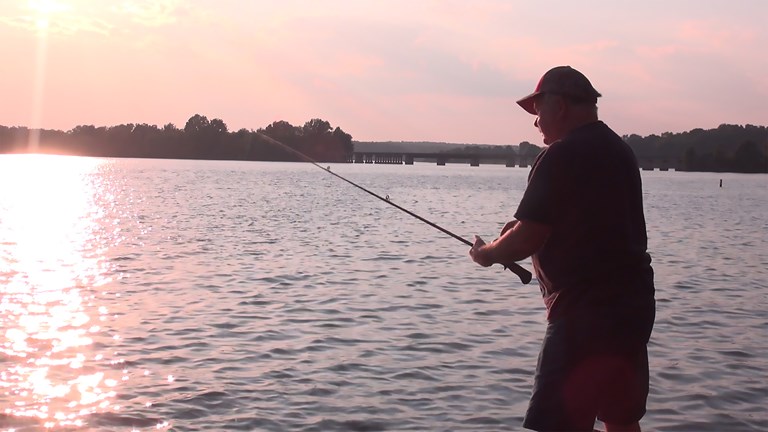 Lake Oconee / Greensboro KOA Reviews
Directions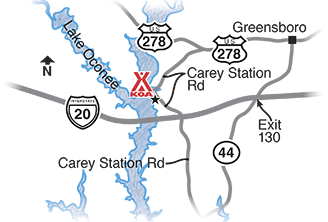 From I-20 midway between Atlanta and Augusta, take Exit 130, GA-44 South 5 miles to Carey Station Road. Turn right on Carey Station Road and travel 5.1 miles to the campground on the left.  ROAD CLOSURE NOTICE: If you are coming from East or West on 1-20 your GPS will instruct you to take Stage Coach Road. It is closed. Heading West take exit 130 and then take a left onto GA-44. If heading East take exit 130 and take a right onto GA-44. 
From the north take US-129 S/US-441 S/GA-15 S. Turn left onto GA-12W/US-278 W/W Broad St for 3 miles, Turn right onto Carey Station Road for 2.7 miles to the campground on your right.
From the south take GA-44 E to Carey Station Road, turn left on Carey Station Road 5.1 miles on the left.
Get Google Directions
Jan 31, 2019

The views are spectacular, the campground is unique and the people are extremely nice. Nothing but five star all around.
Jan 31, 2019

Awesome people, great place!
Jan 30, 2019
We just stayed overnight but it was great. The staff was so friendly. The guy who lead us to our site was so great. He made us feel so welcome. The office staff was just as good. There appears to be a lot of long term residents. I believe the upkeep on those campers and the site could be kept neater. The park has wonderful sites on the water. Would go back again.
Jan 11, 2019
Beautiful campground. It is on a hill going down to the lake so some spots are uneven for leveling. Although some spots were nice sized the particular spot we were on was small. Just enough room for a picnic table between us and the neighbor. The town of Lake Oconee is really nice with some nice places to eat and a Publix.
Jan 05, 2019
Workers were wonderful. Problem was the site, way too small for 40' A class We barely got out in the morning. Turn too tight to make it first pass. Couldn't recommend to my friends with rv my size.
Jan 03, 2019
Our site was awesome! Staff was very helpful. View of the lake beautiful
Jan 03, 2019
Very clean and large site. Wifi is good
Jan 01, 2019
The couple that helped me get settled after hours was amazing. I was traveling with my 3-year-old and an 80-year-old grandmother. The two helped get parked, hooked up, and made sure I was all set for the night.
Dec 31, 2018
Very friendly staff. Bathrooms were spotless, but a little far from the tent camping area, and up a steep hill. Wonderful views from all over the park, and a really nice clubhouse. Laundry facilities were nice as well. There are only four tent sites, and they are also on a steep hill, although right above the lake with great views. Water and electricity at all of them for a very low price.
Dec 24, 2018
Nice and friendly staff. We believe we will be back this way and this will be our stop.
Dec 20, 2018
Site was not level, did not meet the needs of our RV (30 amp vs 50 amp). We arrived after office hours. The associate who helped us was very friendly and courteous and helped to the extent that he could.
Dec 20, 2018
Beautiful lake large campground with nice facilities
Dec 19, 2018
Stunning location outstanding RV resort
Dec 10, 2018
People were friendly, but our site was so unlevel it took a long time to get situated. Then the stairs were very high off the ground. Sewer was up hill. Had to pull out carefully, and through mud as the site sloped down significantly on door side. We were only there 1 night, and knew the computers were down so we just stayed in that site. Some sites around us looked a little better.
Dec 07, 2018
No heat in the bath house. Outside temperature too cold to shower. Great park, tremendous view of the lake. Good hiking up and down and around the hills. Camp site (#258) a bit short for my rig (20' trailer + 22' Pick-up truck). Quiet enough to sleep and talk even though the interstate is only 1 or 2 miles off. This KOA has a great deal more than what I could experience in an overnight stay.
Dec 05, 2018
Campground was not well maintained. Our location was not suitable for a 40' 5th wheel camper, we were lucky the campground was not crowded when we departed. It would have been impossible to get out of our site & on the road to leave.
Dec 05, 2018
Great individual bathroom with large showers. Beautiful lake views, as for level space! This campground is located on steep hill.
Dec 02, 2018

Dec 01, 2018
very muddy and tight space's to back into. Need to make the change from old campgrounds to KOA
Nov 29, 2018
Very Helpful...….Drove me on his golf cart to my reserved lot too make sure I was happy with it and guided me as I was backing on the lot.....Thanks so much.
Nov 26, 2018

Shower handle broke and had ants.
Nov 26, 2018
It was our very first time staying in our travel trailer. We arrived Thanksgiving Day and everyone was super helpful and welcoming! We will be back to stay in one of the lakefront spots when the weather warms up a bit and we can bring our kiddos. Thank you so much for your hospitality!
Nov 25, 2018

We had a wonderful time and plan to return!
Nov 25, 2018
The staff was very nice and friendly it was a great view of the river.
Nov 23, 2018
Nice site on the lake. Staff helpful, park very clean
Nov 20, 2018
We only stayed one night, but plan on returning. Office staff were awesome, camp host very helpful. Looking forward to a longer stay to enjoy all the amenities. Thanks
Nov 19, 2018
The only thing we missed was cable, but otherwise it was clean, staff very professional, friendly, and helpful. Would recommend to other campers.
Nov 18, 2018
Very helpful to a couple of newbie travelers.
Nov 17, 2018
Sites too close to each other. Put on #274.
Nov 17, 2018
It was a nice spot, unfortunately we had a lot of rain while we were there and could not enjoy the area.
Nov 15, 2018
I was only there a couple days wish I could have stayed longer.
Nov 15, 2018
Staff were friendly and easy to deal with. Facilities were clean. Location on lake is great. Only down side is sites are very close.
Nov 12, 2018
Closest RV park to University of Georgia for football. Nice area, great views, sites are NOT level, front wheels were 6" off ground without leveling blocks under the wheels. Staff very friendly.
Nov 11, 2018
Nice park. Will stay here again!
Nov 10, 2018
Very hilly and not level at camp site. Wouldn't recommend for a large vehicle. After hours support was great, though.
Nov 08, 2018

We were in a 2 bdrm box car loved it & the view. We've already made reservations for 2019.
Nov 07, 2018
Spaces are advertised as spacious. They are very small and not even . Very difficult to level. If the space in front of our location had not been open; there would have been no way out of the campsite without going 4-wheeling.
Nov 07, 2018
Wasn't the site we had reserved. Staff complained about the online reserving. Finally got our site, it was cramped and so close to everyone (and the road). It was loud and not the style of camping that we like. Most of the staff was very nice. Just not a campground that I would ever recommend.
Nov 07, 2018
AWESOME hosts! Extremely clean campground.
Nov 05, 2018
Wonderful place that me and my wife thoroughly enjoyed and WILL return. The staff was awesome and made us feel at home.
Nov 05, 2018
We were impressed by the bath houses and activities in the club house. The view of the lake was fabulous, but--and it's a big but--the traffic noise echoing across the lake from I-20 and the railroad tracks was so disruptive. We had trouble sleeping from all the noise, and during the day sitting by the lake, it was hard to disconnect when instead of birds, water, or wind, all we heard was traffic.
Nov 04, 2018
We stayed one night. Site 257 was so badly sloped we could not get our travel trailer level. All of the access roads around our campsite were washed out and rutted. It was muddy everywhere. We did not utilize any of the site facilities.
Nov 03, 2018
First the staff here is great. They were more than happy to provide assistance and were very friendly. The campground is well maintained. My problem is that while the sites might be long enough for a bog rig the road network doesn't support them. I camped in a 42 ft fifth wheel and had a difficult time getting out of the site and the park. I had to pull through an empty site and navigate between

Lake Oconee / Greensboro KOA
Open All Year
2541 Carey Station Road
Greensboro, GA 30642
Check-In/Check-Out Times
RV Sites, Tent Sites
Check-in: 1:00 pm, Check-out: 11:00 am
Accommodations
Check-in: 3:00 pm, Check-out: 11:00 am
Operating Hours
Sunday: Open 9:00 AM to 5:00 PM
Monday: Open 9:00 AM to 5:00 PM
Tuesday: Open 9:00 AM to 5:00 PM
Wednesday: Open 9:00 AM to 5:00 PM
Thursday: Open 9:00 AM to 5:00 PM
Friday: Open 9:00 AM to 5:00 PM
Saturday: Open 9:00 AM to 5:00 PM
Lake Oconee / Greensboro KOA
Get Google Directions

© 2020 Kampgrounds of America, Inc.