Alert
Stage Coach Road Closure. After exit, take Route 44 South for 5 miles to Carey Station Rd. Follow Carey Station Road 5 miles to campground.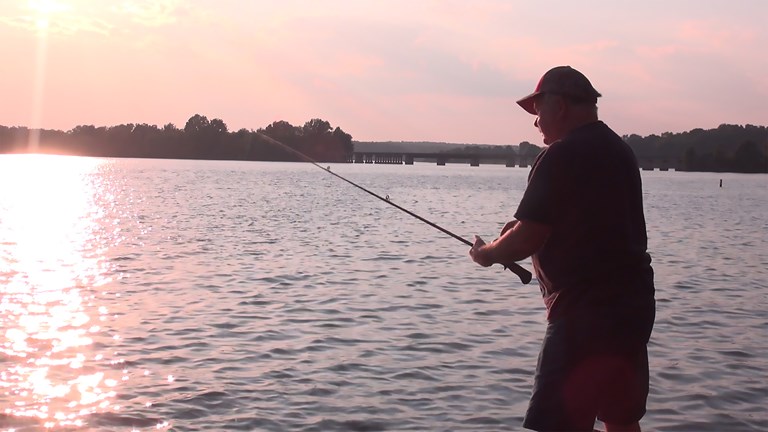 Lake Oconee / Greensboro KOA Reviews
Directions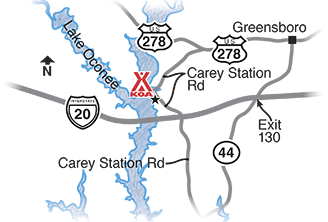 From I-20 midway between Atlanta and Augusta, take Exit 130, GA-44 South 5 miles to Carey Station Road. Turn right on Carey Station Road and travel 5.1 miles to the campground on the left.  ROAD CLOSURE NOTICE: If you are coming from East or West on 1-20 your GPS will instruct you to take Stage Coach Road. It is closed. Heading West take exit 130 and then take a left onto GA-44. If heading East take exit 130 and take a right onto GA-44. 
From the north take US-129 S/US-441 S/GA-15 S. Turn left onto GA-12W/US-278 W/W Broad St for 3 miles, Turn right onto Carey Station Road for 2.7 miles to the campground on your right.
From the south take GA-44 E to Carey Station Road, turn left on Carey Station Road 5.1 miles on the left.
Get Google Directions
Apr 03, 2019
Nice stay there,ONCE they were able to get us into a spot that our camper would fit. Even then we were very close to our neighbors, literally four feet from slide to slide.More open spaces needed, and ensure certain size RVs fit in certain spots. Includes maneuverability into spots(some have rock walls too near entrances with drop offs on the opposite side). Not going to risk my RV trying to fit.
Mar 31, 2019
Had the full deck overlooking the water. Just beautiful! Posted pictures of the beautiful sunset. Will definitely be back.
Mar 30, 2019
The lots are very unlevel for a large class A with a front entry it doesn't work because when the unit levels it ends up with the front wheels in the air. They are so bad you either unbalance your unit or build a step and it doesn't matter which site they give you if you are more then 30 ft long go else where, also they don't abide by there own rules dogs are allowed to bark from early till late
Mar 26, 2019
Campground is a little run down but the staff is amazing. We were led to our spot after a long day of traveling and a couple set backs. We got in way after check in time and they were so helpful. Even checking in to see how we were doing the next morning. We will definitely be returning.
Mar 26, 2019
Very accommodating staff... Jim was exceptionally friendly and helpful. I recommend this site to anyone driving through the south on I-20... traveling east OR west ... it is a short drive from the Interstate with wonderful views... a great clubhouse, swimming pool, and grand lake for fishing. * * * I'm disappointed that I can't find the link to leave photos... (sigh) * * * Until that tim
Mar 25, 2019
Loved the lake view. Washers and dryers worked great, nice and clean. Entire campground is clean and neat. Friendly, helpful staff.
Mar 24, 2019
Great place to stay!
Mar 24, 2019
Beautiful park on a nice lake!
Mar 21, 2019
Top knotch campground. We had a waterfront site which was easy in and out for our 21 foot travel trailer. The common areas were well cared for and the employees were friendly and helpful.
Mar 21, 2019
Everything was very good except the laundry room. Had problems with the old machines and had to take them to a laundry on the other side of Madison to get them dried. Please upgrade your machines and with a campground that size you should have at least two locations to do laundry. Beautiful location and very friendly and helpful staff.
Mar 20, 2019
When I got there my campground was not clean the deck needed a good sweep. Pad were not level internet did not work and no cable. Offcourse the whole park is on a hill not easy to walk around or ride bicycle. The railing on the deck was to high and could not enjoy the water view. For that kind of money I expected perfection. In general overpriced
Mar 20, 2019
Beautiful Campground with great views of the lake. We were a late check-in and the night attendant was very friendly and helpful with parking.
Mar 19, 2019
the sites are so unlevel, especially the one I was in.
Mar 18, 2019
Stay was just overnight and campsite was small and very bare, but amenities were very good and views were spectacular. Loved the dog park.
Mar 15, 2019
NOT BIG RIG FRIENDLY! Small very sloped sites of w/ overhanging branches. Do not use GPS westbound I20 to address. Go to Greensboro & then follow GPS to campground. Finally they tried to put us in a back in site when we reserved pull thru. The pull thru we got was the worst ever. Would not have been able to leave if the sites in front of us were not vacant. Maintenance guys nice cut branches.
Mar 13, 2019
Staff was friendly and helpful. Campground was very clean and attractive. But the campground terrain was sloped with spaces that were not level. Leveling my coach in site #19 required having my front wheels substantially off the ground. The main driveway through the campground had steep hills making for a scary drive. The drive out from my site down by the lake was a white-knuckle experience.
Mar 13, 2019
Nice and quiet but sites not very level. Staff was helpful and friendly.
Mar 11, 2019
We actually just used this as our motor home parking spot for a few days as we were visiting relatives close by...BUT...the host couple there were absolutely the BEST! The gentleman I believe his name was Jim was so very helpful to us, this was the first time we towed a vehicle with us and my husband needed a fair amount of help His wife i the office was so friendly and I loved their accents!
Mar 11, 2019
CG hots quit at 4:30 and there doesn't seem to be any supervision of the park after that time... Loud music until midnight. "Pull-Thru" campsite was very short, the site was very out of level with dried tire ruts in the mud. Campsites and roads are poorly delineated ! We were not happy with our overnight stay. We would NOT stay here again...
Mar 10, 2019
We were camping with relatives, and requested to be camped side by side. Requested at check-in and when host directed to our sites. When we asked the host guide if it were possible to change sites, he out right said NO. The WIFI did not work when we arrived and we asked at desk about it; only given a number for the parent company. They reset the remotes that worked for about 24 hrs. Worst KOA!
Mar 09, 2019
Great staff Great sites
Mar 01, 2019
Our one night stay was most enjoyable. Particularly noteworthy, are the clean and well maintained showers.
Feb 28, 2019
Our camp site 256 was located on a hill, not very level and water ruts in the roadway. Walking to the bathroom which were clean and warm was a challenge in the dark. The view of the lake and sunset were beautiful. The train cars by the lake were in need of repair and the wood on the deck steps was broken. Lots of empty sites and we got one of the worst ones. The staff were friendly.
Feb 23, 2019
We enjoyed our campsite right on the lake. It was beautiful. It appeared the park is in the process of being updating but has aways to go. The roads need attention. It appeared most sites need to be redone so they will be level. I can definitely see the potential for this KOA to be great once all the improvements are made. The staff was friendly and professional. Would stay there again.
Feb 21, 2019
NICE PLACE, GREAT SHOWERS
Feb 18, 2019
Had us arriving 2 days prior to my requested date. Asked for 50 amp service when booked, site reserved was 30 amp. Did ok since the weather only required heat. Had to run generator only about 3 hours. Great staff, very friendly and helpful with anything we needed. Thanks all.
Feb 17, 2019
Gravel site was on hill with extreme sloping. Next door, wheels we off the ground by 8 inches on his coach. No mention of being on sloped drive thru. Between the gravel and the mud no fun. Worst campsite on our current trip, Walmart Was better. Staff was good. Cement pad would of been better There is no night time lighting,
Feb 12, 2019
Let me start off that the person who checked us in was very nice (but SLOW) and the gentleman who took us to our site was very helpful. That's it for the good comments. Long drive off the highway. We requested a pull thru site and was given a site that was so uneven that it was impossible to level the trailer. The roads throughout the CG are in need of repair! Would never return again.
Feb 12, 2019
Very beautiful campground with a lot of nice amenities. The individual showers are probably the nicest we've seen. The only reason this rating is not perfect is because one site played EXTREMELY loud music for several hours and there was no intervention to have them turn the volume down.
Feb 11, 2019

My family and friends Had a very peaceful weekend my husband and I enjoyed it so much that we decided to stay an extra day while we sent the family home.
Feb 10, 2019
Staff is great and caring facilities clean and ready for customers love this location
Feb 10, 2019

Feb 09, 2019
Staff was very friendly and helpfull and made us feel welcomed. We loved the whole area, especially our tenting spot in the beach! We will definitely come back!
Feb 07, 2019
Staff friendly. Good view of lake. Close to other attractions. The one bath house i found needs attention. Paved roads are rough.
Jan 31, 2019

The views are spectacular, the campground is unique and the people are extremely nice. Nothing but five star all around.
Jan 31, 2019

Awesome people, great place!
Jan 30, 2019
We just stayed overnight but it was great. The staff was so friendly. The guy who lead us to our site was so great. He made us feel so welcome. The office staff was just as good. There appears to be a lot of long term residents. I believe the upkeep on those campers and the site could be kept neater. The park has wonderful sites on the water. Would go back again.
Jan 11, 2019
Beautiful campground. It is on a hill going down to the lake so some spots are uneven for leveling. Although some spots were nice sized the particular spot we were on was small. Just enough room for a picnic table between us and the neighbor. The town of Lake Oconee is really nice with some nice places to eat and a Publix.
Jan 05, 2019
Workers were wonderful. Problem was the site, way too small for 40' A class We barely got out in the morning. Turn too tight to make it first pass. Couldn't recommend to my friends with rv my size.
Jan 03, 2019
Our site was awesome! Staff was very helpful. View of the lake beautiful

Lake Oconee / Greensboro KOA
Open All Year
2541 Carey Station Road
Greensboro, GA 30642
Check-In/Check-Out Times
RV Sites, Tent Sites
Check-in: 1:00 pm, Check-out: 11:00 am
Accommodations
Check-in: 3:00 pm, Check-out: 11:00 am
Operating Hours
Sunday: Open 9:00 AM to 5:00 PM
Monday: Open 9:00 AM to 5:00 PM
Tuesday: Open 9:00 AM to 5:00 PM
Wednesday: Open 9:00 AM to 5:00 PM
Thursday: Open 9:00 AM to 5:00 PM
Friday: Open 9:00 AM to 5:00 PM
Saturday: Open 9:00 AM to 5:00 PM
Lake Oconee / Greensboro KOA
Get Google Directions

© 2020 Kampgrounds of America, Inc.