Alert
Stage Coach Road Closure. After exit, take Route 44 South for 5 miles to Carey Station Rd. Follow Carey Station Road 5 miles to campground.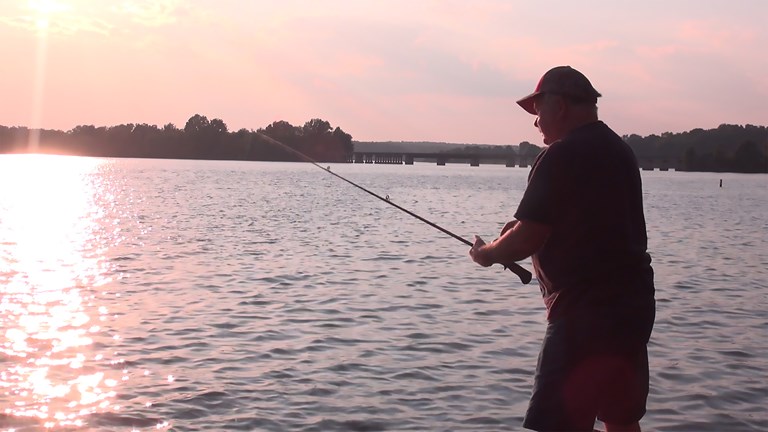 Lake Oconee / Greensboro KOA Reviews
Directions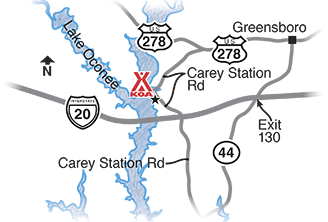 From I-20 midway between Atlanta and Augusta, take Exit 130, GA-44 South 5 miles to Carey Station Road. Turn right on Carey Station Road and travel 5.1 miles to the campground on the left.  ROAD CLOSURE NOTICE: If you are coming from East or West on 1-20 your GPS will instruct you to take Stage Coach Road. It is closed. Heading West take exit 130 and then take a left onto GA-44. If heading East take exit 130 and take a right onto GA-44. 
From the north take US-129 S/US-441 S/GA-15 S. Turn left onto GA-12W/US-278 W/W Broad St for 3 miles, Turn right onto Carey Station Road for 2.7 miles to the campground on your right.
From the south take GA-44 E to Carey Station Road, turn left on Carey Station Road 5.1 miles on the left.
Get Google Directions
Oct 15, 2018
Beautiful camp site!! It overlooked the lake. Showers & bathroom very clean. Lot's of activities at the clubhouse. Camp store was nice and well stocked. Staff was very nice and attentive. Thanks for a great camping experience.
Oct 15, 2018
We enjoyed our weekend at lake oconee campground in every way! The staff treated us very well, the site we camped at was perfect. we look forward to booking again soon!
Oct 15, 2018
This was my first stay with my new fifth wheel and all of the staff were very helpful to get me a site that was easy to get in and out of, also we woke up to a flat tire on our camper and one of the workamper ( Wayne) brought us his personal air compressor to pump the tire up, we are already planning our next trip there.
Oct 14, 2018

nice and relaxing. Really enjoyed the pools. The cabin was pretty and clean. Had everything we needed.
Oct 14, 2018
It was ok this time.We had to leave early because of Hurricane Michael and ANTS.got into our travel trailer.UGH,, Theses New owners are trying to spruce up the place with new decks,barbecues and fire pits. Tables and chairs.But you need to do something about the Ant problem!!,
Oct 12, 2018

The staff was awesome, but the beds need some work in the train cars.
Oct 11, 2018

the campground is beautiful the room was very clean and the staff was friendly would love to come back and stay longer
Oct 11, 2018

Wonderful! Very nice people and employees. Have been there quite a few times and love the constantly improvements to the premises
Oct 10, 2018
Beautiful park and grounds. Late check in not so good. No maps of area where restrooms were or anything else. Just the slip for your information and payment and you called someone to escort you to a site with no further information forthcoming.
Oct 09, 2018
We stayed 3 nights. Enjoyed it a lot. We were greeted by everyone we meet and the staff was very friendly and helpful. We only wish there were more trash receptacle. We will be back!
Oct 09, 2018
Had us park on top of a hill, made it difficult to unhitch and hook up at end. Bathrooms ok, trash not emptied daily though we were told they were cleaned twice daily. Pools were nice and clean.
Oct 09, 2018

great
Oct 09, 2018
Has two nice pools and a swim area. Being by the water was nice and beautiful. Camping spots are just too tight and not easy to back in to. We had to relocate from original spot because spot was too crowded and not big enough for our camper to back in & we were invaded by ants! Def need the deck sprayed ants were everywhere crawling up the camper trailer too. May revisit if we have a pull in spot.
Oct 08, 2018
Enjoyed the campground but had to move as the original site we could not get our rv leveled so moved to another site. That site was meant for a class a but we have a class c so the sewer hose was going uphill, also there was a lot of ants at our site. We found some inside our rv when we got home.
Oct 08, 2018
Great pool, my son loved all the railroad cars around the camp ground. Definitely worth the stay
Oct 07, 2018
The sites are not easy to back in to. Concrete slabs are on bad shape.
Oct 06, 2018
We went kayaking on the lake it was awesome
Oct 06, 2018
Place could use some updating
Oct 06, 2018
1 -Called ahead no KOA ID answer. 2- No call back 3- 7pm office closed 4-no after hours sign in with pass code for gate 5-had to go around thru exit to gain entrance 6-first site electric not working 7- second site not level so shower tray had to be sponged out (bailed out) 8- now dark , a person shows up in a cart to collect money...no receipt,no discount,no pass code. KOA needs to inspect.
Oct 05, 2018
Just a quick overnight stay. Campground was clean and peaceful. Restrooms and showers were exceptionally clean.
Oct 05, 2018
Only overnighted but enjoyed the beautiful lake side setting amd the peace and quiet.
Oct 04, 2018
The staff was very friendly and the campgrounds are well kept.
Oct 04, 2018
We arrived late without a reservation. The young lady that checked us in and took us to our site was very perfessional and kind. She got our night off to a good start. Enjoyed our stay
Oct 03, 2018
Disappointment all around! Paid twice as much as the other campgrounds we usually stay at on the lake. Space was way too small; the camper barely fit in and dropped off on both sides and sloped. There was nowhere at the site to park even one vehicle. Ants everywhere; playground and beach unusable. Patio rotting and unusable. There was no grill or firepit to use. Pools were closed. Rude! ETC!!
Oct 03, 2018
A little tight getting around as not all roads seem to be fluid. Quite nice. would like to stay here again sometime.
Oct 02, 2018

Beautiful...
Oct 01, 2018

Not happy with TRA and KOA together... Both have different sets of rules that's confusing to people. Management should be under one or the other. TRA giving 1 2 and 3 free weeks for doing a tour is causing us already members to not be able to get a nice site. TRA or KIA needs to focus on fixing the things that are wrong around there for us who are already members
Oct 01, 2018
This camground is absolutely beautiful. The staff is very friendly. The restrooms were immaculate we stayed on tent sites 2-4.
Oct 01, 2018
EVERYONE was incredibly nice and helpful. Your entire team is amazing!
Oct 01, 2018
Loved this campground. The only complaint would be no fire pit at our site and next time we will get a bigger site, ours was cramped! But we had a great time and will be back.
Sep 29, 2018
Short term pull-thru sites are hard to get in or out. Hopefully, the owners will develop the sites across from the office, Nice area and the lake is lovely. The staff are very friendly and helpful.
Sep 29, 2018
I arrived after hours but prior to the 11:00 pm check in time. I was instructed that there would be an envelope with my name at the registration building. When I arrived, gate was locked and no envelope. I did call the number on the board and no answer. Luckily a guest assisted me in finding my RV site. I left early the next morning prior to sun up and was charged an additional $9.00 for my stay.
Sep 27, 2018
Staff was very friendly. Facilities were clean. Campground is beautiful with trees everywhere, almost like you are all alone. Very peaceful.
Sep 23, 2018
Very pleasant
Sep 22, 2018
Loves the sites down by the water. The ones up above are too sunny and hot.
Sep 21, 2018

Exceptional facility with a great staff! Clean campground with a beautiful view of and access to the lake. We loved the train theme and stayed in one of the boxcar cabins. Will definitely return!
Sep 20, 2018

We stayed in a caboose and overall was a great stay. Assuming that this will actually fall on open ears we'd like to add changes that could improve the next guests stay; about 6 hours out of every day the beautiful deck along with it's view were way too hot to to enjoy, a simple table umbrella would have done wonders. And, a simple set of steps from that level down to roadway would be great
Sep 20, 2018
The staff is fantastic, they did everything they could to accommodate this Myrtle Beach refugee. All the facilities were spotless. But the sites are in desperate need of renovation. Most of them are uneven and are way too small for modern RV's.
Sep 19, 2018
We made a reservation and paid a deposit for a site. People on that site decided they wanted to stay longer, so we were given a less desirable site. You should have made the other people move to a different site and given us the site we paid for in advance. Horrible customer service and we will never return. Don't allow people to pick sites in advance if your not going to honor their reservation.
Sep 17, 2018
The power box on the empty site next to mine was malfunctioning and was hot to the touch. The maint. man came out and said it was fine? The next night around 9:pm the box caught fire and killed power to all the sites on my row. So after a discussion with the supervisor we ended up packing up and heading home early, they never offered to move us to another site with power. They did refund our stay.
Sep 17, 2018
staff friendly and helpful, but campsites are not up to par, booked all hookups w/50amp and was put on uneven site back to front and left to right, but was then placed on another site to accomadate my camper needs and request.
Sep 17, 2018
If you are one of the OLD BOYS/GIRLS club then you may find this camp great The grounds are expansive and there ARE MANY beautiful shaded sites with a view. Sadly they GAVE us a small uneven site with not one tree or bit of shade in 92 degree heat. It was sweltering. The bathrooms are immaculate, and offer a tiled shower with complete toilet facilities behind a locked door. Nice pool and grounds.
Sep 17, 2018
We were there from.myrtle beach sc during the hurricane.. staff was awesome every single person my daughter wrecked he scooter a employee took my wife and daughter back to the cabin,just awesome... bathhouses and pools were very clean and that important for me... thank you lake oconee koa staff ,, anthony and karen Brown
Sep 15, 2018
Relaxing. Staff excellent. Will go back.
Sep 15, 2018

Outstanding facility - very well maintained and the staff is very friendly and helpful. Our visit was unexpected as we were evacuating the NC coast from Hurricane Florence. I'm so glad we found Lake Oconee KOA! We made the best of an otherwise unfortunate situation and were able to relax and enjoy our time in one of the Caboose Cabins. Dan M, LtCol USMC (Ret)
Sep 15, 2018
Very nice way to begin our vacation!
Sep 14, 2018
We arrived after hours. We had been called by staff who gave us instructions for late arrival. Found our envelop and was greeted by a night attendant who showed us to the site. it is not an easy place to find and there is not any signage until you finally arrive at the entrance
Sep 10, 2018
We did not enjoin,because we had so much bites .
Sep 10, 2018

Loved the caboose great accomodations for the money, The channel guide for the tv channels needs to be updated but we loved everything about it the park was beautiful can't wait to come back and stay so that we can see more of the ammenities.
Sep 06, 2018
We scratched up our new boat on the raggedy Dock someone needs to put some money into the up keep It is very bad

Lake Oconee / Greensboro KOA
Open All Year
2541 Carey Station Road
Greensboro, GA 30642
Check-In/Check-Out Times
RV Sites, Tent Sites
Check-in: 1:00 pm, Check-out: 11:00 am
Accommodations
Check-in: 3:00 pm, Check-out: 11:00 am
Lake Oconee / Greensboro KOA
Get Google Directions

© 2020 Kampgrounds of America, Inc.