Directions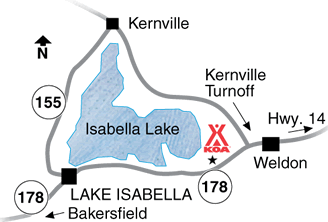 11 miles east of the town of Lake Isabella on Hwy 178. 32 miles west on 178 from Hwy 14.
GPS: N35.654805. W118.342632

WE ARE NOT LOCATED ON THE LAKE NOR ON THE RIVER, BOTH ARE WITHIN A 10 TO 15 MINUTE DRIVE
Get Google Directions
Jul 09, 2019
I really enjoyed the KOA. We will more than likely be back. The grounds need to be cleaned up of all the dead plants in planters or just removed. They would kill all the bugs in the bathroom and leave them over night instead of just cleaning them up. Check the toilet paper before the office closed for the night. That kind of thing would really improve the feel of the camp.
Jul 09, 2019
We left before even spending one night due to the 7.1 earthquake. Which has nothing to do with the KOA. However the cabin we had rented definitely needed some repairs. I do not feel it was worth the money that I spent..(even though we didn't stay) we had been to this KOA on multiple occasions but they have changed management and not for the better. Pool furniture was broken.
Jul 02, 2019
I stayed in 1 of the 3 cabins + 4 rv spaces our troops rented for the weekend. Upon arrival (after asking what time they would be) they informed me that there would be NO ice cream social & NO pancake breakfast on Sunday. I asked why and they said they just where not doing it. You had over 38 people very unhappy. The troops had nothing for kids/adults to eat on Sunday. So disappointed in this KOA.
Jun 21, 2019
We enjoyed our time and the pool was awesome.
Jun 10, 2019
Very disappointed in the cleanliness of the Deluxe cabin.We paid a $25 cleaning fee before arriving to the KOA, but do not understand the fee when the cabin was very dirty.We spent the first 20 min.sweeping all of the hair, dust, and dirt from the floors.The bed sheets were dirty.We think that when they put the new bedding on that the bedspread was on the dirty floor making the white sheets dirty.
May 29, 2019
I have never been to a KOA that had an onsite tavern before! Interesting. Beautiful area, just too cold for a tent site, but the cabin was adequate for myself.
May 07, 2019
Fun, relaxing stay. Clean camp cabins and facilities. Will come back again.
Apr 24, 2019
Most disappointed, An extra $25.00 put on the cost of my stay... cleaning fee.... really!!! No indication of it when I reserved the stay. Bathrooms and showers need some work. Maybe the 25 bucks they hit me for can go towards it.
Apr 18, 2019
We had a lovely time and we welcome any time we can come back. We enjoyed visiting Lake Isabell area, Kernville and Johnson bridge. Getting supplies from KOA store.
Apr 17, 2019
AVOID! Very small plots for tents RVs and cabins. Nothing to do! If you planning your visit between mid October through mid May - pool, Splash zone for kids are closed. No renting bicycles, no Jumping pillows, playground is super old with screws and nails sticking out. Not kept well: potted plants are dying with espoused root balls. Dog run is blocked by giant weeds. We cut our visit short.
Mar 30, 2019
My two sons and myself rented a cabin overnite. The cabin was clean. The staff are super friendly. The restrooms are clean. I really enjoyed our stay. We r coming back.
Mar 27, 2019
This site is wonderful but next time I'll come during the summer or fall
Mar 25, 2019
Under "new management" is a joke. I stay here a couple times a year and was treated like crap. After you guys change my cabin after booking it, not telling me I can't bring my dog (I've stayed in all the cabins and had my dog everyone). Only thing changed around the property is 47 signs saying quiet time. Sad to see they don't care about their regulars. Kinda felt like a joke
Mar 16, 2019
very clean and neat staff was very friendly and helpful great directions
Mar 11, 2019
this was 2nd stay at KOA at Isabella, and I will be back for sure~
Feb 24, 2019
The cabin was clean and the heat worked very well, which was important since it snowed during our stay. We just wish we had been there in summer to enjoy some of the kids' activities.
Feb 20, 2019
Great place. No stove or frying pans in bigger cabins. They do have a fridge and a microwave. Cute and clean.
Feb 20, 2019
Everything was very tidy and clean, including the bathroom and showers. The heater worked so much better than I expected since it was very cold out. We were nice and warm. The women who work there are very nice. Woke up in the morning to a view of snow covered mountains, as it had snowed overnight. Nice stay.
Feb 05, 2019
Love the scenery. This is a little out of the way but it is worth it. And how many KOAs has a bar? This one does! Staff is friendly.
Feb 01, 2019
We enjoyed the Kamping Kabin we used. It was somewhat confusing when making my reservation in differentiating which Deluxe Kabin we had ordered. We initially had need of the larger deluxe with room for six, and thought we had ordered it. We got the Kabin that had room for four. Fortunately, we had two who could not join us, and the smaller Kabin we obtained worked.
Jan 09, 2019
Clean and lovely cabins. We stayed right next to the playground and volleyball area. Everything was easily accessible. The hosts were very kind and accommodating.
Jan 06, 2019
Is very nice we like it maybe next time we come back on summer time on winter is very cold we don't join much but is very nice place
Jan 05, 2019
They over booked the cabin I had requested, but to make up for it they provided smaller cabin free of charge next to my sisters cabin for the day I was scheduled to arrive, next day I moved to the bigger one also got a free night due to the number of days staying.
Dec 31, 2018
Like sleeping in a bucket of Pine Sol. I'm sure it was "clean", but had me gagging. Heat turned up as high as it would go did not get the room above 60.
Dec 30, 2018
We stayed only a night in a campin cabin. The cabin was tidy and the heater very much appreciated. The host was very friendly and kind. The bathrooms were tidy and well lit. We were a bit unsure about checkout as we left before the office opened. We just followed the "late check in" instructions posted as we didn't want to wake the camp hosts. Overall a great trip.
Dec 30, 2018
Great cabins, clean grounds and helpful staff
Dec 29, 2018
The campground is located close to the Lake Isabella and it has little lodges, pull-thru RV sites and camping sites. We stayed at a deluxe lodge which was nice and spacious enough for four of us. It would been better if we came in the summer but we still enjoyed visiting this area. Ski resort is about 40 minutes and the Kern river is about 15 minutes from the campground.
Dec 24, 2018
This is a very nice cabin like a resort. It was clean and had a full kitchen include an oven. Two families enjoyed the stay. I love it.
Nov 27, 2018
I've been there twice (once in the summer a couple of years ago and I recently stayed over the Thanksgiving week) both times it was too windy. The staff was great every time we interacted. It's just too windy for me.
Nov 27, 2018
Nice and clean facility. Friendly staff
Nov 26, 2018
We really enjoyed our stay however there was a few things that we weren't happy about. The hot water kept going out in our cabin every time we were in the shower so we never got to use the shower which is the main reason we got a cabin in the first place. Then on the morning we were getting ready to leave water started spouting out from the front of the cabin so it made it difficult to load our
Nov 25, 2018
We come a couple times a year because it's that perfect!
Nov 21, 2018
Great place! Nice lady who manages it.
Nov 18, 2018
Very family friendly!
Nov 14, 2018
We had a great time
Nov 12, 2018
Great stay. Very clean! Very nice people.
Nov 09, 2018
Pleasant, clean cabin and restful. Thank you.
Nov 06, 2018
I've stayed at a few KOA locations over the past 6 years. Although I really wanted to give this locations a better rating, I found myself comparing it and came up lacking. My biggest issue was cleanliness and in need of a renovation. I get this is a camping site and the drought may have impacted the vegetation. I don't think there has been any landscaping in years. The staff was nice enough.
Nov 05, 2018
Deluxe cabin had bed bugs and no linen at all.
Nov 05, 2018
very plesent. quiet, no roudy louts. let me check in very early. that gave me a chance to get settled & relax before the rest of our group arrived. very nice personnel. i look forward to our club doing another ride in this area & staying here. only bad thing is the high cost.
Nov 05, 2018
Enjoyed it very much, low key, pleasant and hospitalble.
Oct 30, 2018
Very nice cabin but very few activities and amenities pool not available
Oct 29, 2018
In the area for a funeral so I did not need any stress. Staff was so great. They gave me hand written directions to my destination. Above and beyond..
Oct 22, 2018
We love it , always so much fun . Will be back next year.
Oct 11, 2021
I appreciate the fact that this family run campground made things right over a bad situation. This is a well run KOA that is, unfortunately, from time to time, plagued with a derelict element from the city that has no respect for the rules.
- Anthony Zinnanti on Google
Jul 22, 2021
It's okay. Nothing to brag about.Big sites. 30 amp only. It was very hot and could only run one air conditioner.
- Letha Whipple on Google