Directions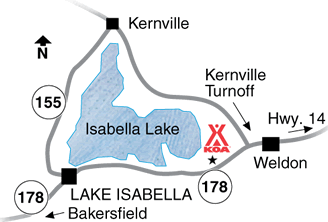 11 miles east of the town of Lake Isabella on Hwy 178. 32 miles west on 178 from Hwy 14.
GPS: N35.654805. W118.342632

WE ARE NOT LOCATED ON THE LAKE NOR ON THE RIVER, BOTH ARE WITHIN A 10 TO 15 MINUTE DRIVE
Get Google Directions
Sep 28, 2020
We stayed in one of the deluxe cabins and had a great time. The cabin itself was in mostly great shape. There were a couple of small things about the inside of the cabin that needed some maintenance. The hinges on the wardrobe in the bedroom were in need of repair, and the table out on the porch/deck area of the cabin needed to be repaired or replaced. But overall, the experience was really good.
Sep 28, 2020
Everything was fine until my family wanted to get the pancake breakfast. The paperwork we were given stated the breakfast was from 0800 - 0930 hrs. When I went up a few minutes before 0900, the guy in front of me was given more than 1 pancake per person (and the KOA employee could surely see I was there). Minor issue but the KOA employee became defensive saying it ended at 0900. Bad business.
Sep 25, 2020
We enjoyed our time staying at the KOA campsite. And access to the store for needed items. Also we enjoy going up to Lake Isabella and Kernville and driving up the Kern River to McNally's hamburger place.
Sep 19, 2020
The staff was exceptional, very kind, helpful, couldn't ask for better customer service. My timing was bad due to fires, smoke, and heat wave and covid. The cabin was in good condition, (camping cabin), and the pool was clean. The bathrooms were always clean. The playground did not look safe for children, and needs an upgrade. All in all clean and friendly..
Sep 14, 2020
Very nice very neat Having an a/c was awesome
Sep 11, 2020
We had a great time thank you
Aug 31, 2020
Dirty,cobwebs, widows are filthy, the toilet had stuff running down the sides of it .Kitchen cabinet the door was hanging off. Abundance of spiders inside cabin, paid for a 2 bath cabin and was given a 1 bath and was not given a price reduction. Cabin did not come stocked with with a complete set of silverware,dishes,cooking utensils,etc.1 couch cushion sagged and was unusable. Air conditioner
Aug 28, 2020
Your host and staff were great and welcoming to my family and guest. A big thank you for your kindness
Aug 26, 2020
The WiFi did not work in cabin 48. Huge inconvenience with Covid and school being online.
Aug 23, 2020
We had a great time
Aug 19, 2020
Always fun at KOA!
Aug 19, 2020
The cabins weren't the cleanest. I wished they were deep cleaned due to Covid. The staff wasn't really there to enforce quiet time. There was a strange family after 10pm making noise and no one was there to enforce anything. Some things were not as seen on the pictures. It was okay, but not the best on a lot of things.
Aug 17, 2020
Perfect place for family camping.
Aug 15, 2020
Our second stay in 2 months. We used the largest deluxe cabin, again! The sites are always clean. The amenities are great. Pool, splash pad, walking around the park, dog park and playground. The staff is very friendly and professional. They work hard to keep the grounds clean, safe and enjoyable. Especially, during this time of Covid. Do your part to keep clean and stay safe, all is appreciated!
Aug 13, 2020
It was our first time in a camping in California and we enjoyed our stay at your installation. Very clean and quiet. Thank you!
Aug 08, 2020
The delux cabin was much smaller than other deluxe cabins we have stayed in in the past. The cabin was overrun with ants, they provided spray but that did nothing. We only stayed one night. The cabin had not been cleaned. There was dust bunnies all over the floor and lint in the sink along with hair and the shower dispensers were dirty.
Aug 05, 2020
It was pleasant didn't like how the pool was so murky and the campground trash was overfilled all the days we were there.
Aug 04, 2020
The staff was very accommodating with my reservation of a 6 person cabin, I showed up with 8 campers and the staff worked it to fined me a tent spot even though they were fully booked, The staff went out of their way to make our stay special..
Aug 02, 2020
Everything was going pretty nice, until I noticed that the family who was next to us left and within an hour a new family came in and it was NEVER cleaned out by Koa personnel!
Jul 28, 2020
Came here camping with my bf for the first time & we were totally unprepared. Our matress didn't fit the tent & we all in all were quite a mess! We asked to upgrade to a lodge for the night and they accommodated us like true heroes, refunded me for the campsite, and allowed us to make an emergency one night reservation for a lodge eventhough they usually have a 2 night minimum. Great hospitality!
Jul 26, 2020
Campsites and service were great! Unfortunately, I would not recommend a cabin stay at Kern River KOA. We stayed in cabin K57. - floors were filthy, not swept and dirty - kitchen table and chairs dirty with crumbs from previous visitors - shower door dirty -Fridge dirty Luckily, I brought my clean products to go over everything upon check in.
Jul 26, 2020
Wish all your cabins had a rest room but other than that it's was fun and nice.
Jul 25, 2020
We rented the 2 bed 2 bath "cabin" (its actually just an old mobile home" which was annoying because we wanted the canin feel. The mobile home was very dirty and un-kept". The only positive was that it had a large wooden porch that was fun to spend our nights on. However when you want to build a camp fire you have to go to the small dirt patch full of weeds. Pretty disappointed!
Jul 25, 2020
Was very nice
Jul 23, 2020
We did not enjoy our stay. I called ahead to ask what was in the cabin and was told a kitchenette. In fact, it was a microwave and dishes, cups, and utensils. There were no cooking utensils. No sharp knives, prongs, oven mitts, etc. Two of the dishes in the stack were dirty. No hot water. No TV. And no WIFi. During the night, the AC would make loud noises.
Jul 23, 2020
Really enjoyed our time and will be coming back. The only suggestion I have is either provide a pooper scooper or poop pick up bags in the pet yard. I always have bags for my dog and clean her mess. But others do not and there were piles everywhere. I left some of my bags in the box where there was none provided and they were used. I think if provided others would use.
Jul 22, 2020
I rented a space at KOA for the past 5 years, always had a great time. This year we rented 4 cabins 2 of them were deluxe cabins. They were dirty, none of the conditioners works. I pulled out the filter they were caked with dirt. Pool was nasty. They canceled our reservation 5 days before were got there. Said our cabins were closed to maintenance. Did not notify call or email me. BAD MANAGEMENT!
Jul 21, 2020
Everything was great! It was over 100 degrees, so we were very grateful for the AC in the camping cabin. My kids loved th Wild West theme, playground, pool and the splash pad! The campers kitchen made doing dishes easy. The ice cream social and Pancake breakfast were a nice touch! The only complaint is the day park is small and there were goat head thorns...my dog got 4 thorns in his paws.
Jul 17, 2020
This review has been removed by KOA due to profanity.
Jul 16, 2020
Had great time friendly staff and very clean
Jul 12, 2020
AC didn't work in our cabin and there were dead bugs all inside. Bathrooms were dirty as well. There are signs posted before entering general store saying that masks were required but this was not enforced (saw many people enter the store without masks). Pool was at an uncomfortable capacity during a pandemic. Will not return.
Jul 10, 2020
I loved staying in the deluxe cabin . It had everything we needed !
Jul 10, 2020
First time staying at a KOA. Stayed in a small cabin. Bed mattresses were uncomfortable-should be replaced. Loved the porch swing. Snack shop/store was great. Bathrooms and Showers were clean. Pool was small but wasn't crowded; great for son to dip in for a bit at night. So many starts at night. Great restaurants nearby. Lake & river were close. Overall, had a great stay.
Jul 09, 2020
It's kind of far from the lake, but it has a nice swimming pool and a separate splash pad to keep cool in the summer heat.
Jul 08, 2020
http://www.onthegooc.com/2020/07/sequoia-kern-river-lake-isabella-more.html?m=1 We loved our stay at Lake Isabella KOA. Pool is perfection and the on site panning for gold is family fun. Great location to get to Sequoia south, kern river and more.
Jul 03, 2020
Not far from where we live experience was awesome friendly people around would definitely go back
Jul 01, 2020
the bathrooms were very very dirty
Oct 11, 2021
I appreciate the fact that this family run campground made things right over a bad situation. This is a well run KOA that is, unfortunately, from time to time, plagued with a derelict element from the city that has no respect for the rules.
- Anthony Zinnanti on Google
Jul 22, 2021
It's okay. Nothing to brag about.Big sites. 30 amp only. It was very hot and could only run one air conditioner.
- Letha Whipple on Google