Directions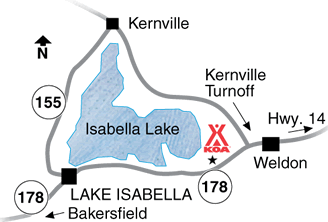 11 miles east of the town of Lake Isabella on Hwy 178. 32 miles west on 178 from Hwy 14.
GPS: N35.654805. W118.342632

WE ARE NOT LOCATED ON THE LAKE NOR ON THE RIVER, BOTH ARE WITHIN A 10 TO 15 MINUTE DRIVE
Get Google Directions
Oct 11, 2021
Too good to stay with you!
Sep 17, 2021
Seamless processing for my stay, quiet and comfortable and clean. As always, the staff keep things ship-shape and are very friendly and responsive.
Sep 13, 2021
Love this little place… it's just a pretty long drive to get to, but it's cute and relaxing little koa with a Pool and good shade trees! They really need to update the park our kiddos got a couple of splinters from it… It usually tends to be a windy at this KOA for tents, but this weekend we got a cabin instead of tents to not deal with the wind and there was a slight breeze haha of course
Sep 13, 2021
The campground was clean and quiet. Everybody was very helpful letting you know where to park and what to do answering all questions. I would definitely stay there again. The only advice I would have for them is to clean the bathrooms which include the showers after the 11:00 check out time. Closing the bathrooms from 10:00 to 11:00 seems like an inconvenience.
Aug 17, 2021
I enjoyed my stay. The staff were very friendly and knowledgeable about the area. They were also helpful and kept the bathrooms clean.
Aug 12, 2021
The property is very well managed and very clean. I felt very safe bringing my friends and family up for a few days. I wish I would have known exactly what to expect in our room though- I would have packed differently.
Aug 03, 2021
Campground was great. Sadly, the lake was extremely low and not enjoyable. Loved the splash pad for the kids and the pool was a refreshing welcome in the extreme heat. Would be nice to have a few chairs in that area. Staff was very friendly. Loved the shade trees in the tent section and the camp kitchen made camp life easier.
Jul 30, 2021
As usual, the staff of this KOA was very pleasant and accommodating and my stay went without any problems. Very positive experience.
Jul 28, 2021
Our stay at KOA Campground was amazing there was alot of shade with the amazing trees the kids loved the pool it's was clean and campground had a dog park super plus for our dog's
Jul 23, 2021
We rented a basic cabin for the night and were happy to discover upon arrival in 90+ degree weather they had already turned on the AC. The woman working was very helpful and the facilities were in good shape.
Jul 21, 2021
Needs quite a bit of updating - it is like a broken down western town. The bathrooms need to be redone. They have no ac and are pieced together. The shower heads spray in a mist circle, making showering difficult and time consuming. One shower and one toilet were out of order. The grounds need a clean up. The staff were very pleasant and earned the stars given- the rest needs attention.
Jul 20, 2021
I was told in the partial kitchen cabin there would be a propane grill provided outside the cabin but there wasn't one so all my food that i carried was sitting in the fridge and we had to end up eating out, i have stayed at 8 other Koa locations and this one is the worst of all - the common kitchen was very greasy and unpleasant to cook in, kids play area only had 4 swings, splash play areaclos
Jul 19, 2021
There was a tick on the bed which could have come from one of us, but the bottom of the inside of the light over the table inside the cabin (57) was full of dead bugs to the point it was black. The porch light as well. The futon was dirty. The floor under the futon was filthy. All drapes dirty and worn, front door especially. The bed was horrible. It sagged. Worst KOA I've stayed in.
Jul 13, 2021
We had a great stay, the cabin was very clean and nice, just perfect for our family. AC work perfect for this 105+ weekend. everyone one of the employee's were very nice and helpful. answered all of our questions and took the time to offer suggestions of things to do around the area. Swimming Pool and Splash pad areas where well maintained and a refreshing way to spend the evenings. We'll be b
Jul 11, 2021
Always a great time! The staff is super friendly and trying out a cabin this time was a game changer!
Jul 07, 2021
The best way to camp at isabella
Jun 30, 2021
I love this campground and enjoy returning regularly. All of the amenities make it an enjoyable vacation with the kids. Only recommendation is the cabins need some upgrading such as new mattresses and sofa.
Jun 28, 2021
Great customer service, family focus, clean and koa. We will be back.
Jun 20, 2021
Had to update to a cabin upon arrival due to the heat wave, Jaquie was very helpful and accommodated us quickly. The place is well taken care of, clean facilities. Try to visit during the weekdays to avoid the crowds. Thank you
Jun 20, 2021
The power was out and it 105 degrees. Not good. However my family went to the hot springs and survived. Who would of thought.
Jun 18, 2021
Everything was great!
Jun 18, 2021
Arrangements were made for stay almost effortlessly. Conditions in and around cabin were quiet, clean and without annoyance.
Jun 07, 2021
Rented 1 room cabin. My grandkids and I left at ten pm as too hot. The cooler was minimal. Only rented as locals no longer welcome to pay to swim. Unfortunate.
Jun 06, 2021
Clean fun stay we stayed in cabin 53 A/C was very weak and in efficient fire pit/BBQ was bent/ smashed but we felt safe and made due fun stay I will be back. Thank you Jackie.
May 23, 2021
Water was out for hours upon our arrival. No bathrooms were avaIlable. The public showers flooded because there was poor drainage. Bathrooms were not kept up and toilet paper was out. My family found a rat In the swimming pool.
May 21, 2021
Beautiful sky's and staff was experts!!
May 18, 2021
We love the Lake Isabella KOA and this is where we come on our free days. The staff is friendly and helpful, and it is a clean place. The kids love the pool, splash pad, and playground, but miss the Giant Spider Web Climbing Ropes that they love to play on, and hopefully it will be back up again at our next visit. We like the store that has food & basics, so you don't have to leave the grounds
May 17, 2021
Fix the stoves at the camper kitchen. Some did not turn on The spring was popped of the gfi outlet in the women's restroom At times we were out of toilet paper The homemade playground had a few missing boards and my six year old son said "it needed to be fixed" We have stayed at many koas and this was not the best
May 11, 2021
I have been camping here a long time. I WAS SHOCKED at how rund down and dirty EVERYTHING was. From our cabin to the bathroom and grounds. WHAT ON EARTH HAPPENED. We paid for a cabin that had a bathroom/kitchen that was out of order until 9pm that night. Water was shut off due to a leak and pipes that were nowhere near buried deep enough. It was a huge disappointment. I really should get a refund.
May 11, 2021
As always very positive experience: friendly, accommodating staff, clean facilities, quiet at night, and efficient administrative tasks like paying bills, getting receipts, etc. Glad to have such a convenient, well run campground to stay in.
May 10, 2021
Just overnight but, was able to do laundry. Everything was clean and everyone nice.
Apr 26, 2021
Convenient location close to town. Cute "wild west" campground decorations. Very nice cabins Dog run/pet relief area and simple place ground. A little farther from the Lake than anticipated. Pool not heated. 2 Bathroom stalls "out of order, but to Covid" and the shower drains clogged/super slow and flood entire bathroom floor making it dangerous to walk around in pool of water after showe
Apr 22, 2021
It was very clean and welcoming. Thank you
Apr 20, 2021
There was no one at the campgrounds to check us in upon arrival in the evening. Had to wait an hour. We also noticed the manager, Craig, really knows how to make ethnicities at home. You could tell by the way he would come out with the blower and pelt them with dirt, poking trash and sticks that had collected on the ground. We watched him do this for 3 consecutive days. Only to minorities.
Apr 19, 2021
Overall... I enjoyed our weekend of camping here. Unfortunately they are very understaffed! I wanted to shower at 9:30 in the morning and the showers were closed for cleaning!!! The posted cleaning times are 10:00 to 1:00 am... which in its self is very very inconvenient given that check out time is 11:00. How are we supposed to get ready to leave if the showers are closed? Also, the store is not
Apr 19, 2021
When we arrived key wasn't ready spare key didn't work had to go back to receptionist. Cabin was dirty and dusty front light didn't work they said they will fix it Saturday morning. The next morning nobody came had to go to receptionist and they said they lightbulbs are made anymore. I have stayed in KOA before in other cities and never had this experience.
Apr 19, 2021
Super cute place. Friendly staff!
Apr 18, 2021
While the employees I encountered were fantastic, the property was in bad shape. The bathrooms had 2 or the 3 sink areas ripped out and nothing was put in their place. The paper towel dispensers didn't work for the entire stay. The fridge in the food area was out, so no food was available. Nearly everything we came into contact with was broken, run-down, or both.
Apr 18, 2021
I stay there overnight when I'm on a road trip on my motorcycle, perfect location the end a day. I always get a small cabin and each time things are in order and reservations were spot on. I've stayed there before in my RV and things are the good, spots are clean, people are nice and the staff friendly and helpful. I'll be back there as soon as I can.
Apr 13, 2021
Staff are always pleasant and helpful and accommodating. The place is clean, neat and well-run. I highly recommend this campground.
Apr 07, 2021
This is a much smaller KOA than we have been to, but the staff was so friendly and the cabin was perfect. I would definitely come back, but when COVID restrictions are done and after May 1st so some of the local trails are open.
Apr 05, 2021
Dishes were still dirty, didn't realize we wouldn't have a stove inside of our deluxe cabin. Air conditioner/heater didn't work well, shower needs to be fixed, would be helpful if pots and pans were provided to cook. Also did not appreciate the 3 night minimum to book a cabin.
Oct 11, 2021
I appreciate the fact that this family run campground made things right over a bad situation. This is a well run KOA that is, unfortunately, from time to time, plagued with a derelict element from the city that has no respect for the rules.
- Anthony Zinnanti on Google
Jul 22, 2021
It's okay. Nothing to brag about.Big sites. 30 amp only. It was very hot and could only run one air conditioner.
- Letha Whipple on Google