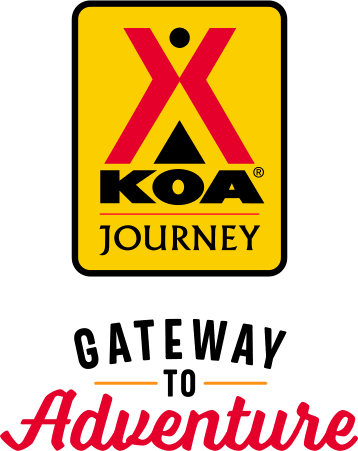 KOA Journey Campgrounds
KOA Journey campgrounds are the perfect oases after a day on the road. Whether it's along the way or a quick getaway, they've got you covered. Located near the highways and byways of North America with long Pull-thru RV Sites, they deliver convenience to the traveling camper. Pull in, ease back and take a load off.
KOA Journeys Feature:
Pull-through RV Sites with 50-amp service
Premium Tent Sites
Well lit after hours check-in service
Directions
1-75 Exit 122: Go east on Hwy 61, KOA is 500 feet on the left.
GPS: Use 2423 Andersonville Hwy, Clinton, TN 37716.
Get Google Directions
Apr 06, 2021
The staff there are very nice.
Apr 06, 2021
We had a very nice overnight stay in a mini deluxe cabin. Very helpful staff! Thanks again!
Apr 06, 2021
We really enjoyed it! The best part was all the people working there from the front desk to wood delivery and housekeeping. The bathrooms were spotless and my cabin was immaculate!
Apr 06, 2021
Dog poop throughout the park. Tiny lots, lots of money for very little.
Apr 05, 2021
Was a good experience, even though the weather was windy and cold. Close to The Ark Encounter, would recommend to a friend.
Apr 05, 2021
They are always very helpful and friendly.
Apr 05, 2021
This was our very first trip in our new RV, and we chose a spot close to home. We absolutely loved this KOA location, perfect for our first trip. Nice pull through space, bathhouse was clean, staff was very friendly, and my kids LOVED the playground! They're already asking when we can come back! And of course, a great location, easy to get to Walmart or restaurants as well as the lake and parks.
Apr 05, 2021
We arrived late, everything was prepared and easy to get to our campsite after the office had closed. Bathrooms and showers were very clean. We would stay again!
Apr 04, 2021
Perfect overnight stopping place with pull--thru sites. Gravel sites but pretty level and has very good wifi and tv.
Apr 04, 2021
Great place to stay. Friendly staff--very welcoming
Apr 03, 2021
Everyone was so friendly and helpful.
Apr 03, 2021
It was a quick overnight stay. Very pleasant
Apr 02, 2021
Very clean well kept campground. Easy access to route 75. Good restaurants nearby. Staff was very friendly and professional
Apr 01, 2021
We always stay there for one nite coming home from the beach. They are very friendly and helpful. The facilities are very clean.
Mar 31, 2021
Helpful and polite staff. Nice facility.
Mar 31, 2021
It was VERY wet- lots of rain and my site stayed under water and muddy. The fire pit was too close to the next site to really have a fire. I did like the dog park and the playground looked nice, but I think if I were to stay again, I would like to request certain sites (#37 for instance or one in the "30" row- the fire pits are set off and they don't look as "busy" with traffic).
Mar 31, 2021
Very clean. Great staff.
Mar 31, 2021
Clean restrooms and faster check in.
Mar 31, 2021
We were there just for one night. Our lot was clean and everyone friendly. The clerk was formally from our state so it was fun chatting with him and knowing some of the same people he did. You can fill up propane on your way in or out. Overall a very nice stay. Will be staying again next your on our half way point to destination.
Mar 31, 2021
Poor drainage mostly a mobile home park . Staff where very pleasant,.Many long term residents like all Koa grounds tight jammed into spaces.paying up front FULL price before arrival 48 dollars for an over night stay too expensive for location nothing around the area typical KOA
Mar 31, 2021
Clean, easy access from I-75, nice place to stay!
Mar 31, 2021
Sites are VERY TIGHT and leave little room for outdoor activity. My table was on top of my neighbors connections and our fire pit was so close to our units that we chose not to use it. This campground was not made for large rigs with slides in my opinion. LOTS OF BARKING DOGS.
Mar 31, 2021
Close to the freeway but you can't hear the traffic. Food,gas and a walmart are right there. If you are coming out of Kentucky this is the first exit and reasonable gas prices. Employees are very helpful.
Mar 28, 2021
We appreciated the check in process and having the two gentlemen get us placed correctly in or spot and answering our questions. Thanks!
Mar 28, 2021
Easy and friendly check-in. Easy pull through and hook up. It was perfect for an overnight stay. A little tight for us for an extended stay.
Mar 27, 2021
Staff exceptionally friendly and helpful. Park was clean and well maintained. It was a short stay—longer next time.
Mar 27, 2021
Place was very nice. Staff was friendly. They were painting and doing some spring cleaning. Some of the sites are tight. The only complaint I have is that the picnic table was never cleaned. It was covered in bird poop and very dirty. I looked around at other sites and it looks like they don't clean them between visitors. Maybe it was on the spring cleaning list and they hadn't gotten to it.
Mar 27, 2021
Friendly, clean and relaxing. Great place to stay for rest. Nice experience.
Mar 26, 2021
Friendly staff! Good place for an over night.
Mar 26, 2021
clean, nice pull thrus. we travel with a 46 ft fifth wheel. the staff really makes a difference. they helped us in, and even went the extra mile to recommend a mexican place within walking distance which was amazing. will stay here again. great place and staff
Mar 24, 2021
Great place to stay! Very helpful and clean! Thanks!
Mar 24, 2021
Wonderful hosts, lovely setting, and easy on/off highway.
Mar 23, 2021
Clean and level sites. We will be back
Mar 23, 2021
Sites are tools close together. If I put my awning out all the way I touched the R V next to me.
Apr 13, 2021
Even though it was only for a night we really like the setup, location and amenities.
- Arthur Richmond on Google
Apr 12, 2021
It was great..
- Michelle Lugo on Google
Apr 01, 2021
Great and the people are so sweet
- Bronwyn Cory on Google