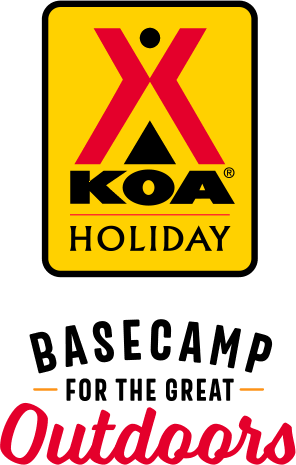 KOA Holiday Campgrounds
Whether you're exploring the local area or hanging out at the campground, KOA Holidays are an ideal place to relax and play. There's plenty to do, with amenities and services to make your stay memorable. Plus, you'll enjoy the outdoor experience with upgraded RV Sites with KOA Patio® and Deluxe Cabins with full baths for camping in comfort. Bring your family, bring your friends, or bring the whole group – there's plenty of ways to stay and explore.
KOA Holidays Feature:
RV Sites with a KOA Patio®
Deluxe Cabins with full baths
Premium Tent Sites
Group meeting facilities
Directions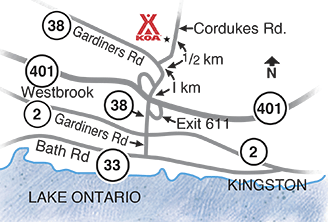 Take exit 611 off of the 401. Follow HWY 38 north for 1 km. Turn right on Cordukes Rd. We are on the left after 1/2 km.
GPS: N44.301247, W76.575136
Get Google Directions
Jul 21, 2021
Nous y étions seulement pour la nuit. Sur le terrain les enfants qui étaient à côté de nous étais toujours proche de notre tente. Il serait agréable avoir un coin pour adulte seulement. Mais très beau service. Merci
Jul 21, 2021
They have done a great job in keeping this KOA very clean and upgrading the sites to make it a great place to stay. Keep up the good work Patrick.
Jul 20, 2021
Loved this campground, very friendly staff lots of stuff to do for the kids. Sites were clean and well maintained. I will definitely be going back!
Jul 20, 2021
Park was nice but a little small for walking around. Location is fantastic. Sites were well maintained as well as facilities. Only issue was our power kept cutting in and out. We tried different extension cords and even plugging objects directly into the post. It just didn't work 80% of the time which was weird. We were on site A2. (Tent)
Jul 20, 2021
Arrived to find out been moved to exact opposite spot than booked 6 wks prior. Wanted treeline no children area were put beside playground pool and office in pull thru. Then told to change would be more expensive. Took almost an hour but resolved with manager called. Rest of visit was what we expected from a koa. Could have been avoided by phone call before we arrived. Still have booked koa again
Jul 20, 2021
Stay was wonderful. Everyone was so friendly and happy to help. Campground looks great, awesome renovations! Would definitely recommend the Kingston KOA to anyone!!
Jul 20, 2021
Very clean and well kept KOA. Friendly owners and campers as well. Pool was clean and heated. Pedal go carts are a blast for kids. We booked another stay in August once we saw how nice it was.
Jul 20, 2021
- Easy booking and registration - lots of open space - amenities for kids
Jul 20, 2021
Nice area well kept friendly staff some issues with loud music from trailer next to us
Jul 20, 2021
Bathrooms were not overly clean.
Jul 20, 2021
The camp site was great. Stone patio. Deck chairs. Stoned in firepit. The location is very clean, very quiet and very well maintained. Staff are friendly and courteous.
Jul 19, 2021
This is the cleanest koa we have stayed at. Staff was friendly and knowledgeable. Upgrades made to park are wonderful !!!!
Jul 19, 2021
Clean, polite, friendly, good amenities, fun
Jul 18, 2021
We really enjoyed our stay, the park was really nice, staff was friendly and helpful, and the area is a great area to explore, we will be back for sure!
Jul 18, 2021
They have a sewage problem that needs fixing. The free WIFI is terrible and can't connect half the time.
Jul 18, 2021
Park is great, clean, friendly, and lovely. The only downside is the lack of wifi, says it is available, not really, one only logs on and has very scarce access. Surely this can be improved. thank goodness for cell phone access.
Jul 17, 2021
Excellent park, great staff
Jul 17, 2021
Beau terrain. Beaucoup d'activités disponibles. Cependant, le soir pas de surveillance. Un voisin de rangée était très bruyant: musique très forte jusqu'aux petites heures soit après 2 h am. Nous avons avons appelé pour se plaindre mais c'était un message téléphonique.
Jul 17, 2021
Best KOA I've stayed at in Ontario. Spotless clean. Only complaint is the wifi was sketchy and the odd wiff of sewage in the H row. I definitely will be back next year Dave
Jul 17, 2021
Very impressed with how 'pet-friendly' your KOA is. We had a fenced-in pen for our pup right on our site and there is an off-leash dog park on the grounds. Our super spacious site was clearly part of the ongoing upgrades with new patio furniture and paved patio. The park was clean and well-equipped - exactly what we've come to expect from KOA. Beautiful place, thanks for a great stay!
Jul 17, 2021
Very quiet and pleasant park Owner patrols to make sure campers are secure and have everything they need Garbage is picked up from your site daily Nice touch
Jul 15, 2021
We stay here a couple of nites each summer. Staff and facilities are great. This campground is very near amenities and service stations that can handle larger RV's for refueling.
Jul 15, 2021
Great campgrounds and campsites. Office staff super helpful and friendly. Relaxing experience after a stressful COVID lockdown.
Jul 15, 2021
This was or only our second time camping and the KOA was a superior campground. The Camp manager was very helpful to us. He even taught us some camping secrets like ice in the black water. 3 Thumbs UP
Jul 13, 2021
It was a lovely campsite! We had a wonderful time and the Wagner Family extremely friendly and helpful. My only complaint is that the campsites are very close to one and other- which I believe is just what you get at any private campsite. Will be back!!
Jul 13, 2021
Nice Campground, Excellent staff , extremely helpful. We enjoyed our visit !
Jul 13, 2021
We loved it here! Friendly staff ready to accommodate. No raccoon problems like most camps because of the bonus garbage pickup service. Beautiful spacious sites with comfortable seating. Overall a great campsite. Will definitely return!
Jul 13, 2021
The site was great, place was clean, staff was very friendly, over all we had a great stay
Jul 13, 2021
Our stay was good and the staff was friendly. I would recommend more frequent cleanings of the washrooms.
Jul 13, 2021
Very quiet. More for seniors/retired couples. Got bad looks from guests even during day when playing music. Other campers not friendly.. would not be returning
Jul 13, 2021
Incredible staff very clean and organized. Lots of stuff for the kids to do. I would go again.
Jul 13, 2021
Agréablement surpris de la qualité qui dépasse mes attentes, sauf que le prix est exagéré pour du camping
Jul 13, 2021
The owner was more than helpful, especially when we had a problem with our hitch. Staff are polite and personable. A great place to camp!
Jul 13, 2021
The Kingston KOA is excellent. Sites and campground is very well maintained. Owners are very friendly and helpful. We were very pleasantly surprised that there was a newly installed wrought iron dog kennel on our site! So handy for dogs to be in without having to be tethered. Many upgrades happening at this park! Highly recommend! We will definitely be coming back.
Jul 13, 2021
Our stay was a great one. There are a lot of things to do, the park is very clean and the staff very friendly. This is the park we like to camp at.
Jul 13, 2021
Very impressed with cleanliness and facility offerings particularly the city water access
Jul 12, 2021
Excellent service very clean and well-maintained. I would strongly recommend it thank you.
Oct 17, 2021
Lovely family atmosphere. I loved watching the kids play, riding bikes and ride on little go carts, up and and down the roads. Reminded me of many childhood memories doing the same
- Lori Denis on Google
Oct 12, 2021
ONE OF THE BEST KOA PARTS ON ONTARIO .
- Don Tobin on Google
Oct 03, 2021
What an amazing campground. We lived how clean and well kept it was. Our site was spacious and we felt spoiled by the on site garbage and recycling pick up. Staff are super friendly and helpful. Highly recommend!!!
- Sara Meulenaar on Google