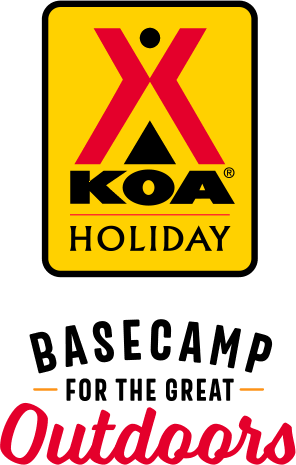 KOA Holiday Campgrounds
Whether you're exploring the local area or hanging out at the campground, KOA Holidays are an ideal place to relax and play. There's plenty to do, with amenities and services to make your stay memorable. Plus, you'll enjoy the outdoor experience with upgraded RV Sites with KOA Patio® and Deluxe Cabins with full baths for camping in comfort. Bring your family, bring your friends, or bring the whole group – there's plenty of ways to stay and explore.
KOA Holidays Feature:
RV Sites with a KOA Patio®
Deluxe Cabins with full baths
Premium Tent Sites
Group meeting facilities
Directions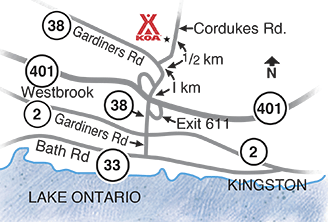 Take exit 611 off of the 401. Follow HWY 38 north for 1 km. Turn right on Cordukes Rd. We are on the left after 1/2 km.
GPS: N44.301247, W76.575136
Get Google Directions
Jul 28, 2021
It was great as always. Staff super nice and helpful.
Jul 28, 2021
Tranquille et très propre
Jul 27, 2021
Excellent as always. A must visit location.
Jul 27, 2021
We stayed four nights to tour around Kingston. This park was lovely and made for a great home base. Very clean with friendly staff.
Jul 27, 2021
We stayed here for two weeks camping in our motorhome. Almost all sites are pulled through and we were in one of the newer sites. The only drawback was that the trees were not big enough yet to provide shade. When staying again I would choose one of the sites with trees. They had a very good dog park and lots of open space.The staff were always accommodating. Overall a great experience.
Jul 27, 2021
Great two week stay. Owners are great. Would love to go back!
Jul 27, 2021
Stayed at the Kingston KOA for 3 nights for my nephew's birthday party and we had a blast. There is always something to do with the kids like swimming, playing in the playground, renting bikes, or just taking a tour around the camp site. Thank you Kingston KOA.
Jul 27, 2021
Our stay was amazing as always. The only thing that was a little unfortunate was our wifi password said it was expired so we weren't able to use it but it didn't affect our stay at all.
Jul 27, 2021
We had a blast. Staff was helpful and friendly. The campsite was clean and well maintained. Activities for the kids made the stay even better. We loved it
Jul 27, 2021
The upgrades to the large pull thru lots are incredible!!!!!!!!! Interlock patios, new chairs and tables. Love this KOA :)
Jul 27, 2021
The camp grounds were very well kept, staff is very friendly. Enjoyed our stay and will be back again.
Jul 26, 2021
As always we had a wonderful time. The staff and owners are super friendly and accommodating. There's lots for the kids to do and the campground is clean and quiet. We look forward to our next stay.
Jul 25, 2021
Had a wonderful stay only three issues 10 the ladies washrooms werent cleaned for 3 days 2) a tent pad was promised but never got one 3) wi-fi was practically useless very week signal extremely slow
Jul 25, 2021
Very friendly and clean campground.
Jul 25, 2021
We had a fabulous full service site with a lovely shady tree. Garbage pick up from our site was an unexpected treat!
Jul 25, 2021
The camp is clean and organized. We were very impressed with all of the staff we encountered. They are a friendly and hard working group. We have already booked another stay!
Jul 25, 2021
Relaxing stay on one of the new patio sites. Excellent spacing and site layout. The leisure Line chairs are outstanding!
Jul 24, 2021
nice little campsite generally well maintained. The pool was good. On the other hand, too expensive for the services included. Also, where we were (near the cabins), cars often drive very quickly (20-30 km / h) which is very dangerous for children.
Jul 24, 2021
Ce fut a agréable séjour, les personnes en charge de la place étaient super accueillants, gentils avec de bons services. Les terrains sont de bonnes dimensions, propres et bien entretenus quotidiennement. Il y a juste une chose, vos terrains devraient être traités contre les puces puisque vous acceptez les animaux. Merci pour cette belle semaine
Jul 24, 2021
With my class A Motorhome we always enjoyed staying at KOA. This place in particular is one of the best! We love generous space between sites. Staff are very accommodating! We'll be back soon!
Jul 24, 2021
Beautiful campground and service. Only negative was that they were building an interlock patio which created lots of noise from cutting bricks. With campgrounds only opening June 12th it should have been done while it was closed.
Jul 24, 2021
was very enjoyable
Jul 24, 2021
Campsite was fairly clean but there was not one bottle of hand sanatizer anywhere on the campground not even walking into the office or bathrooms! And it was the most exspensive campsite if ever been too, 80$ Plus tax a night for a tent site is absolutely ridiculous!
Jul 21, 2021
Very good park, lots of activities for my grandson. I like the fact you can see upgrade work being done, and very friendly staff. I will be back for sure.
Jul 21, 2021
Très bien et propre ,par contre nous avions le terrain sur le coin et tout le monde passait là et devait passer là pour accès à leur terrain,très passant Sinon très beau et bien entretenu
Jul 21, 2021
Nice site, all the services required were available. We liked being out in the country but close to Kingston and the 401. Garbage pickup was regular and the staff were very helpful and friendly.
Jul 21, 2021
The only complaint was the noise from dude power washing his titanium trailer for hours on end. Other than that it was everything one would expect from a KOA.
Jul 21, 2021
Nous y étions seulement pour la nuit. Sur le terrain les enfants qui étaient à côté de nous étais toujours proche de notre tente. Il serait agréable avoir un coin pour adulte seulement. Mais très beau service. Merci
Jul 21, 2021
They have done a great job in keeping this KOA very clean and upgrading the sites to make it a great place to stay. Keep up the good work Patrick.
Jul 20, 2021
Loved this campground, very friendly staff lots of stuff to do for the kids. Sites were clean and well maintained. I will definitely be going back!
Jul 20, 2021
Park was nice but a little small for walking around. Location is fantastic. Sites were well maintained as well as facilities. Only issue was our power kept cutting in and out. We tried different extension cords and even plugging objects directly into the post. It just didn't work 80% of the time which was weird. We were on site A2. (Tent)
Jul 20, 2021
Arrived to find out been moved to exact opposite spot than booked 6 wks prior. Wanted treeline no children area were put beside playground pool and office in pull thru. Then told to change would be more expensive. Took almost an hour but resolved with manager called. Rest of visit was what we expected from a koa. Could have been avoided by phone call before we arrived. Still have booked koa again
Jul 20, 2021
Stay was wonderful. Everyone was so friendly and happy to help. Campground looks great, awesome renovations! Would definitely recommend the Kingston KOA to anyone!!
Jul 20, 2021
Very clean and well kept KOA. Friendly owners and campers as well. Pool was clean and heated. Pedal go carts are a blast for kids. We booked another stay in August once we saw how nice it was.
Jul 20, 2021
- Easy booking and registration - lots of open space - amenities for kids
Jul 20, 2021
Nice area well kept friendly staff some issues with loud music from trailer next to us
Jul 20, 2021
Bathrooms were not overly clean.
Jul 20, 2021
The camp site was great. Stone patio. Deck chairs. Stoned in firepit. The location is very clean, very quiet and very well maintained. Staff are friendly and courteous.
Sep 17, 2021
Visited a friend at koa I was impressed with the whole park. Clean and quiet and some sites had interlocking brick planters and nice tables and chairs. Good work
- mike potwarka on Google
Sep 17, 2021
Really enjoyed our stay. Thank you
- Deb S on Google
Sep 12, 2021
Favourite camp site
- Husain Galadari on Google