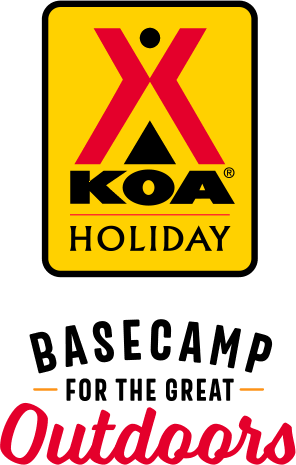 KOA Holiday Campgrounds
Whether you're exploring the local area or hanging out at the campground, KOA Holidays are an ideal place to relax and play. There's plenty to do, with amenities and services to make your stay memorable. Plus, you'll enjoy the outdoor experience with upgraded RV Sites with KOA Patio® and Deluxe Cabins with full baths for camping in comfort. Bring your family, bring your friends, or bring the whole group – there's plenty of ways to stay and explore.
KOA Holidays Feature:
RV Sites with a KOA Patio®
Deluxe Cabins with full baths
Premium Tent Sites
Group meeting facilities
Directions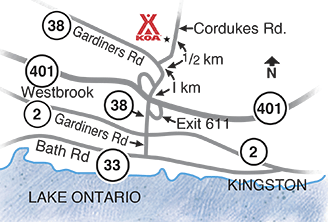 Take exit 611 off of the 401. Follow HWY 38 north for 1 km. Turn right on Cordukes Rd. We are on the left after 1/2 km.
GPS: N44.301247, W76.575136
Get Google Directions
Aug 06, 2021
The campground was exceptionally clean and well maintained. The staff were super friendly. It would have been nice if their were a few more things to do but under the circumstances with COVID it's understandable.
Aug 06, 2021
It was a wonderful stay. The staff including Patrick, Tanya, Jim, Scot, etc. were superb.
Aug 05, 2021
Nice neat campground, full of any luxury you would want. Every campground should be like this
Aug 05, 2021
Very friendly and helpful staff! Clean facilities and big rig accessible. Had a wonderful stay!
Aug 05, 2021
Only problem was the people partying till 3am near us. Owner tried to keep them calm but soon as he left they got worse. Love the park though
Aug 05, 2021
Great grounds, awesome K9 play area and super staff! Thank you!
Aug 04, 2021
This was our first stay at a KOA, and let me say that the Wagner family set the bar really high. The kids enjoyed all the activities, and expressed their wishes to go back for another stay. The staff was amazing, the grounds and facilities very clean and well maintained. We will definitely go back. Thank you Wagner family and staff.
Aug 04, 2021
Un des plus beau camping que nous avons visite, tres propre et les installation sont aussi tres bien entretenue. Beaucoup de service sur place et une piste cyclable tout près et tres longue. On retournera sûrement.
Aug 04, 2021
Everything was wonderful!! I've already recommended a friend!!
Aug 03, 2021
As with any KOA, this camp was clean, organized and well run. It is nice not worry if it will be safe, clean and functional when you book camping in advance. KOA is a safe bet! There was construction noise while we were there but improvements have to take place some time right?. We assume due to COVID rules the work was delayed to summer. Great Location close to trails, sights and shopping!
Aug 03, 2021
Pros: Overall very nice. Clean, friendly staff, good size pull-thrus. Cons: surprised couldn't buy any bottled water in the store (apparently the bottled water we saw was "only for staff", firewood a bit pricey, and mixing seasonal sites in with transient sites didn't seem like a good idea.
Aug 03, 2021
Nice sites good location, friendly staff
Aug 03, 2021
Very clean, family friendly, amazing staff, beautifully taken care of. Will definitely go back.
Aug 03, 2021
We had an amazing time! Survivor Theme weekend was well organized and a ton a fun! Staff were super friendly and helpful. Lots of activities for the whole family.
Aug 03, 2021
very nice campground , very frendly staf , large lot
Aug 03, 2021
The park is clean. The staff are friendly and super helpful. Location is good for sightseeing. The sites are roomy. Some have paved patios. Ours had a patio table and chairs instead of a picnic table. Our backs enjoyed this for sure! We loved it and will definitely return!
Aug 03, 2021
Very clean campground, near the bicycle path not too far from Kingston.
Aug 03, 2021
Friendly staff. Exceptional showers. Wifi arrangement not great.
Aug 03, 2021
very friendly staff nice facilities and grounds were kept very clean
Aug 03, 2021
Great camping close to Kingston
Aug 02, 2021
The campground is very nice, the pool is great, but my kids went expecting a weekend of survivor activities and no one seem to know what they were talking about. Every KOA we have gone to has always had events running every day even during covid. The website advertised that it was survivor weekend and would have challenges, puzzles and tasks over the weekend but, there was nothing.
Aug 02, 2021
had a very enjoyable stay. Staff was pleasant and courteous.
Aug 01, 2021
Pros: Great location and we really appreciated the water, electrical and SEWER hook ups. We stayed 3 nights and found it quiet and pleasant. Cons: Not a lot of trees and the sites were close together. Quite pricey considering the lack of privacy.
Jul 31, 2021
It was very good. We enjoyed ourselves and will be back in August.
Jul 31, 2021
very enjoyable and very nice campground.
Jul 30, 2021
Très beau camping! Bien entretenu! À améliorer: le wifi et le nombre de laveuses à linge.
Jul 30, 2021
Very nice and clean camping ! A lot of activities to do on site and very close to Kingston which also offer a lot of activities to tourist . Quiet camping and staffs are very polite, overhaul, very nice place to stay.
Jul 30, 2021
We arrived at 11, we know check in is noon. Our site was empty. We could get in because it was not "cleaned" yet. There was nothing wrong with our site and we just wanted to get set up. They didn't even clean by noon, so we got on site and then they came. Why could we not have been on the site at 11? We waited in the parking lot for an hour for nothing. I think more organization is n
Jul 30, 2021
Manque de propreté sur les planchers des douches/toilettes
Jul 30, 2021
We had a wonderful stay. I highly recommend this campground. Friendly people, lots of things for kids to keep busy & have fun. Clean washrooms & showers, garbage pick up just leave your garbage at end of site and they pick up. Great service. Overall a great place to camp.
Jul 29, 2021
Great stay as always. So nice to see the constant improvements to the campground. Looking forward to returning again next!
Jul 29, 2021
We had a wonderful week with our 3 grandchildren. They biked, swam in the beautiful pool, hiked the trail, played mini golf, bounced, panned for treasure and laughed a lot. We had a great stay. It is a lovely campground with a lot of recent improvements.
Jul 29, 2021
We used a tent site with water and electrical. Our electrical went out and they fixed it promptly but then kept cutting in and out. The grounds, ammenties, and activities were great and the kids loved it. I recommend this kao.
Jul 29, 2021
Le sol des plancher des toilettes pourraient être mieux nettoyé
Jul 29, 2021
Camp site was clean and large to fit our Motorhome. Staff were friendly, definitely come back !
Jul 29, 2021
Fast friendly registration. Wide leveled site.
Jul 29, 2021
Warm welcome. The site was long enough for the motorhome and the Jeep so we didn't have to unhook for just 1 night. The KOA is fully equipped and quiet from the 401.
Jul 28, 2021
We've stayed here before. The campground is kept very nice and the staff is super friendly. Our site was perfect. The only improvement would be the Wi-Fi signal.
Jul 28, 2021
The park is beautiful, we were there last year and they just keep updating it! Love the new dog pens and patios the staff and owners at this park are great very friendly and helpful.
Jul 28, 2021
Awesome we're coy back in august thanks so much to do Very clean love the dog park and lakes near by.
Sep 17, 2021
Visited a friend at koa I was impressed with the whole park. Clean and quiet and some sites had interlocking brick planters and nice tables and chairs. Good work
- mike potwarka on Google
Sep 17, 2021
Really enjoyed our stay. Thank you
- Deb S on Google
Sep 12, 2021
Favourite camp site
- Husain Galadari on Google