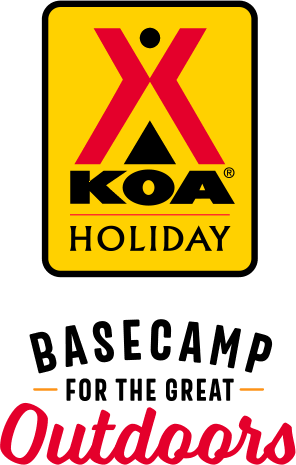 KOA Holiday Campgrounds
Whether you're exploring the local area or hanging out at the campground, KOA Holidays are an ideal place to relax and play. There's plenty to do, with amenities and services to make your stay memorable. Plus, you'll enjoy the outdoor experience with upgraded RV Sites with KOA Patio® and Deluxe Cabins with full baths for camping in comfort. Bring your family, bring your friends, or bring the whole group – there's plenty of ways to stay and explore.
KOA Holidays Feature:
RV Sites with a KOA Patio®
Deluxe Cabins with full baths
Premium Tent Sites
Group meeting facilities
Directions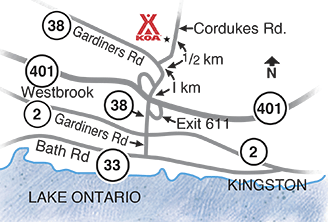 Take exit 611 off of the 401. Follow HWY 38 north for 1 km. Turn right on Cordukes Rd. We are on the left after 1/2 km.
GPS: N44.301247, W76.575136
Get Google Directions
Aug 05, 2020
as usual every care was taken by management to ensure I had a great time
Aug 05, 2020
The WiFi was terrible. I was surprised the dog park had sand instead of grass or gravel. We have never seen this in all our travels across Ontario and the States KOA'S. Who wants their dogs covered in sand? The staff were friendly.
Aug 05, 2020
We've been going there since 1992,never had an issue or complaint,super owners and staff,will be back again next year
Aug 05, 2020
Just an overnight stop over, very clean campground .
Aug 04, 2020
Our stay was very relaxing! We enjoyed meeting some of the other campers. Nice and clean campground....we will return
Aug 02, 2020
Nice park, friendly people including Patrick! Few trees, nice pool, appears to be well run w pride of ownership, WiFi needs improvement, pump out service on final day w the "honey wagon" was a nice touch- thanks!
Aug 01, 2020
Was excellent very well prepared during Covid 19 Office Staff was very accomidating
Aug 01, 2020
Nice people and well maintained grounds. No sewer hookup here but honey wagon appeared to be an option. Unfortunately no ice available this time
Jul 31, 2020
Very clean and the staff are great.
Jul 28, 2020
First time using a KOA & we were very happy with the experience. We will use your campgrounds more often now. Thank you Keith Dafoe
Jul 27, 2020
Staff was super friendly and helpful. Park was kept clean and the area we stayed in was decent. Used the pool once and it was also very clean. Only downfall was we were too tightly crammed with trailers beside us for our liking. No privacy even though we bought the "semi private" area. I guess that's normal for trailer camps though. Thanks for everything!!!
Jul 27, 2020
Very much enjoyable, peacefull, good service. To not fault of their own the Covid-19 restrictions affect some of their services. It would be fun to return once they are at full operation.
Jul 26, 2020
Very nice and helpful staff.
Jul 26, 2020
Very nice campground. They have an excellent "no contact" process for check-in and other interactions. We are new to RVing with travel trailer and when we made our booking I was a little disappointed that they don't have sewer hook-ups but was very pleasantly surprised to discover they have a pump-out service where they come to your site and do the pump-out.
Jul 26, 2020
Très bien / personnels très gentils /
Jul 26, 2020
Just stopped for a 1 night stay on our way home from a week of camping at Murphy's Point Provincial Park. Nice park, will definitely return. Only issue was with wi-fi access, wasn't able to connect my iPad, called the office for help but never got a response.
Jul 23, 2020
It was exactly what we needed nice and quiet
Jul 22, 2020
5km per hrs on site is not even respected by staff do didnt feel my kids where safe there! Wont go back for sure !
Jul 22, 2020
Close to everything! Very friendly staff! Quiet!
Jul 22, 2020
The only problem was the dump trucks which started to haul away fill at 6:30 am and continued all day. But that was not on weekends. Otherwise we'll run and friendly.
Jul 22, 2020
Very proud to have such a well kept and cared for campground so close to home. It had been likely 15 years since our last stay and it is amazing how things have been cared for. Keep up the good work !!
Jul 22, 2020
Thé camping is ok but staff not very smily compared to other campings
Jul 21, 2020
It was unfortunate to see the many people around the pool not physically distancing. We had to bide our time to use the pool without being surrounded by other people. Otherwise, the property is beautiful and we really liked the site that we stayed on. The staff was super friendly and helpful. We hope to return again soon! Thank you.
Jul 21, 2020
Our trailer was stored here over several winters. The owners stopped storing vans so we had to move. For years we have happily stayed there, for six weeks per year, the only canmground we book, so their storage made sense. Our efforts to get s seasoneal site were ignored.. Our trailer storage became a demolition site and recovering it was not easy. It was filthy. I will never use KOA again.
Jul 19, 2020
Nice park friendly staff , clean ,only issue was no water nearby to take the dog but were told water was a few minute walk but not a big deal
Jul 19, 2020
I think that during this time period that the bathrooms could of used more attention. There was over flowing garbage and no "last clean" sheet log for people to feel that the bathrooms were being sanitized with proper protocol. Over all the space and park is great. I think having the dog park is an asset but more day shade would totally help on hot sunny days.
Jul 18, 2020
Pool was nice and the site was well laid out.
Jul 18, 2020
Had an amazing stay. Everyone was so helpful. Many thanks to Alison who went above and beyond. We look forward to our return visit. Highly recommend....
Jul 18, 2020
We were on a deluxe lot, so we were expecting a cleaner Pas and the swing set a bit of paint would been nice and nice flower in the flower pot. The camping it self is clean and have nice big lot
Jul 18, 2020
We were lucky enough to stay for 4 days and loved every minute. It has to have been the cleanest and most friendly campground we have stayed in. One guy named Jim was there 3 or 4 times a day making sure everything was ok and to see if there was anything we needed. The owner stopped by at least once a day just to say hello. Loved it.
Jul 15, 2020
First time in Kingston. Everything was good and definitely will be back.
Jul 15, 2020
Quick overnight stay during part of our journey. 3rd time we have stayed here and was again, not disappointed even during the COVID restrictions.
Jul 14, 2020
Great stay - excellent staff & fun times. Social distancing promoted and supplies available - thanks!
Jul 14, 2020
Enjoyed a great weekend, thanks
Jul 11, 2020
Generous size lots and a very clean campground. The owners are very attentive and were very helpful in assisting us with touristy ideas. As a cyclist having such a great network of trails next to the campgrounds made the stay super
Dec 22, 2020
I fell in love with this wonderful place. It is a breath of fresh air. I loved the art and hand made figurines from aboriginal people. Amazing.♥️
- Jack Daniels on Google
Oct 12, 2020
Great place to camp. Close to Kingston. Great staff everything you need is readily available. Tha ms for the great facility.
- Andrew McCutcheon on Google
Sep 28, 2020
Campground was very clean and check in was very organized. We will definitely be back.
- Cindy McCutcheon on Google