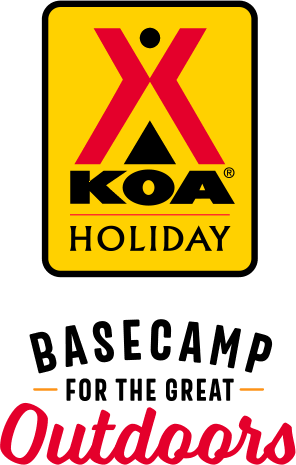 KOA Holiday Campgrounds
Whether you're exploring the local area or hanging out at the campground, KOA Holidays are an ideal place to relax and play. There's plenty to do, with amenities and services to make your stay memorable. Plus, you'll enjoy the outdoor experience with upgraded RV Sites with KOA Patio® and Deluxe Cabins with full baths for camping in comfort. Bring your family, bring your friends, or bring the whole group – there's plenty of ways to stay and explore.
KOA Holidays Feature:
RV Sites with a KOA Patio®
Deluxe Cabins with full baths
Premium Tent Sites
Group meeting facilities
Directions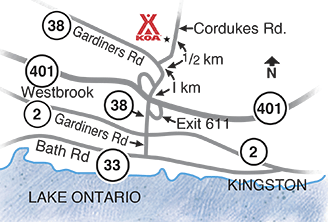 Take exit 611 off of the 401. Follow HWY 38 north for 1 km. Turn right on Cordukes Rd. We are on the left after 1/2 km.
GPS: N44.301247, W76.575136
Get Google Directions
Sep 08, 2020
The entire experience was very enjoyable. Location was clean, well maintained and cared for. People were all friendly and willing to help out. Only issue (therefore missing a star) was due to incorrect/miss-leading communication on pump-out time on final morning. If we understood this, we would have used the self-service dumping stations and been on the road home a lot sooner.
Sep 08, 2020
Nice and quiet campground. They did the best they could with all the restrictions happening. Kids loved it here
Sep 08, 2020
We always enjoy our stay here! Great for the kids. Patrick, his wife and all the staff are always so friendly and helpful! Looking forward to next summer!
Sep 08, 2020
Staff were very friendly and happy to help. Great protocols in place for Covid. Quick service for pump out. Loved the location, close to highway and tourist attractions. You could see they were expanding the property but it did not interfere wit the stay at all. My kids loved the petal carts,outdoor movie& pool. I appreciated that there was a sign in/out sheet and carts wiped down for safety
Sep 08, 2020
I requested a site at Kingston K.O.A. for a couple of nights, giving short notice .they found a site for me not only that the site manager was on hand apon my arrival, directed me to the site and offered toassist me locate my trailer. I was made to feel totaly at home. Despite the covid restrictions their were activities to entertain ones self ( social distancing being a major concideration,)
Sep 08, 2020
It was only one night on our way through. We had an end pull through so zero privacy. The camp looked full. Easy access and awesome, friendly check in. Being able to use the showers was SO nice! Great amenities and very well kept park. Would definitely stay again.
Sep 08, 2020
I could not get over how nice the people were! The staff were all so sweet and full of smiles. The seasonal campers were also so kind! The bathrooms ... I have never ever seen such clean bathrooms in a campground! I would recommend over and over!
Sep 07, 2020
The park was clean, the staff friendly. I think for the price we paid per night the internet should be allowed on all devices and not just one device per site
Sep 02, 2020
Nous avons aimé notre site et les aménagements tel que la piscine ainsi que les douches et toilettes qui sont très bien entretenues. Nous avons pas aimé le bruit de l'autoroute 401 et le fait d'enregistrer un seul appareil sur le WIFI. Quelques mots en français des employés comme «Bonjour»ou «Bienvenue chez KOA» serait apprécié. Merci JPB.
Sep 01, 2020
We really enjoyed our stay there. The only complaint I have is that your wifi is very spotty. It would stop and start so much I ended up hot spotting off my cell phone.
Sep 01, 2020
Big grasses site and a nice patio as an added bonus
Sep 01, 2020
Exceptionally friendly staff, very clean, lots to do for the kids. Well done.
Aug 31, 2020
I will say that the site we were given was great! Full hookups and a patio made for a really nice spot. Now the bad, we brought 4 kids who were looking forward to all the activities they are accustomed to from a nearby KOA we frequent. However, to our dismay, basically all activities were cancelled. I wish I had known as we would NOT have booked here. Our 1'st visit here was likely our last!
Aug 29, 2020
We were very surprised when we arrived to see that we had sewer on our large pull through Lot. We were very happy with that surprise. Very clean and love the new patio furniture
Aug 28, 2020
Very friendly staff Nice and quiet
Aug 28, 2020
Well the campground was a very nice place to stay it is very well maintained the spots were nice and the addition of sewers on the site's is very good I would recommend this campground to anyone very pleasant Staff lot's to do just a joy to be in.
Aug 26, 2020
We enjoyed our stay very much � the grounds and facilities were clean and staff were very attentive. Thanks KOA Kingston.
Aug 26, 2020
Enjoyed our stay here
Aug 25, 2020
We loved the location of this campground and how well maintained it was! I believe it could be a 5* if they had more to do for kids but outside of the pool, there's nothing. The "playground" is VERY outdated and tiny and we missed the bounce pad that KOA's are known for. Staff said it was closed due to COVID however the last 3 KOA's have had theirs open. Seems this park prefers adults ov
Aug 25, 2020
Week long stay. Friendly, helpful staff. Large sites, many pull-throughs. Typical KOA amenities. Mini putt in disrepair. No themed weekend or activities. Onsite construction begins (very loudly) at 7:30 am. Pool open but Covid rules largely ignored by guests and not enforced by staff. Nor is the pool regularly sanitized like at other campgrounds we visited. Lots of do offsite n the Kingston area.
Aug 25, 2020
This site is cute, but the service is good.
Aug 25, 2020
stayed so we could visit a new grand daughter. Did not get to use many of the parks amenities. Park seemed to be well maintained and staff were great.
Aug 25, 2020
Camp in great condition - nice sites - nice folks. Love the shoe tree!
Aug 24, 2020
awesome ever time awesome koa so much fun in the sun and fishing and playing basketball so awesome there good times by the fire biking hiking good times go there and stay for a lone time big camp sites big
Aug 24, 2020
Notre séjour consistait en une courte nuit pour reprendre notre route le lendemain. Terrain adapté au court séjour.
Aug 24, 2020
very clean and quiet Fire pits are in awkward spot in new expansion
Aug 23, 2020
We stayed as a group with 3 sandy sites that weren't bad but very hard to put in tent stakes. The family washrooms were appallingly. We were told cleaned twice daily during Covid19. Could have been cleaned more often as we noticed all campers were apparently using the 3 washrooms. We noticed people entering the washrooms with their dogs. Overall disappointed as we have been KOA campers.
Aug 22, 2020
Easy check-in, social distancing, masks where needed and friendly staff - that says it all. Thanks!
Aug 22, 2020
Nice sites well run friendly staff good services close to things to see and do
Aug 21, 2020
At this location only one device is allowed to use the WIFI. The bandwidth is low so news streaming is choppy
Aug 21, 2020
Nutting to do and 93 day plus taxe 2 exit before are 63 taxe in Nice pool /Nice beach lots to do in camping
Aug 19, 2020
Only stayed the one night but was very impressed
Aug 18, 2020
Sorry guys but no shade made 30 even more hot. Flies from horse farm down the road were disgusting and plentiful to say the least. Lots are very small to the point pets cannot even roam leashed on lots. Staff were very friendly though and worked lots.
Aug 18, 2020
Excellent stay, Very nice campsite and campground. Got an email before leaving home that the 401 Hyw was closed, and directions to avoid that route to the campground. That was a first for us. The campground is updating with a sewer system, which will make the the stay even more excellent. Thanks
Aug 17, 2020
Camp owner had to put up "caution tape" around the perimeter of our camp site to deter other campers from walking though our site to take a short cut to the office / or peer in to our trailer windows while taking a short cut! Other than that , we did enjoy our stay and the owner really did do everything possible to solve the problem that we had.
Aug 17, 2020
Staff were extremely accommodating, friendly and helpful. Wonderful stay, definitely will return.
Aug 17, 2020
Facilities were amazing. Only damper was the COVID 19 restrictions so there were times the pool was unavailable or we had to walk all the way back to our campsite for nature breaks
Aug 17, 2020
Very nice. Staff friendly. My only negative was that was nothing frozen for sale at the store. It would have been nice and convenient. Stay there again for sure. We were in one of the new spots. Very nice.
Dec 22, 2020
I fell in love with this wonderful place. It is a breath of fresh air. I loved the art and hand made figurines from aboriginal people. Amazing.♥️
- Jack Daniels on Google
Oct 12, 2020
Great place to camp. Close to Kingston. Great staff everything you need is readily available. Tha ms for the great facility.
- Andrew McCutcheon on Google
Sep 28, 2020
Campground was very clean and check in was very organized. We will definitely be back.
- Cindy McCutcheon on Google