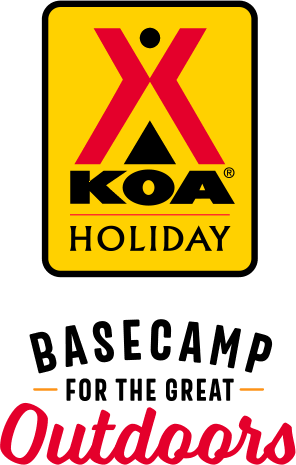 KOA Holiday Campgrounds
Whether you're exploring the local area or hanging out at the campground, KOA Holidays are an ideal place to relax and play. There's plenty to do, with amenities and services to make your stay memorable. Plus, you'll enjoy the outdoor experience with upgraded RV Sites with KOA Patio® and Deluxe Cabins with full baths for camping in comfort. Bring your family, bring your friends, or bring the whole group – there's plenty of ways to stay and explore.
KOA Holidays Feature:
RV Sites with a KOA Patio®
Deluxe Cabins with full baths
Premium Tent Sites
Group meeting facilities
Directions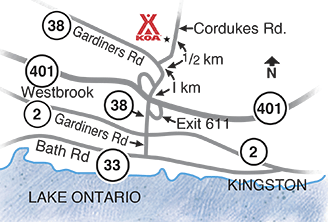 Take exit 611 off of the 401. Follow HWY 38 north for 1 km. Turn right on Cordukes Rd. We are on the left after 1/2 km.
GPS: N44.301247, W76.575136
Get Google Directions
Aug 24, 2021
Very nice but the bathroom and shower area should be clean more often
Aug 24, 2021
Friendly staff. Very clean sites. Well kept campground. Kids love it too.
Aug 24, 2021
Awesome went kayak ing every day Had so much fun
Aug 24, 2021
Bathrooms were not clean and store was not well stocked.
Aug 24, 2021
Clean and well maintained park
Aug 24, 2021
A nice place to stay. Washrooms need a bit more attention to cleaning, but mainly ok.
Aug 23, 2021
Amazing campground, very clean and new, great crew and services!
Aug 23, 2021
We were there for two weeks on business and my husband was using the Wi-Fi extensively and worked well. Also had a visitor on the weekend with a three year old, and she had a wonderful time with the mining, and the pool.
Aug 23, 2021
We got there Monday aft, no ice until after I had to go Into town on Wednesday aft to get a couple of bags.(the truck arrived later on Wednesday) $3 + taxes for mini golf on a course that is falling apart seams very high. Most parks with mini golf is either free or $1 just to keep the kids from taking over all day. And the washrooms by the office could have been kept cleaner. That's all for now.
Aug 23, 2021
Très movais mauvais accueille en placement nulle il y avait de la place dans ce camping mai on a pas voulu. Nous donné une autre place. je ne vais pas le recommender sur mon site de vacances pour mes clients
Aug 23, 2021
The only problem we found was the wifi , we use Koa because it s was recommended to us but we did the Gaspesie this year for one month and all the camping had strong streaming wifi and their price per night are cheaper then you so for the price of Koa we were expecting very good wifi We just visit thousand island , niagara and cardinal and all of them was the same So we will reconsider
Aug 23, 2021
It seemed great for family and it did what I needed (visiting family in kingston). Not normally our way of camping but it did do the trick. We have no kids and enjoy mare nature, more privacy and more space. If we had children this would be a place to camp
Aug 23, 2021
Enjoyed the grounds very clean an well cared for but the only complaint was wifi .. No wifi to speak of or very little.
Aug 23, 2021
This KOA is very clean with large sites and the staff are very friendly. We stay here whenever we are travelling east or heading home from the east.
Aug 22, 2021
Firstly, no security entering or leaving the park and no tag for your mirror. Only one device internet password? Unacceptable!! The washrooms were filthy, and the one way road and speed limit was never observed. Kids riding rented bikes all over the roads impeding trucks, trailers, cars. People cutting through campsite to get to pool which was crowded! No Covid protocols in place here.
Aug 22, 2021
Loved our visit to this KOA location, clean, staff were friendly and accommodating, Campgrounds kept clean and clear of any obstacles. Will be back for sure.
Aug 22, 2021
Clean, quiet with great amenities for family activities.
Aug 22, 2021
Nice camp ground However the pictures of the pool are deceiving. The duck game the kids could play was too hard we couldn't find any ducks even us adults couldn't find any. I would recommend re-hiding the ducks to give everyone a fair chance including the younger kids. Also was frustrating how far everything was away from our campsite. Other KOA we have visited have had more washrooms availa
Aug 22, 2021
Washrooms at the main building closest to the pool need to be better maintained - the showers were out of order - signage told to use showers in family washrooms (only 3 of these) however they were in need of more cleaning - wet soiled floors are dangerous. We had ants galore in our trailer one night ( which has never happened) reported this - apparently this has been an issue at times.
Aug 22, 2021
Fantastic place. We try to get here at least once a year. Every time we enjoy our stay. My only suggestion would be the vehicles driving in the park are going way too fast with all the kids around. We stayed on the first row across from the pool so a lot of kids running around and the cars were not adhering to the speed limit. Other than that everything is great about this place.
Aug 21, 2021
Excellent campground. One of the best!
Aug 21, 2021
Clean, well groomed lots with enough space. Table and chairs provided us an extra bonus.
Aug 20, 2021
It was very clean, loved that waste was picked up daily.
Aug 20, 2021
Great spot, nice people, clean well groomed campground and sites, nice pool, nice and clean washrooms and showers. Exactly what we hope for.
Aug 18, 2021
Emplacement bien aménagé et spacieux. Seul point faible, le branchement d'égout est trop haut.
Aug 18, 2021
Upset that we were not placed beside our family, despite requesting. Apparently had to pay for this, not mentioned anywhere when booking on line. Not impressed with Covid restrictions signage, could barely see that max 10 in pool. Nobody followed this rule as it was not enforced by campground. Your office staff gives different information when questioned about activities. Camp was very clean.
Aug 18, 2021
We had an amazing time the park was so clean and the staff so friendly we really enjoyed our stay ���
Aug 18, 2021
Loved it, we will be back!!
Aug 18, 2021
The hosts were very accommodating.
Aug 18, 2021
This was our second stay at this KOA and we love it. Our 2 kids have lots to do, the grounds are spotless and the actual sites leveled and clean. The owners very active and always around to answer questions. The staff are very friendly. We will be coming back.
Aug 18, 2021
Immaculately kept campground with lots to do for kids! We will definitely be back!
Aug 18, 2021
Campground is great, activities for kids and clean. The staff is friendly, however the younger staff in the office could be more informed/knowledgeable (ex: KOA points, late check outs, inform guests of activities)
Aug 18, 2021
Very clean and organized From booking the site to checking out. Perfect for an overnight stay. There was stable electricity throughout, and sites were well gravelled and leveled with picnic tables. Only one location for bathrooms and tent sites along the pool area prevent from cutting across. Sewer at sites are high off the ground. Overall cost seems overpriced, an extra $20 to secure site.
Aug 18, 2021
Keep up the good work ! Always a pleasant experience. Thank you.
Aug 18, 2021
Excellent. Site bien aménagé avec patio.
Aug 17, 2021
Have camped at Kingston KOA for several years. Nice campground, however some our site this year was not the best. Rain pooled on our site so we had a mud puddle outside our door. Tree in the site needed to be trimmed back as it was scraping the awing on the trailer. Bathrooms are in need of a deep cleaning. Mold on shower curtains and on shower walls.
Aug 16, 2021
Nice clean campsite with patio table at each site with comfortable sling chairs. Centrally located to multiple attractions. We look forward to visiting again in the future.
Aug 16, 2021
Beau séjour sur un camping très propre avec une piscine très propre aussi. Le personnel est très poli et attentionné. Paisible et tranquille. Mes enfants ont adoré.
Sep 12, 2021
Favourite camp site
- Husain Galadari on Google
Sep 08, 2021
Must go list every year
- JIE CAI on Google
Aug 29, 2021
Wonderful:)
- Glads Moshi on Google