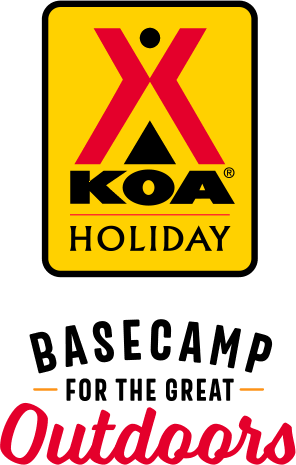 KOA Holiday Campgrounds
Whether you're exploring the local area or hanging out at the campground, KOA Holidays are an ideal place to relax and play. There's plenty to do, with amenities and services to make your stay memorable. Plus, you'll enjoy the outdoor experience with upgraded RV Sites with KOA Patio® and Deluxe Cabins with full baths for camping in comfort. Bring your family, bring your friends, or bring the whole group – there's plenty of ways to stay and explore.
KOA Holidays Feature:
RV Sites with a KOA Patio®
Deluxe Cabins with full baths
Premium Tent Sites
Group meeting facilities
Directions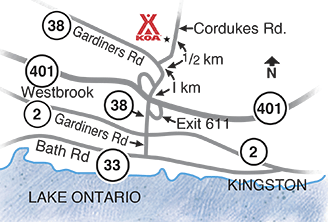 Take exit 611 off of the 401. Follow HWY 38 north for 1 km. Turn right on Cordukes Rd. We are on the left after 1/2 km.
GPS: N44.301247, W76.575136
Get Google Directions
Jul 13, 2021
The Kingston KOA is excellent. Sites and campground is very well maintained. Owners are very friendly and helpful. We were very pleasantly surprised that there was a newly installed wrought iron dog kennel on our site! So handy for dogs to be in without having to be tethered. Many upgrades happening at this park! Highly recommend! We will definitely be coming back.
Jul 13, 2021
Our stay was a great one. There are a lot of things to do, the park is very clean and the staff very friendly. This is the park we like to camp at.
Jul 13, 2021
Very impressed with cleanliness and facility offerings particularly the city water access
Jul 12, 2021
Excellent service very clean and well-maintained. I would strongly recommend it thank you.
Jul 12, 2021
The campground is well laid out, very clean and overall a great stay!
Jul 12, 2021
Great time !! Well maintained grounds , large spots, fun activities for the kids. Had a few minor issues but was all worked out by the staff. The staff is alot of young people , but they do such a great job. Always so friendly and willing to help you out. Will come back for sure. �
Jul 12, 2021
Only stayed 3 nights and found the campgrounds clean, staff very friendly. Easy access from the 401.
Jul 12, 2021
Excellent thanks. Very clean and level sites.
Jul 12, 2021
$100.87 and very poor or no Wifi. Everything else is fine.
Jul 12, 2021
Nouvelle section, les sites premium tout à fait magnifique!!! Bravo!
Jul 12, 2021
We made a last minute booking and the service was excellent. Friendly staff, clean facilities and a very nice site. Really appreciated being accommodated at the last minute.
Jul 11, 2021
Super camping tranquille les aires publiques propres
Jul 11, 2021
Great campsite for families.
Jul 11, 2021
Nice campground I guess but just wasn't for us. Our site was small, across a field of dirt…prices were high and no ice available all week and only swimming was a very crowded pool.
Jul 10, 2021
Très propre mais pas de glace au magasin durant notre séjour. Et la limite de 10 personnes dans la piscine non respecté. Manque d'arbre dans les campings pour tente et sont peu nombreux (une dizaine)
Jul 09, 2021
This was our first camping experience at a KOA, and we truly enjoyed it. The campground is a great place for families. Our grandchildren had a wonderful time together, it was very clean, and safe and they enjoyed all the amenities. A little more shade would be a bonus!
Jul 09, 2021
Campground was nice and clean, the pool was clean, the only opened washrooms were not so clean. Under the circumstances of local health rules, only certain washrooms were open, but they were always dirty, the floor always wet and they needed to be cleaned more than once per day.
Jul 09, 2021
Very nice campground. Well kept and close to downtown Kingston. We will definitely go back.
Jul 09, 2021
Our site was beside the septic lid that I'm assuming is connected to other trailers so sitting by the campfire youd often get a smell of septic as you can hear it running into there. A little more activities during the week would be nice for the kids.
Jul 08, 2021
This campground is always exceptionally clean and well maintained. Everyone is very helpful and the addition of round tables and chairs at our site (instead of picnic tables) was wonderful. We look forward to our next visit to Kingston.
Jul 08, 2021
We liked the new lots on the property. We have a big rig so nice to have room. The only concern is with regards to the firepit. It was too close to the trailer as we have a slide out on the side. We didn't make a fire.
Jul 07, 2021
Very friendly staff, always a pleasure.
Jul 07, 2021
It was great price a bit high could have got a motel for that price
Jul 07, 2021
Overpriced - Overpriced - Overpriced - I've RV camped all across North America, to charge over $100 for a campsite and $12 for small firewood bundles is the MOST EXPENSIVE campsite I've stayed at in years, terrible. For the campsites, you need to have more options for prices. We didn't leave our site to use any amenities. For the firewood, no excuse - shame on you for gouging your customer
Jul 06, 2021
Excellent stay as always. Very relaxing and always a very friendly team to make the stay that much more enjoyable from the first wave and smile to the goodbye. The recent renovations to the site services that were undertaken have hugely improved the convience of your campground. Great job! Jim and Julie Stinson
Jul 06, 2021
Beautiful camping very well maintain and we was treated very professional, I recommend anybody four a good vacation
Jul 06, 2021
Always a great stay!
Jul 06, 2021
We have stayed here several times over the past few years and we love it! Lots to do in the area and the KOA park is very clean! They are constantly circling the park picking up garbage, recycling etc. Fellow campers are always friendly and it is great to see people bring their dogs :)
Jul 06, 2021
Campground was well kept and neat, bathrooms were clean. Really liked the camp site garbage and recycling pick up. Mini golf course and kids playground could use some work. My kids nicknamed the climbing structure " the death trap" as it was so wiggly and seemed unstable to them. One other observation was the sites seemed short but made up for it in with how they were We again stay here again
Jul 06, 2021
As usual Patrick and the staff are great. Had a wonderful fireworks display on Canada Day. Will be back again.
Jul 06, 2021
great facilities.
Jul 06, 2021
Very clean. Great campground
Jul 06, 2021
This was our first time camping at KOA Kingston. We were very impressed with the facilities. Lots to do for the kids (although we didn't have kids with us) The grounds were kept immaculate. The staff who greeted us upon arrival were very friendly and courteous. Although the grounds were full, we were impressed at how extremely quiet the place was. Very relaxing stay for us.
Jul 06, 2021
Very pleasant and relaxing. Site is well maintained staff very friendly. Looking forward to next visit @
Jul 04, 2021
Awesome! The park was clean and well kept. The staff was super friendly and approachable. The sites were spacious and well kept. Although our site had patchy grass it was not a big deal for us. Definitely a park we will visit again!
Jul 04, 2021
Our site was a little awkward to get into. It seems to have been more designed for tents than for our truck camper. Otherwise, we were very happy with the quality, cleanliness, and activities provided by the campground. The pork roast was a nice treat, plus the Father's Day activities for the kids.
Jul 02, 2021
All good except the washrooms need an upgrade floor very slippery by the shower and lot of water by the toilets where your pants got wet
Jul 20, 2021
You will not be disappointed with this campground. It is one of the best KOA's I've ever stayed at. Everything was clean and well taken care of and staff were ready to assist with anything when needed. The sites are all great and we didn't see a bad site at the park. The sites and campground in general were very well maintained and everyone was friendly and respectful. There were plenty of activities (movies, swimming, mini golf, jumping pad, etc.) and even a dog park. The park is located right on the K&P trail as well so there's plenty to see and do right from the park. Hands down the best KOA I've ever stayed at!
- Kelly Berry on Google
Jul 19, 2021
This campground was amazing, very clean and beautifully landscaped. Stayed in the deluxe cabin and it was fabulous. We will def be back next year and we will be staying for a week
- stephanie burns on Google
Jul 17, 2021
It is a well laid out RV Park kept clean. A good base to visit Kingston by.
- Al on Google