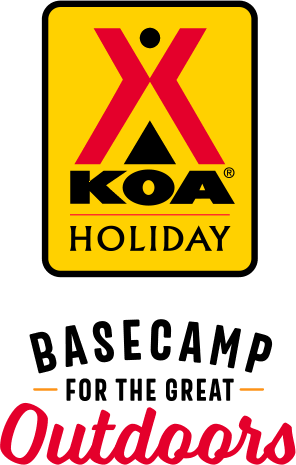 KOA Holiday Campgrounds
Whether you're exploring the local area or hanging out at the campground, KOA Holidays are an ideal place to relax and play. There's plenty to do, with amenities and services to make your stay memorable. Plus, you'll enjoy the outdoor experience with upgraded RV Sites with KOA Patio® and Deluxe Cabins with full baths for camping in comfort. Bring your family, bring your friends, or bring the whole group – there's plenty of ways to stay and explore.
KOA Holidays Feature:
RV Sites with a KOA Patio®
Deluxe Cabins with full baths
Premium Tent Sites
Group meeting facilities
Directions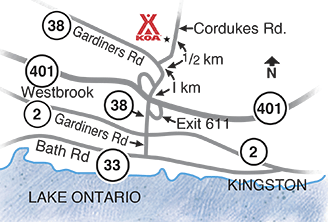 Take exit 611 off of the 401. Follow HWY 38 north for 1 km. Turn right on Cordukes Rd. We are on the left after 1/2 km.
GPS: N44.301247, W76.575136
Get Google Directions
Aug 17, 2020
Campground was clean, staff were friendly and helpful and the ownership/management were obviously engaged in the operation of the facility. Despite being minutes from Kingston, you would not know it due to its excellent location.
Aug 17, 2020
Excellent service. Bathrooms very clean. Very helpful staff. Pool even under covid rules was perfect. We will visit again
Aug 17, 2020
Just one night off the highway. Place met the need. Don't think we'd go for a multi night stay though.
Aug 17, 2020
Very clean. Nice new sites with sewer. Wood is a little expensive.
Aug 17, 2020
Le wifi serait à amélioré, car ce n'est pas terrible...
Aug 16, 2020
We had a relaxing time, nice showers, okay pool, not much to do however. The management were nice people. Worth staying if you have young children
Aug 15, 2020
Very friendly staff and they keep the campground spotless. We definitely will be back.
Aug 15, 2020
I was very disappointed with my stay, first off I received a spot that my trailer wouldn't fit in. Second you have a sign saying you rent Golf carts but you really don't. The mini golf was very basic and the use of pool was very limited 10 people which I understand but you felt pressured to get out because people are waiting there should be a sign up sheet with time slots.
Aug 14, 2020
The camp ground was very clean the staff very friendly
Aug 14, 2020
The building works were disappointing.
Aug 14, 2020
No jumping pillow despite playground being open, was a disappointment. Kids amenities is a major reason why we KOA.
Aug 14, 2020
Staff were very friendly and cooperative.
Aug 13, 2020
We have stayed here before and will again in the future. The owners and staff are very friendly and acknowledge your return to the park. Even being a busy time in the park and expansion going on the owner always seems to have a smile on his face, a wave and says hello to us as he is working which makes us he appreciates us as campers.
Aug 12, 2020
Very enjoyable and relaxing. Great company and friendly staff
Aug 12, 2020
Agreable mais j'aurais aimé avoir 3 services
Aug 11, 2020
Nice clean park. Level campsites. Friendly staff. Wi-fi not usable. Our campsite (H03) was a bit narrow. Other look ok. Staff moved fire pit for us as it was too close to RV, and apologized for its placement. No activities, store not stocked due to COVID restrictions.
Aug 11, 2020
Patrick and his staff are very friendly and helpful. The site we had was a good size and level. We will return.
Aug 11, 2020
Location is great and service to the sites was very fast. Lots for kids to do even with covid restrictions. For WiFi, one device per site rule with a guest account for 30 minutes is not appropriate especially given that the WiFi was unreliable and very slow. Second concern was the bathroom/shower. They were horribly filthy and need to be cleaned more frequently than is currently being done.
Aug 11, 2020
Great stay with our 2 grandchildren who were thrilled with pool (all social distanced and #s appropriate),go karts play park,and mini golf . Founds facilities clean and cared for with friendly hosts.
Aug 11, 2020
We were given site I07 which was a new site with no privacy trees and constrution was on going behind us and the generator started huming every morning at 9am. Camping is new to us and this was our 2nd time camping in our new RV, so the experience was not the greatest. Upon departure, I stoped to use the public washrooms and they were so dirty, I could not beleive this during Covid restrictions.
Aug 11, 2020
Great three days of camping and enjoying KOA in Kingston.
Aug 11, 2020
Great facility. Hope to return and be able to use all the activities post covid 19.
Aug 10, 2020
clean and comfortable
Aug 08, 2020
Only issue in the 12 nights we spent here was one morning people in cabin beside us has a small dog barking non stop from 5 a.m and on and a few nights later different people in same cottage who must of rented a cottage for the 6 young girls and adults in the other cottage extremely loud until past 11 p.m kids were playing in the bush behind our camper with flashlights and screaming as they were
Aug 08, 2020
Très beau séjour, merci
Aug 06, 2020
As usual, everyone extremely helpful. Everything so clean. Always so nice to stay.
Aug 06, 2020
We had a wonderful time! The pedal carts were a huge hit, the staff was super friendly and went above and beyond to help us out. Thank you!
Aug 06, 2020
Too expensive for what it has to offer. I was expecting more from a Holiday KOA. Also, when I reserved, I wanted a pull-through long enough to avoid removing the Jeep from behind the motorhome. The site was advertized as 60' and both our 36' coach & the Jeep had the bumpers on the street. To avoid possible damage, we had to unhook the Jeep. I will not recommend that KOA.
Aug 05, 2020
I love it here. In spite of no dump stations at the site, the dump service is very reliable and all the staff are friendly.
Aug 05, 2020
First time using the patio sites. Enjoyed the site very much.
Aug 05, 2020
Nice and clean the staff was very pleasant and helpful the only complaint was the wifi it was weak!! We had a great stay
Aug 05, 2020
Warm welcome and attentive service. impressed with improvements being made! only item for further improvement might be the wifi, which was unusable.
Aug 05, 2020
It was a great stay. ( the KAMP K9 is great.) please don't take this the wrong way.. ( it would be outstanding if there was a section of grass as well for the large dogs to have a good run, the KOA is a very large property, but this would not deter me to stay again. great time. extremely clean and well kept, very friendly staff. they remembered the name of our dog and said hi to her as they passe
Aug 05, 2020
Our site was beautiful. The staff was friendly and accommodating. The campground was immaculate and spacious.
Aug 05, 2020
as usual every care was taken by management to ensure I had a great time
Aug 05, 2020
The WiFi was terrible. I was surprised the dog park had sand instead of grass or gravel. We have never seen this in all our travels across Ontario and the States KOA'S. Who wants their dogs covered in sand? The staff were friendly.
Aug 05, 2020
We've been going there since 1992,never had an issue or complaint,super owners and staff,will be back again next year
Aug 05, 2020
Just an overnight stop over, very clean campground .
Oct 17, 2021
Lovely family atmosphere. I loved watching the kids play, riding bikes and ride on little go carts, up and and down the roads. Reminded me of many childhood memories doing the same
- Lori Denis on Google
Oct 12, 2021
ONE OF THE BEST KOA PARTS ON ONTARIO .
- Don Tobin on Google
Oct 03, 2021
What an amazing campground. We lived how clean and well kept it was. Our site was spacious and we felt spoiled by the on site garbage and recycling pick up. Staff are super friendly and helpful. Highly recommend!!!
- Sara Meulenaar on Google