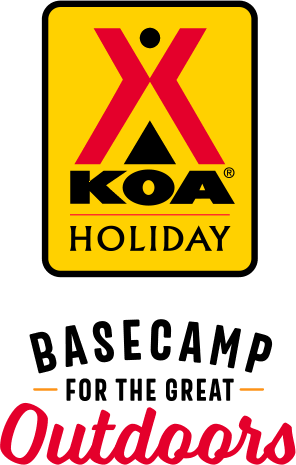 KOA Holiday Campgrounds
Whether you're exploring the local area or hanging out at the campground, KOA Holidays are an ideal place to relax and play. There's plenty to do, with amenities and services to make your stay memorable. Plus, you'll enjoy the outdoor experience with upgraded RV Sites with KOA Patio® and Deluxe Cabins with full baths for camping in comfort. Bring your family, bring your friends, or bring the whole group – there's plenty of ways to stay and explore.
KOA Holidays Feature:
RV Sites with a KOA Patio®
Deluxe Cabins with full baths
Premium Tent Sites
Group meeting facilities
Directions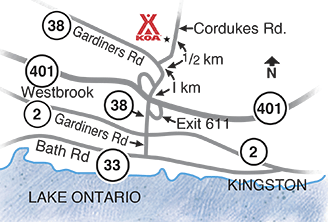 Take exit 611 off of the 401. Follow HWY 38 north for 1 km. Turn right on Cordukes Rd. We are on the left after 1/2 km.
GPS: N44.301247, W76.575136
Get Google Directions
Jul 01, 2021
We love it there. So clean and tidy. Everyone is so nice. We try and book every weekend we can. Only thing I would suggest is to mop bathroom floors more bc they fill with water and r sooo slippery.
Jul 01, 2021
Love this park. The owners are fantastic!
Jun 30, 2021
We had a good time! sites are nice! Pool is nice, the park could use a bit of an upgrade but that's just my opinion, overall it is a very nice place to camp and my kids really enjoyed there stay
Jun 29, 2021
Great campground, great owners. It could be improved if other campers would stop taking shortcuts through occupied campsites.
Jun 29, 2021
We stayed for 4 nights/5 days. All spots are great spots and level. There is WiFi but you need to pay for it, where many KOAs offer it for free. That being said, it is very reasonable, and very reliable so not a big deal. Lots of activities to do in the KOA. Definitely would go back again.
Jun 29, 2021
Loved our stay. Have been to many KOA's but this was our first time in Kingston. Lots to do. Owners were nice. They planted over 600 trees last year so in time there will be tons of shade. Park is older but it doesn't really matter, kids still had fun. Kids were disappointed they didn't have their ice cream social on the weekend.
Jun 29, 2021
Always have a great holiday there. Grounds are looking great after all your upgrades to the campground. See you again. Joyce & Don
Jun 29, 2021
internnet bad but very good park love it
Jun 27, 2021
Very clean and well maintained. Got the privilege to speak to Hans a few times and his passion for his park and clients clearly shines at this KOA! Will definitely be back.
Jun 26, 2021
Clean! Quiet! Friendly staff! Full Services, Close to town for exploring Kingston
Jun 26, 2021
OMG over the top awesome! Thank you and the pig roast was a nice touch.
Jun 24, 2021
First trip with our camper, very easy to manoeuvre with the pull-through site. Very friendly staff when we checked in. Enough space between sites to have family time without feeling crowded. The pool, go-carts & play areas were a hit with the kids! Firewood was delivered to our site, bonus! Clean/nice bathroom facilities with showers. Overall great trip, great campground, very pleased!
Jun 24, 2021
The stay was good and we had a great location. Nice to see the owners around and coming to talk to you especially as it was our first time there. The Saturday Father day pig roast with delivery worked out well in these times. Could have bee a little more seasoning on pork or on the side
Jun 23, 2021
Excellent spot!! We will be back!!
Jun 23, 2021
My only negative feedback would be that the pool was very crowded and there were more than the 10 people which were allowed due to Covid restrictions. I would've felt more comfortable with a sign-up process
Jun 23, 2021
This park is kept very clean and has a lot of activities for kids.
Jun 23, 2021
Nice campground! Great amenities, spacious sites, well maintained.
Jun 23, 2021
Really nice clean and well run campsite. The sites were a great size and I have nothing negative to say. Great job Patrick and you're friendly staff.
Jun 23, 2021
Amazing campground with amazing staff! Very accommodating and helpful. Definitely would recommend to anyone with kids or even without. We were 4 girls in our 20s and had an absolute blast!
Jun 23, 2021
Came for a 4 day weekend , no issues with service on site or in general . Only issue was biking . The gravel top was very loose in a lot of areas and even though we were leisurely pedaling along , we almost took a spill in several spots , particularly in the back rows ( which I understand are fairly new ) . Overall a great experience . Nice to see owners and staff also camping onsite
Jun 23, 2021
VERY NICE PARK....IT WAS JUST STARTING TO OPEN SO STORE WAS PRETTY EMPTY BUT BASICALLY A VER NICE STAY.
Jun 23, 2021
My family was enjoying our time camping until the last day. We were packing up our things and 15 minutes before check out the owner decides to drive upto our trailer site in his golf cart and proceeds to scold and literally shout at us about our puppy whining. I was mortified and in shock especially with him shouting in from of my small children. He could have talked to us nicely our 1st night.
Jun 20, 2021
Great place, very clean , and organized, a pleasure to be there
Jun 20, 2021
Great staff. We really lived our stay. And to have a walking trail so close, bonus. We will be back. Thanks
Jun 16, 2021
Campground is up to date with fun things for kids to do. We had a technical problem with out unit. The owner, Patrick, couldn't have been more helpful, with a friendly approach, going above and beyond to ensure we were able to solve the problem. Would go back.
Jun 15, 2021
Great clean campground!. Pool was very nice, mini putt could use some maintenance and updating. Great staff!
Jun 15, 2021
Had a great time! Patrick is a wonderful host. We will definitely be back!!! :)
Jun 15, 2021
Great stay, friendly staff, clean facilities and great neighbours!
Jun 15, 2021
Stay at the park was great. A few things to be improved upon. Chairs at the tables of more expensive pull-thru sites should be cleaned better as all of them were full of bird feces rendering the table useless. Should be replaced with cleaning friendly chairs. The K9 dog park should be grassy and not sand. Dog feces gets buried in the sand and also sand fleas develop. Otherwise great p
Nov 23, 2020
Our neighbouring site played loud music all day, and didn't turn it down despite multiple requests
Oct 18, 2020
The staff were extremely friendly and the campground was well maintained ...quiet and relaxing .. we will definitely be back
Oct 16, 2020
Very clean campground and quiet
Oct 16, 2020
Patrick and his staff are amazing!
Oct 16, 2020
Very friendly and welcoming. Large, nicely freed, clean
Oct 16, 2020
Very friendly and helpful staff. Excellent facilities. Very clean, nice touches added such as lights at the end of each camp row, many trees planted that will provide privacy and shade in a few years. Awesome off lead dog play area. Let us stay until 1:00 pm to accommodate my husband's meeting. The camping pad was very level and there was ample slope for drainage of the black water tank.
Oct 15, 2020
We stayed here for Thanksgiving weekend and as usual we couldn't have asked for better service. Patrick and his staff are excellent. The rules due to Covid 19 were followed by everyone that we saw with wearing masks and 6feet social distancing. This KOA will be recommended to many.
Oct 15, 2020
Enjoyed our stay...flat property, close to a beautiful walking trail, quiet campground Was surprised that we had to go inside to check in as .any other camogrounds had the registration package taped to a table outside. As well, did not expect the traffic from. 401to be so noticeable.
Oct 15, 2020
Another awesome stay. Sorry to see another year end. Stay safe and see you next year!
Oct 15, 2020
Très court séjour (une nuit). Le service à la clientèle a retourné mon appel dans les 10 minutes et j'ai pu réserver mon site pour le soir même avec une arrivée tardive. Génial. Le terrain est propre et plat. Les gens sont respectueux. Seul bémol, le prix: 75$ pour électricité et eau avec Internet disponible que pour un seul appareil.
Oct 12, 2021
ONE OF THE BEST KOA PARTS ON ONTARIO .
- Don Tobin on Google
Oct 03, 2021
What an amazing campground. We lived how clean and well kept it was. Our site was spacious and we felt spoiled by the on site garbage and recycling pick up. Staff are super friendly and helpful. Highly recommend!!!
- Sara Meulenaar on Google
Oct 03, 2021
A fun place to unwind. Summer is the best time to go. Take the boat ride too.
- Riri Shu on Google