Alert
KOA Kingston is open and following the restrictions put in place by the government to keep our campers and staff safe. All campers must adhere to social gathering size restrictions and maintain two-meter physical distancing with people outside their household. For this reason we will not be running our normal activities and some amenities must remain closed at this time including the public washrooms. We do have our family washrooms open as they allow for physical distancing. Please contact us if there is a specific amenity you would like to check on. If you are interested in booking a cabin, please contact our office. Online cabin reservations are closed at this time. Our office hours will remain limited but feel free to call us at 613-546-6140 or email us at koakingston@hotmail.com. Masks must be worn to enter our office building.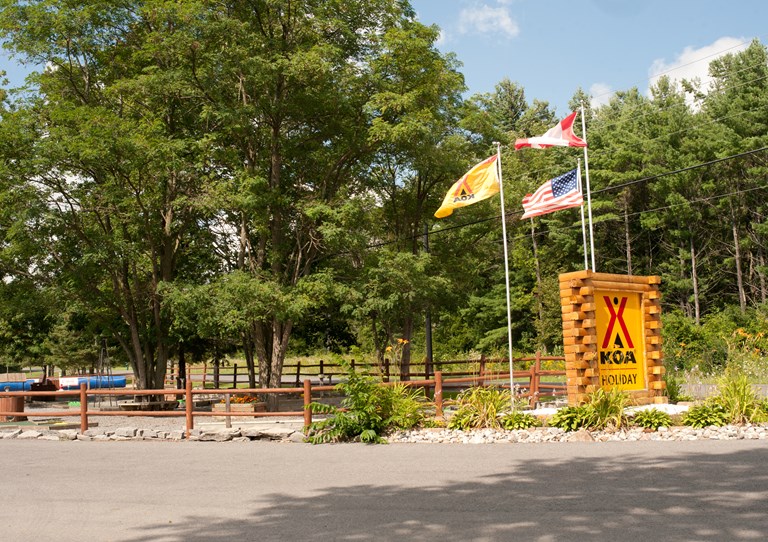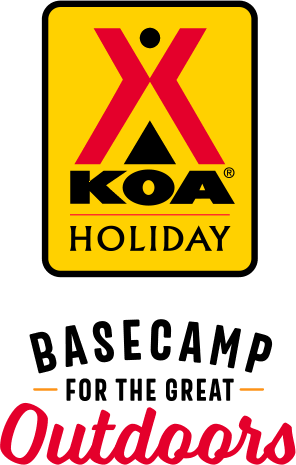 KOA Holiday Campgrounds
Whether you're exploring the local area or hanging out at the campground, KOA Holidays are an ideal place to relax and play. There's plenty to do, with amenities and services to make your stay memorable. Plus, you'll enjoy the outdoor experience with upgraded RV Sites with KOA Patio™ and Deluxe Cabins with full baths for camping in comfort. Bring your family, bring your friends, or bring the whole group – there's plenty of ways to stay and explore.
KOA Holidays Feature:
RV Sites with a KOA Patio™
Deluxe Cabins with full baths
Premium Tent Sites
Group meeting facilities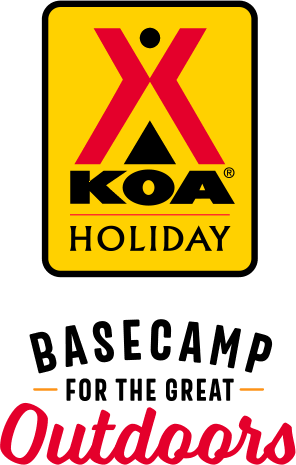 KOA Holiday Campgrounds
Whether you're exploring the local area or hanging out at the campground, KOA Holidays are an ideal place to relax and play. There's plenty to do, with amenities and services to make your stay memorable. Plus, you'll enjoy the outdoor experience with upgraded RV Sites with KOA Patio™ and Deluxe Cabins with full baths for camping in comfort. Bring your family, bring your friends, or bring the whole group – there's plenty of ways to stay and explore.
KOA Holidays Feature:
RV Sites with a KOA Patio™
Deluxe Cabins with full baths
Premium Tent Sites
Group meeting facilities
Directions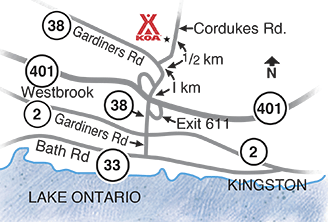 Take exit 611 off of the 401. Follow HWY 38 north for 1 km. Turn right on Cordukes Rd. We are on the left after 1/2 km.
GPS: N44.301247, W76.575136
Get Google Directions
Sep 24, 2018
Awesome, I wish I could have stayed a little longer to enjoy the pool and a camp fire. Thank you to the owner that stayed on the property to give us the key when we got in at 11:00 pm. Thanks again
Sep 17, 2018
The only thing I was surprised at was that you cannot have a 'running tab'. We usually rent a deluxe cabin for a week in July (Mallorytown) and we pay our balance at the end of our stay. I specifically asked if they would do this for weekly stays and I was told no. I cannot see myself walking around with a wallet all the time on a campground. But we loved the site!
Sep 13, 2018
We had a great experience Friendly staff and the park was very clean
Sep 05, 2018
The only think I would like to add is about the deluxe cabin is that the rooms did not have lucks a specially the bathroom. Otherwise our stay was excellent
Sep 02, 2018
I needed a place to stay at the last minute and I thought of this Koa bc of a previous enjoyable visit. Great family -friendly place. I enjoyed the stay better than a hotel.
Sep 01, 2018
My friend and i have made this our annual girls weekend before school starts we both take our daughters rent a cabin for a week and just have a great time. OUr trip was full of fun and enjoyment. we love the campground and will be back
Sep 01, 2018
right from the get go the entire staff made our stay very relaxing and enjoyable in fact my wife and I extended our stay by 1 additional day wee were enjoying ourselves so much. Thank you to everyone on staff at the KOA we will be returning for sure
Sep 01, 2018
We always enjoy our stay at 1000 islands. We go every year. The staff is great. We always have a hard time starting our fire so on Wednesday night 2 young guys stayed after delivering the wood to help. So grateful. See you next year!!
Sep 01, 2018
Children allowed to play all over roadways into camping areas with go-carts and scooters creating a dangerous situation. Would recommend regulating this activity to avoid a potentially bad accident.
Aug 26, 2018
The grounds are completely run down and we were very dissapointed. Our cabins AC unit was full of mildew and mold which made for a terrible nights stay. We got a refund for our second night and left.
Aug 25, 2018
Was fun, movie didn't work right one night. Was lovely tho���
Aug 25, 2018
Facilities were somewhat dated. Also seemed like there were additional fees for most activities including a $3.00 per person charge to have guests join us for dinner and to see the facilities. Bed was not comfortable, ceiling fan was quite noisy. Appeared to have poison ivy in the woods next to where you exit your car. Will probably choose a different location next trip. Staff were friendly.
Aug 24, 2018
The campground was very nice and well kept. Things I didn't like: 1) Wi-Fi was terrible and to charge for additional phones for abysmal service was biggest disappointment. Although most come for outdoor amenities, the world relies on internet. This KOA needs to do better here. 2) Firewood is overpriced. 3) Cabins are too densely packed (not enough privacy)
Aug 22, 2018
A great experience at the Kingston 1000 Islands KOA.We stayed in a deluxe cabin and enjoyed our vacation immensely.Very clean cabin upon arrival.Our children enjoyed the pool.Kind and professional staff who were always making sure our stay was going well.We'll certainly return soon.
Aug 22, 2018
This camper comment has been removed by KOA due to profanity.
Aug 21, 2018
Second time here and just as excellent as last year. Consistency is what it's all about !!
Aug 20, 2018
Had a great time. Staff were fantastic. Will be coming back again
Aug 18, 2018
Even though it rained heavily each of the 3 nights we stayed, the cabin was dry, roomy and had nice touches like a patio table and chairs outside and a microwave for popcorn and tv to watch while we were stuck indoors. I especially loved the pet friendly cabin and fenced in dog park. The bathhouse was clean and showers were nice and hot. Everyone was friendly and we enjoyed our stay very much.
Aug 17, 2018
Ok, not nicest KOA we've stayed at. Nice tree'd campsite. Mini putt condition not great, store was just ok, need more activities, firewood expensive for what you get.
Aug 16, 2018
It was honestly the best experience. As a family of 5 (with 3 of those people being 3 years old and under) the cabin provided a convenient, VERY clean, cozy space. We loved every minute of it and will definately be back next year!!!!!!!!
Aug 15, 2018
I asked this time for a cabin away from other cabins with pet dogs, as our last stay was not enjoyable with whining, barking dogs next to us. We got a nice quiet location. There was one dog two doors down that barked when people would walk by, but that was tolerable.
Aug 15, 2018
We were thrilled that this campground allows dogs in their cabins! Great campground with friendly staff, excellent pool, clean washrooms and showers. Only disappointing thing was the early wagon ride(4pm), we prefer it in the evening like other KOAs that we have stayed at.
Aug 12, 2018
We have always enjoyed our stay in this KOA in our own trailers and now the cottages. It is very close for any of the places you might want to visit. The only thing I might say we needed would have had the coffee filters for the coffee machine and the BQ needs a good cleaning but as far as liking our stay we loved it Thanks again
Aug 12, 2018
We've come here for the last two August long weekends and already planning to returning at the same time next year. We stay in the Kamping Kabins, perfect for those who like to camp but don't enjoy sleeping in a tent!
Aug 12, 2018
The cabin we stayed in and the staff were great. The only thing that upset us were the activities that were listed on the site were mini putt which was not in very good playing state and the horse shoes as there were no horse shoes there to play with. The kids loved the mining area.
Aug 11, 2018
Excellent stay. Lots to do in area.
Aug 11, 2018
We stayed in a regular cabin and were very impressed. It was everything we wanted it to be and provided a great atmosphere for fun and family time. The camp ground was very very clean and the staff were very friendly and accommodating. The campground had lots of amenities and it is close to Shops. Kids had a great time on pedal carts and in the pool. We will definitely be returning guests
Aug 09, 2018
Had a wonderful time Would go back again and recommend Very clean and roomy cabin and camp sites Friendly employees Owner came around everyday and asked how we are doing and if we needed anything Hope to see you soon
Aug 09, 2018
We had a great time, wish we had been able to stay longer!
Aug 07, 2018
This was our first KOA visit and won't be our last- we were pleasantly surprised at the activities and facilities available. Our only few issues were no hot water in the showers at 7am some mornings, the mini golf is so out of shape that it really shouldnt be a charged activity, and the movie on Friday didn't start until close to 10 (instead of 8.30)...and only the last 10 mins were shown.
Aug 07, 2018
chose it for activities for the kids and the availability of cabins. The kids enjoyed the campground activities when it wasn't raining and we appreciated the cabins even more when it was raining.
Aug 06, 2018
First time camping as a family. We loved it.
Aug 06, 2018
It was amazing!! Thank you:)
Aug 05, 2018
The cabin we had was in a good location. The staff were friendly. The a/c in the cabin was nice to have as well as the TV. The only issue I had was I was thinking the TV was just hooked to a DVD player. I emailed to check and was told it was not with a DVD player but connected to cable TV. I don't know of any cable company's that have only 3 channels. Other than that all was good.
Aug 05, 2018
Fourth annual trip. The family atmosphere has us coming back each year. A few new gems were added to the campground since last year and our favourite was the Shoe Tree. We catapulted a pair up there to mark our visit.
Aug 04, 2018
Nice clean campground. Reasonable prices in the store. Could maybe use more kids activities.
Aug 03, 2018
Very clean. Very nice staff!
Aug 03, 2018
Service impeccable! Cabine propre et fonctionnelle. Seul point négatif : Aucune barrière, donc n'importe qui peut entrer sur le terrain.
Aug 02, 2018
Lots of repairs needed. Basketball net backboard was broken with a huge hole, making play impossible. The mini putt carpets had tears and holes too making it impossible to play. The pool was dirty and cold, even though it says its heated. The jumping pillow was very snall. The deluxe cabin had a half size BBQ which was missing a brush and tongs. Also toaster missing in kitchen. Overall 5/10
Aug 02, 2018
Great family atmosphere. Rented a deluxe cabin .only issue was shower didn't have enough pressure to turn on .also one day there were no times of events listed. The wagon ride started they ran to ride and the driver wouldn't stop and let them on .they were not happy
Jul 29, 2018
Our stay was disappointing and the campground did not live up to the KOA brand. Many broken and sub-standard items in the deluxe cottage we rented. I sent koa an email to report but my email has not even been acknowledged. I forgot something in the cottage and email the operators asking about having it returned and also got no response. Would never go back, much nicer places to stay.
Aug 11, 2020
Owners are very friendly and hands on to make you feel welcome. The staff are friendly as well. The park is very clean. Even with construction going on you barely notice it.
- Linda Keuning on Google
Jul 26, 2020
Been going there since 1992, still going says it all
- Terrence Hillier on Google
Jul 29, 2020
Nice place to camp. Wish it was located on a beach, but they do have a pool. 25 minute drive to several beaches on lakes if that is your preference. Mini-putt, small basketball court with one net, three bathrooms with showers, enclosed dog park (but it's all sand), can rent 4-wheeled pedal carts, kids can buy sand bags to 'mine' for pretty stones or fossils, and movies (PG or PG-13) most nights. No sewer hookup, but they do offer pumpout - tank on a cart that is hauled around with a 4-wheeler and a guy will do it for you - just call when you want your tanks emptied. No tents allowed on camper spots, but they do allow dining tents. Overall, it was enjoyable and I would recommend.
- Robin Sagriff on Google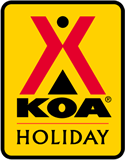 1000 Islands / Kingston KOA
Open May 1 - October 15
2039 Cordukes Road
Kingston, ON K7L 4V4 Canada
Check-In/Check-Out Times
RV Sites, Tent Sites
Check-in: 12:00 pm, Check-out: 11:00 am
Accommodations
Check-in: 3:00 pm, Check-out: 11:00 am
1000 Islands / Kingston KOA
Get Google Directions