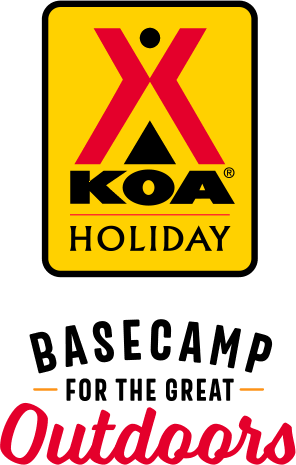 KOA Holiday Campgrounds
Whether you're exploring the local area or hanging out at the campground, KOA Holidays are an ideal place to relax and play. There's plenty to do, with amenities and services to make your stay memorable. Plus, you'll enjoy the outdoor experience with upgraded RV Sites with KOA Patio® and Deluxe Cabins with full baths for camping in comfort. Bring your family, bring your friends, or bring the whole group – there's plenty of ways to stay and explore.
KOA Holidays Feature:
RV Sites with a KOA Patio®
Deluxe Cabins with full baths
Premium Tent Sites
Group meeting facilities
Directions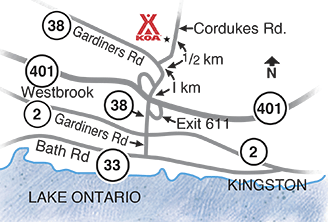 Take exit 611 off of the 401. Follow HWY 38 north for 1 km. Turn right on Cordukes Rd. We are on the left after 1/2 km.
GPS: N44.301247, W76.575136
Get Google Directions
Jul 18, 2020
Had an amazing stay. Everyone was so helpful. Many thanks to Alison who went above and beyond. We look forward to our return visit. Highly recommend....
Jul 18, 2020
We were on a deluxe lot, so we were expecting a cleaner Pas and the swing set a bit of paint would been nice and nice flower in the flower pot. The camping it self is clean and have nice big lot
Jul 18, 2020
We were lucky enough to stay for 4 days and loved every minute. It has to have been the cleanest and most friendly campground we have stayed in. One guy named Jim was there 3 or 4 times a day making sure everything was ok and to see if there was anything we needed. The owner stopped by at least once a day just to say hello. Loved it.
Jul 16, 2020
Very friendly and helpful, owner and staff
Jul 15, 2020
First time in Kingston. Everything was good and definitely will be back.
Jul 15, 2020
Quick overnight stay during part of our journey. 3rd time we have stayed here and was again, not disappointed even during the COVID restrictions.
Jul 15, 2020
Beautiful campsite but was disappointed to see how much was closed. We have stayed at other KOA's in Ontario this summer and this was the first time the majority of the campsite was closed. Difficult to find/reach staff when we needed them (get firewood, mini golf sticks, supplies etc). Also very disappointed that we had no supplies in our cabin (dishes, dish soap, dish towels etc).
Jul 14, 2020
Great stay - excellent staff & fun times. Social distancing promoted and supplies available - thanks!
Jul 14, 2020
Enjoyed a great weekend, thanks
Jul 11, 2020
Generous size lots and a very clean campground. The owners are very attentive and were very helpful in assisting us with touristy ideas. As a cyclist having such a great network of trails next to the campgrounds made the stay super
Jul 11, 2020
We had a great experience and was blown away by the friendliness and helpfulness of the staff! We were nervous RV'ing and camping during a pandemic but they had regulations and procedures in place and we felt very safe. We loved our patio site. We hope to come back when more activities are open again. Kids loved it and we were so glad we choose to stay there.
Jul 09, 2020
Nice campground. Well maintained and clean facilities that are very close to Kingston and extremely close to a cycling rail trail.
Jul 09, 2020
We visited during COVID-19, but felt very safe due to social distancing, even in pool area. Great sites, easy access and had a great weekend getaway. Would definitely recommend!
Jul 07, 2020
Patrick and his staff are very pleasant and approachable. The fact that they have a pumping service is an extra bonus. The park is very clean and quiet.
Jul 07, 2020
Overall Neat and Clean site, good big cabins (we stayed in the bigger ones), aircon was good & effective for warmer days, nice to hv gas stoves. Patio set with BBQ was great. Even tho the office was closed due to Pandemic, the staff was still very much easily reachable and courteous Bunkbeds not good, very tight , at most a storage place. Unfair to call them 6ppl cabins,
Jul 07, 2020
Nice and clean cabins. Prompt service. Good staff. Will definitely recommend.
Jul 07, 2020
The park is great but there are a couple of things that can be improved. First of all, the wifi for 1 device is ridiculous in this day in age, everyone owns a cellphone. Another issue we experienced was that the area around the washrooms were not lit up at night, it is too dark walking to them at night. The speed bumps need to be painted so you can see them at night, very dangerous walking.
Jul 07, 2020
The family who run this site are wonderful and go the extra mile. Very clean a little expensive compared to other KOA but would go again. They say 3 way but in fact someone does have to come to empty the tanks but you ask and their there so it really isn't an issue but probably does need explaining when booking. I would rate this a great place to go. Thumbs up
Jul 07, 2020
Everything was clean and inviting, the site was levelled, the pool was nice, and the staff was very friendly and accommodating when asked about rental bikes, and firewood. The complimentary pump out was a surprise and a well appreciated bonus. Already planning on coming back here again!
Jul 06, 2020
This was our first stay at your KOS in Kingston and we had a nice experience. Clean and well looked after.
Jul 05, 2020
What an amazing campground and staff. We would highly recommend this KOA
Jul 05, 2020
We stayed for 4 days and had such a great time. Mini golf, swimming, and such friendly staff made this perfect. We will certainly be back Thank you
Jul 04, 2020
The water smelled like a pool a bit too much. Owners and staff are friendly and after the Reno's are finished it will be a great camp for Rvrs and campers
Jul 04, 2020
Despite all the restrictions imposed by covid .every effort was made by the owner to ensure that my stay was relaxing and enjoyable. Aconstant check was made to check on the restrictions were uphelp, done in a way that was both pleasant and reasuring There is no doubt that I will visit this site again often.
Jul 03, 2020
Covid lockdown prevents a complete rating but we will stay again and will reccommend. Very clean, nice backin site, well laid out, great dumping facilities, very quiet, well away from city and highway. It was a great and restfull stay. Wish we could have stayed longer.
Jul 02, 2020
The facilities (Luxury cabins) were great, and everyone who works there is so nice!
Jul 01, 2020
Evin with Covid-19 the staff did there utmost best to make our stay pleasant. The park is clean and well looked after. The owners are very friendly.
Jun 30, 2020
With COVID-19 happening and changes being made while we were staying at Kingston/1000 Island was pleasant and wonderful.
Jun 27, 2020
Best time ever
Jun 24, 2020
Suggest to give 2 wifi passwords per family
Jun 24, 2020
Nice to get back to camping, park was great to get back to.
Jun 24, 2020
A very clean, very well camp site. We enjoyed it very much!
Jun 23, 2020
Easy check in with safety measures. Nice pull through site. We were very happy that the pool was open (again with safety measures in place) especially with the high temperatures. Very peaceful experience and found the staff to be super friendly and welcoming. Will definitely be back!
Jun 22, 2020
It was very pricey for a 10 hour stay. When you roll in late (10pm) and leave early there should be a discounted rate.
Jul 20, 2021
You will not be disappointed with this campground. It is one of the best KOA's I've ever stayed at. Everything was clean and well taken care of and staff were ready to assist with anything when needed. The sites are all great and we didn't see a bad site at the park. The sites and campground in general were very well maintained and everyone was friendly and respectful. There were plenty of activities (movies, swimming, mini golf, jumping pad, etc.) and even a dog park. The park is located right on the K&P trail as well so there's plenty to see and do right from the park. Hands down the best KOA I've ever stayed at!
- Kelly Berry on Google
Jul 19, 2021
This campground was amazing, very clean and beautifully landscaped. Stayed in the deluxe cabin and it was fabulous. We will def be back next year and we will be staying for a week
- stephanie burns on Google
Jul 17, 2021
It is a well laid out RV Park kept clean. A good base to visit Kingston by.
- Al on Google