Directions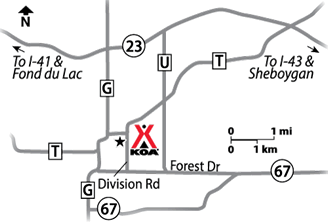 From I-41 go east on Hwy 23. In approximately 16 miles turn right onto County Rd G. Take a left on County Rd T. Turn right on Division Rd. Campground is located at the top of the hill.
From I-43 go west on Hwy 23. Approximately 19 miles turn left onto County Rd U. Turn right on County Rd T. 1.5 miles go straight on Division Rd. Campground is located at the top of the hill.
Get Google Directions
Sep 09, 2020
Perfect spot for a few nights away with the grand kids. We were there during the week so it wasn't very busy. Friend staff!
Sep 08, 2020
WE HAD A GREAT TIME. PARK WAS CLEAN AND THE DJ WAS LOTS OF FUN.
Sep 08, 2020
Way to many permanent campers and we listened to road noise all night
Sep 08, 2020
All perfect, we love your place
Sep 01, 2020
The staff is great, the pools are fantastic. It's so relaxing there amongst the kettle moraine landscape. Would be nice to revive the outdoor movie and set it up in the large center space behind the pools and away from the forest. Also, add a new projector. All in all it's a great place to take your family.
Aug 31, 2020
Great. Very nice place
Aug 31, 2020
We had 2 sites - a RV site and cabin. The RV site was a little closer to our neighbors than we would have liked, but was ok. The cabin's hot water didn't work (even after contacting management), but we were able to get a discount on our stay because of that. The atmosphere and amenities of the campground were very good and we did have a fun-filled weekend!
Aug 31, 2020
The stay was nice. The sites are a little small. The dump station is not convenient for long travel trailers, nor are some of the narrow roads (especially when seasonals block off their grass with stakes). I would like to return but the rates are a little steep for a family of 4.
Aug 31, 2020
Very well kept campgrounds, it's a very nice place to get away and relax!!
Aug 31, 2020
Site 88A is a very small site to put a 28 foot camper on. We do not have a slide out, yet still too small of a site. Our awning would be almost touching the camper on site 89. We switched to site 88, which was better, but still a small site. Campground does not have very many full hook up sites.
Aug 31, 2020
Very nice park and office staff. Lots of things for younger and teenage kids to do. I would recommend making your reservation direct as they know the sites much better than the 800# people do!
Aug 28, 2020
When i called to reserve a site for 2 nights, i asked if there was a pickleball court, her reply was, "I'm not sure, but we have a tennis court". I asked if we could get a site with full hockups, or at least water/electricity. She was very hesitant. I got the impression they were full. She then said, "yes, we have one with full hock ups". When we arrived there were 3 girls behind the desk,
Aug 27, 2020
This KOA was wonderful! The amenities were endless I especially enjoyed the toddler pool. The bathrooms were nice and clean. The activities were great it was so fun dancing the night away to the DJ the basketball court. It was so cool seeing the set up of the seasonal sites, there were some very impressive yards and decks. I look forward to staying at this campground again.
Aug 26, 2020
We just needed a site for an overnight stay. Initially they had us in back in a spot our motor home would not fit in so we drove around and found a level spot in front where mostly full time campers were. Office staff was pleasant when changing our reservation, they just didn't have a clue about campsites. Campers were packed into small spots, party atmosphere, just not our type of camping.
Aug 25, 2020
Very nice campground! Excellent sites! We had a great time! Thanks again!
Aug 25, 2020
Would definitely camp here again. Very clean and site was easy to back camper into. The People were very nice and friendly.
Aug 25, 2020
Awesome. Very nice place. Could walk around for exercise and close to pools and other activities. Enjoyed it very much.
Aug 25, 2020
everything was great just needed a little more direction when we got there it seemed like the one ways were tight . also the power didnt work in the new boxes and the old power kept shutting off all stuff i know you are working on the place was great and clean we will be back !!!
Aug 25, 2020
Crowded camping areas. New power poles so we only had working power 1/2 the time mostly at night. Luckily it was only 85 degrees out. No comps for that inconvenience for 3 days. Pools are nice.
Aug 25, 2020
Only thing that I missed was a schedule of activities.
Aug 25, 2020
The campground is really nice way to many seasonal people, golf carts with kids riding all hours of the night
Aug 25, 2020
Very loud at night with the music until 10 pm when you have two babies.
Aug 24, 2020
Very nice- we had a great time- the site we were in was nice.
Aug 23, 2020
I could not make it. Travel restrictions to/from Chicago prevented my visit. I sent an email to cancel on the 12th, I guess it was never received. :( I would love to go there for our next anniversary! We had planned to be there for our 30th.
Aug 22, 2020
This is a really nice, open well managed campground in a beautiful setting.
Aug 20, 2020
Too many people coming through our site. Even had adults on a golf cart come through our site. The pools were very crowded. Store closed too early (4 pm) on Sunday. The atmosphere was not at all like a typical KOA. Very disappointed
Aug 20, 2020
for drive thru sites the road is marked the wrong way... everyone had trouble getting in till some one told them to back around and come in the wrong way as marked on the road. pot hole on top of hill on side of road - thought my toy hauler was going to tip over !!! nice area and pools. didn't find out events happening till sunday when another camper told us and how to obtain the information.
Aug 20, 2020
The place and the amenities are exceptional but the power service needs to be upgraded.i hardly got any "juice" into my RV but I hear that upgrades are coming. I do still recommend this hide away with wonderful silence no freeway noise!
Aug 19, 2020
The stay was nice but we were like sardines in our area. no privacy people on all sides parking was very hard to do. Need to make bigger areas for the non-permanent sites. People were friendly.
Aug 19, 2020
Very fun campground. Some sites are very small We will definitely camp here again.
Aug 19, 2020
Our family always have loved staying here. Will be coming back for sure. Start to rent golf carts for the non seasonal. This would have been great choose if available.
Aug 19, 2020
Nice clean campground for the most part. Recycling bins were overflowing not a good site. Also front desk needs to know more about the sites
Aug 19, 2020
We had a great time people were very friendly and the place was very clean highly recomended. Would come back again thanks keep up the good work.
Aug 18, 2020
Management was very efficient in making sure we had a great campsite! Very friendly and attentive. Would have been nice to have cable for the TV though.
Aug 14, 2020
The sites for weekend campers are too close. If I choose a site one year ahead and reserve, I don't expect to be moved to another site because of some group. My husband is disabled, and we choose our site to be close to friends who have a seasonal site. I was told they do not guarantee site, only type of site. We were moved one year and we demanded refund and left.
Aug 14, 2020
Not up to KOA standards No escort to Site No trash pickup a Site No Cable TV But charge the price of other KOA parks that have what I call a full service Park We enjoy KOA parks but not this also very hard to find do to road construction!! Will not stay here again!!!