Directions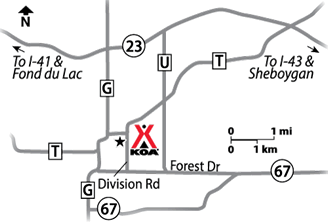 From I-41 go east on Hwy 23. In approximately 16 miles turn right onto County Rd G. Take a left on County Rd T. Turn right on Division Rd. Campground is located at the top of the hill.
From I-43 go west on Hwy 23. Approximately 19 miles turn left onto County Rd U. Turn right on County Rd T. 1.5 miles go straight on Division Rd. Campground is located at the top of the hill.
Get Google Directions
Jan 13, 2021
Great location, facilities and staff.
Jan 12, 2021
Have a seasonal site . Truly enjoy our time there. Pools are always clean as well as the campground.
Oct 14, 2020
close to playground, volleyball & lodge which was super handy. Totally stay here again IF we come with young nephew. If we were without kids, not have enjoyed the location as much. NUMBERING SIGNAGE IS POOR! Visitors had to drive around & around & ask campers where the 90s were. SIGNAGE for the hiking trail POOR! Need to RATE hike for guests on map.Washers state 45 miNS ONLY 28. Same with dryer
Oct 14, 2020
site 47 was a very nice site next to the woods, you should have more sites like that. Camp fire wood was alittle pricey.
Oct 13, 2020
Last beautiful fall weekend to discover this campground. What a great place for families and kids. I would recommend this facility and will return next year.
Oct 06, 2020
It was our first time at this campground, we will be back again for sure! On the Saturday we were there it basically rained all day but because they have crafts and other activities it was very easy to keep the kids busy. A great atmosphere in a great setting, we will be back again.
Oct 06, 2020
We were very impressed with this campground! Very clean and kept up nice. We were quite close to each other which we expected because we were in a pull throught site and yet every camper was respectful about noise and friendly. The dog park is impecible! We enjoyed our stay so much. Cannot wait to come back and utilize the pools! This campground is beautiful.
Oct 05, 2020
Nice campground. This one has a lot of long term campers and everyone has a golf cart. We felt a little on display with our site in the middle of everything. All day and night golf carts are whipping around the circle. Overall people were friendly and low key. We had a nice time but next time would ask for a more secluded site.
Oct 05, 2020
Stayed in an area of Campground that is 2/3 seasonaland 1/3 nightly. Large flat site, easy ro park and set-up our camper. Store was EMPTY compared to other years, but otherwise a nice weekend.
Oct 05, 2020
The WiFi wasn't able to be accessed from multiple devices and trying different connection points.
Oct 03, 2020
We had a great time at the campground we had a great site, the staff was very helpful we even made reservations for next year for a weeklong stay in June. The restrooms and showers where clean I would recommend this Campground to anyone looking for a great camping experience. They have alot of walking trails and alot of area to rome around. We can not wait for next June so we can enjoy the swimmin
Oct 01, 2020
Nice clean and big spaces cant wait to see how fun it is after the covid scam is over and all the facilities are open.
Oct 01, 2020
Being end of season and COVID-19, items to rate were limited. But the check-in process was great, bathrooms were nice and clean and we had a very pleasant stay. :)
Sep 30, 2020
It was great time. Very relaxing.
Sep 29, 2020
Very nice, secluded campground-beautiful area! Mostly seasonal, but there are just enough overnight weekend sites to go around. I already recommended this KOA to my sister-in-law.
Sep 28, 2020
Everything from checkin to cleanliness to efficiency of staff to communications and postings (pandemic times) ....first class! Thanks for a wonderful RV/camping experience! Can I also say that your RVers, campers, customers reflect your operation - friendly, considerate, helpful, fun!
Sep 28, 2020
Friendly , clean well kept park would stay again
Sep 24, 2020
Love the campground but not happy with the COVID-19 precautions that were taken. No rules enforced or taken.
Sep 23, 2020
I found it funny that the bar was closed due to Covid, and the placement of the DJ had to change to maintain distancing... but the arcade was wide open. ���‍���
Sep 23, 2020
Nice level, quiet, private spot!
Sep 22, 2020
Stay was great. and no rain
Sep 22, 2020
Bathrooms could closer.could put one in by site 114 and 218
Sep 22, 2020
The water hook up for our spot is poorly placed. I had to go under the neighbors camper. Thank goodness there was a friendly neighbor to borrow me an extra hose
Sep 22, 2020
Could have had more full hook up sites. More than 1 dump station. The line Sunday to dump was 45 minutes or more. Most of the full hook up sites are seasonals
Sep 21, 2020
When we arrived at 4:30 pm, the office was closed for the day; there was no information packet for us. We called but there was no answer. We then drove around the campgrounds trying to find someone that could help us. We finally discovered a house that was the home of the manager. The restrooms were in horrible condition. One toilet stall had a hole in the wall, approx 3' x 3'.
Sep 18, 2020
Fantastic park. Great people
Sep 17, 2020
Some sites were extremely small and hard to navigate with a travel trailer. Most guests were extremely friendly, however the campsite next to us had people screaming at each other using very colorful language till early morning hours. No one ever came to quiet them down and we had young children with us that we had to put inside our camper so that they didn't learn some new choice words.
Sep 16, 2020
It was a great stay. The only complaint is the mud puddle outside our camper. It was a rainy weekend- it would have been nice to have some covering like mulch over the area. Staff was very nice- as are the amenities .
Sep 16, 2020
Very nice campground, fun to have the Halloween trick or treating but wish we could use the golf cart again after it was over...nobody was walking anymore, it was raining and the campground is huge.
Sep 15, 2020
The site was small for the price we paid. And I feel with all the money you make perhaps you should invest in more bathrooms spread out throughout the grounds. It's far too big and quite the walking distance to get to the main building where restrooms are available. However, the pools are nice (but didn't get to use them) but plenty to do there for recreation. Entertainment on Saturday wa nice.
Sep 15, 2020
It did not meet KOA standards. They have to many seasonal for a KOA campground. Granted it was Halloween weekend so they had campers on top of each other so tight to each other, we could hear everything....disturbing. The seanonals were drunk and rudely. Example, we wanted to know were the dump station was and they just stood in the way in the road....trick and treat was over, they were drunk .
Sep 11, 2020
Our side was nice, comfortable. The bathrooms needs some updating, counter tops, hooks in shower stalls. We noticed that your activites were very limited during the week. Surprised that there was a charge for mini golf, which should be included. Not many activites noted for children or adults with an up coming labor day weekend. Very limited open camping sites.
Sep 10, 2020
Just enjoyed my stay at the campground very friendly staff lots to do
Sep 10, 2020
Stay was very nice but toilets are too far away especially after you got rid of the outhouses!!! Also lots of ruts at our campsite tripped and fell in one!
Sep 10, 2020
Our favorite place to go. Site are nice size, friendly staff lots to do
Sep 10, 2020
Tight spaces to get in. Not much room between camp sites and mostly filled with seasonal people. In fact, when I pulled in the next door seasonal had their picnic table set up in my spot and was hooked up to my water line. They did have a great dj one night.