Directions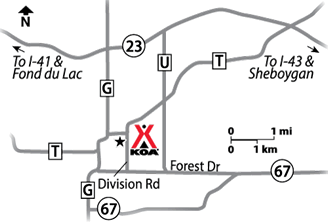 From I-41 go east on Hwy 23. In approximately 16 miles turn right onto County Rd G. Take a left on County Rd T. Turn right on Division Rd. Campground is located at the top of the hill.
From I-43 go west on Hwy 23. Approximately 19 miles turn left onto County Rd U. Turn right on County Rd T. 1.5 miles go straight on Division Rd. Campground is located at the top of the hill.
Get Google Directions
Jul 09, 2020
I love staying at this KOA, because it is close to home. We always know alot of people that are seasonal and weekenders. The rustic cabin though this year had a mouse nest in the cabinet. The girls that work there took care of the nest right away, but even though we put stuff over the floor vents they would come in at night.
Jul 07, 2020
Screen door dragged on the floor, had to lift it up to go in/out. Other than that it was great!
Jul 06, 2020
We enjoyed our stay but thought it was absurd that you charged us an extra $24 for our daughter. Just because she is 20. That is ridiculous. The cabin slept 8 and there was only three of us. She is our daughter and we should not be charged.
Jul 06, 2020
It was a very comfortable stay in the classic cabin. We stayed on a Tuesday and Wednesday. I was just a little disappointed that the activities such as the saloon, snack shop, and movies wouldn't be open until the weekend. Otherwise, a very nice camp ground.
Jul 06, 2020
Wasn't very happy that a picnic table wasn't at our site as was told it would be there when asked about it when we drove to campground to look at our cabin a week before. Camp fire ring was placed in the back of campsite and was surrounded by weeds and poison sumac and we had to use our own weed Wacker to cut down. Way to many people and didn't do much because of the large amount of people!
Jul 02, 2020
We love how clean the cabins are, and the pools are wonderful. Such a great place!
Jul 02, 2020
Clean, safe campground. Easy to social distance but still participate in activities. Would camp here again!
Jun 24, 2020
Annual family reunion. Despite the rain, we had (another) great weekend at "Westward Ho!"
Jun 22, 2020
I stayed in a cabin and the air conditioner didnt work they cinally got someone to check it and was pouring rain so they could not fix it and no one from the campgroumd came over to talk to us about it or offer anyrhing to not make it so hot in the cabin
Jun 16, 2020
We've been going to this campground for over 20 years. The campground is always very clean and has lots of activities for everyone to enjoy. We love having the pools available, too! The staff is also very helpful.
Jun 16, 2020
We stayed in a deluxe cabin. It was very clean and roomy. The people who have seasonal campsites are all very welcoming and friendly.
Jun 16, 2020
The deluxe cabin was nice. The wood I ordered was very wet, and was very hard to burn. I ended up having to use dry wood from a gas station in order to burn it. That was very disappointing. I was also disappointed to see that there was a charge for the Wifi?? This was new to me staying at a KOA and paying more than I would at a decent hotel. Cleaning before check out was required?
Jun 15, 2020
Very nice place to stay beautiful campground
Jun 12, 2020
Enjoyed our Yearly stay as usual. Glad to see they took precautions for covid but didn't let it define them
Jun 08, 2020
We had a great time relaxing with friends. Love all of the options for kids.