Directions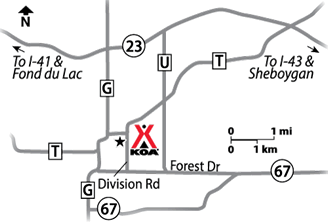 From I-41 go east on Hwy 23. In approximately 16 miles turn right onto County Rd G. Take a left on County Rd T. Turn right on Division Rd. Campground is located at the top of the hill.
From I-43 go west on Hwy 23. Approximately 19 miles turn left onto County Rd U. Turn right on County Rd T. 1.5 miles go straight on Division Rd. Campground is located at the top of the hill.
Get Google Directions
Jun 25, 2020
My family and I enjoyed our stay, in particular the pool experience. Kids had a great time. The only disappointing thing we experienced was the fact that we were looking forward to those root beer float drinks and they didn't have the ingredients. If that is the only thing that was disappointing then I think you guys did a fantastic job.
Jun 25, 2020
Sites were very limited and small. Very tight and close to other RV. Seemed like a lot of partying going on- not very family friendly. Dump site was difficult to navigate. Mostly seasonal folks staying here. Camp store was super small and limited.
Jun 24, 2020
Annual family reunion. Despite the rain, we had (another) great weekend at "Westward Ho!"
Jun 23, 2020
Pools were not cleaned for 7 days, garbages constantly overflowing with trash, kids activities were late and poorly run, no entertainment even though listed on itinerary.
Jun 22, 2020
Very much enjoyed our stay and hope to be back soon!
Jun 22, 2020
I stayed in a cabin and the air conditioner didnt work they cinally got someone to check it and was pouring rain so they could not fix it and no one from the campgroumd came over to talk to us about it or offer anyrhing to not make it so hot in the cabin
Jun 20, 2020
ITs a very friendly place to stay I do wish the bathrooms was cleaned at least once a day with the pandemic
Jun 19, 2020
dumping station very hard to do not enuff clearing for a 31 ft trailer store not stocked grass long very clean
Jun 17, 2020
Tiffany was very attentive to finding us a site for our Rv. The grounds were clean and the pool was heaven. Thank you for having it a comfortable temperature. I will be recommending you to all my friends as a must stay over summer/fall. Thank you for the great facility. All the kids were in heaven running around in the fresh open air.
Jun 16, 2020
We've been going to this campground for over 20 years. The campground is always very clean and has lots of activities for everyone to enjoy. We love having the pools available, too! The staff is also very helpful.
Jun 16, 2020
Clean and friendly staff
Jun 16, 2020
Need to curb some of drunk permanent folks and make this a family campground. Saturday morning a vehicle on site 77 stopped in front of my son's rockets that landed on the road then proceeded to drive over it crushing it. Breaking his heart no cares from site 77. Saturday night the county sheriff's office made an appearance for drunk female.
Jun 16, 2020
We stayed in a deluxe cabin. It was very clean and roomy. The people who have seasonal campsites are all very welcoming and friendly.
Jun 16, 2020
2 issues. You could call me to find out more if interested. My cell # is 414.617.5108
Jun 16, 2020
The deluxe cabin was nice. The wood I ordered was very wet, and was very hard to burn. I ended up having to use dry wood from a gas station in order to burn it. That was very disappointing. I was also disappointed to see that there was a charge for the Wifi?? This was new to me staying at a KOA and paying more than I would at a decent hotel. Cleaning before check out was required?
Jun 16, 2020
It was a continuous parade of go-carts, blaring their music. This was not a peaceful, quiet and relaxing hideaway. Very few nice spots to camp.... mostly residents. Large and multiple areas for kids to play. Overall, unless we can book the few nice spots under tree cover, we won't be back.
Jun 15, 2020
Very nice place to stay beautiful campground
Jun 12, 2020
Enjoyed our Yearly stay as usual. Glad to see they took precautions for covid but didn't let it define them
Jun 08, 2020
We had a great time relaxing with friends. Love all of the options for kids.
Jun 06, 2020
Well the playground was roped off, swimming pool was closed, grass at campsites was very very long, the recycling guy from waste management drove through the campground like a crazy guy. If kids would have been on a bike they would have gotten hit or killed not safe at all.