Directions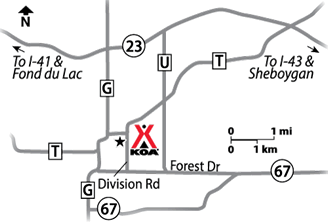 From I-41 go east on Hwy 23. In approximately 16 miles turn right onto County Rd G. Take a left on County Rd T. Turn right on Division Rd. Campground is located at the top of the hill.
From I-43 go west on Hwy 23. Approximately 19 miles turn left onto County Rd U. Turn right on County Rd T. 1.5 miles go straight on Division Rd. Campground is located at the top of the hill.
Get Google Directions
Jul 15, 2020
There was used baby wipes with poop in handicap stall with, from Friday afternoon until Sunday morning. That means bathrooms were not cleaned at all during a pandemic. My autistic son refused many times to use bathroom. Shamfull.
Jul 15, 2020
Pools were clean, but not deep enough for the kids to dive in. Originally, we saw on a map, an area for fishing, but not on the map the park gives out. When i asked about it, they said they kind of had one. Its pretty much a hidden, oversized puddle so no fishing. I hope it was just our site, but it is the most unlevel site we have ever had! They use big rocks, not the smaller leveling kind.
Jul 13, 2020
Great fun BUT we have been staying in the same cabin (63) for 3 years and things that were broken/run down years ago, are still broken/run down. For example the shower head barely squirts water out, the floor is coming up in the kitchen, the vent to the outside of the cabin is clogged with gross stuff and the screen door does not close. With the cost of the cabins, better up keep would be nice.
Jul 13, 2020
Everything was great, except total absence of attempts to social distance (occupancy limits, etc) in pool areas.
Jul 13, 2020
We rented a deluxe cabin. It was very clean and the perfect size for our family. The campground was clean and well maintained.
Jul 12, 2020
Pools are nice camping spots are ok. Our spot had the septic uphill so we had to go to the dump station to dump. That was an inconvenience.
Jul 11, 2020
Really enjoy this campground. Only thing I didn't care for was a security guy asked us to quite done. We had no music on we're only talking and not loudly. but 3 sights over had a big speaker out with loud music and they were all singing loudly. Security drove right past them. We make several trips a year to this location. Seasonal campers make you feel welcomed also. We have made friends
Jul 09, 2020
I love staying at this KOA, because it is close to home. We always know alot of people that are seasonal and weekenders. The rustic cabin though this year had a mouse nest in the cabinet. The girls that work there took care of the nest right away, but even though we put stuff over the floor vents they would come in at night.
Jul 09, 2020
Great place to camp. Everyone is super friendly!
Jul 09, 2020
It was fine. We were put in an area of "permanent" campers and they did not seem very welcoming at all. They made rude comments all weekend long about us being there
Jul 09, 2020
It was more expensive than most around here with not as many amenities. I was told a specific site that would have been by our group of friends. Then was moved away without being told. Then was told in a snotty way, "you are guaranteed a site, not a specific site." Pools were overloaded, no crowd control at all with social distancing going on.
Jul 08, 2020
Renting a camp site with sewer and the connection on top of a hill behind the unit. Price of $ 75.00 per night . 1 dump station for the whole campground. Only 2 public toilets for whole campground. Question Wisc. Health Dept. Regs. No one available at night for issues.
Jul 08, 2020
Stayed in a full hook up site, extremely small camp sites, you were on top of your neighbors with a small hill that also cut into the site. 4th of July was on a Saturday so why not have music on Friday and Saturday instead of Saturday and Sunday
Jul 08, 2020
The Campground was a great place to relax and unwind. The paved roads and multiple playgrounds were great for my kids to ride their bikes. The campground and bathrooms were very clean throughout our whole stay! Very impressed and already booked for next year.
Jul 08, 2020
Two big downfalls, otherwise a great stay. 1) Golf carts everywhere, no speed limit or sober driving enforced 2) Our water/electric site was essentially only electric. Our water hookup was on the opp side of our neighbors site. It had nothing to do with how they/we parked, But where the water hookup was located. We needed 20+ feet of hose to run get thru their site & under their camper.
Jul 07, 2020
Screen door dragged on the floor, had to lift it up to go in/out. Other than that it was great!
Jul 07, 2020
Although it was great to spend time with friends and family, there is absolutely no privacy! Campers and tents are piled in! Tenting was difficult since a big tent don't fit on the spot meant for them and The ground is too hard to put the stakes in. There was however lots of entertainment lots of fun to be had!
Jul 07, 2020
Scary, no social distancing pools were packed. We left early because we were so uncomfortable
Jul 06, 2020
We enjoyed our stay but thought it was absurd that you charged us an extra $24 for our daughter. Just because she is 20. That is ridiculous. The cabin slept 8 and there was only three of us. She is our daughter and we should not be charged.
Jul 06, 2020
It was a very comfortable stay in the classic cabin. We stayed on a Tuesday and Wednesday. I was just a little disappointed that the activities such as the saloon, snack shop, and movies wouldn't be open until the weekend. Otherwise, a very nice camp ground.
Jul 06, 2020
Wasn't very happy that a picnic table wasn't at our site as was told it would be there when asked about it when we drove to campground to look at our cabin a week before. Camp fire ring was placed in the back of campsite and was surrounded by weeds and poison sumac and we had to use our own weed Wacker to cut down. Way to many people and didn't do much because of the large amount of people!
Jul 06, 2020
It was very enjoyable. We liked the pool, shuffle board and mini golf. The sites were a little small and close together, this, the rating of 4 rather than 5. I was surprised at how quiet it was at night. People were very respectful of each other's privacy. Very nice and we'll be back
Jul 04, 2020
The Good & Bad: Good: lots of amenities! 3 pools, b-ball/vball court, arcade, saloon, lots of places to ride bikes Bad: seems geared toward seasonal (long term) campers; overnight spot not good. 32ft class c; used 4 blocks in front of camper to TRY & level - still wasn't enough. Gravel & no shade. Couldnt use dump at site, it was behind camper, up hill. Refunded $9.00 since no dump
Jul 02, 2020
We love how clean the cabins are, and the pools are wonderful. Such a great place!
Jul 02, 2020
I booked 3 sites.Our site was long enough for our 40ft but the sewer hookup was uphill.Made it very difficult for emptying our tanks. My daughters site was not long enough for her 40ft,was difficult for them to back into because there was a huge tree right in front of their site.They couldnt use the sewer hookup and couldn't put their rear jacks down their fire pit was under their awning����
Jul 02, 2020
Campground was very clean. Girls in the office were not very friendly. But other than that, it was a great stay.
Jul 02, 2020
There was little respect for the COVID19 Pandemic. We did not see any social distancing amongst camper, no monitoring of the pools, no one wiping gate latches, multiple households at same units or sites. Very disappointed to the disregard of a pandemic going on & no one implanting protocols.
Jul 02, 2020
Clean, safe campground. Easy to social distance but still participate in activities. Would camp here again!
Jul 02, 2020
Clean, well maintained and friendly staff. Lots of permanent campers. Small sites (water/electric) only. Party vibe which is not great for young families.
Jul 02, 2020
Seasonal RC neighbors were loud and drunk after hours. patrol Remained permissive of this (after midnight) . Only got serious when I loudly objected. You should not be renting tent camp spots. This place is clearly set up for seasonal residents, not those who want to have a quiet night of camping, without listening to loud music and drunken foul language at 1am. Pool is nice....
Jul 02, 2020
I was impressed by how clean everything was, but disappointed that there was no check-in at the gate. Anyone could come and go. I no longer felt comfortable letting my kids go on their own.
Jul 02, 2020
The staff is so amazing! So willing to help and accommodate.
Jul 02, 2020
we had site 24 and was not the most pleased with the size and no electricity, great campground though
Jul 02, 2020
The spot they put us on was nothing like the pictures online, if they would of said you will be down in a gully on gravel, right behind the mini gulf, I would said no thanks.
Jun 27, 2020
It's very upsetting to us that after 5 or 6 years of holding our family reunion there, we find that a member of our group was moved from the site they reserved LAST YEAR To a site across the park. When we come, we rent all of the deluxe cabins, a couple of cottages, and several sites for trailers. This is unacceptable treatment of loyal customers.
Jun 26, 2020
The roads are extremely narrow and hard for trailers and motorhomes that are longer than 25 feet.
Jun 25, 2020
Had a great time, lots of good sites to pick from
Jun 25, 2020
The campground is very nice with a lot of amenities, but if you don't have a sewer site you could be waiting in line to dump for hours. There are a large number of sites and one inconvenient dump station.
Jun 25, 2020
We have been staying here on Father's Day weekend for years. I do suggest that you allow campers to book out to that same weekend a year if they'd like to do so. They were only able to put us on a list and now we're worried we won't get our sites. This is a BONUS at others sites and keeps us going back. Also this campground could us a hot tub, swim area for adults and another dump station.
Jun 25, 2020
Everything was clean and the staff was very nice.
Jun 25, 2020
I have been going to this Campground for over 25 years (many) owners. I still have the same issues with sites not being level and mostly the sewer connections are to far from the sites and way too high the the price of a premium site.