Directions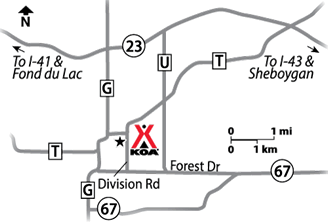 From I-41 go east on Hwy 23. In approximately 16 miles turn right onto County Rd G. Take a left on County Rd T. Turn right on Division Rd. Campground is located at the top of the hill.
From I-43 go west on Hwy 23. Approximately 19 miles turn left onto County Rd U. Turn right on County Rd T. 1.5 miles go straight on Division Rd. Campground is located at the top of the hill.
Get Google Directions
Aug 22, 2020
This is a really nice, open well managed campground in a beautiful setting.
Aug 20, 2020
Too many people coming through our site. Even had adults on a golf cart come through our site. The pools were very crowded. Store closed too early (4 pm) on Sunday. The atmosphere was not at all like a typical KOA. Very disappointed
Aug 20, 2020
for drive thru sites the road is marked the wrong way... everyone had trouble getting in till some one told them to back around and come in the wrong way as marked on the road. pot hole on top of hill on side of road - thought my toy hauler was going to tip over !!! nice area and pools. didn't find out events happening till sunday when another camper told us and how to obtain the information.
Aug 20, 2020
The place and the amenities are exceptional but the power service needs to be upgraded.i hardly got any "juice" into my RV but I hear that upgrades are coming. I do still recommend this hide away with wonderful silence no freeway noise!
Aug 19, 2020
We had a great time. The rentals are really nice except the screen doors need some work. Tiffany is a great help for anything. We'll be back next year.
Aug 19, 2020
The stay was nice but we were like sardines in our area. no privacy people on all sides parking was very hard to do. Need to make bigger areas for the non-permanent sites. People were friendly.
Aug 19, 2020
Very fun campground. Some sites are very small We will definitely camp here again.
Aug 19, 2020
Our family always have loved staying here. Will be coming back for sure. Start to rent golf carts for the non seasonal. This would have been great choose if available.
Aug 19, 2020
Nice clean campground for the most part. Recycling bins were overflowing not a good site. Also front desk needs to know more about the sites
Aug 19, 2020
We had a great time people were very friendly and the place was very clean highly recomended. Would come back again thanks keep up the good work.
Aug 18, 2020
Management was very efficient in making sure we had a great campsite! Very friendly and attentive. Would have been nice to have cable for the TV though.
Aug 17, 2020
The cabin was very nice and clean. The staff was very courteous and willing to assist with any issues.
Aug 17, 2020
Good but Cabin was a little messy, shower would not drain, bed was hard as a rock with springs digging into you.
Aug 15, 2020
We ALWAYS enjoy our stay! Everyone is so friendly and the layout of the grounds is great. It's such a peaceful time spent every time!
Aug 14, 2020
The sites for weekend campers are too close. If I choose a site one year ahead and reserve, I don't expect to be moved to another site because of some group. My husband is disabled, and we choose our site to be close to friends who have a seasonal site. I was told they do not guarantee site, only type of site. We were moved one year and we demanded refund and left.
Aug 14, 2020
Not up to KOA standards No escort to Site No trash pickup a Site No Cable TV But charge the price of other KOA parks that have what I call a full service Park We enjoy KOA parks but not this also very hard to find do to road construction!! Will not stay here again!!!
Aug 12, 2020
Had a great time with friends and family. Total of 4 sites and 1 cabin. Plans for next yer are on. Same place same time!
Aug 12, 2020
I have been going to this campground for over 18 years and it has never been this dirty before. Over a 7 day stay the bathrooms got cleaned ONCE? The bathroom closest to us had one toilet that was plugged for 3 days and no staff noticed. Very disappointed. One of us went to the front desk to let them know the toilet paper was gone and it took 20 hours to get refilled. Used to be cleaned every day
Aug 12, 2020
We always have a good time at the campground.Trees could be trimmed for big rigs to maneuver through the park without scraping the sides & top.The dump station is not accessible to big rigs. We have a 40ft 5th wheel and are not able to make the hairpin turn to use it. The last 3 times we drove home without emptying our tanks. Wish the dump station could be moved to the open area exiting the park.
Aug 12, 2020
Had a good time. Campsite a little narrow and the pull through site we had was uphill making it difficult to level. More pull through options would be great.
Aug 12, 2020
The cabins are great but they definitely need a toaster in them!!
Aug 12, 2020
Excellent place to stay, swim, listen to live bands, and hang out with family and friends!
Aug 12, 2020
We liked it so much we bought a campsite/camper!!!
Aug 12, 2020
The staff was friendly but not very informative. I have a large family and try to camp as cheap as I can so I go during the week. It's very disappointing when nothing is open during the week. Camping is only 6 months out of the year but you don't offer all the amenities during the week which really sucks.
Aug 12, 2020
Was nice at first. First night, in cabin, we kept hearing something, figured it was the outdoors. We didn't get much sleep at all. Next night was worse, we found out it was mice that had gotten in through a hole and into our food. We went to tell them and check out but no one was there. So I wrote them what happened and left my info expecting to be contacted. They never contacted me. Won't go
Aug 12, 2020
Hi, Had a great time, Front desk staff very helpful. Only two complaints: first one most important; it was IMPOSSIBLE to get through on the phone lines with questions. Got some woman in Michigan who said she gets 3,000 calls a day. She must be with that Sun resorts thing you're hooked uo with. Second, you should devote one pool for adults only. But I'd come back, thank you!
Aug 10, 2020
hope to be back again soon
Aug 10, 2020
Cabin was fantastic! However. I understand with lack of staffing there were no activities for kids during the day, no food shack during the week and I noticed no flowers planted around the grounds. It seems like some things couldn't get done and that was disappointing.
Aug 07, 2020
The cabin itself was nice but really over priced and could have been cleaner. Under the beds were really dirty and the ceiling fans were pretty gross.
Aug 06, 2020
Nice place, helpful employees,
Aug 06, 2020
Very clean with lots of activities for the kids. Quiet and friendly campers! Loved our stay!
Aug 05, 2020
Deluxe Cabin was great, slow drain for shower which leaves soap scum ring around the tub. Neighbors were friendly, staff was friendly. Cabin was clean @ check in. Pool was open, fun, fun time .