Directions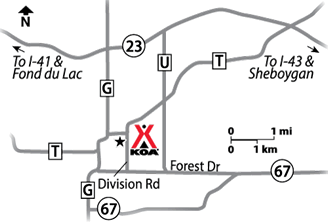 From I-41 go east on Hwy 23. In approximately 16 miles turn right onto County Rd G. Take a left on County Rd T. Turn right on Division Rd. Campground is located at the top of the hill.
From I-43 go west on Hwy 23. Approximately 19 miles turn left onto County Rd U. Turn right on County Rd T. 1.5 miles go straight on Division Rd. Campground is located at the top of the hill.
Get Google Directions
Sep 16, 2020
Cabin rate for 2020 was $320 with tax. Booked for 2021 and the rate increased by $118.00 to $438. Big hike up. Cabin was really beat up. On the outside their was a big wasp nest right where we should be sitting on the deck. Also a wasp nest in the soffit and facia near the deck. Wasps everywhere. Bathroom smelled like pee. Needed to clean septic. Bed mattress wore out. Time to look elsewhere.
Sep 16, 2020
It was a great stay. The only complaint is the mud puddle outside our camper. It was a rainy weekend- it would have been nice to have some covering like mulch over the area. Staff was very nice- as are the amenities .
Sep 16, 2020
Very nice campground, fun to have the Halloween trick or treating but wish we could use the golf cart again after it was over...nobody was walking anymore, it was raining and the campground is huge.
Sep 15, 2020
The site was small for the price we paid. And I feel with all the money you make perhaps you should invest in more bathrooms spread out throughout the grounds. It's far too big and quite the walking distance to get to the main building where restrooms are available. However, the pools are nice (but didn't get to use them) but plenty to do there for recreation. Entertainment on Saturday wa nice.
Sep 15, 2020
It did not meet KOA standards. They have to many seasonal for a KOA campground. Granted it was Halloween weekend so they had campers on top of each other so tight to each other, we could hear everything....disturbing. The seanonals were drunk and rudely. Example, we wanted to know were the dump station was and they just stood in the way in the road....trick and treat was over, they were drunk .
Sep 11, 2020
Our side was nice, comfortable. The bathrooms needs some updating, counter tops, hooks in shower stalls. We noticed that your activites were very limited during the week. Surprised that there was a charge for mini golf, which should be included. Not many activites noted for children or adults with an up coming labor day weekend. Very limited open camping sites.
Sep 10, 2020
Just enjoyed my stay at the campground very friendly staff lots to do
Sep 10, 2020
Stay was very nice but toilets are too far away especially after you got rid of the outhouses!!! Also lots of ruts at our campsite tripped and fell in one!
Sep 10, 2020
Our favorite place to go. Site are nice size, friendly staff lots to do
Sep 10, 2020
Tight spaces to get in. Not much room between camp sites and mostly filled with seasonal people. In fact, when I pulled in the next door seasonal had their picnic table set up in my spot and was hooked up to my water line. They did have a great dj one night.
Sep 09, 2020
Perfect spot for a few nights away with the grand kids. We were there during the week so it wasn't very busy. Friend staff!
Sep 08, 2020
Overall it was a great stay as usual. I saw some of the improvements that had been done, but was disappointed to see that there had been no updates to the cabins, which I was expecting.
Sep 08, 2020
Very nice campground. Very friendly staff and campers.
Sep 08, 2020
WE HAD A GREAT TIME. PARK WAS CLEAN AND THE DJ WAS LOTS OF FUN.
Sep 08, 2020
We love coming here every year! The cabins are amazing and our kids love the 3 pools. It has a great friendly and fun atmosphere and always makes us feel like we are on a mini vacation. We will be back next year!
Sep 08, 2020
Way to many permanent campers and we listened to road noise all night
Sep 08, 2020
All perfect, we love your place
Sep 01, 2020
The staff is great, the pools are fantastic. It's so relaxing there amongst the kettle moraine landscape. Would be nice to revive the outdoor movie and set it up in the large center space behind the pools and away from the forest. Also, add a new projector. All in all it's a great place to take your family.
Aug 31, 2020
Great. Very nice place
Aug 31, 2020
We had 2 sites - a RV site and cabin. The RV site was a little closer to our neighbors than we would have liked, but was ok. The cabin's hot water didn't work (even after contacting management), but we were able to get a discount on our stay because of that. The atmosphere and amenities of the campground were very good and we did have a fun-filled weekend!
Aug 31, 2020
The stay was nice. The sites are a little small. The dump station is not convenient for long travel trailers, nor are some of the narrow roads (especially when seasonals block off their grass with stakes). I would like to return but the rates are a little steep for a family of 4.
Aug 31, 2020
Very well kept campgrounds, it's a very nice place to get away and relax!!
Aug 31, 2020
Site 88A is a very small site to put a 28 foot camper on. We do not have a slide out, yet still too small of a site. Our awning would be almost touching the camper on site 89. We switched to site 88, which was better, but still a small site. Campground does not have very many full hook up sites.
Aug 31, 2020
Very nice park and office staff. Lots of things for younger and teenage kids to do. I would recommend making your reservation direct as they know the sites much better than the 800# people do!
Aug 28, 2020
When i called to reserve a site for 2 nights, i asked if there was a pickleball court, her reply was, "I'm not sure, but we have a tennis court". I asked if we could get a site with full hockups, or at least water/electricity. She was very hesitant. I got the impression they were full. She then said, "yes, we have one with full hock ups". When we arrived there were 3 girls behind the desk,
Aug 27, 2020
This KOA was wonderful! The amenities were endless I especially enjoyed the toddler pool. The bathrooms were nice and clean. The activities were great it was so fun dancing the night away to the DJ the basketball court. It was so cool seeing the set up of the seasonal sites, there were some very impressive yards and decks. I look forward to staying at this campground again.
Aug 26, 2020
We just needed a site for an overnight stay. Initially they had us in back in a spot our motor home would not fit in so we drove around and found a level spot in front where mostly full time campers were. Office staff was pleasant when changing our reservation, they just didn't have a clue about campsites. Campers were packed into small spots, party atmosphere, just not our type of camping.
Aug 25, 2020
Very nice campground! Excellent sites! We had a great time! Thanks again!
Aug 25, 2020
Would definitely camp here again. Very clean and site was easy to back camper into. The People were very nice and friendly.
Aug 25, 2020
Awesome. Very nice place. Could walk around for exercise and close to pools and other activities. Enjoyed it very much.
Aug 25, 2020
Had a great time. As good as someone can during this pandemic. I thought the employees were king and gracious as well as the Manager Tiffany. She replied immediately to an issue we had and handled it with care and professionalism. Definitely will be back!
Aug 25, 2020
everything was great just needed a little more direction when we got there it seemed like the one ways were tight . also the power didnt work in the new boxes and the old power kept shutting off all stuff i know you are working on the place was great and clean we will be back !!!
Aug 25, 2020
Crowded camping areas. New power poles so we only had working power 1/2 the time mostly at night. Luckily it was only 85 degrees out. No comps for that inconvenience for 3 days. Pools are nice.
Aug 25, 2020
Only thing that I missed was a schedule of activities.
Aug 25, 2020
The campground is really nice way to many seasonal people, golf carts with kids riding all hours of the night
Aug 25, 2020
Very loud at night with the music until 10 pm when you have two babies.
Aug 24, 2020
Very nice- we had a great time- the site we were in was nice.
Aug 23, 2020
I could not make it. Travel restrictions to/from Chicago prevented my visit. I sent an email to cancel on the 12th, I guess it was never received. :( I would love to go there for our next anniversary! We had planned to be there for our 30th.