Directions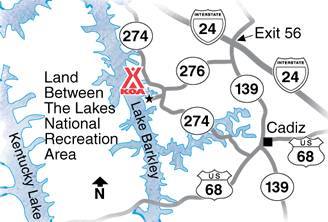 I-24 to Exit 56: Go south on 139 to 276 West (Second right, about 2 miles). Take 276 W to T and turn left on 274 (about 6 miles). Take 274 to Prizer Point Road (First right about 1/4 mile). KOA is about 1.3 miles on right.
Exit 56 is currently under construction.  Will need to come through Eddyville or Princeton. Princeton you Must use the truck route with Campers
Get Google Directions
Sep 14, 2021
The KOA camp was in a great area and the grounds were clean and well manicured. Staff was friendly. We had a couple issues with our cabin due to the fact they had just moved it. The front door was hard to close and lock and the toilet would not stop running. Some blinds had been broken from prior campers but staff had run out of replacements so could not change them. But we had a great time.
Sep 14, 2021
We loved the place but had some issues. The internet was too weak to connect in our cabin. I had to make my phone a "hot spot" to have internet because I needed it for work. Also, the swimming pools were filthy! Our 2 grandchildren both came down with strep throat on Tuesday after being in the pools on Saturday. The amount of time to check out a golf cart is way too long. Your people were great
Sep 13, 2021
Had a great time
Sep 13, 2021
We loved having full hook ups, but didn't care for being right on top of our neighbors. Beautiful campground and friendly staff. We could have done without all the kids running around on Golf carts after dark and blinding everyone with their headlights.
Sep 13, 2021
Great site. Well maintained. Everyone was very friendly.
Sep 13, 2021
Always Great to come back to Prizer Point!
Sep 13, 2021
We enjoyed the campground and the walking/exploring. Campground was very clean and quiet, peaceful atmosphere.
Sep 11, 2021
Week-maintained campground, friendly helpful staff, beautiful scenery and lots to do!!
Sep 11, 2021
Wonderfully kept pool. I would like to give a special shout out to Preston from Housekeeping. He works hard and was always willing to help out. Even in the restaurant he helped during one of his lunch breaks. We will be back.
Sep 10, 2021
We love it and the people that work there!
Sep 10, 2021
Great place to stay. The Staff is great! Ask for Jessie!
Sep 10, 2021
Great stay and everyone of the staff were very helpful.
Sep 09, 2021
The park is undergoing renovations and expansions to its camping areas. It will be an even greater place to stay once complete. The staff was polite and attentive, park was clean, boat rentals was affordable and operating smoothly. The restaurant was lacking personnel(most likely due to covid) and the food was less than good and very expensive. Amenities were kept up and clean. Great Family Stay!
Sep 09, 2021
We loved the tent camping site. All the amenities were great. Check-in was easy. Looking forward to a return trip.
Sep 09, 2021
Our site didn't have grassy areas for our dog. We were surrounded with freshly planted grass/straw that ended up being a muddy mess. No spacious areas to play corn hole. Everywhere we tried to walk, golf carts about ran us over (kids driving). Unorganized getting our pontoon rental. This was not a relaxing camping experience
Sep 08, 2021
Great experience, loved our pontoon boat out on the lake!
Sep 08, 2021
ONE OF OUR FAVORITE PLACES TO CAMP.
Sep 08, 2021
The area we was given was not what we was told. No new furniture. Huge dirt clots that turned into a muddy mess. Neighbors fire pit was right next to my parking spot. I had to move my truck every time they had a fire. Was told the spot was going to be concreted by then and wasn't. The new spots are to close together on top of each other.
Sep 08, 2021
Very disappointed at the very unlevel gravel site. Auto level on the event completely extended and still more than a foot out of level. When booking we inquired about site and it was not as described at all. Rented boat that was in dire need of maintenance. Restaurant food was below average and very costly. Nice area and people but they need better process and value.
Sep 08, 2021
They have expanded & unfortunately in the expansion the majority of the cabins lost their covered decks so in a cabin that sleeps 6 but only has 4 chairs it gets very cramped when it rains. The kitchen was missing key utensils & the knives were pitiful for cutting any vegetable & there was no pan for oven use either. The restaurant is extremely overpriced! The staff was wonderful.
Sep 08, 2021
Very happy with the weekend stayed in the newest area and had a great stay hope to see some black top and concrete soon but very happy with everything overall
Sep 07, 2021
We had a great time and Prizer Point is our new favorite campground. Employees are very accommodating and friendly. We will most definitely be back
Sep 07, 2021
Had another terrific day at prizer point over Labor Day. Was extremely busy but the staff was organized and maintained the campground well
Sep 07, 2021
We really enjoyed our stay. The view was beautiful and the kids loved the pool. Only issue or concerns we had was employees driving golf carts erratically and not watching where they were going.
Sep 07, 2021
Clean park and super friendly staff
Sep 07, 2021
We stayed for the first time out of town in our travel trailer. Our site was not the best but we were late getting reservations Downside was too many golf carts with kids driving. My niece almost got hit twice, by young drivers. One was a young girl texting
Sep 07, 2021
Our stay was absolutely AMAZING, the staff was very helpful and nice
Sep 07, 2021
Great facility, staff very helpful. We stayed in new sites, will be nicer when paved instead of gravel.
Sep 07, 2021
The full hookups sites were nice and fairly level. Very clean restrooms. Unmarked, dead-end roads (lagoon area) had a lot of people backing out frustrated. Too many little kids on golf carts darting out in front / behind you. A bit more expensive than some other campgrounds, but it was well kept, well stocked, plenty for the kids to do and everyone was very friendly & helpful.
Sep 07, 2021
It was fantastic. Kids enjoyed a lot. Superbly managed; great staff!!
Sep 07, 2021
Staying in the new lagoon area. It was a little muddy but otherwise an amazing stay!
Sep 07, 2021
Everything was great. This was the second time we were there. However, the staff is very friendly and courteous but not very knowledgeable. And most of them cannot do more than one thing. That makes service a bit slow... But, overall, we love it there.
Nov 06, 2021
Awesome campground, we loved our stay!
- Angela Hoover on Google
Oct 30, 2021
Never disappointed
- Courtney Craddock on Google
Oct 21, 2021
Destination type KOA....could spend entire vacation here
- Jeff The Customer on Google