Directions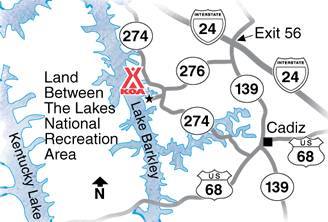 I-24 to Exit 56: Go south on 139 to 276 West (Second right, about 2 miles). Take 276 W to T and turn left on 274 (about 6 miles). Take 274 to Prizer Point Road (First right about 1/4 mile). KOA is about 1.3 miles on right.
Exit 56 is currently under construction.  Will need to come through Eddyville or Princeton. Princeton you Must use the truck route with Campers
Get Google Directions
Sep 27, 2021
It was great, with the exception of burned out light bulbs at the bathrooms by the pool. It was dangerous when dark going up the stairs and so dark you couldn't see to put in the code to open the door.
Sep 27, 2021
The facility is beautiful and very clean. The staff were all pleasant and helpful. My one concern is that the restrooms are VERY far from the tent area. I have some trouble with my knees which made driving to the rest rooms a necessity. Tenters being much more likely to need access to rest rooms than RVs, rest rooms should be closer to the tent area. At least provide portapotties!
Sep 27, 2021
The campground was very clean and cared for. The staff was wonderful, especially Jeffrey and Skylar. The only negative would be the campsites right along the lake side were challenging because they were not flat.
Sep 27, 2021
Excellent 4 night stay. Staff was professional and always helpful. Park is well maintained. The restaurant needs some work and the prices were a bit high. Otherwise a nice park to enjoy.
Sep 27, 2021
made reservation months before arrival, added one night at the front. When we checked in they gave us car passes, check in lady said you are just staying one night, I said no we are staying 6 nights. She said oh okay I didn't look at the reservation that close. First night went fine, on Saturday at around 3:30 in the afternoon Tiffany showed up at our site and said we had to move. NOT HAPPY!
Sep 27, 2021
Great and friendly staff! Very clean bathrooms and campground.
Sep 27, 2021
Place was beautiful, clean and very friendly. Definitely would come back
Sep 25, 2021
Prizer Point KOA is such an awesome campground! We love the concrete sites and amenities. Tracy is always so helpful, friendly and professional with our reservations. We have stayed in the spring and fall for several years now. We cannot afford to stay during the season so we have loved the off-season specials. But the off-season pricing is increasing to the point we may not be able to return.
Sep 25, 2021
Great time great service. Very family friendly atmosphere. With an adult twist .
Sep 24, 2021
This was our 1st time at Prizer Point and we were so impressed. Jessica and Tracy were the nicest people!! The site was outstanding and this is the cleanest place. We have already booked TWO more visits for next year.
Sep 24, 2021
We absolutely loved the KOA campground. I would of given you a 10 and 5 stars, except the place we hook up our sewer and water was a hole and it had rained so it was a mud hole. It needs a load of rock. We will probably be coming back sometime. It is a very beautiful campground. The person that registered us was Jessica Nixon and she did an amazing job getting us registered. Thank You
Sep 21, 2021
The campground was nice and well taken care of. The beds in the cabin could have been softer. The only complaint that I have was the cabin we were in needed to have rock or pavement coming to the stairs of the cabin instead of dirt or mud
Sep 21, 2021
My top KOA but we experience issues at restaurant and marina regularly. During this visit wife wheelchair bound could not enter marina. Asked about another entrance told lip at door within ADA limits. Asked about sign offering Handicap assistance told only offered when someone was available that's why it says Assistance not Accessible. This SUCKS!! Happy to talk more on this Joseph @ 931-575-1665
Sep 20, 2021
We enjoyed our stay with you very much. The check in process was very easy and we appreciated the escort to our campsite. The campgrounds are very clean and well maintained. We really loved our pull through campsite right on the lake. We also had a nice afternoon on the pontoon boat on the beautiful lake.
Sep 20, 2021
The chalet could have been cleaner inside and outside which would have made the view more enjoyable.
Sep 20, 2021
Clean well maintained campground
Sep 20, 2021
We had a great time - enjoyed the Gaga ball pit, pillow jump, pool, and paddle boats and boards. Sadly, I lost my phone in the lake when transferring from boat to dock, so secure those items and be attentive! I got injured and rather than giving us a cup of ice, the store worker tried to sell us a 10 lb bag, but he finally sold us a cup for a dollar. Our site had a beautiful view of the lake.
Sep 20, 2021
I was very disappointed with WiFi service. It was an advertised amenity but I wasn't able to get on the entire weekend - my wife was only able to get on once. Thinking I was doing something wrong I called the office for assistance but was told that it was almost always tough to get on. If you're going to advertise "available WiFi" please put forth effort to assure that is is available.
Sep 20, 2021
Great RV park with super clean facilities!
Sep 19, 2021
Very clean and well kept grounds. Very friendly staff.
Sep 19, 2021
A great place to stay, clean and the staff is excellent and willing to assist at any time. Will be back again soon. Best KOA we have stayed in.
Sep 19, 2021
Beautiful scenery, clean campsite? We were very disappointed when we were in our campsite visiting on Wed. am when a man on a mower with the blade lifted (it was not cutting grass came on to the site moving chairs with the mower. One of us asked him not to come closet as a small smoker was on the drive and a cord could be run over. The mower was throwing rocks hitting our sister's car. �� Very
Sep 18, 2021
Beautiful grounds, clean showers/restrooms. Gravel trailer pads need to be leveled! Your rate is high enough that campers should expect that.
Sep 18, 2021
Very well maintained. Beautiful lakes and amenities. Would suggest that you make a comment that your internet is spotty, so that people who need it for their work are not disappointed. Were very satisfied with the cable TV and the number of channels we were able to receive. People are very friendly, warm and inviting. Would highly recommend and will return again. Have already suggested to friends.
Sep 18, 2021
We've stayed here 2x. Both times have been great. We are senior citizens, and don't do too much, but you have something to offer for everyone. We really appreciate the restaurant because we do not tow a car. Jess entertained us this stay with her dog, Sassy. We have recently lost our dog. I hope to make this KOA a regular place that we visit.
Sep 18, 2021
We had a wonderful time. The campground is clean and well kept. The staff are friendly and eager to assist.
Sep 18, 2021
A special thanks to Jessica Nixon! We communicated via texts, which is my favorite way. She was so helpful with my questions I had for her.
Sep 18, 2021
Great place to stay staff was awesome
Sep 17, 2021
I loved it. I will be back. A couple of suggestions would be to have indoor employees at the Marina wear masks. Also I would have liked a receipt for my cart security deposit refund. Everyone was just so very friendly, I loved being escorted to my site, love the truck that came by to help me dump, and all of the extra amenities. I will be back for sure.
Sep 17, 2021
Went for rest and relaxation so scheduled during the week. It was clean and quiet and exactly what I wanted. You really need a drop box for keys though.
Sep 17, 2021
Would like to have a place for recycling. Also, we rented a boat and had a problem with the steering. Very hard to get in contact with someone for help. There should be a phone number that goes to a phone the boat person answers.
Sep 17, 2021
We came for the dog swim event on the 11th and it was great fun! This was my first KOA stay and I enjoyed it.
Sep 16, 2021
Great as always. I usually make 2 visits a year for a week at a time and have never been disappointed.
Sep 16, 2021
We love chuck
Sep 16, 2021
Was great! The staff was pleasant informative and knew their stuff. Miles and his partner at the boats were very informative and polite! I would recommend this KOAin a heart beat!
Sep 14, 2021
Great koa with amazing views! Disappointed in the lack of communication with our boat rental. Boat confirmation text we got on Wednesday confirming our day on the water was from 9-5. Had the whole family packed and ready to go to be told that boat rentals were from 11-7 that day
Sep 14, 2021
Had a relaxing weekend and the doggie pool day was fun. Service and staff were great to deal with. Thanks again!
Sep 14, 2021
Smooth easy check in. We were led to our site, they would have helped set up if needed. Had a site backed up to an overview of the lake!!! Full hook ups worked great. Wifi a little weak. Fantastic staff!!! We'll be back!!!
Sep 14, 2021
It is so beautiful. We love staying there.
Nov 06, 2021
Awesome campground, we loved our stay!
- Angela Hoover on Google
Oct 30, 2021
Never disappointed
- Courtney Craddock on Google
Oct 21, 2021
Destination type KOA....could spend entire vacation here
- Jeff The Customer on Google