Directions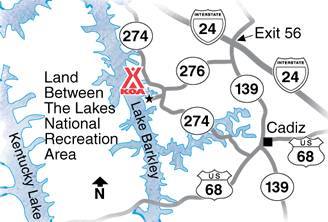 I-24 to Exit 56: Go south on 139 to 276 West (Second right, about 2 miles). Take 276 W to T and turn left on 274 (about 6 miles). Take 274 to Prizer Point Road (First right about 1/4 mile). KOA is about 1.3 miles on right.
Exit 56 is currently under construction.  Will need to come through Eddyville or Princeton. Princeton you Must use the truck route with Campers
Get Google Directions
Oct 26, 2021
Very friendly and helpful staff and great activity's for the kids.
Oct 26, 2021
Nice lake views, very clean and friendly employees. Many amenities for all age group. Dry county on Sunday so stock up on spirits Saturday!
Oct 26, 2021
Although the campground was a bit difficult to get to the staff there was outstanding!! We had problems with our Jeep that we were towing behind our motorhome. The staff went above and beyond the ordinary to accommodate us. Super!
Oct 24, 2021
Need a landscaper. Grounds are a mess. Mold in my cabin in the bathroom. Light bulb burned out in ceiling fan. No privacy for the cabins, to close to each other. This koa could use alot of work.
Oct 24, 2021
3:00 pm is too late for checking. Time to get set up and settle I. Leaves you no time for anything else. First time we have ever had to pay a fine for early check in and we have traveled across the country many times. Tacky, Prizer point
Oct 24, 2021
It was relaxing and perfect. All staff was were very friendly.
Oct 24, 2021
I was able to get a premium location with water all around. The staff is very helpful. The owners son works in the business which I like to see. If ownership doesn't take interest things kind of run down hill. Not in this park.
Oct 23, 2021
Had a great stay. Would recommend putting a street light on the point by our site (61) as it gets very dark in that area. Thanks again
Oct 23, 2021
They Kentucky Lakes Prizer Point KOA is a beautiful campground with every amenity you could want. The views are stunning in the facilities are well-maintained.
Oct 21, 2021
Had premium location #9 which was totally awesome. Special shoutout to Miles, a part time employee looking to get to full time. He is a KEEPER. Had very strong people skills, was clean cut and went out of his way to help us with our son, who has CP, and had to walk down the steep ramps to a boat, because the water level was so low. He jumped right in to help. HIRE HIM FULL TIME
Oct 21, 2021
This was our first time at KOA. We loved it and decided to become members. The staff was very helpful, knowledgeable and polite. We will definitely be back
Oct 21, 2021
This was our first visit but certainly not our last. Jessica was a great Host. The entire staff was friendly and very responsive!!
Oct 20, 2021
We were very impressed with this campground. Good customer service. We were surprised about locks on bathrooms. We plan on coming back next year.
Oct 20, 2021
We really enjoyed this campground and will return. The campground was very well taken care of and sites were some of the best we have been on so far. They have a lot of amenities for the kids to play. Staff seems to be active with the campers and very nice and friendly. We stayed in the off season there were a few things closed but seems like it would be a great place to stay during prime season.
Oct 19, 2021
Very nice campground, we enjoyed our stay, thanks.
Oct 19, 2021
Always have a great time when visiting Prizer Point.
Oct 18, 2021
My family and I had a great time at Prizer point KOA. Especially my daughter so much fun at swimming pool ��. You guys place is so beautiful and nice. I will give to you guys 8 because of the at night. Too dark at evening and at night if you guys have a light for evening that will be more nice and enjoying at you guys's place. And husband can do night fishing.
Oct 18, 2021
Our stay was great except the shower houses nearest to Treehouse 1, did not have hot water at all. I alerted several employees about it. One employee said it might be a propane issue and another said there should be instant hot water but maybe the settings were on "summer settings" and needed switched, in which case that would've been an instant fix. We were there 4 days. it was never fixed.
Oct 18, 2021
It was wonderful. We had a great time and we're coming back for the next two weekends because we loved it so much. There were only two issues that I feel need addressed. It rained pretty hard and the whole row of campsites (205) row got washed out. Bad. The other was the run off from the sewers are right on the edge of camp and there are no markers and we walked right through it.d it was gross l
Oct 18, 2021
It was great as usual! Plenty for the kids to do and the enclosed pool was wonderful this time of year!
Oct 17, 2021
Horrible service. We got skipped by the Honey Wagon and couldn't get anybody to come and take care of it. We were promised they would come and didn't. It was stormy and we had both tanks full. Total inconvenience and said they were understaffed. probably won't go back. It was disapointing that once they started running the Honey Wagon a day later they made us wait until after lunch.
Oct 17, 2021
Very nice campground, needs better wifi, kept cutting in and out. Staff very courteous.
Oct 17, 2021
It's was great, must come again, every one was nice, helpful and friendly
Oct 16, 2021
Staff was very friendly and helpful. Campground was clean and plenty to do on the grounds.
Oct 16, 2021
Absolutely relaxing!!
Oct 16, 2021
We had a wonderful time! The tent sites are large with plenty of room for a huge tent. I love that there are a lot of trees and that the campground is not right near a busy highway. We enjoyed the swimming pool, bouncy pillow, playground, kayaking, paddle boating, and paddle boarding. The staff were friendly and helpful. I wish that there was a restroom closer to the tent camping area.
Oct 15, 2021
We loved every minute of it! We plan to make many, many more memories here!
Oct 15, 2021
Great place to stay, the scenery is fantastic. Nice to have several trash cans available throughout the campground. Only complaint is driving directions on the website are not clear and somewhat inaccurate.
Oct 15, 2021
Beautiful area and super nice staff.
Oct 14, 2021
It took over an HOUR to get our food at the restaurant, server touched the glasses for our drinks to his dirty shirt, ran out of ketchup (gave up waiting for server and got one from the store), then when checking out noticed they charged us $1/glass of tap water (incl refills). Employee who came to fix the bill was rude and kept telling me to calm down rather than actually doing anything.
Oct 14, 2021
We've been every year for three years, and not a single complaint. We enjoy it every time, and everyone is so kind.
Oct 13, 2021
We had a great weekend!! My kids loved the standup paddle boards we could borrow for free. We also enjoyed the outdoor movie and Saturday night.
Oct 13, 2021
My stay was spoiled by being penalized $25 for an early arrival. I have never been penalized at an independent campground for an early arrival and I felt it to be an insult as a KOA reward member for the penalty. Therefore, I truly don't find much value in the program and intend to not renew again and definitely limit my future stays at any KOA.
Oct 13, 2021
Disappointed that a KOA right on a lake lacks good fishing access for those without a boat or unwilling to pay the high prices to rent one. Granted the water level seemed low but there was no way kids could realistically fish from the bank regardless of water levels. RV/travel trailer sites had plenty of space in between and were well maintained.
Oct 13, 2021
This is a beautiful campground with friendly staff. If fact, the staff are very helpful and kind. I wish I could remember all of there names because everyone was fantastic! Some names I do remember are, Jess, Dallas and Skyler. We defiantly will be back! We would like to thank everyone there for a wonderful time! Blessings to all!
Nov 06, 2021
Awesome campground, we loved our stay!
- Angela Hoover on Google
Oct 30, 2021
Never disappointed
- Courtney Craddock on Google
Oct 21, 2021
Destination type KOA....could spend entire vacation here
- Jeff The Customer on Google