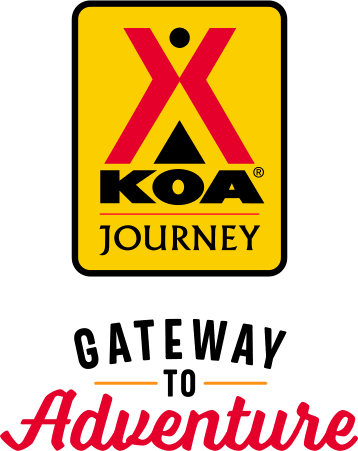 KOA Journey Campgrounds
KOA Journey campgrounds are the perfect oases after a day on the road. Whether it's along the way or a quick getaway, they've got you covered. Located near the highways and byways of North America with long Pull-thru RV Sites, they deliver convenience to the traveling camper. Pull in, ease back and take a load off.
KOA Journeys Feature:
Pull-through RV Sites with 50-amp service
Premium Tent Sites
Well lit after hours check-in service
Jun 25, 2018
Arrived late, right at closing time and host graciously did the paperwork and we were able to buy firewood. Large tent sights, quiet for having the road nearby. Set up, had a fire, cooked supper and relaxed. Very clean. Would stay again.
Jun 14, 2018
Check in was easy after hours. Bathrooms were clean. A bit of a noisy area but not loud from the interstate.
Jun 03, 2018
Very friendly managers!! The campsite we were given was very windy, they let us move to a new site to set up our tent. The only bad thing about our stay was the park had sharp plants throughout the gravel. All three of my kids had a thorn in their feet through their sandals.
CAMPGROUND RESPONSE / COMMENTS:
Thorny plants are a part of the natural flora of our area. We are aware of them and we do spray for a wide variety of noxious plants. Unfortunately this has been a very wet year and that has rendered our spraying efforts less effective than we would like. We continue to do battle with the stickers and pray for more conducive weather.
Oct 15, 2017
The guy who checked me in was really nice. The location had a lot of space. My only complaint was that there are hard, painful stickers all over the grass. My little dog had one stuck in his foot and I had them in my shoes. Not the KOA's fault--can't control the plants! Just make sure your kiddos don't run around barefoot. Otherwise, it was nice and quiet!
Sep 13, 2017
Very nice hosts, clean quiet campground. Would stay here again if passing through.
Aug 27, 2017
siting plan a little close to industrial towers and interstate. washrooms need work, updating, repairing. Tent area near creek, lots of mosquitos.
Aug 25, 2017
Nice hosts/owners, onsite convince store. Bathroom was clean. Layout made it comfortable for us tent users to share with the RVs and the site was relatively quiet.
Aug 24, 2017
The lady at the front desk was great. It was quiet the day we stayed there which was a nice change for my family. My only issue with this location was that the entire place needs updating. The staff is taking excellent care of everything, but it looks like it hasn't been updated since it was built and things are starting to wear out. If it was renovated I would give it 5 stars in a heart beat!
Aug 23, 2017
Loved the billboards
Aug 22, 2017
Stayed there before, nice people, but campground is just ok, not great!
Aug 08, 2017
Clean, quiet. Staff very friendly and helpful. The chuck wagon had some good chow.
Jul 22, 2017
Easy to find late at night, clean and friendly place to stay for a nights sleep on the way home.
Jul 21, 2017
In by 9 pm out at 6 am. Perfect low cost for short stay. Poor WiFi only signal sitting in laundry. Store/office smelled funny.
Jul 07, 2017
This was a very clean and pretty campground. There were not a lot of people, which was nice. We had a huge grass area for our tents. The playground was close by. The bathrooms were clean. The food that Teri cooked was good. We had a very nice time here.
Jul 04, 2017
The staff was friendly, however, the facility is quite run down.
Jul 03, 2017
Such lovely people, gave great advice about the surrounding area. Nice campsites, clean and quiet. Would stay again!
Jun 26, 2017
This was the perfect stop for our road trip across the country (from PA to MT). I always enjoy KOAs because of their safe feeling, cleanliness, and friendly staff... and this had all 3 of those traits as well! Very nice owners.
Jun 18, 2017
Excellent KOA super clean. Love that they offer food. We had cheeseburgers very good
May 30, 2017
Friendly owners, clean bathrooms, nice campsite!
May 16, 2017
some utilities still closed from winter. Nice place stayed there twice now..
Oct 17, 2016
First time to stay at a KOA. The reservation process was very easy & user-friendly.
Sep 28, 2016
This was perhaps the nicest KOA we've ever stayed at. The tent site was nice & grassy, great staff & facilities, individal gazabos, flowers, ...very nice place.
Sep 15, 2016
my favorite of the three koas I stayed at. If not for the burning ban it would have been perfect.
Sep 12, 2016
Loved this campground. Everything was clean and I liked how there was a radio in the bathroom -- made having to go in the middle of the night less scary! Very quiet and peaceful.
Sep 06, 2016
nice campsite- trees!!!!
Aug 12, 2016
This KOA is very nice and clean. Lovely grass for tenters; great access from I-90. I would recommend that campers stock up on food before arriving, unless you plan to buy food from the chuck wagon, as the local market closes early.
Jul 25, 2016
Very friendly and helpful staff, well-maintained facility, and just far enough from the highway to be quiet. Thank you!
Jul 13, 2016
If you desperately need somewhere to sleep with a nice bathroom, this is good.
Jul 05, 2016
Clean and friendly.
Jul 05, 2016
The campground is large, clean, and very well maintained. Each space is large enough for privacy. The owners are wonderful and added a very personal touch to our stay, even for the single night we were there. The pool and showers are great, but the pool is outdoors. Their Chuckwagon has great food as well. Definitely stop by if you're headed through SD!
Jun 25, 2016
Everything was quiet and clean! We were very happy with our stay.
Jun 22, 2016
We arrived at the camp site late. They were nice enough to have our info at the door and that's why I'm giving it 2 stars. Past that the site was not very level and the surrounding area was not well kept. The bathrooms were small and not really clean. Doubt I would stay here again if in the area.
Sep 05, 2015
The hosts were great & the tent site was very good. The parking spot was a bit of a squeeze.
Aug 08, 2020
Only stayed overnight, we had full drive through hookup and all went well.
- Paul Esteves on Google
Oct 25, 2020
Friendly service, and a nice clean campground.
- Matthew French on Google
Aug 12, 2020
Nice stay.
- Deb Henrion on Google