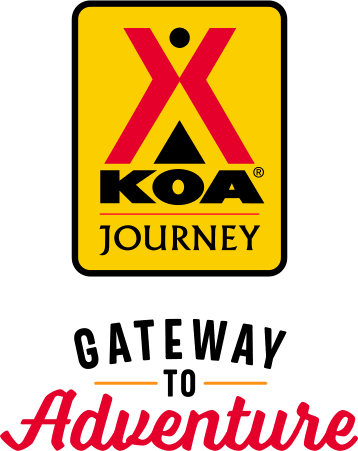 KOA Journey Campgrounds
KOA Journey campgrounds are the perfect oases after a day on the road. Whether it's along the way or a quick getaway, they've got you covered. Located near the highways and byways of North America with long Pull-thru RV Sites, they deliver convenience to the traveling camper. Pull in, ease back and take a load off.
KOA Journeys Feature:
Pull-through RV Sites with 50-amp service
Premium Tent Sites
Well lit after hours check-in service
Aug 08, 2019
Kennebec KOA was hit by flooding earlier this year, but the campground has been restored and is nicer than several other campgrounds we have stayed. Pool, Chuckwagon restaurant, and main building are still being restored but campground and services (electric, water and sewer) are up and running. Very nice campground!
Aug 08, 2019
they only opened a few weeks ago after being closed for a few weeks due to disastrous flooding in the region in early summer. Campsites were adequate and serviced. Staff were great and friendly. showers were clean and hot. KOA could support their franchises better after disasters happen though. Definitely would stay there again.
Aug 05, 2019
This campground is still recovering from a flood so service is minimal
Aug 01, 2019
I gave the Park high ratings because they are dealing with devastating circumstances. Due to a recent flood which they lost all but one cabin (which they are using as their office) and the main office had 6' of water. The grounds are very nice and the owners are doing their best to get it back in shape. As of now they don't have much to offer except the basics. KOA members should Patronize the
Jul 31, 2019
Easy to get into off of the Interstate , and very well marked. It was a very quiet Campground no road noise. The owners are good people the kind of people that will treat you like you treat them. We have a 45 foot fifth wheel , just stayed for the night the Lot was so level we did not have to unhook.. this is a great Campground in a great location also has a pool and a nice river behind it.
Jul 30, 2019
This campground is still suffering the effects of the recent floods. It should be closed until it's cleaned up and more habitable. I'm new to camping. If this had been the first KOA campground I wouldn't have tried another. Luckily I've stayed at many and therefore consider this stay an outlier.
Jul 29, 2019
This KOA experienced a flood recently and they are bouncing back. Wonderful host! We stopped for one night and it certainly met our needs.
Jul 28, 2019
While the staff member I spoke to was super friendly and helpful and the bathrooms were clean the pool area looked liked something out of a horror film. We just needed a hookup for the night and we're on our way early the next day, if your looking for anything more - this is not the KOA for you!
CAMPGROUND RESPONSE / COMMENTS:
Yes, the pools were damaged by the spring floods we experienced. They are closed and locked up as we work to repair them. You were also made aware that the discounted price you received was in recognition of the temporary lack of amenities.
Jul 27, 2019
Very nice owners...turning to recover from flooding...pool & kids pool no available...needs cleaning Unfortunately a lot of mess, lack of mowing, weeds. Feel sad for owners However we did stay with no price reduction ?
CAMPGROUND RESPONSE / COMMENTS:
I am sorry these items made your stay with us so unpleasant. Comments about the availability of the pool are true, the RV park IS mowed, though areas closed to customers are not. The statement of "no price reduction" is simply not true, you received a 10% off in addition to your value card discount and were upgraded to a full hookup site to make up for some of our temporary shortcomings.
May 19, 2019
Very nice stay-very helpful staff-keep up the good work on improvements to the campground!
May 15, 2019
I've stayed at great, good, bad & extremely bad KOAs (often wondered if KOA corporate has a list of standards for a park to qualify). the Kennebec KOA is shameful!!! CLEARLY OBVIOUS the owners take NO pride in this park.. it is RUN DOWN, TRASHY, NEVER SAW THE FRONT DESK FOLKS (left me a note taped to the registration door). I WOULD NEVER STAY HERE AGAIN & WILL TELL EVERYONE I KNOW TO STEER CLEAR!
May 15, 2019
Very underwhelmed when we pulled into this KOA. Grass was not mowed yet, scraggly looking. The sewer connection was broken. Very few campers on site, can understand why.
CAMPGROUND RESPONSE / COMMENTS:
Sorry for your bad experience. South Dakota has received a tremendous amount of rain and snow this spring resulting in a large amount of flooding and softening of roads and site. The problem will be addressed when the weather drys.
May 08, 2019
Sites were mud holes. Few services/amenities were available. Yet they still charged the full rate. We won't be back. As a matter of fact we probably won't renew our KOA membership next year. Our last two stays (both this spring) were both highly unsatisfactory.
CAMPGROUND RESPONSE / COMMENTS:
Sorry for your bad experience. South Dakota has received a tremendous amount of rain and snow this spring resulting in a large amount of flooding and softening of roads and site. The problem will be addressed when the weather drys. One small correction however, you were not charged full rates. We have been offering a significantly discounted rates all season and you informed of this at check in.
May 05, 2019
The road in the park needs gravel, it was very soft. Not sure if it was due to early season, but the pool was disgusting. It was good for an in and out overnight stay only. There was only 2 other guest in the park. Bad representation of KOA.
CAMPGROUND RESPONSE / COMMENTS:
Sorry for your bad experience. South Dakota has received a tremendous amount of rain and snow this spring resulting in a large amount of flooding and softening of roads and site. The problem will be addressed when the weather drys.
Nov 14, 2018
met all my expectations
Nov 04, 2018
Served its purpose as a stop on the way home. There's nothing wrong with this KOA. The people were friendly and helpful. Place just needs a little TLC. It looks tired and needs some freshening up.
Oct 26, 2018
It was a good stopover for an overnight stay. The park needed a lot more gravel in the RV spots. It was mostly dirt.
Oct 20, 2018
This KOA is located off a very isolated,dark exit!Probably a great quiet place if you arrive day time with family,but it's terribly spooky arriving in middle of night by yourself.no lights left on in cabin,key left in door,bathrooms unsecured.another hotel facility in area spoke very highly of camp hosts and area but I was too uneasy to be reassured and ended up in a hotel that night.
Oct 20, 2018
It is a clean little campground and all the staff were very friendly. This is very much a campground that is basically there for a convenient place to stop, which is not a negative comment. I am just saying there is not much reason to visit Kennebec. It is a small farming community with not much diversion. We had to drive 9 miles west to get a meal. But we wouldn't be afraid to stay here again.
Oct 11, 2018
Just came for the night and it was already dark when we got there, so not much to rate. But we did enjoy the breakfast in the morning! Staff was great to chat with!
Oct 09, 2018
Not our favorite KOA but OK for an overnight and appeared to be priced out of line with other KOA's on our travels. Restrooms not as clean as expected.
Oct 06, 2018
We stayed here on our way to our destination and then on our way home. Both times were good experiences. When we had stopped for the night on our way home we discovered that our car that we tow had a dead battery. The owners were very helpful in getting us a local garage to come and give us a jump start at a more than reasonable price.
Oct 05, 2018
Small, but nice.
Oct 03, 2018
Staff really friendly and helpful. Clean bathrooms. I liked that the cabin had a designated gravel parking spot. No Muddy Mess!!!
Sep 29, 2018
Very close to the highway
Sep 28, 2018
Nice, friendly people.
Sep 21, 2018
Nice, quiet, clean. Good for a quick overnight. Nice staff.
Sep 21, 2018
Good for an overnight stay. We stayed here twice. Once on our way to Mt. Rushmore and then on our way back. Quiet clean. Friendly staff. Only bad was the black flies. Not at all campground fault. Could not sit outside until dark unless you had a swatter. Would go back on our next trip across country.
Sep 18, 2018
Seulement pour une nuit , situé à proximité des grandes routes , et très propre
Sep 17, 2018
Us campers are used to "camping under the stars". As a member of the dark sky movement, I was appalled at how bright your lights in the campground were!!! Other KOA's we have stayed at aren't lit like this one! Please lower or eliminate the wattage of the lights! We had to inconvenience ourselves by putting towels over our camper blinds in order to sleep after a long day! You should be ashamed!
Sep 17, 2018
Great place to stop for the night on a ride down I 90.Friendly, helpful, level spots.
Sep 16, 2018
Friendly fly staff, quiet place to stay.
Jul 15, 2021
Very clean facilities
- Michelle Mulholland on Google
Jul 14, 2021
Extremely guiet and very clean. Staff was great. Great place to stay. Kennebec is a very small town which we liked.
- Andrew Eckman on Google
Jul 08, 2021
Friendly people Great recovery after huge flood 2 years ago
- Rev John Reinke on Google