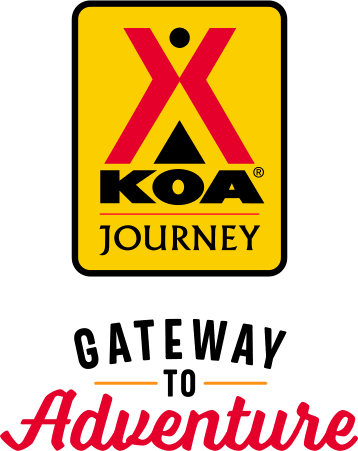 KOA Journey Campgrounds
KOA Journey campgrounds are the perfect oases after a day on the road. Whether it's along the way or a quick getaway, they've got you covered. Located near the highways and byways of North America with long Pull-thru RV Sites, they deliver convenience to the traveling camper. Pull in, ease back and take a load off.
KOA Journeys Feature:
Pull-through RV Sites with 50-amp service
Premium Tent Sites
Well lit after hours check-in service
Aug 21, 2020
Nice and quiet. Level spot to park, good utilities and friendly staff.
Aug 21, 2020
WiFi was terrible
CAMPGROUND RESPONSE / COMMENTS:
I am sorry you had this problem. I wish you had mentioned it to us. As it turns out, a piece of equipment had been shut off by mistake. Had we known at the time, we could have easily resolved this problem.
Aug 20, 2020
Nice clean friendly and relaxing park to stay.
Aug 20, 2020
I arrived late, but there was a spot open for me to take and I slept well. The facilities were clean and I felt safe. Thanks for a great stay, your property is beautiful.
Aug 19, 2020
We arrived early which was ok. Our site was in sun so we request a different site which they were able to accomindate. We were only there for one night but it was clean and quite. Great stop over .
Aug 19, 2020
We were only in the Kennebec KOA 1 night, arrived around supper time and unhooked in order to run out to eat and then back. The campground appeared to be well kept and organized and the staff member I dealt with was very friendly and helpful. I would not hesitate to reserve a spot at this KOA again.
Aug 18, 2020
Our stay was great. We will stay here again on our next trip.
Aug 17, 2020
Pam was so helpful & has a great personality.
Aug 17, 2020
Very nice place. Quite, level spots, good trees for shade, staff very friendly and helpful, went above and beyond to help us.
Aug 17, 2020
Very nice out of the way stop for one night on way home to Missouri. Far enough away from I90 so very quiet.
Aug 17, 2020
well maintained and clean site.
Aug 17, 2020
In these days of Covid we really wanted clean rest rooms. These were brand new and very, very clean.
Aug 17, 2020
This was a pretty run down campground. It appeared abandoned in parts. The "kiddie pool" is an empty eyesore, there's no playground for the kids, though it's on the map. No cable, no store, sites are small. It's an ok place if you're just passing through. I can't for the life of me understand where they get off charging me extra per kid.
Aug 17, 2020
Good hosts, good campsites.... my only issue is with the covid restrictions, the laundry, showers, and restrooms were all locked (understandable), but reduced amenities didn't result in reduced prices. It's also a little odd that the pool remained open. Maybe the message was, "Gotta bathe? Gotta pee? Jump in the pool."
CAMPGROUND RESPONSE / COMMENTS:
Our restrooms are not locked. They are open 24 hours per day and cleaned and disinfected 4 time daily.
Aug 10, 2020
Traveling through, fast and friendly check in.
Aug 10, 2020
Initially it was unnerving to be in a tent site with semi trucks passing 20 feet away but by about 3am I got used to the suddenness of the violent roar. Otherwise the site was very politely and efficiently run. Seemed great for those in RVs.
CAMPGROUND RESPONSE / COMMENTS:
Not sure why there would have been semi trucks 30 feet from your site. We are over a quarter of a mile from the interstate and slightly less than that from the sites to the nearest state highway.
Aug 09, 2020
Very cute little camp, pool and nice facilities. Kid and pet friendly.
Aug 07, 2020
Store closed a little early. Everything else wonderful.
Aug 06, 2020
Nice quiet place to stop for one or two nights
Aug 06, 2020
Love the lake
CAMPGROUND RESPONSE / COMMENTS:
We do not have a lake but thank you just the same.
Aug 05, 2020
Very friendly check in and an awesome pool. The campground had a severe flood last year and they are still recovering from it. We enjoyed our stay. There was not camp store and the local town shut down at 5:45 p.m.! The showers were great.
Aug 03, 2020
We just needed to pull in for a night. Our amp hookup onsite did not work but we were able to use the one next to us. Quiet, easy. Bathrooms were clean. Safety precautions were in place(hand sanitizer stations and signage). Better than a Walmart parking lot when you're in a pinch and travelling far!
Jul 30, 2020
Only stayed for one night. Site was nice and had no issues.
Jul 29, 2020
This is a over night stop for us, just the right distance in our east west travels. We will always stay here when we can. Nothing super special just a nice clean place, it is all you need. happy you got back open. see you in sept.
Jul 26, 2020
Very nice father and son that run it!!
Jul 26, 2020
Nice big flat spaces for your RV. K9 fences park. With good size pool.
Jul 25, 2020
Nice pull through sites. Very clean bathrooms.
Jul 25, 2020
Unfortunately due to worldwide pandemic of COVID-19 activities were suspended but the campground attendants were very friendly and helpful!
Jul 24, 2020
Below average - we just stayed the night
Jul 21, 2020
Very disappointed. We stayed here on our way traveling out west, and for the price we have stayed at far better. I understand that things may be closed (laundry) due to covid, but it would be nice to have known that prior to paying. Also, when calling we were told there were only 2 lots available, but there were many empty lots. It is highly unlikely that we would choose a KOA again.
Jul 19, 2020
In the middle of South Dakota, what can I say! Would stay again if that is where my journey lands me!
Jul 18, 2020
Nice KOA. Had everything we needed for an overnight stay. Nice, friendly staff. Several mud puddles throughout the the park. Had to back out of our pull thru site to avoid driving though a lot of mud.
Jul 18, 2020
Very clean and kept up! Lots of room between campsites! We would stay again if passing through your area!
Sep 05, 2021
the bathrooms were the cleanest we have ever seen! the pool looked lovely too. It was a very nice quiet area. The had had an unusually bad rain storm so the roads were a bit rough. i
- M Allen on Google
Aug 25, 2021
They were very accommodating when our truck broke down- & was being repaired at the local mechanic. Being that we didn't know how long it would take, they held our spot - & were overall very sweet to our family.
- Kim Smith on Google
Aug 23, 2021
Great little koa..the family that runs it were great and its a nice small simple campground. .there was bad flood yrs ago but it is amazing how they have brought it back....only one cabin is left after flood and for now tents have to use area by RV rather then old tent camp area, but bathrooms nice and clean and close to small cafes and diner in area....not much else in area and the office is not like big KOAs with mini store, so they only have few basic snacks,etc...but we would stay again..
- shaun K on Google