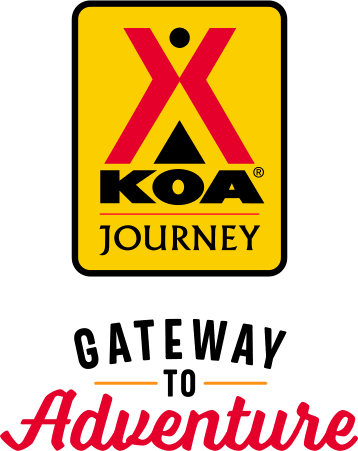 KOA Journey Campgrounds
KOA Journey campgrounds are the perfect oases after a day on the road. Whether it's along the way or a quick getaway, they've got you covered. Located near the highways and byways of North America with long Pull-thru RV Sites, they deliver convenience to the traveling camper. Pull in, ease back and take a load off.
KOA Journeys Feature:
Pull-through RV Sites with 50-amp service
Premium Tent Sites
Well lit after hours check-in service
Sep 23, 2020
We stayed at Kennebec for 1 night as part of our return trip to MN from the Black Hills. We received friendly and helpful service finding and hooking up to our site as well as a wonderful explanation of amenities that are currently available. The campground was clean and appears well kept.
Sep 20, 2020
Statement to wrong person!! We are Sam Roper Family and we did stay at Kennebec! Check in was done by hand in driveway. Only 2 toilets and 2 showers were working. Old and out of date! KOA should reconsider and re-evaluate this property.
Sep 19, 2020
Traveling west we needed a 1 night stay and this park worked perfect for us with our truck and trailer hooked up for the night
Sep 19, 2020
I really appreciated the "safe" check in procedure. Thanks!
Sep 17, 2020
Would have preferred to have the laundry open.
Sep 17, 2020
Kennebec is obviously a JOURNEY and should be treated as such by campers. I checked-in mid-day and never saw the hosts. I never saw them during my stay. Sites were an ok size. It was clean enough, but there were no amenities whatsoever. I suppose I'd stay there again if I needed a place for a night. But, for what you get, it's a little pricey.
Sep 15, 2020
The campground is old and needs some repairs. With that said the bathrooms were clean and good and the site was shaded.
Sep 15, 2020
Very nice and clean.
Sep 14, 2020
It is a good place to stay overnight. It looks like it could have some updates but friendly staff.
Sep 12, 2020
Weather prevented us from a great time
Sep 12, 2020
Good overnight campground friendly staff
Sep 10, 2020
Great welcoming staff. Great stopping over place from Omaha to Rapid City, SD. Have stayed here a couple of times. Will stay again. COVID-compliant.
Sep 10, 2020
Nice staff, good pit stop. Weather was rainy so just went to bed
Sep 09, 2020
We had a total of four stays at Kennebec. Each time the staff was very friendly and helpful. A nice place to just get away...we will return next summer!
Sep 09, 2020
Friendly staff. Appreciated the covid precautions. Comfortable sized sites. Would stay again if passing through!
Sep 08, 2020
It was our first stay at a KOA and you guys made us lifetime fans already! Thanks!
Sep 08, 2020
We spent a very quiet restful two nights. It fit our schedule. So peaceful and not much around to do. Families would not enjoy that much. Owners were nice, helpful but not the usual KOA that we are used to.
Sep 07, 2020
Quite place loved it!
Sep 07, 2020
Perfect for a spot to pull into late at night. Not many amenities, but clean, safe and the employee was friendly.
Sep 06, 2020
Perfect stop, just perfect, heading east from Rapid City to Sioux Falls or anywhere east. So glad for that location and stopover. Thanks!
Sep 05, 2020
Clean, Friendly place. Staff properly masked and distance. Shower/bathroom needs a sign on door string Masks Required
Sep 04, 2020
Staff was very friendly. Campground could have been maintained better. Bathrooms were well taken care of, but playground was falling apart and games such as horseshoes. Picnic table was dirty and full of bird poo. Stayed at other KOA's and picnic table and hookups were cleaned prior to arriving.
Sep 04, 2020
Great place. Very nice folks. They had everything we needed
Sep 02, 2020
We enjoy staying at this KOA. Staff is friendly and always helpful.
Sep 02, 2020
Friendly staff, clean restrooms, not many people there the night we stopped by.
Sep 02, 2020
Host was very friendly and helpful. There was some bad weather coming in and he made sure we were given a site where trees would not rub our camper. He also explained that weather we were seeing should not impact us. The only reason I did not give it five stars was because I did not use the showers or restrooms and can't speak to those services.
Aug 31, 2020
Stayed for a couple of days enjoyed the park
Aug 31, 2020
They left the outdoor light on all night and we could not sleep.
Aug 30, 2020
Excellent campground, facilities and staff.
Aug 30, 2020
Nice campground for an evening stay. We were on our way to Wyoming.
Aug 30, 2020
Very pleasant hosts. Enjoy the night stay.
Aug 26, 2020
We stayed one night slept and left in morning
Aug 24, 2020
Great staff. Convenient location to the interstate. Sites were spacious and flat. Great overnight stay
Aug 24, 2020
Very nice campground. We had a nice quiet stay.
Aug 23, 2020
very restful
Aug 23, 2020
It was short but the facility was clean and the hosts were very accommodating
Aug 23, 2020
This review has been removed by KOA due to profanity.
Sep 05, 2021
the bathrooms were the cleanest we have ever seen! the pool looked lovely too. It was a very nice quiet area. The had had an unusually bad rain storm so the roads were a bit rough. i
- M Allen on Google
Aug 25, 2021
They were very accommodating when our truck broke down- & was being repaired at the local mechanic. Being that we didn't know how long it would take, they held our spot - & were overall very sweet to our family.
- Kim Smith on Google
Aug 23, 2021
Great little koa..the family that runs it were great and its a nice small simple campground. .there was bad flood yrs ago but it is amazing how they have brought it back....only one cabin is left after flood and for now tents have to use area by RV rather then old tent camp area, but bathrooms nice and clean and close to small cafes and diner in area....not much else in area and the office is not like big KOAs with mini store, so they only have few basic snacks,etc...but we would stay again..
- shaun K on Google