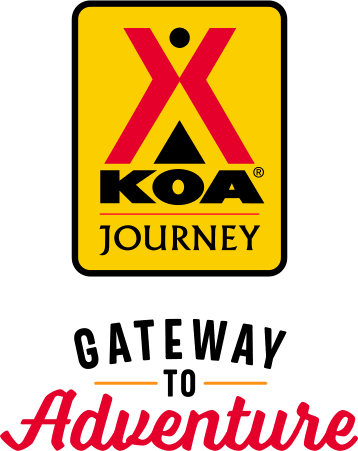 KOA Journey Campgrounds
KOA Journey campgrounds are the perfect oases after a day on the road. Whether it's along the way or a quick getaway, they've got you covered. Located near the highways and byways of North America with long Pull-thru RV Sites, they deliver convenience to the traveling camper. Pull in, ease back and take a load off.
KOA Journeys Feature:
Pull-through RV Sites with 50-amp service
Premium Tent Sites
Well lit after hours check-in service
Jul 02, 2021
Very nice park, very friend staff!!!
Jul 02, 2021
Just a quick overnight stay on our way to a destination so we did not use a lot of services. However, the hosts were very friendly, the spaces were nice and the bathrooms were clean.
Jul 02, 2021
Just spent overnight. Easy parking. Quiet park.
Jul 01, 2021
Stay was while traveling and our third stay. You seem to have recovered well from the storm damage that closed you a couple of years ago
Jun 30, 2021
Staff very accommodating gave me a site that my satellite would work. Level site with easy hookups . Nice campground.
Jun 29, 2021
The kids liked the pool
Jun 29, 2021
It was a one nighter. The owners were extremely nice and set us up well for the night. I would go back again for sure
Jun 28, 2021
We stayed at the Kennebec KOA as tent campers. Everything was very nice and we would definitely recommend this KOA.
Jun 27, 2021
Friendly staff, flat sites, good for a layover or a couple nights. No meals being cooked yet.
Jun 25, 2021
I stayed overnight (in the cabin). Probably the best night's sleep of all the KOAs during my cross country trip. This unassuming little place reminded me of KOAs when I was a kid, and is, in my opinion, what a KOA SHOULD be. Forget the pool parties, weekend BBQs and putt putt golf. All people really want is a quiet, clean place to stop a good night's sleep. Easy access and kind, welcoming hosts.
Jun 25, 2021
Clean and spacious sites. Owner were nice and very friendly. Small grocery supplies were an unexpected bonos for us first time rv campers!! Highly recommend you check this site out!!
Jun 24, 2021
This was rated as a Journey KOA. I would rate this as just a regular KOA, albeit a tired one.
Jun 23, 2021
Office is only open a very few hours a day! Pretty desolate for a KOA. It was pretty quiet I guess...
Jun 22, 2021
If you are looking for a big town you are in wrong place, Easy to park and relax.
Jun 22, 2021
No bells or whistles , easy access to highway. Bathrooms clean. This was just a quick stop overnight -
Jun 21, 2021
Pool was dirty, everything else was great.
Jun 21, 2021
Me and my wife came out for our anniversary that weekend we had a great time lovely people that we've meet there
Jun 21, 2021
Plenty of fun places for the kids to be entertained, and the staff was extremely friendly and helpful! The store was well-furnished and smelled wonderful, too!
Jun 20, 2021
Nice quiet spot
Jun 20, 2021
Clean, friendly, very nice!
Jun 20, 2021
Disappointing is all you can say! We book for two nights and left after one. The website is very misleading on their amenities. No game room or volleyball. Where were the peddle bikes? The chuck wagon dinner and breakfast never happened even though it was the middle of June. For.the price you pay the owner could at least maintain this KOA to the standards set by Corporate.. Pass this place up
Jun 20, 2021
It was a very nice camp ground for relaxing. Not too big but it had everything we needed.
Jun 20, 2021
Nice pool, very nice sites
Jun 19, 2021
Over night stay. Place was clean and friendly. They had these flying insect that had a good bit e on them. But still nice
Jun 18, 2021
Nice level campground with a few trees. The pool could use a little work. No lounge chairs.
Jun 18, 2021
Very welcoming!
Jun 17, 2021
Thank you for the hospitality. Hard to use our satellite here because of tree blocked it but we weren't there much anyways . Very clean
Jun 17, 2021
Easy off and on I-90 clean,quiet campground. Felt safe sleeping there. Would stay there again if traveling that way again.
Jun 14, 2021
Stayed for 7 nites went to bad lands and Mount Rushmore was nice campground nice people who ran it nice pool nice showers and laundry no basketball rim not a lot of trees for shade not much around for grocery's Highway was close alittle noise but we got to do what we went to do very hot winds was bad did get rain started cooling down as we left I brought my grandsons and son and dog had fun than
Jun 14, 2021
The stay was ok. There were a few bugs crawling around the bathroom and dead in the sink. Internet service was non existent. We could get wi-fi but no internet service.
Jun 14, 2021
Stayed overnight enroute from Lake Okoboji to Custer. Super friendly staff keeps a nice clean campground. It was full but quiet at night. Plus now I can answer the question, "Where the Heck is Kennebec?"
Jun 14, 2021
Friendly staff. Clean baths and showers. Good WiFi. We stayed for a quick overnight. It had everything we needed.
Jun 12, 2021
Super friendly and helpful hosts.
Jun 11, 2021
Big problem was the weather but would like to see more grass and less dust. Was a good stay tho
Sep 05, 2021
the bathrooms were the cleanest we have ever seen! the pool looked lovely too. It was a very nice quiet area. The had had an unusually bad rain storm so the roads were a bit rough. i
- M Allen on Google
Aug 25, 2021
They were very accommodating when our truck broke down- & was being repaired at the local mechanic. Being that we didn't know how long it would take, they held our spot - & were overall very sweet to our family.
- Kim Smith on Google
Aug 23, 2021
Great little koa..the family that runs it were great and its a nice small simple campground. .there was bad flood yrs ago but it is amazing how they have brought it back....only one cabin is left after flood and for now tents have to use area by RV rather then old tent camp area, but bathrooms nice and clean and close to small cafes and diner in area....not much else in area and the office is not like big KOAs with mini store, so they only have few basic snacks,etc...but we would stay again..
- shaun K on Google