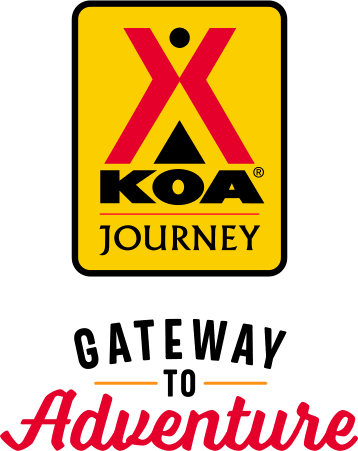 KOA Journey Campgrounds
KOA Journey campgrounds are the perfect oases after a day on the road. Whether it's along the way or a quick getaway, they've got you covered. Located near the highways and byways of North America with long Pull-thru RV Sites, they deliver convenience to the traveling camper. Pull in, ease back and take a load off.
KOA Journeys Feature:
Pull-through RV Sites with 50-amp service
Premium Tent Sites
Well lit after hours check-in service
Jun 29, 2020
Very nice place to stop overnight, and the owners were very nice.
Jun 29, 2020
Quiet and clean! Nothing open because of the virus, but just needed an overnight stop.
Jun 29, 2020
Very small campground situated in the perfect place for your trip to or from the Black Hills. Not a lot of facilities, but clean whatsoever. Friendly staff. Beautiful nature. Quiet. Bring your own food, because the town is very small and doesn't have a lot of choices for where to eat!
Jun 27, 2020
we stayed one night, and made new friends.. I got to share the little knowledge of being a new camper with them as they are new to the camping world! Thanks for a nice site!
Jun 26, 2020
Not much staff. Only stay if you must. It is just okay.
Jun 26, 2020
a good place to just set up for a one nighter.. it wasn't crowded for a Tuesday. easy in easy outward! hard to truly rate anywhere right now with covid effecting so much. nice owners, looks like they are working on improvements. its these campgrounds that need your support right now.
Jun 26, 2020
This KOA was greatly overpriced. We were charged an extra $4 for each child but there were no child services for kids due to covid. It's a tired, run-down KOA. But charges are similar to the Palmer gulch resort KOA. Very disappointing. But they has better WiFi than most.
Jun 22, 2020
Great staff clean bathrooms nice place
Jun 21, 2020
Very nice park with a friendly staff.
Jun 18, 2020
Convenient to highway and very nice people. With 2019 flood and 2020 COVID-19, they have had a tough two years. I applaud their tenacity.
Jun 18, 2020
The manager was very sweet and kind but the entire campground is in need of some significant repairs and maintenance. It was fine for an overnight stay.
Jun 17, 2020
I liked how they were following the coronavirus guidelines. They had a campground between mine and someone else. Very friendly guy at the front. I also liked that there was sanatizer next to the door so you could use it as you left.
Jun 16, 2020
We have a large RV and sites were large enough. On the map it said there was a playground, but there was no playground. Pool was closed due to covid and it was expensive for the location and state of the campground. Seemed like an older campground, not similar to other KOA's we have stayed at. Employee was friendly.
CAMPGROUND RESPONSE / COMMENTS:
Yes, the playground was destroyed in the flooding we experienced last year. We have bids out to replace it.
Jun 15, 2020
Friendly staff, super easy. Thanks
Jun 14, 2020
Staff was very nice
Jun 14, 2020
you are charging for full hoookup without providing cable. Staff was lovely both in person and on phone.
CAMPGROUND RESPONSE / COMMENTS:
We are sorry about the cable, but there is no cable company that serves our area. We do provide attachment to our digital antennae at all full hookup sites.
Jun 13, 2020
Beautiful Thursday night. 70's and comfortable. The hosts were great. We got to see wild turkeys walk right by our site in the morning. Couple drawbacks, (not their fault) trucks going by 24 hours a day using their jake brakes, pool closed, store closed.
Jun 12, 2020
It looked like they were trying to get opened up after being shut down for a long period of time. The grounds needed attention. The only personnel we saw were two men working on the swimming pool. It rained very hard the night before we arrived and there was muddy everywhere. It was ok for an overnight stay.
Jun 09, 2020
Very Clean. Easy check in process.
Jun 03, 2020
Nice property but needs a lot of work. Even tho South Dakota was not on lockdown, restrooms, showers n laundry were closed
CAMPGROUND RESPONSE / COMMENTS:
While it is true that South Dakota was not on "lockdown" there were, and continue to be, town ordinances that require the closure of our restrooms, showers, and laundry.
Jun 02, 2020
Terrible place. Falling apart. Nasty. Surprised this is still a koa. Not the quality we expect from koa. Wont visit again.
May 29, 2020
We came in after hours. We found the late check-in board with our name, lot number, wifi code, and map on a small half page. We are used to a nice two page pamphlet with safety guidelines and local info. Our site was un-level, firepite full of leaves, and the entire campground looked like it was abandoned for a couple years. We were very disappointed in this KOA and will NOT return.
May 28, 2020
Lovely little pull off from the Interstate. Very quiet, with well-groomed grounds. Friendly (owner?) met us as we drove in and led us to easy access pull through site. Easy access off the Interstate. Less than a mile with nice wide turns. Gas station at the entrance to the Interstate that has a diesel pump with no cover. Great spot to spend the night.
May 27, 2020
Certainly not a world class resort but a good stop for a night. The campground was serviceable and adequate. Friendly staff.
May 13, 2020
We just spent the night, Covid keeping campers away we were the only ones there, no amenities available. Decent place, very nice owners
May 07, 2020
Great place to stop during our travels--great staff! Very quiet place to have a great rest !
Oct 28, 2019
Just an overnight. Always friendly. It's a little rough right now, still recovering from the spring flooding. Hopefully they will be back up to full strength for next year. Been here several times, will stop by several more.
CAMPGROUND RESPONSE / COMMENTS:
Thank you David, always a pleasure to see you. Hope you are able to stop by again next year.
Oct 06, 2019
This kampground suffered a devastating flood last May, so it was understandable it was lacking much of what we had seen in the past, though the great attitude endures. "We have a busy winter ahead of us," we were told. We're looking forward to seeing how they bounce back. Best of luck!
Oct 05, 2019
Always nice to stay with you guys---too bad the flood you had has made life challenging for you. I no you will overcome and if your customers would continue to come thus helping you rebuild!
CAMPGROUND RESPONSE / COMMENTS:
Thank you Wayne, always great to see you. Hope you will be through the area and stay with us again soon.
Oct 04, 2019
It is hard to give this park a rating as it was destroyed earlier this year by the flood. The owners were very nice but the park was a mess. The restrooms were clean and the water hot but the fixtures were old. There was severe rust on the shower stalls (not caused by the flood). I cannot imagine how much work it will take to get this open and fully functional in the spring.
Oct 02, 2019
Pet park needed mowed, weeds off of fence. Rest of grass in park was low, even around park. Weeds were the main makeup of ground cover. I canceled rv park 20 miles up IS 90 for this dog park. I was not pleased
Sep 29, 2019
A little rough, but not bad considering the flood. The 110 v receptacles are in bad shape and need to be replaced. Everything is clean and the camp hist is a great guy. I'm looking forward to seeing the camp after flood recovery is complete!
Sep 26, 2019
Unfortunately they had been flooded and we were unaware before booking our stay. No laundry service and the grounds just needed a good cleaning. Bathrooms and showers were clean. The whole campground just not up to the standards of most KOAs.
Sep 26, 2019
We have stayed at this KOA several times. It has always been a nice place to stay. They have worked hard to repair the campground after the Labor Day flood. Ever though they could of stayed closed they were open. With hard work and lots of willpower they will be up and running 100% in not long. Good luck and God bless.
CAMPGROUND RESPONSE / COMMENTS:
Thank you Michael, always a pleasure to see you. Hope you wil be able to stay with us again soon.
Sep 25, 2019
Good location between Sioux Falls and Rapid City. Not much to see around Kennebec. The campground has lots of pull thru. The gentleman who runs the camp is very friendly.
Sep 24, 2019
Great night sleep, very nice campground
Sep 23, 2019
It was a nice visit. The owner was great.
Sep 23, 2019
Park was damaged in spring floods. Park reopened with limited facilities. Super friendly owners have finally received insurance settlement and will be repairing this winter (weather permitting). Park is confidently located for east/west transit on I-90. We only spent 1 night on a Sunday, so we did not go into town (pop 284). We will stop again next time through.
Sep 22, 2019
One night stay on our way to Clarinda, Iowa. Park still cleaning up after flooding in March.... lots of flying insects. Could not recommend this park for extended stay but satisfactory for overnight stay.
Jun 20, 2021
I've been on a cross country road trip for over two weeks, staying mostly at KOAs, and this was probably the best night's sleep I've had so far. (I was in the cabin.) This unassuming little place reminded me of KOAs when I was a kid, and is, in my opinion, what a KOA SHOULD be. Forget the ice cream socials, Father's Day weekend BBQs, pool parties and cornhole tournaments. All people really want is a QUIET clean place to stop for a good night's sleep. Right off the freeway, but traffic wasn't a problem. I enjoyed listening to birds chirping and watching turkeys visit the playground this morning! And the awesome hosts couldn't have been kinder or more welcoming. (Note: I'm a lifelong roadtripper and this is the first time I've ever left a lodging review of any type.)
- Cheryl H on Google
Jun 19, 2021
Pretty pog pool
- Mcyt and Eddsworld Fan on Google
Jun 18, 2021
Very friendly staff and helpful. Nice KOA.. Enjoyed our stay there
- Bob Biddle on Google