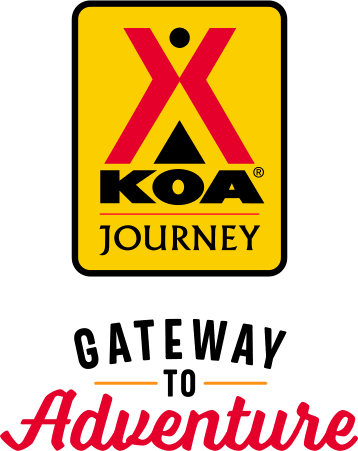 KOA Journey Campgrounds
KOA Journey campgrounds are the perfect oases after a day on the road. Whether it's along the way or a quick getaway, they've got you covered. Located near the highways and byways of North America with long Pull-thru RV Sites, they deliver convenience to the traveling camper. Pull in, ease back and take a load off.
KOA Journeys Feature:
Pull-through RV Sites with 50-amp service
Premium Tent Sites
Well lit after hours check-in service
Aug 17, 2020
Good hosts, good campsites.... my only issue is with the covid restrictions, the laundry, showers, and restrooms were all locked (understandable), but reduced amenities didn't result in reduced prices. It's also a little odd that the pool remained open. Maybe the message was, "Gotta bathe? Gotta pee? Jump in the pool."
CAMPGROUND RESPONSE / COMMENTS:
Our restrooms are not locked. They are open 24 hours per day and cleaned and disinfected 4 time daily.
Aug 10, 2020
Traveling through, fast and friendly check in.
Aug 10, 2020
Initially it was unnerving to be in a tent site with semi trucks passing 20 feet away but by about 3am I got used to the suddenness of the violent roar. Otherwise the site was very politely and efficiently run. Seemed great for those in RVs.
CAMPGROUND RESPONSE / COMMENTS:
Not sure why there would have been semi trucks 30 feet from your site. We are over a quarter of a mile from the interstate and slightly less than that from the sites to the nearest state highway.
Aug 09, 2020
Very cute little camp, pool and nice facilities. Kid and pet friendly.
Aug 07, 2020
Store closed a little early. Everything else wonderful.
Aug 06, 2020
Nice quiet place to stop for one or two nights
Aug 06, 2020
Love the lake
CAMPGROUND RESPONSE / COMMENTS:
We do not have a lake but thank you just the same.
Aug 05, 2020
Very friendly check in and an awesome pool. The campground had a severe flood last year and they are still recovering from it. We enjoyed our stay. There was not camp store and the local town shut down at 5:45 p.m.! The showers were great.
Aug 03, 2020
We just needed to pull in for a night. Our amp hookup onsite did not work but we were able to use the one next to us. Quiet, easy. Bathrooms were clean. Safety precautions were in place(hand sanitizer stations and signage). Better than a Walmart parking lot when you're in a pinch and travelling far!
Jul 30, 2020
Only stayed for one night. Site was nice and had no issues.
Jul 29, 2020
This is a over night stop for us, just the right distance in our east west travels. We will always stay here when we can. Nothing super special just a nice clean place, it is all you need. happy you got back open. see you in sept.
Jul 26, 2020
Very nice father and son that run it!!
Jul 26, 2020
Nice big flat spaces for your RV. K9 fences park. With good size pool.
Jul 25, 2020
Nice pull through sites. Very clean bathrooms.
Jul 25, 2020
Unfortunately due to worldwide pandemic of COVID-19 activities were suspended but the campground attendants were very friendly and helpful!
Jul 24, 2020
Below average - we just stayed the night
Jul 21, 2020
Very disappointed. We stayed here on our way traveling out west, and for the price we have stayed at far better. I understand that things may be closed (laundry) due to covid, but it would be nice to have known that prior to paying. Also, when calling we were told there were only 2 lots available, but there were many empty lots. It is highly unlikely that we would choose a KOA again.
Jul 19, 2020
In the middle of South Dakota, what can I say! Would stay again if that is where my journey lands me!
Jul 18, 2020
Nice KOA. Had everything we needed for an overnight stay. Nice, friendly staff. Several mud puddles throughout the the park. Had to back out of our pull thru site to avoid driving though a lot of mud.
Jul 18, 2020
Very clean and kept up! Lots of room between campsites! We would stay again if passing through your area!
Jul 15, 2020
Just a quick over night stop, but worked well for our needs!
Jul 14, 2020
Facilities and office were closee to covid. Campground was fine. Half the area looked uncared for. Road thru play area was overgrown. Nice people and. I'm thinking the virus may to blame
Jul 14, 2020
This place is a joke. Pool rundown, no amenities, and $58 a night? This is why I avoid KOAs. Overpriced crap. The staff was very nice however, but the facilities are worn out.
Jul 14, 2020
Just not up to the standard KOA. We got more tv channels with our antenna than with their cable.
CAMPGROUND RESPONSE / COMMENTS:
We inform all our guests when we park them that the coax connection at the sites that have them is for our digital antennae on top of our building. There is no cable company servicing our area.
Jul 13, 2020
Very nice and clean park. Very nice people.
Jul 10, 2020
Quiet site, friendly hosts. Entire campground is in need of updating. Roads need to be graded free of potholes
Jul 08, 2020
I liked the KOA at Kennebec. The bathroom was newly remodeled and the showers were nice. There was an epic storm the night we stayed, so I'm glad that we were protected by the trees at the camp site.
Jul 07, 2020
They were more than helpful. We were out riding and exploring the area when a sudden 70 mph storm with hail came through the camp - they called us and they help preserve our tent by putting up our rain fly - so we had minimal damage while we sheltered in place where we were at. Great camp hosts.
Jul 05, 2020
Nice spot near bathrooms, which were very clean, quiet grounds, missed having brkfst
Jul 05, 2020
Good basic campground, friendly service, easy in and out.
Jul 04, 2020
Our site had standing water in the morning after an overnight shower. But very nice and helpful staff.
Jun 20, 2021
I've been on a cross country road trip for over two weeks, staying mostly at KOAs, and this was probably the best night's sleep I've had so far. (I was in the cabin.) This unassuming little place reminded me of KOAs when I was a kid, and is, in my opinion, what a KOA SHOULD be. Forget the ice cream socials, Father's Day weekend BBQs, pool parties and cornhole tournaments. All people really want is a QUIET clean place to stop for a good night's sleep. Right off the freeway, but traffic wasn't a problem. I enjoyed listening to birds chirping and watching turkeys visit the playground this morning! And the awesome hosts couldn't have been kinder or more welcoming. (Note: I'm a lifelong roadtripper and this is the first time I've ever left a lodging review of any type.)
- Cheryl H on Google
Jun 19, 2021
Pretty pog pool
- Mcyt and Eddsworld Fan on Google
Jun 18, 2021
Very friendly staff and helpful. Nice KOA.. Enjoyed our stay there
- Bob Biddle on Google