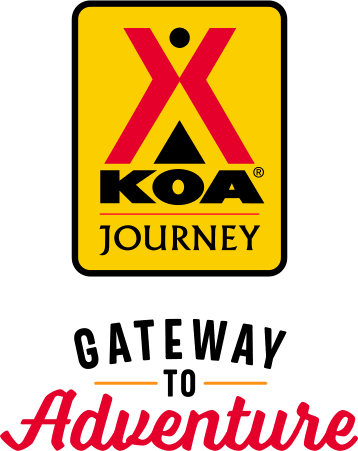 KOA Journey Campgrounds
KOA Journey campgrounds are the perfect oases after a day on the road. Whether it's along the way or a quick getaway, they've got you covered. Located near the highways and byways of North America with long Pull-thru RV Sites, they deliver convenience to the traveling camper. Pull in, ease back and take a load off.
KOA Journeys Feature:
Pull-through RV Sites with 50-amp service
Premium Tent Sites
Well lit after hours check-in service
Sep 01, 2021
Had to check out by 10:30, first time before 11am.
Aug 31, 2021
Staff was very pleasant and informative.The facilities were all clean and the sights were good. Nothing fancy, but definitely adequate for an overnight stay.
Aug 31, 2021
Perfect for an overnight stop: quiet, great WiFi, good water pressure.
Aug 28, 2021
Initial assigned campsite was not level. Had to go back to the office and request a more level site.
Aug 27, 2021
Nice staff. Kind of rural. Saw a wild turkey in our camp!
Aug 27, 2021
Lovely people
Aug 26, 2021
Very friendly hosts, clean bathrooms, BIG pool. Good hookups, great experience.
Aug 25, 2021
just a sleep over, but very nice
Aug 25, 2021
The place is very run down compared to most other KOA's that we have stayed at. Also their shop closes way to early. They should consider staying open until 10 being that they are right off I-90.We could not even speak with a person at the facility since we arrive at a little after 8pm along with several other campers. We could not even get a soda, firewood or use the pool.
Aug 24, 2021
Clean, convenient location. Grandkids enjoyed Pool and playground
Aug 24, 2021
Everyone was friendly and helpful.
Aug 24, 2021
This is a very nice overnight spot while going from place to place.
Aug 21, 2021
Staff was very friendly. Campground very quiet. Great for an overnight stay on the way to Rapid City.
Aug 20, 2021
Friendly staff, nice location
Aug 20, 2021
Quiet, but pricey
Aug 19, 2021
Workers were very friendly site very level. A good stopping place
Aug 17, 2021
Very friendly staff. Campsite very clean. Not everything available that is advertised on the website. Talking to the owner, campground still on recovery from flood a couple years back.
Aug 17, 2021
It was a nice quiet campground. We arrived late, but our paperwork was all ready to go with our site reserved for us.
Aug 16, 2021
Ok overnight stay. Water pressure was low, affected shower.
Aug 16, 2021
Staff was rude and the office closed at 10am and didn't open until late in the day. Which is very odd, any other KOA's, offices are open all day and close in the later hours. Also most expensive KOA I have stayed at.
Aug 15, 2021
Nice friendly and quiet as usual
Aug 15, 2021
The pool was open, which was a big plus. All the sites are pull throughs, which was great. There were trees and a dog area. The sites were level. They had nice fire pits and picnic tables.
Aug 14, 2021
We stayed for one night on our way out west. Staff was pleasant and helpful.
Aug 14, 2021
Very Quiet and relaxing
Aug 13, 2021
Small quiet clean friendly campground.
Aug 13, 2021
Peaceful and friendly campground
Aug 13, 2021
Very pleasant stay. Staff was friendly! Bathrooms clean.
Aug 12, 2021
Great for an overnight stay, nothing more.
Aug 12, 2021
Very clean and quiet. Enjoyed our stay and will definitely be back.
Aug 12, 2021
Need to keep open pool longer for adults
Aug 10, 2021
Very nice and clean, great service and great staff!
Aug 09, 2021
nice staff clean restrooms needs gravel at the campsites. lots of mud
Aug 09, 2021
We like staying there on our way to Sturgis. Very accommodating and nice place to stay.
Aug 08, 2021
Their brochure was full of 'no's and what not to do.
Aug 07, 2021
This koa is under new ownership and updates are being made. Nice bathrooms/showers. Owner was very friendly and helpful. I would stay here again!
Sep 05, 2021
the bathrooms were the cleanest we have ever seen! the pool looked lovely too. It was a very nice quiet area. The had had an unusually bad rain storm so the roads were a bit rough. i
- M Allen on Google
Aug 25, 2021
They were very accommodating when our truck broke down- & was being repaired at the local mechanic. Being that we didn't know how long it would take, they held our spot - & were overall very sweet to our family.
- Kim Smith on Google
Aug 23, 2021
Great little koa..the family that runs it were great and its a nice small simple campground. .there was bad flood yrs ago but it is amazing how they have brought it back....only one cabin is left after flood and for now tents have to use area by RV rather then old tent camp area, but bathrooms nice and clean and close to small cafes and diner in area....not much else in area and the office is not like big KOAs with mini store, so they only have few basic snacks,etc...but we would stay again..
- shaun K on Google