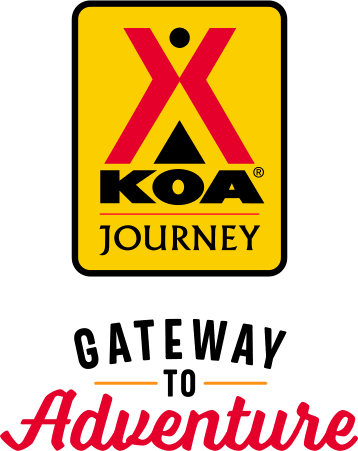 KOA Journey Campgrounds
KOA Journey campgrounds are the perfect oases after a day on the road. Whether it's along the way or a quick getaway, they've got you covered. Located near the highways and byways of North America with long Pull-thru RV Sites, they deliver convenience to the traveling camper. Pull in, ease back and take a load off.
KOA Journeys Feature:
Pull-through RV Sites with 50-amp service
Premium Tent Sites
Well lit after hours check-in service
Oct 23, 2020
We stayed one night while traveling. Very nice owners. Led us to site, gave helpful information. Nice level site.
Oct 22, 2020
Great amenities great friendly service
Oct 21, 2020
We felt very welcomed and comfortable at this quiet campground. Everyone working there was wearing masks and We did not have to go indoors to check in. Much appreciated! Daryl was so kind and helpful and even helped my mother-in-law troubleshoot an issue with our electrical plug. Thank you for the pleasant stay.
Oct 19, 2020
Excellent people, excellent campground, excellent dog park.
Oct 17, 2020
Stop over. Bathrooms were very clean.
Oct 15, 2020
Convenient location for me. Friendly staff. Easy sites. Good cell service.
Oct 14, 2020
Good stop-over place as there is not much to do in the town of Kennebec. The site was level and the hosts very nice.
Oct 13, 2020
Pretty rustic site with part of it seemingly abandoned. It appeared that the management was working on improvements, but we had very little contact with them. The gravel site was level and everything worked fine, but there is very little to do or see in the area. So it is conveniently located, good for an overnight stay, but minimally attractive. Hopefully the improvement efforts pay off.
Oct 10, 2020
Nice, isolated, quiet.
Oct 07, 2020
Bssics..no laundry Polite lovely owners
Oct 07, 2020
Peaceful & quiet,,one night stay on our way to Oregon
Oct 06, 2020
It was a port in a storm. We were having trouble with our new Mobile home and had to turn around and head back to Sioux Falls.
Oct 06, 2020
Very nice campground. Convenient to be right off the highway but you hear trucks all night
Oct 05, 2020
Stayed 1 night. Easy on & off hwy. Clean, no frills, pleasant and efficient owners/managers.
Oct 01, 2020
Easy in and out, right off the interstate. Perfect for that overnight stop on a multi day trip!
Oct 01, 2020
Very nice and quiet and restful.
Oct 01, 2020
Excellent check in & reception. We loved the golf cart escort to our site! Campground clean & well kept. A lovely stay!
Oct 01, 2020
Love KOA's, try to stay at one when they have openings
Oct 01, 2020
A kind of bare bones campground in the expansive farmland of Kennebec, lots of grainaries in the area. But owner was nice, hookups were fine. Just a stopping place for us to spend the night.
Sep 30, 2020
Over charged.
Sep 26, 2020
Great place to crash for a night. Very friendly host, clean bathrooms, convenient location!
Sep 24, 2020
Favorite place for us to stay. We have family that lives nearby and the staff are always very welcoming and helpful. Only "ding" I'd give was not their fault -- their city had shut down their laundry room because of COVID. Would have been nice to have done our laundry on the site.
Sep 24, 2020
Very nice people running it. Easy access.
Sep 24, 2020
Easy to book online. We needed a place to stop between heading to our next destination so we booked this and got there a little late. They were so accommodating and left us our reservation information so it was easy to find. Very clean bathrooms and shower services. Thanks for a carefree stay!!
Sep 24, 2020
Great place to stay, especially considering the flood they endured. Nice spacious level sites.
Sep 23, 2020
Friendly staff but campground is not well maintained. OK if just staying overnight.
Sep 23, 2020
We stayed at Kennebec for 1 night as part of our return trip to MN from the Black Hills. We received friendly and helpful service finding and hooking up to our site as well as a wonderful explanation of amenities that are currently available. The campground was clean and appears well kept.
Sep 20, 2020
Statement to wrong person!! We are Sam Roper Family and we did stay at Kennebec! Check in was done by hand in driveway. Only 2 toilets and 2 showers were working. Old and out of date! KOA should reconsider and re-evaluate this property.
Sep 19, 2020
Traveling west we needed a 1 night stay and this park worked perfect for us with our truck and trailer hooked up for the night
Sep 19, 2020
I really appreciated the "safe" check in procedure. Thanks!
Sep 17, 2020
Would have preferred to have the laundry open.
Sep 17, 2020
Kennebec is obviously a JOURNEY and should be treated as such by campers. I checked-in mid-day and never saw the hosts. I never saw them during my stay. Sites were an ok size. It was clean enough, but there were no amenities whatsoever. I suppose I'd stay there again if I needed a place for a night. But, for what you get, it's a little pricey.
Sep 15, 2020
The campground is old and needs some repairs. With that said the bathrooms were clean and good and the site was shaded.
Sep 15, 2020
Very nice and clean.
Sep 14, 2020
It is a good place to stay overnight. It looks like it could have some updates but friendly staff.
Sep 12, 2020
Weather prevented us from a great time
Sep 12, 2020
Good overnight campground friendly staff
Sep 10, 2020
Great welcoming staff. Great stopping over place from Omaha to Rapid City, SD. Have stayed here a couple of times. Will stay again. COVID-compliant.
Jun 20, 2021
I've been on a cross country road trip for over two weeks, staying mostly at KOAs, and this was probably the best night's sleep I've had so far. (I was in the cabin.) This unassuming little place reminded me of KOAs when I was a kid, and is, in my opinion, what a KOA SHOULD be. Forget the ice cream socials, Father's Day weekend BBQs, pool parties and cornhole tournaments. All people really want is a QUIET clean place to stop for a good night's sleep. Right off the freeway, but traffic wasn't a problem. I enjoyed listening to birds chirping and watching turkeys visit the playground this morning! And the awesome hosts couldn't have been kinder or more welcoming. (Note: I'm a lifelong roadtripper and this is the first time I've ever left a lodging review of any type.)
- Cheryl H on Google
Jun 19, 2021
Pretty pog pool
- Mcyt and Eddsworld Fan on Google
Jun 18, 2021
Very friendly staff and helpful. Nice KOA.. Enjoyed our stay there
- Bob Biddle on Google