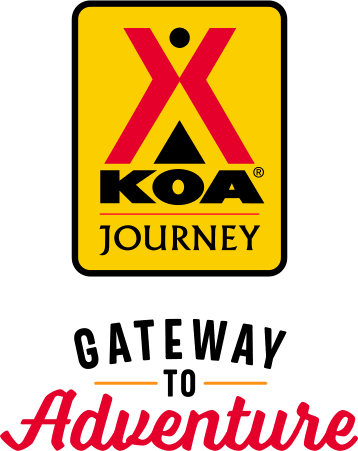 KOA Journey Campgrounds
KOA Journey campgrounds are the perfect oases after a day on the road. Whether it's along the way or a quick getaway, they've got you covered. Located near the highways and byways of North America with long Pull-thru RV Sites, they deliver convenience to the traveling camper. Pull in, ease back and take a load off.
KOA Journeys Feature:
Pull-through RV Sites with 50-amp service
Premium Tent Sites
Well lit after hours check-in service
Jun 19, 2021
Over night stay. Place was clean and friendly. They had these flying insect that had a good bit e on them. But still nice
Jun 18, 2021
Nice level campground with a few trees. The pool could use a little work. No lounge chairs.
Jun 18, 2021
Very welcoming!
Jun 17, 2021
Thank you for the hospitality. Hard to use our satellite here because of tree blocked it but we weren't there much anyways . Very clean
Jun 17, 2021
Easy off and on I-90 clean,quiet campground. Felt safe sleeping there. Would stay there again if traveling that way again.
Jun 14, 2021
Stayed for 7 nites went to bad lands and Mount Rushmore was nice campground nice people who ran it nice pool nice showers and laundry no basketball rim not a lot of trees for shade not much around for grocery's Highway was close alittle noise but we got to do what we went to do very hot winds was bad did get rain started cooling down as we left I brought my grandsons and son and dog had fun than
Jun 14, 2021
The stay was ok. There were a few bugs crawling around the bathroom and dead in the sink. Internet service was non existent. We could get wi-fi but no internet service.
Jun 14, 2021
Stayed overnight enroute from Lake Okoboji to Custer. Super friendly staff keeps a nice clean campground. It was full but quiet at night. Plus now I can answer the question, "Where the Heck is Kennebec?"
Jun 14, 2021
Friendly staff. Clean baths and showers. Good WiFi. We stayed for a quick overnight. It had everything we needed.
Jun 12, 2021
Super friendly and helpful hosts.
Jun 11, 2021
Big problem was the weather but would like to see more grass and less dust. Was a good stay tho
Jun 11, 2021
Wonderful campground. Very family friendly. Wi Fi was iffy in the evenings when more connected.
Jun 10, 2021
We were pleased with the swimming for the grandkids. And the grounds were well kept.
Jun 10, 2021
With these awesome new owners there will be a catch up period and I am sure they will have it all going great very quickly. We will stay again when going through the area.
Jun 09, 2021
Everyone was SO nice. The kids loved the splash pad, mini golf and the show. The taco dinner and pancake. Ten fast were perfect. We stayed one night and didn't get time to do much, but it was wonderful.
Jun 08, 2021
The owner is a very nice man. Our site was gravel but level. Utilities were good. Not much on TV if that's a concern. If I ever get back in the area I would stay here.
Jun 08, 2021
very friendly staff
Jun 07, 2021
Got in late, but our information was in the night check in. Bathrooms and campsites were clean.
Jun 07, 2021
Great, wonderful owner Squeezed us in, so appreciative. Met some nice people. Nice clean camp and enjoyed the pool. Very nice and clean campground.
Jun 06, 2021
Great little place. Just wish the pool was cleaned and working. It was a good little place otherwise.
Jun 04, 2021
Very clean and well kept.
Jun 02, 2021
Clean bathrooms!! Wish the pool was open.
Jun 02, 2021
Great stopping spot right off I90. Very friendly and clean, not crowded at all. Nice level gravel pull through spot plenty of room to roam. Excellent prime rib at Golden Buffalo casino about 30 miles away in the heart of Sioux reservation.
May 28, 2021
Assuming you are doing what I was (driving west and spending the night), it was clean and easy to do so. The lots could use a little bit of leveling (puddling was material), but a good stop.
May 27, 2021
Everything was very nice.
May 25, 2021
This site is barely a KOA is you ask me. I think the signs were the only resemblance. I never met a person who worked there. It was grassy and convenient though right off the highway. If you are travelling past 8pm just know there is no shops open for over a 20 mile diameter in any direction. This is basically a sleep and go stop. No pool, no hot tub, no breakfast. Still did the trick for us tho!
May 23, 2021
Friendly staff, early in the camping season so park was pretty empty. Have stayed here many times going back and forth across the I-90 corridor. Nice stay.
May 21, 2021
We only stayed one night but it was great. Easy on and off the interstate. Quiet and clean. We met the owner and her son and really enjoyed talking with them. We will certainly be back when in the area again.
May 21, 2021
Nice helpful hosts
May 20, 2021
Ok, let me explain; the park was quiet, clean and maintained. Being so out of the "destination" district, it did not hold much. For a 1 night overnight stay, GREAT. More than that...? Staff was very Pleasanton and had no issues with anything.
May 19, 2021
Very nice 1 day stay, friendly and helpful staff
May 19, 2021
Clean facilities, super friendly staff. Sites could use some work in leveling, which it appeared they were starting to do. Just not lots of amenities nearby, but great for a good nights sleep.
May 18, 2021
Small nothing there. No one in office most of the time.
May 16, 2021
Very quiet and uncrowned. Loved hearing the frogs at night
May 15, 2021
Nice folks, nice facility, easy access in and out, good power at the site, something wrong with sewer system Doesn't drain properly. Water level in ground pipe about a foot below surface. Also ground fitting not threaded.
May 12, 2021
It was short but very comfortable.
May 08, 2021
Quiet, a ways off the freeway. The guy that greeted us was very friendly. I would for sure stay here again!
Jun 20, 2021
I've been on a cross country road trip for over two weeks, staying mostly at KOAs, and this was probably the best night's sleep I've had so far. (I was in the cabin.) This unassuming little place reminded me of KOAs when I was a kid, and is, in my opinion, what a KOA SHOULD be. Forget the ice cream socials, Father's Day weekend BBQs, pool parties and cornhole tournaments. All people really want is a QUIET clean place to stop for a good night's sleep. Right off the freeway, but traffic wasn't a problem. I enjoyed listening to birds chirping and watching turkeys visit the playground this morning! And the awesome hosts couldn't have been kinder or more welcoming. (Note: I'm a lifelong roadtripper and this is the first time I've ever left a lodging review of any type.)
- Cheryl H on Google
Jun 19, 2021
Pretty pog pool
- Mcyt and Eddsworld Fan on Google
Jun 18, 2021
Very friendly staff and helpful. Nice KOA.. Enjoyed our stay there
- Bob Biddle on Google