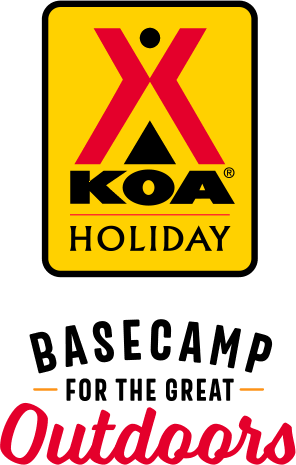 KOA Holiday Campgrounds
Whether you're exploring the local area or hanging out at the campground, KOA Holidays are an ideal place to relax and play. There's plenty to do, with amenities and services to make your stay memorable. Plus, you'll enjoy the outdoor experience with upgraded RV Sites with KOA Patio® and Deluxe Cabins with full baths for camping in comfort. Bring your family, bring your friends, or bring the whole group – there's plenty of ways to stay and explore.
KOA Holidays Feature:
RV Sites with a KOA Patio®
Deluxe Cabins with full baths
Premium Tent Sites
Group meeting facilities
Directions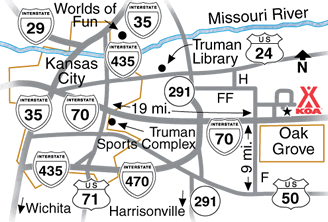 I-70, Exit 28. Go 1 block north on H Hwy, then East on 3rd St, two blocks. GPS: N39.017524, W94.125510
Get Google Directions
Nov 19, 2021
Nice and cozy but bring a heater in the colder months.
Nov 05, 2021
Cabin and bathrooms were very clean. All good!!
Oct 26, 2021
Arrived after dark, a little difficulty locating cabin porch light on would have helped. Then took 5 minutes and numerous tries to get the pushbutton door lock to open. But cabin was clean and served its purpose. Thank you, Eric Shaw
Oct 25, 2021
Wish we could have stayed longer. It was beautiful �
Oct 22, 2021
Nice campground. Nice people to deal with. Nice cabin, would stay again.
Oct 21, 2021
This KOA was a good experience from beginning to end. The text communication throughout the stay was greatly appreciated and was informative. Staff was very friendly and helpful, even when we called after midnight when we got locked out of our cabin. The only thing negative I would have to say is that our cabin door was difficult to push open, which was part why I think we got locked out.
Oct 17, 2021
The grounds were so very well kept. The entire park was very clean. We loved our cabin. Our friends were able to park close to our cabin as we travel together and share meals, play board games and enjoy a fire in the evening. We highly recommend this KOA Kampground!
Oct 16, 2021
Excellent KOA and one of the 2 best we have stayed at. Excellent staff and facilities.
Oct 10, 2021
Cabin very clean and enjoyed the mini golf.
Oct 05, 2021
We had an enjoyable time and liked the layout of the park and how well-kept everything was. The staff in the office and outside were friendly and engaging, and willing to lend a hand as needed. In fact, we witnessed a staff member helping a guest next door with airing up a tire on the guest's truck that had deflated overnight. Quite nice.
Oct 02, 2021
The place was filthy with hair and food in the cabin. The manager did not return our complaint call. We did not spend the night and left after 2 hours. Horrible!
Sep 28, 2021
Excellent stay! clean and beautiful!!!!
Sep 22, 2021
Far superior KOA! Not too big. Pool open past Labor Day!!!! Cabins very nice and clean and well accommodated with A/C (thank you!!!), mini-fridge, microwave, and a small cable TV! Quite the oasis on the interstate connecting KC and STL. High praise!
Sep 21, 2021
My only issue was the shower. There was no warm, it was either scalding hot water or freezing. Pressure was good, cabin wasn't great. Just couldn't find the temp.
Sep 14, 2021
A great day at the KOA!
Sep 12, 2021
I did message you on the texting but never got a response back. Campground was beautiful and I rated high. But our cabin was not at it's highest. Their was dog hair between our mattress and the frame. There was also sticky stuff on the table. Our fridge was not plugged in so it was hot. I would definitely recommend having someone check the cabins when they are being opened. Have a great day!
Sep 08, 2021
Was told the pool would be open along with all of the extra amenities on the property and my daughter was very upset that she chose to stay there for her birthday to go swimming but couldn't. I talked with the lady up front I believe Tonya and she was extremely rude when I asked for corporates number and told me to go look in a book for the number. Very disappointed and probably will never be back
Aug 30, 2021
We booked this site specifically for my girl scout troop because of the pool and volleyball court (on the website it says there is a court). When we got there the pool was not working and we were told the volleyball court was non-existent. Very disappointed that we weren't given a discount or at least called and told the pool was down. We would have cancelled our reservation and rescheduled!
Aug 30, 2021
I feel like it's gone downhill. Our check in process was terrible, the park not maintained as expected from a KOA and the amenities were not open (pool). The office closed at 5pm and the staff working had no idea about activities and seemed bothered with questions. Kids recklessly driving golf carts. Housekeeping and pancake breakfast hosts were amazing and discoint given due to pool not open.
Aug 29, 2021
Cute place and very nice people
Aug 24, 2021
It was a wonderful experience. Our family met for a reunion, and the staff were extremely helpful and accommodating. We had 15 kids and they loved the activities you provided. We were having a meal at the campground together, and the use of the activities building was perfect. We will be back and highly recommend anyone to stay here.
Aug 20, 2021
We had a great time! Enjoyed the pool. The cabin was just what we expected after staying in KOA cabins several years ago. Staff friendly. Neighbors quiet and kind. No complaints at all!
Aug 16, 2021
Really enjoyed our stay and the cleanliness of the grounds. I did notice cobwebs in the corners of our cabin but other than that, no complaints. Air condition in the cabin worked well and the staff I interacted with were very pleasant. My kids had fun panning, swimming in the super clean pool, and the jump pad. Thank you for the lovely weekend �ϋ�
Aug 13, 2021
Clean facilities and friendly staff. However, I arrived @1:30p after riding in the 90+ heat to avoid riding in the 95-101 temps. They attempted to charge an"early arrival" fee with the cabin available and rental paperwork completed laying on the counter. It's policy stated the nice lady. I left mine too happy and came back later to avoid the nonsense fee.
Aug 12, 2021
Convenient location and friendly staff. It needs updates from new toilet seats to paint, but the main issue was that our cabin wasn't clean. Sticky table and cobwebs all over, etc.
Aug 11, 2021
We enjoyed our stay. The microwave and mini fridge in our cabin was a nice surprise! The girls loved the pool and the glow pool party. Sharon was a delight to work with.
Aug 10, 2021
We stayed in a deluxe cabin. It was very clean, well designed, and reasonably priced. The key pad dead bolt entry is a nice touch so that we didn't have to keep track of a key.
Aug 09, 2021
Very nice pool, comfortable cabin, no linens, very nice and helpful at the office!!!
Aug 09, 2021
Nice, welcoming environment.
Aug 07, 2021
Great place, friendly staff. Clean, comfortable sites.
Aug 05, 2021
Very clean and safe
Aug 03, 2021
Great experience; clean cabins & grounds; great staff!
Aug 01, 2021
I stayed in a very comfortable cabin which had a/c and a small TV. I wasn't expecting the TV, so that was a plus!
Jul 30, 2021
KOA cabins are an affordable and comfortable way for our family to have good night's sleep before heading out to play for the day. Kids loved the pool and bouncy house. It was a pleasant surprise to see a mini fridge, microwave and TV in the room— although we didn't use the fridge because it was smelly and wasn't plugged in (not pre-cooled). Ice cream shop in the store was yummy too!
Nov 11, 2021
What a great place this campground is. The people the work there are extremely friendly and helpful. My wife and I will definently come back to this campground.
- Mike White on Google
Oct 30, 2021
I70
- Mark Griffith on Google
Oct 25, 2021
Good service, Nice cabin, clean restrooms.
- Northern Backwoodsman on Google