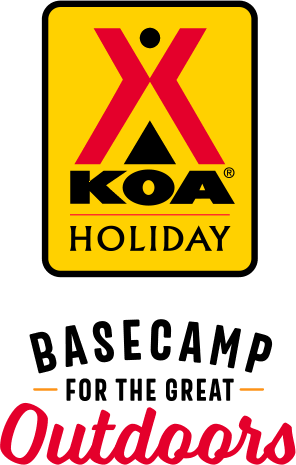 KOA Holiday Campgrounds
Whether you're exploring the local area or hanging out at the campground, KOA Holidays are an ideal place to relax and play. There's plenty to do, with amenities and services to make your stay memorable. Plus, you'll enjoy the outdoor experience with upgraded RV Sites with KOA Patio® and Deluxe Cabins with full baths for camping in comfort. Bring your family, bring your friends, or bring the whole group – there's plenty of ways to stay and explore.
KOA Holidays Feature:
RV Sites with a KOA Patio®
Deluxe Cabins with full baths
Premium Tent Sites
Group meeting facilities
Directions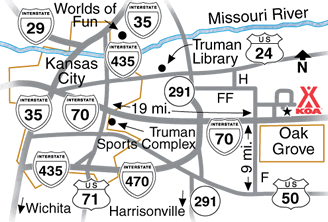 I-70, Exit 28. Go 1 block north on H Hwy, then East on 3rd St, two blocks. GPS: N39.017524, W94.125510
Get Google Directions
Sep 14, 2021
For $1000/month, I expected more than this. The site was on the back of the freeway so it was very noisy and the bugs ate us alive! The store is overpriced & in an empty campground, they still stacked others on top of us! Won't ever go back.
Sep 14, 2021
Very nice and clean, spots were spacious, and staff was kind and pleasant! A very nice spot to get a great night of rest.
Sep 14, 2021
Stopped back in overnight to stay traveling back to Maryland from Kansas and wished we could stay longer. Campground is very clean and very nice! Very nice pull-thru site!
Sep 14, 2021
Well managed and maintained campground.
Sep 13, 2021
Friendly, helpful staff; clean campground; level site; quiet neighbors. Problems: water came out ugly brown color; had to let it run to clear it out. This kept happening - it you didn't keep the water running, when you turned it on it would be brown. The wifi was weak and kept cutting off. I would stay here again only if I'm hurting for a place to stay.
Sep 13, 2021
Great place to camp out in our Class A 38 foot and towing Jeep on trailer easy in easy out. We were on the up graded sites with cement patio with table and chairs. Very friendly staff and clean place.
Sep 13, 2021
always stay here when visiting KC.
Sep 13, 2021
I loved the fact they took the time to text us to make sure we had directions and welcoming us. The staff was awesome!
Sep 13, 2021
Great place to stay. I had a site with tree canopy and could not get a satellite signal. Office let me move to a site that had access. Very accommodating.
Sep 13, 2021
Although we were just passing through from Maryland to Kansas, we found the campground to be very clean and our campsite was great. We will stay again on or way back home to Maryland!
Sep 13, 2021
Abysmal dog park
Sep 13, 2021
The owners were so helpful in allowing us to arrive late and stay after a tire repair made us alter our plans. The park is clean and well cared for with recent updates. My dogs loved the dog park and were able to play when we got in due to lights on the fence. The owners are very kind and concerned about making our stay great!
Sep 13, 2021
Very nice campground. Staff was very friendly and the BBQ delivered to our camper was great!!
Sep 12, 2021
Nice, clean campground. Everyone very friendly. Have stayed here many times
Sep 12, 2021
It was ok for the night I spent there. It wouldn't be a place I would spend more than a couple of days. The grounds were clean. The campground was quite except for the Interstate noise.
Sep 12, 2021
I did message you on the texting but never got a response back. Campground was beautiful and I rated high. But our cabin was not at it's highest. Their was dog hair between our mattress and the frame. There was also sticky stuff on the table. Our fridge was not plugged in so it was hot. I would definitely recommend having someone check the cabins when they are being opened. Have a great day!
Sep 12, 2021
Friendly staff and close to our favorite BBQ KC Baby Back Ribs. Third trip to this KOA in last six years from NC. Campground and the ribs didn't disappoint.
Sep 11, 2021
Campgrounds very nice and well kept. The interstate noise was just too much for me to recommend.
Sep 10, 2021
We were not put in a site we could stay in the complete stay. We had to move 2 times. The last site we were put in was the best site for us. The whole stay was just inconvenient to us.
Sep 10, 2021
Freeway noise too loud.
Sep 10, 2021
Disappointed that no camp sites made available like other Koa. Take it or leave it attuide. Paid full service sight that I did not need, payed to much. Road highway noise was over welming loud.
Sep 09, 2021
One night stop on our way home; sites were clean and campground was quiet.
Sep 09, 2021
We had a good night at this campground, staff was friendly. Bathrooms were okay but not as good as some of other campgrounds we've stayed.
Sep 09, 2021
WiFi so weak they shouldn't advertise it.
Sep 09, 2021
Had trouble leveling our coach. Others in the campground said the same thing. One had to raise the front tires 4 inches off the ground.
Sep 09, 2021
It was 92 degrees when we arrived the pool was very nice, good clean campground thank you
Sep 08, 2021
We stayed here twice in the month. Once for three nights and once overnight. We especially liked the new patio sites. Well worth the additional cost. Very nice campground. Nice folks and very accommodating.
Sep 08, 2021
Nice campground. Lovely large trees, nice pool. You do hear a little of the highway noise but not enough to bother you. Very clean and the owners sent follow-up emails after you checked in to be sure everything was okay. Will camp here again.
Sep 08, 2021
Sites were very lean and the place is very well maintained by. Our sites were nearest to the highway and very noisy.. People are very friendly and helpful. I'd stay here again 8n a heartbeat.
Sep 08, 2021
Was told the pool would be open along with all of the extra amenities on the property and my daughter was very upset that she chose to stay there for her birthday to go swimming but couldn't. I talked with the lady up front I believe Tonya and she was extremely rude when I asked for corporates number and told me to go look in a book for the number. Very disappointed and probably will never be back
Sep 08, 2021
Just an overnight stop with great bathrooms, dog park and a nice store with ice cream. This is the first time that we've ever paid for our dogs to stay ($3.98 for two) - Collected at checkin. We stayed the Sun night of Labor Day in a very nice, new patio site ( only option when we reserved). It was pricy ($100) but a holiday night in a mostly full park.
Sep 07, 2021
Everything was wonderful over Labor Day Weekend. The staff were so friendly as usual. The Ice Cream was also really good! The kids loved the basketball hoop, playground and the jump pad. Thank you for another great stay!
Sep 07, 2021
We were just here for the night on our way to Colorado. Staff was friendly, park was clean, easy to navigate, and easy to get to. We have a 35' 5th wheel and had absolutely no trouble what so ever. Be sure to check out Tusconos and Bone Hill View Distillery. They are about a 20 minute drive from the campground, but well worth it. Would definitely stay her again!
Sep 07, 2021
Place was great, people were friendly and accommodating. So many great activities and facilities. Site was level and the patio was definitely a nice addition. Only downfall was the highway noise and that isnt on the KOA.
Sep 07, 2021
Nice clean and friendly campground.
Sep 07, 2021
Nice campground, clean facilities. Would be nice if some of the larger overhanging branches were cut on the roadways where RV's drive.
Sep 06, 2021
The staff is very friendly and exceptionally capable at running their KOA
Sep 06, 2021
Convient to the interstate, nice campground. Worse wifi ever!
Sep 06, 2021
We enjoyed our stay.
Nov 11, 2021
What a great place this campground is. The people the work there are extremely friendly and helpful. My wife and I will definently come back to this campground.
- Mike White on Google
Oct 30, 2021
I70
- Mark Griffith on Google
Oct 25, 2021
Good service, Nice cabin, clean restrooms.
- Northern Backwoodsman on Google